Berthon Power delivers first twin installation CXO300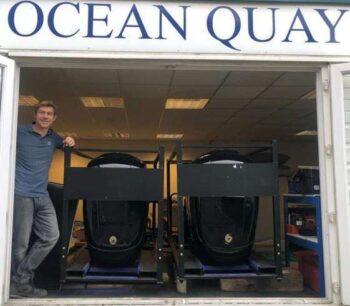 Berthon Power are exceptionally pleased to announce delivery of the very first twin installation Cox Powertrain 300HP Diesel Outboards, purchased by Ocean Quay in Southampton.
These diesel outboard engines will be installed as part of an innovative project headed by Ben Davies, Ocean Quay MD.
Mr Davies commented: "Having visited the Cox factory and sea trialled the CXO300 from the Berthon Power facilities in Lymington, the quality and sheer refinement of the Cox engines gave me the confidence that the CXO300 was the right engine to install aboard our project."
The CXO300 is fuel efficient, quiet, delivers a true 300HP delivered at the propeller – and it passes the most stringent of maritime emissions regulations making it an environmentally conscious choice.  It also boasts a life 3 x longer than a petrol equivalent.
Berthon Power has a busy schedule of demonstrations that will commence as soon as national restrictions allow.  A large variety of companies – from commercial to adventure leisure – have expressed interest in extended sea trials of the engine, to see what it is capable of.