Arrival of the CXO300 diesel outboard
Arrival of the CXO300 diesel outboard

Berthon Power and our Cox trained engineers have been busy unpacking and commissioning the new CXO300 diesel outboard, which arrived earlier this month from the state of the art production facility a couple of hours away in Shoreham, UK.
It will be fitted to a 7.8m RIB and sea trials starting at the end of October .
The CXO300 is the culmination of years of planning, design and meticulous attention to detail.  The resulting product is a sophisticated, quiet engine, offering high-performance in direct competition to equivalent 4-stroke equivalents.
So what does this progressive offering to the market mean, and why is it important?
Technical Talk
The CXO300 is the only diesel powerhead for an outboard of its size (300hp) that has been designed solely for maritime application.
It provides at least 25% better fuel efficiency when compared to an equivalent 4-stroke engine and produces an incredible 60% more torque.  It is commercially rated and offers significantly longer in-service durability as well as lengthier service intervals.
The CXO300 will be an appealing option for commercial clients who require their engines to work for longer with less down time.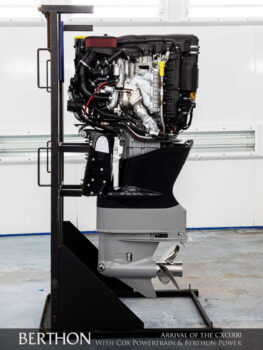 POWER
The power head consists of a 4.4 litre, 8 cylinder robust cast aluminium block, a high pressure common rail fuel system, and twin turbos.  Together, these produce a stunning 338hp at the vertical crankshaft and a true 300hp at the propeller.
With all engines, power is inevitably lost through friction as it travels through various mechanisms.  The CXO300 has been designed to ensure that 300hp is available to the user at the props.
SHAFT LENGTH
The outboard is offered in 3 shaft lengths of 25, 30 and 35 inches. Depending on the shape and size of a hull and the number of engines required, the buyer is able to choose the appropriate shaft length best suited to their application.
Incorporating a standard power trim & tilt unit, the CXO300 is easily retrofitted to vessels looking to repower.
GEARBOX RATIOS
Cox recognises the extensive and varied requirements of the market, and so a choice of 2 gearbox ratios are available, either 1.46:1 for larger vessels or 1.23:1 for speed.
Both gearbox options are fitted with double lip seals, designed for reliability and durability.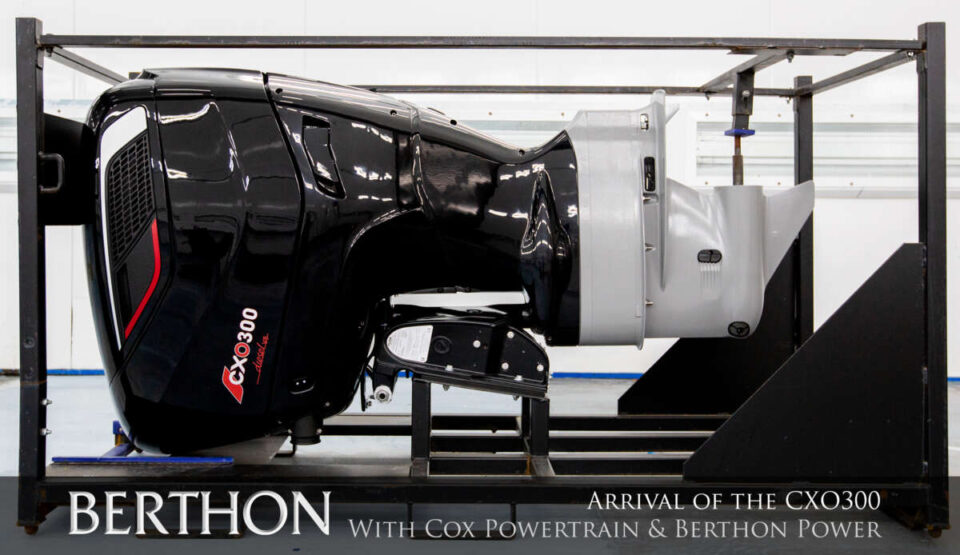 AESTHETIC
The lightweight carbon fiber cowlings are currently offered in both Black and White.
SERVICING
Servicing and support will be carried out by an expanding network of dealers and service agents around the UK and Ireland.
ENVIRONMENT
Arguably one of the most important considerations in the present day, this engine is an environmentally conscious choice.  Compliant with the most stringent international emissions regulations – including EPA Tier 3, IMO 2 and RCD 2 – the CXO300 produces at least 25% better fuel economy than a 4-stroke, thereby adding valuable miles to your existing range.
Compliance with these rules ensures the CXO300 is one of the most ecologically friendly outboards currently available on the market.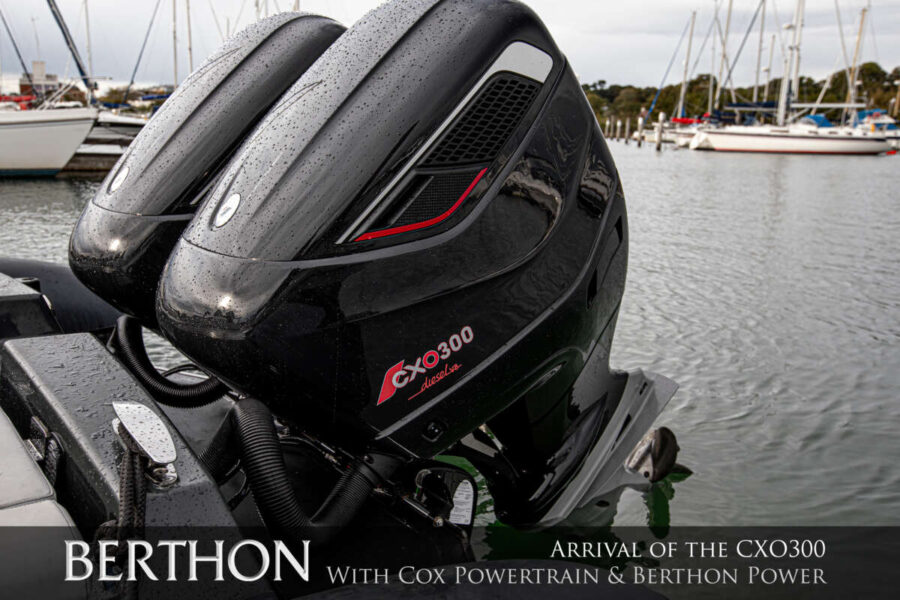 OUTBOARD RATHER THAN INBOARD?
A diesel outboard offers a lower initial purchase price than a comparative inboard power unit.  Quicker and easier to install with no need to remove engine hatches or fit complicated wiring and pipes to the interior, outboard powered boats offer increased deck space and are more easily maneuvered at both low and high speed.
Particularly of note to the commercial market, outboard powered boats offer greater flexibility in configuration as well as increased payload carrying capabilities, and can operate in much shallower water with the ability to trim and tilt through 70 degrees.
IN SHORT
Put simply, the CXO300 is a robust, reliable diesel outboard that is more fuel efficient and produces more power than an equivalent 4-stroke petrol engine. Longer service intervals, a fuss-free retrofit capability and overall easy operation make this the engine for the ecologically and financially discerning customer.
We are excited to be a part of this innovative new chapter in power.
Follow Berthon Power on Facebook.