Cox Powertrain Engines

CXO300 Diesel Outboard
Berthon Power is an affiliate of Berthon Boat Company, situated in Lymington, Hampshire.
Berthon Power is the sole UK and Ireland distributors of the Cox 300hp diesel outboard in 2018, having invested in Cox Powertrain during the past 10 years.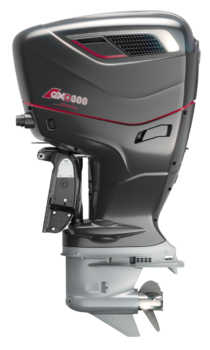 Berthon has been synonymous with marine services and boat building since 1877, and as a result, Berthon customers benefit from a wealth of experience acquired over many generations ensuring the highest standards of installation, service and support. We continually develop and nurture relationships with the best suppliers to ensure our customers receive the ultimate customer service.
The CXO300 diesel outboard has been designed and developed in collaboration with Ricardo, one of the world's leading engine developers, the best of British innovation is expected to revolutionise marine propulsion throughout the commercial, governmental and leisure sectors. Cox's vision to develop lightweight diesel engines using F1 technology has become CXO300.
During our 10 year relationship with Cox, their experienced team of engineers have worked closely alongside Ricardo to deliver the industry's first robust and reliable 300hp diesel outboard engine. As the most powerful diesel outboard brought to the market, the CXO300 has been developed to be compatible with existing industry standards ensuring easy installation across a wide range of vessels.
Crucially for commercial operators, it offers 480 ft.lb of torque, at least a 25% better range compared to petrol outboards, improved fuel economy and longer service intervals will reduce maintenance, downtime and haul-out costs. The engine is cast from aluminium alloy, rather than steel, to reduce weight, creating a light-weight and robust propulsion option. The CXO300 features a narrow-angle 60 degree V to reduce its overall dimensions. Designed to last 3x longer than a gasoline equivalent, this diesel outboard combines exceptional performance, with the reassurance of proven V8 diesel technology.
EPA 3, IMO 3 and RCD 2 emissions compliant it's not only the most powerful diesel outboard engine in production, it's also the most sophisticated.
Shaft lengths are available in 20" 25" and 30" and a choice of 2 gearbox ratios 1.23/1 and 1.46/1 have been deliberately over-engineered to cope with the torque and increase the engine's durability, resulting in up to three times the life expectancy of a petrol engine and at least 25% more fuel-efficient.
---
Downloads
Technical Specification
Brochure
Berthon Power Ltd Terms of Buisness – October 2019
---