Gemini Articles
---
Patrol & Protection
---

New South Wales Police
Some rare and great photos and video of the fleet of Geminis operated by the NSW Water Marine Police teams. These Geminis have been specially modified and equipped for specialist roles in the region including Interdiction, Insertion and boarding.
Key Defence and Security Users include
Other key users in similar roles include:
Royal New Zealand Navy
United Nations
Australian Defence Force
Royal Australian Navy
Footage and photos of these key users are rare but on occasion we get sent some interesting shoots, including this one from the Royal Australian Navy, who operate a fleet of Geminis a These Gemini 7.8m were modified and developed to support the Australian Navy dive support unit. A rare photo below of the dive unit in operation.
Plus Special Force Teams operating Gemini in roles from Insertion, interdiction and interception include:
Singapore Special Force
Malaysia Air Force
Indonesia Special Forces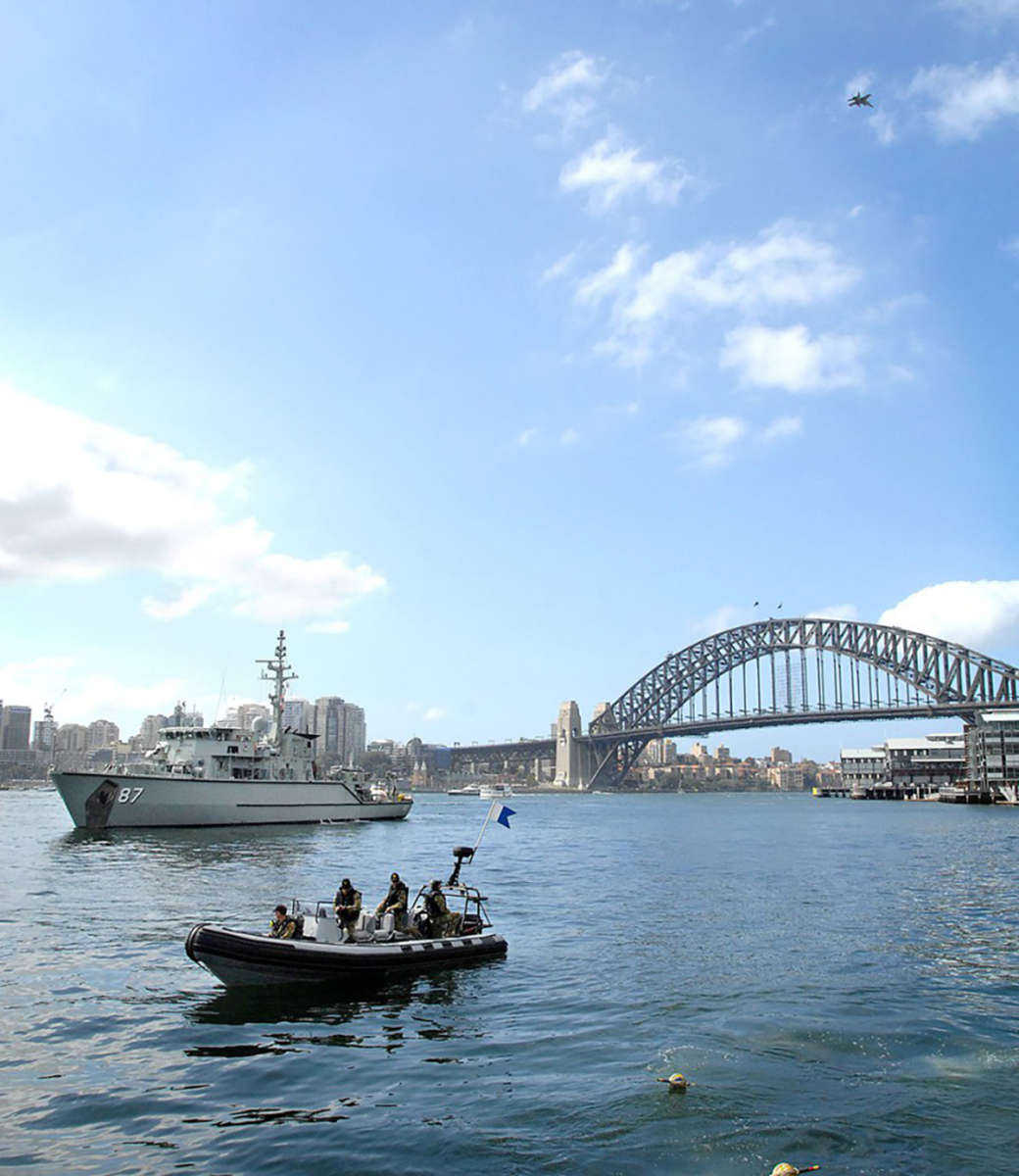 ---
Maritime Security and Policing
Specialist operational tasking including: law Enforcement, Event Security, Anti-Piracy, Interdiction, Boarding & Surveillance see many of the Gemini range modified with systems integrated to support specialized tasking. Examples of integrated specialist equipment in service on Gemini's.
Shock Mitigation Seats
Stabilized IR Cameras
Self- Righting Systems.
Various communication systems.
Wide range of navigation and surveillance electronics.
Immersion proofed engines.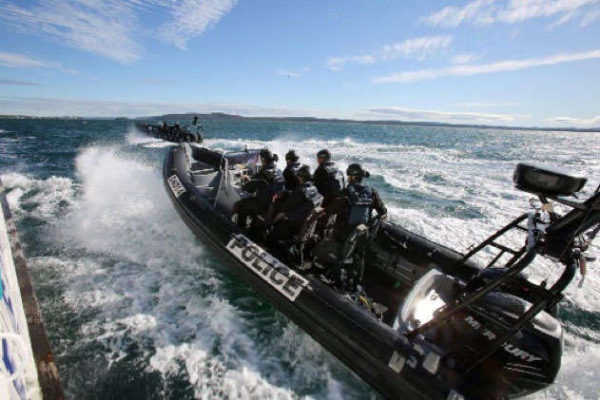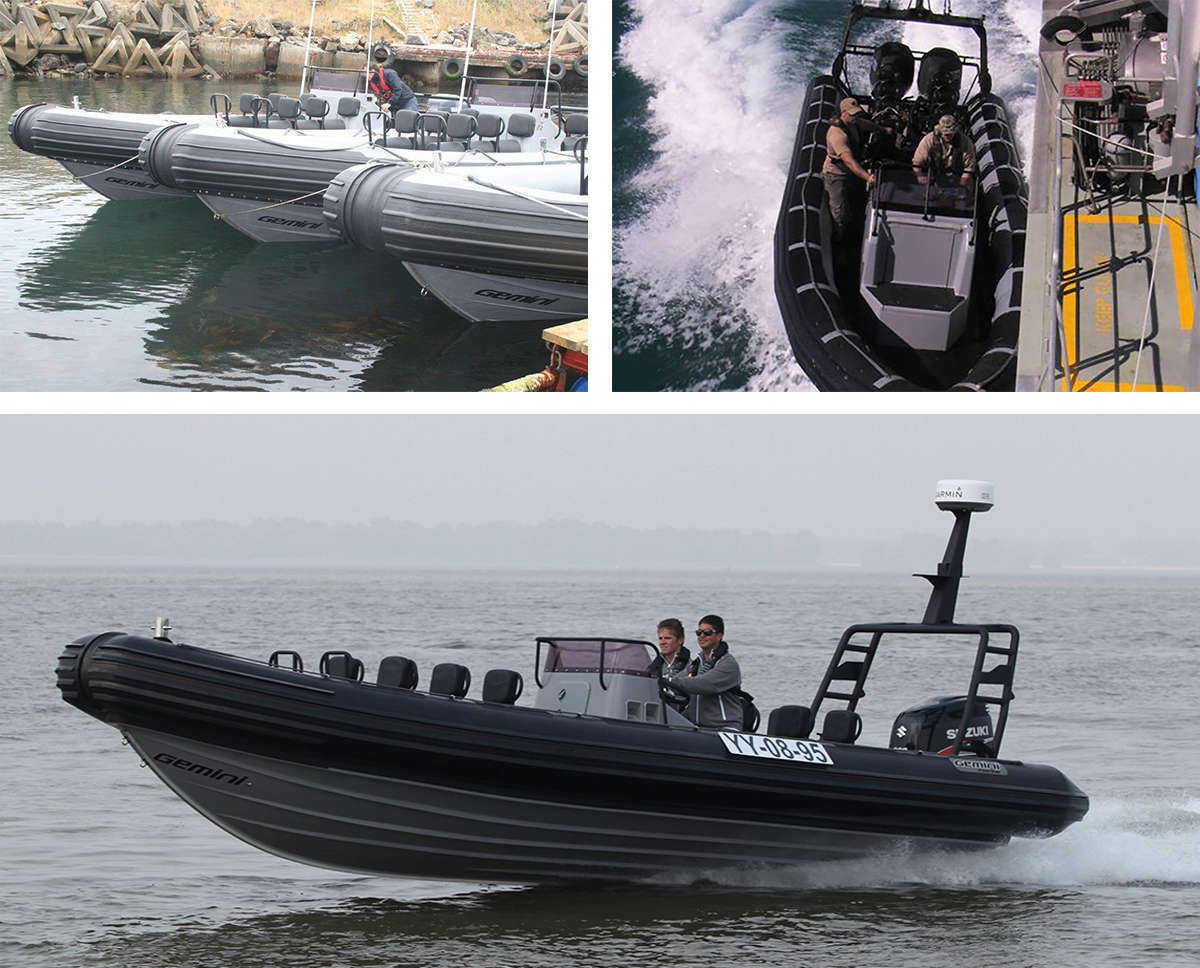 ---
UK Marine Police Force
Supporting the UK Police Force, this Gemini WR 1060 Cabin not only protects the crew from the damp British weather allowing them to remain on patrol for a longer period, it has been equipped, modified for Specialist Law enforcement roles, whilst meeting local authority compliance.
Operational tasking of the WR1060 cabin includes:
Insertion
Interdiction & Boarding
Patrolling
Search and Rescue
Policing and Law Enforcement
Infrastructure Protection
Anti-Piracy
Fisheries Protection
Dive Support
Bomb Disposal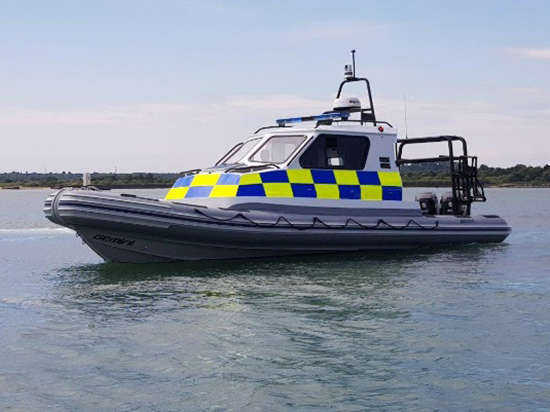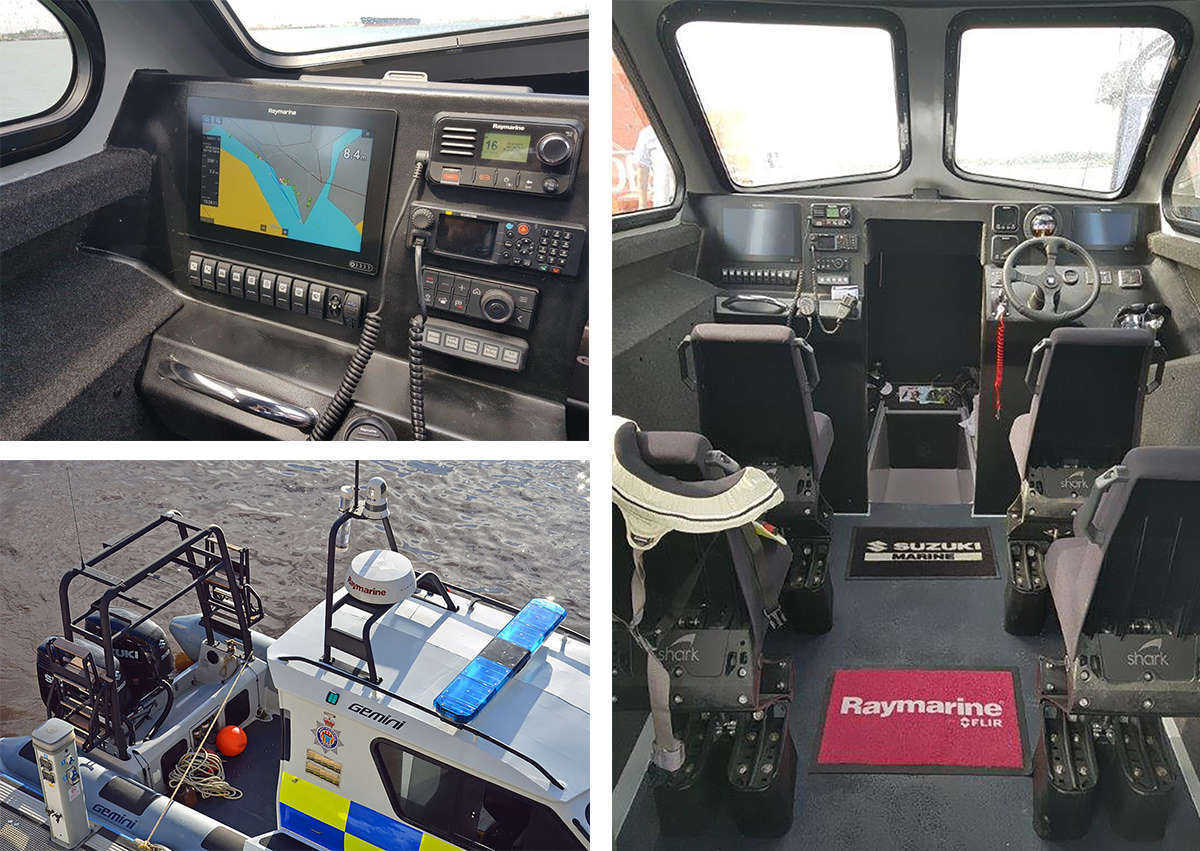 ---
Custom
---
"Black Betty" Whole Body Vibration Reduction System
Fluid Boats, the US dealer for Gemini Bots, has designed and strengthen the Gemini 1060 to  incorporate Shockwaves ICE3 suspended cockpit.
The ICE3 is a patented suspended cockpit which is designed to provide advanced, adjustable, multi-axis shock mitigation for vessel crews, personal effects and electronics. If required the ICE3 can also carry climate controls, weather protection, sensors, antennas and self-righting gear.
The suspension components were developed by mirroring successful NASCAR race chassis designs. Fully adjustable Shockwave/FOX Racing shock absorbers are on each corner and a sway bar is included, which has variable rates to limit pitch and roll. The ICE3 chassis can be configured in any length or width and has been produced to date in configurations from 2 to 6 passengers and crew.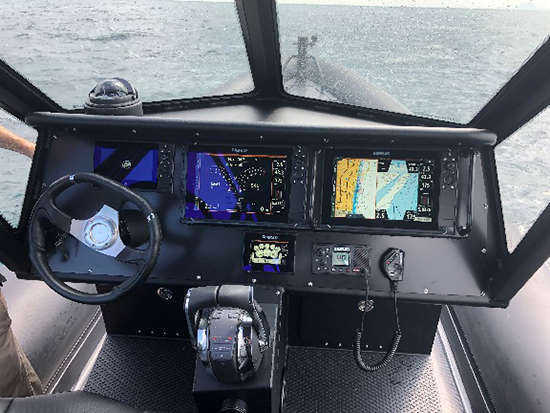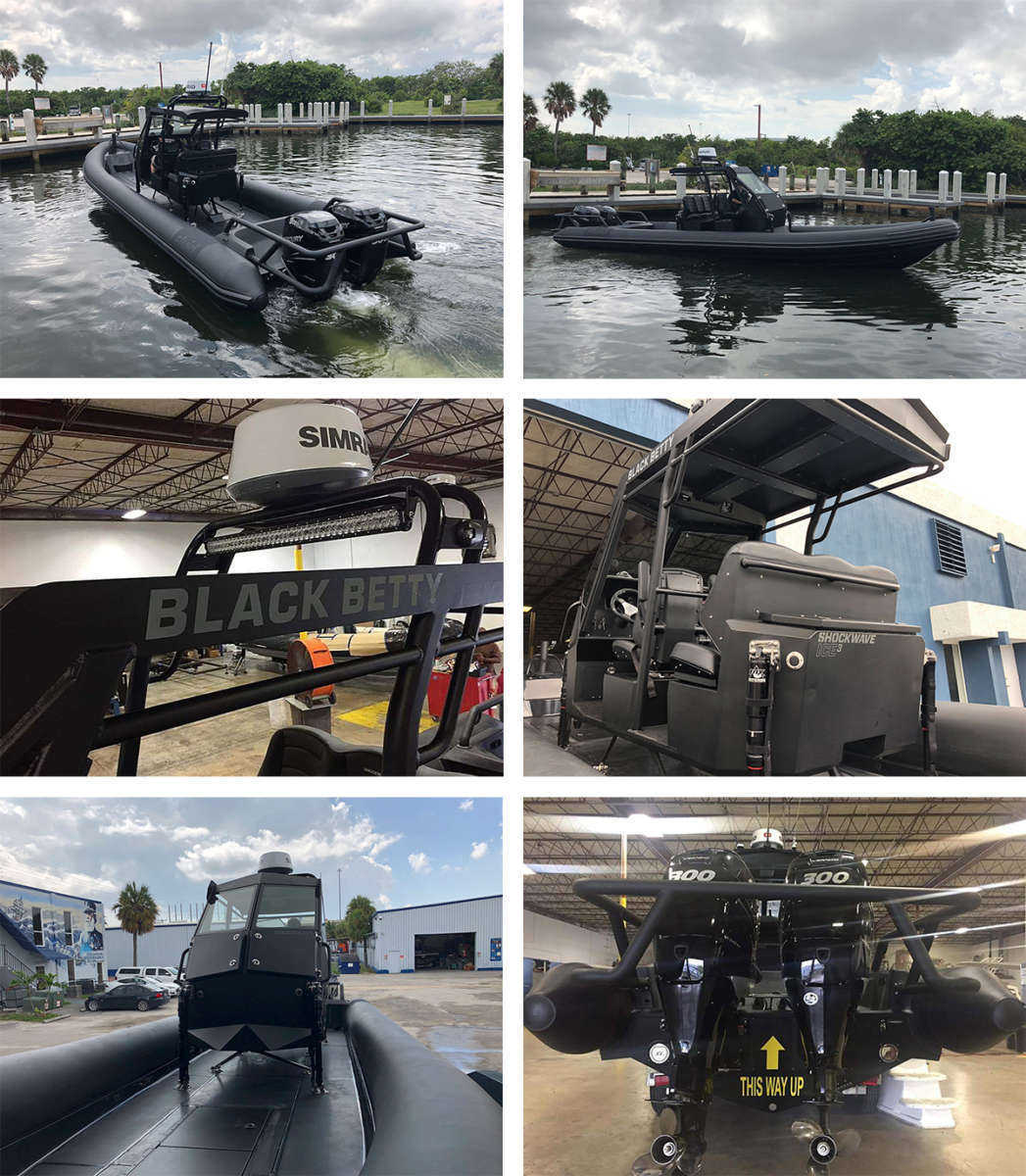 ---
Commercial & Professional
---
Maritime Search & Rescue Teams Operating Gemini's
Gemini are in service with the following agencies:
UK Sea Rescue Agency
Indonesia BASARNAS Rescue
National Sea Rescue Association – South Africa
Australian Emergency Services
ST Helena Island Airport Crash Rescue Team
With the St Helena Island Airport Crash rescue team, operating in support of one of the remotest airports on the globe.
Images of the St Helena Airport Rescue Team operating their fleet of Gemini WR 880 Rib, especially modified to carry large open array life raft for mass sea rescues.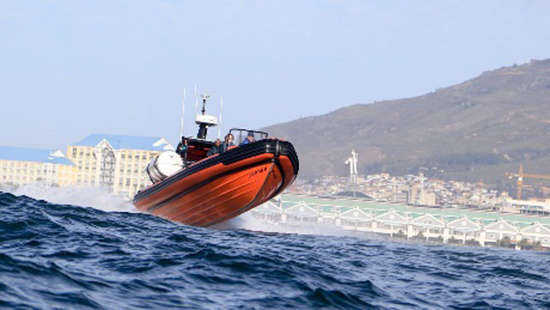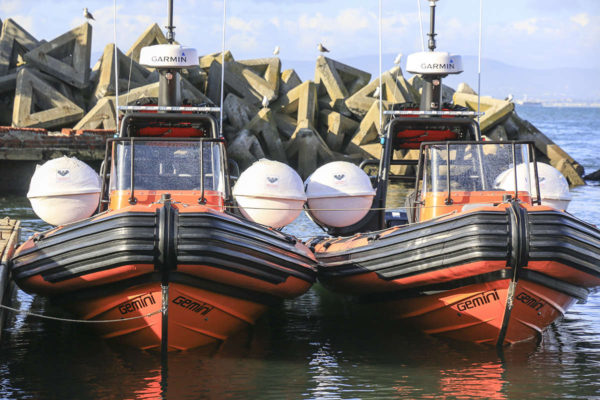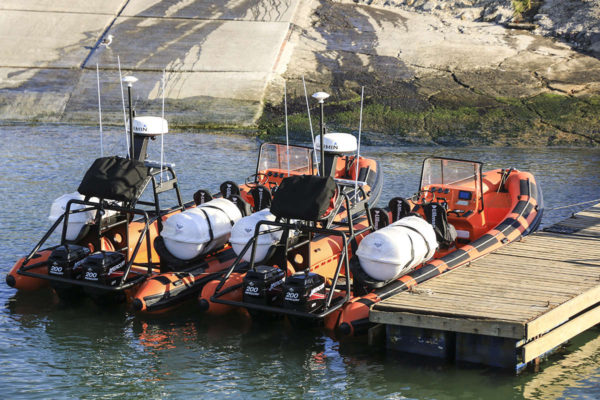 ---
Sixty Three Geminis in operation with South Africa's National Sea Rescue Institution!
There are few boats that get treated with such loving care as a Sea Rescue vessel. But then there are few boats that are expected to perform as flawlessly, often under extreme conditions, as one of these yellow and red Ribs.
Some of the world's best designs are run in NSRI rescue fleet, and so it is with great pride that an amazing 63 out of 80 boats in the South Africa's National Sea Rescue fleet are supplied and serviced by Gemini.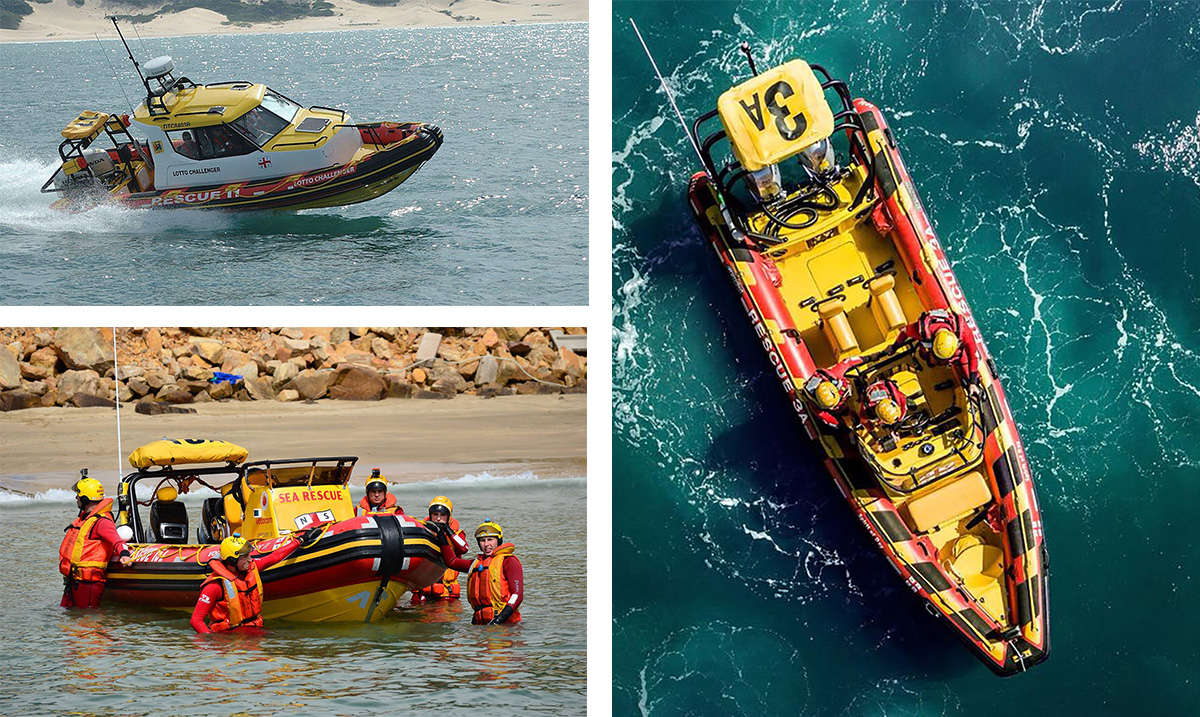 ---
Australia Emergency Services – Marine Rescue New South Wales
The 1060 Cabined Gemini allows the The Australian Sea Rescue Team to extend their operational tasking time at sea providing excellent crew protection and domestic support for extended time at sea. The 1060 versatile deck and cabin space allows for multi role tasking at extended ranges.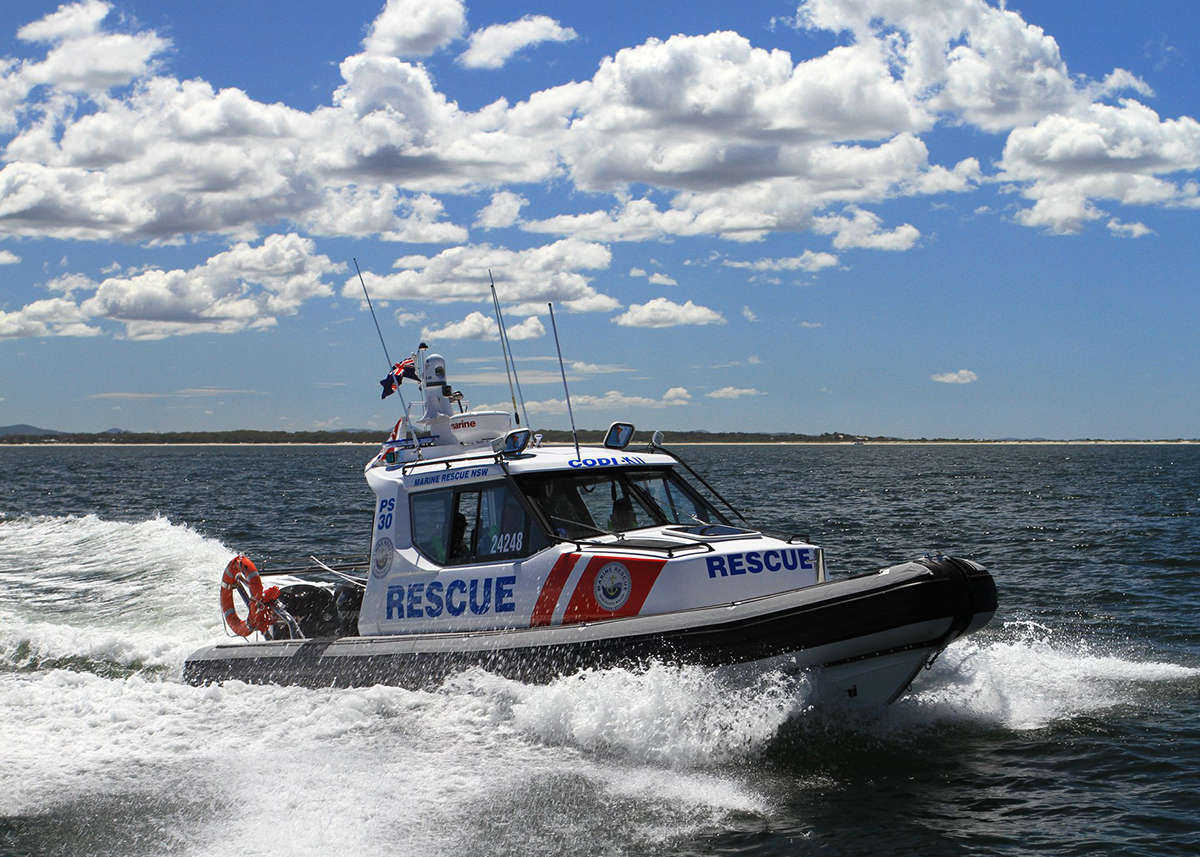 ---
Commercial Clients Operating Gemini RIBs
---
Boskalis Westminster one of many Commercial Clients Operating Geminis
Engineering support, Workboat, Crew transfer are just a few of the operational roles for this New Gemini WR880 in service with one of the UK largest and leading dredging firm Boskalis Westminster.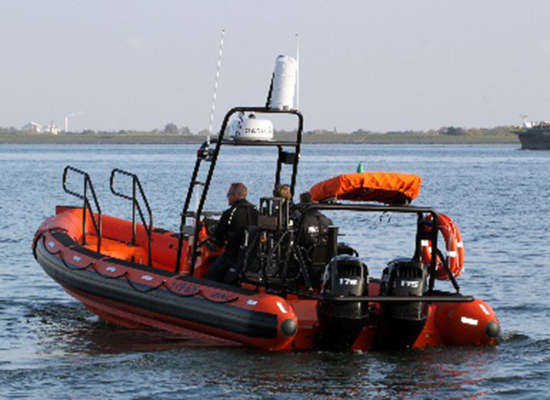 ---
Supporting the worlds Fisheries Organisations
Gemini RIBs are in service with the following fisheries agencies protecting marine wildlife:
South Africa Fisheries Dept
Cape Natur, South Africa
Western Australia Dept of Fisheries
Western Australia Dept of Marine Education
South Australia University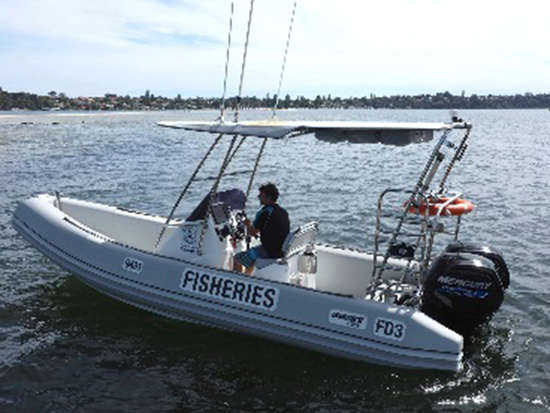 ---
Gemini in drop test
Gemini RIB's are tested to withstand extreme conditions. One of the most demanding tests is drop testing from 40ft in the air, Testing hull, deck and tube integrity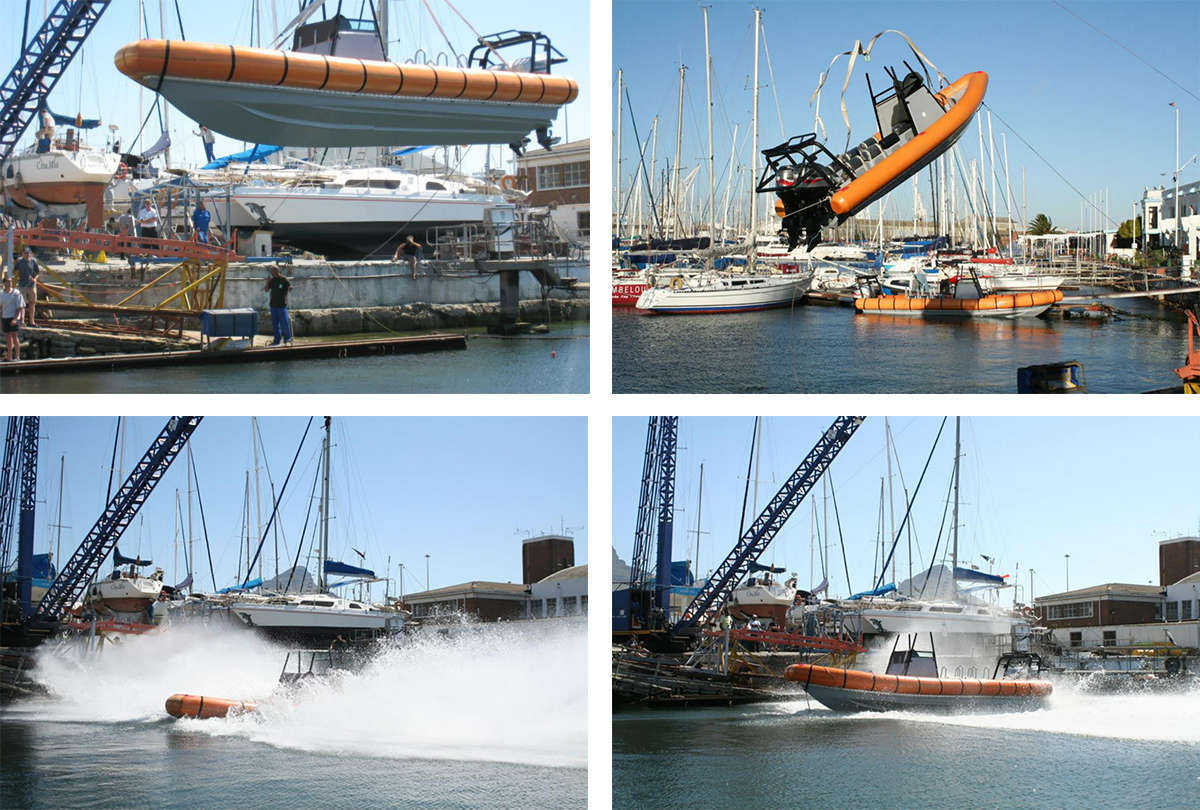 ---
National Sea rescue Team
National Sea Rescue Team cut a 30ft whale free from a fishing net, off the coast of South Africa. The infant humpback whale had six ropes tangled around its body and three wrapped around its tail when rescuers found it. Members of the South African Whale Disentanglement Network (SAWDN), Cape Nature Conservation officers, Department of Oceans & Coasts and members of the National Sea Rescue Institute (NSRI) ventured out in two NSRI rescue craft, built by Gemini Marine, and were able to save the stricken whale.
---
Interoperability – Single point, Multipoint lift and Painter Hooks
The large ribs in the Gemini range have been strengthened and modified for improved interoperability with "Mother Vessels". Fitted with single point, multipoint lift or painter hook system and compatible with deck cradles and cranes, allow ease and safe interoperability with the mothership:
---
Gemini – Improved Logistics
In order to reduce shipping times and costs, all the Gemini Waverider Open Range have been designed to fit inside a 20ft or 40ft ISO shipping container and the Gemini Waverider Cabin Range can also be fitted on an ISO shipping flat rack base.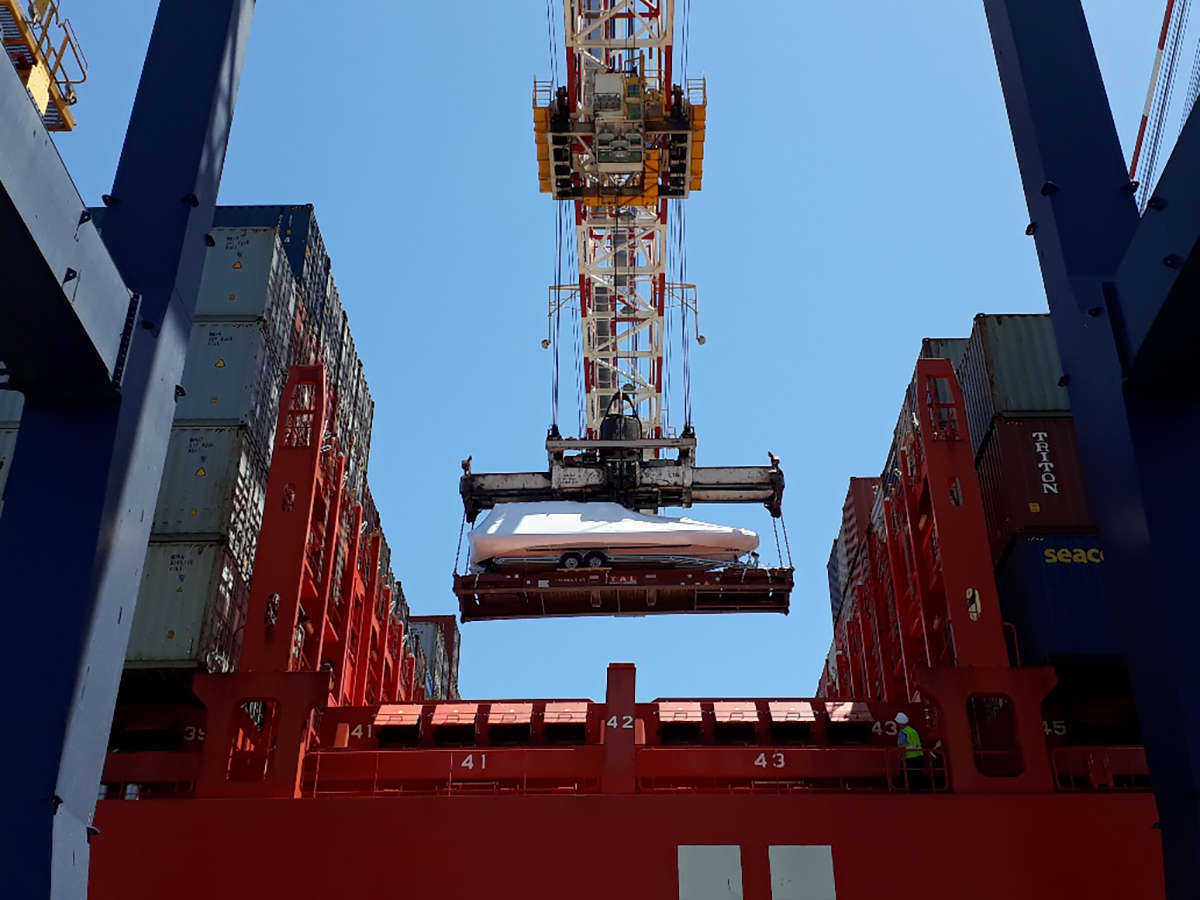 ---
Geminis T- Tops and Biminis
Check out the latest T-Tops and Bimini designs now available from Gemini. If you are looking to protect yourself from the elements, but want an open boat, look no further:
Available in various sizes, colours and materials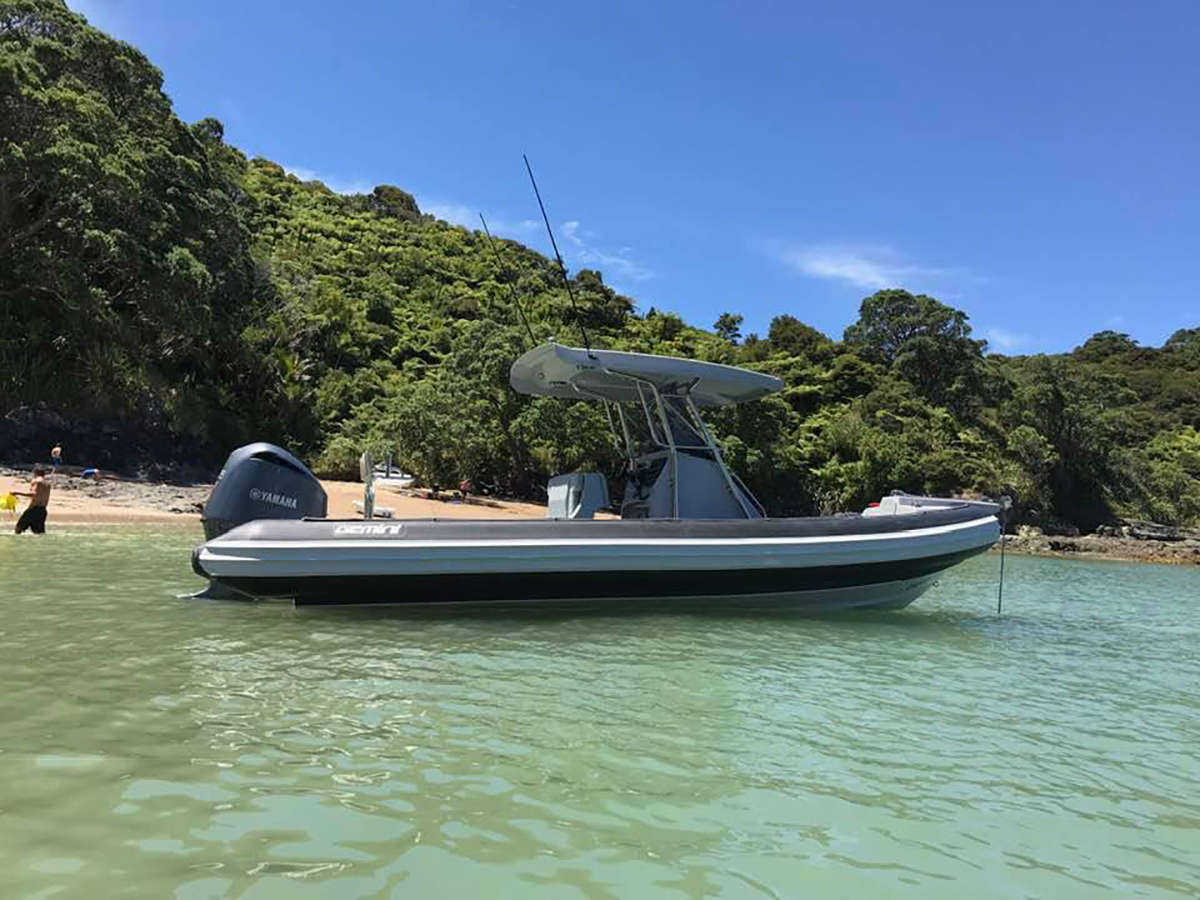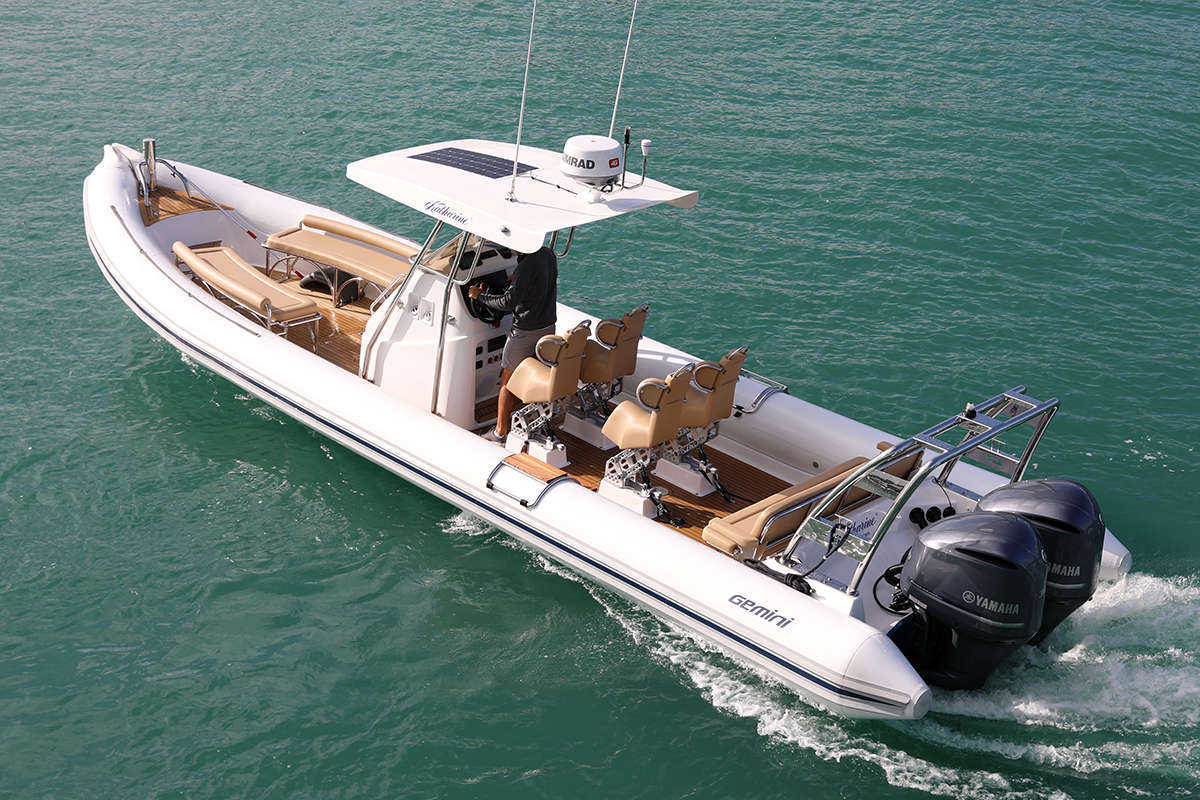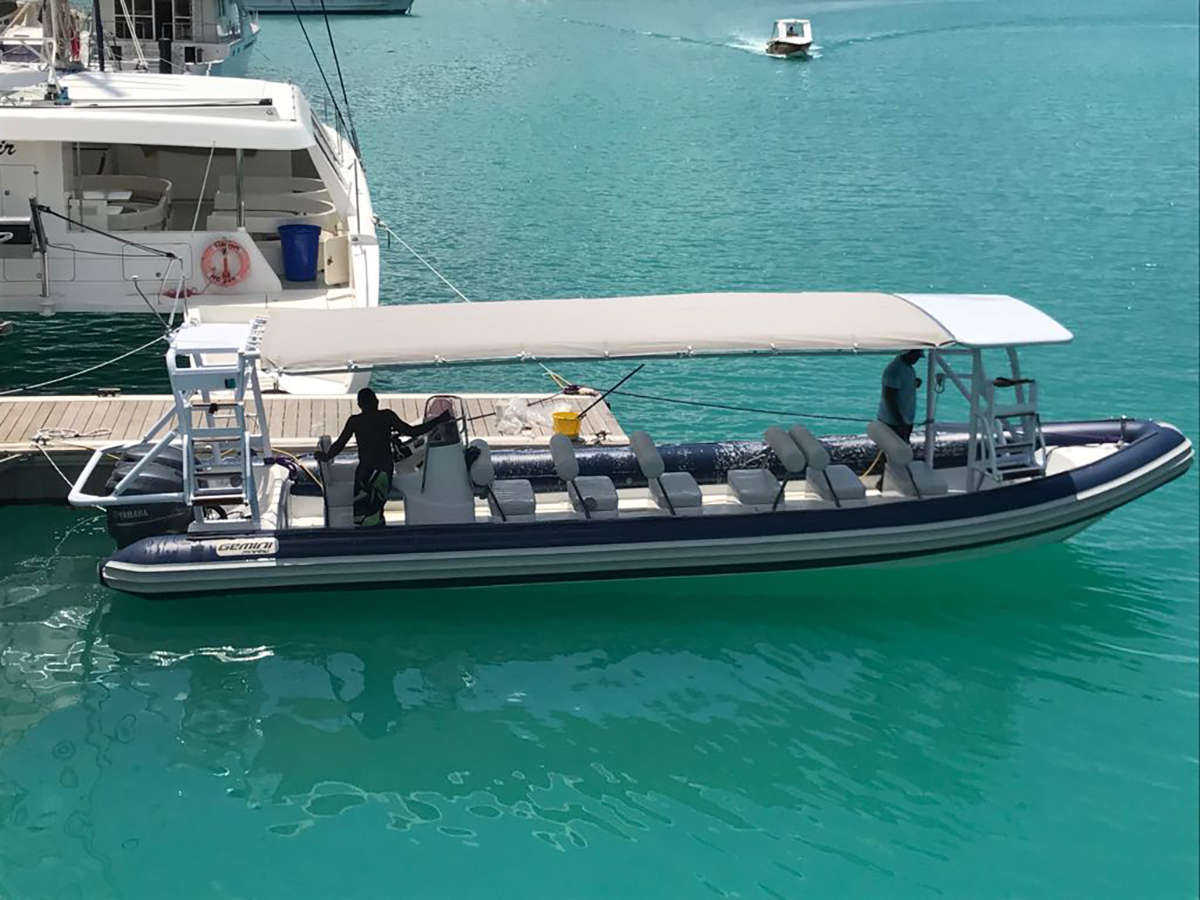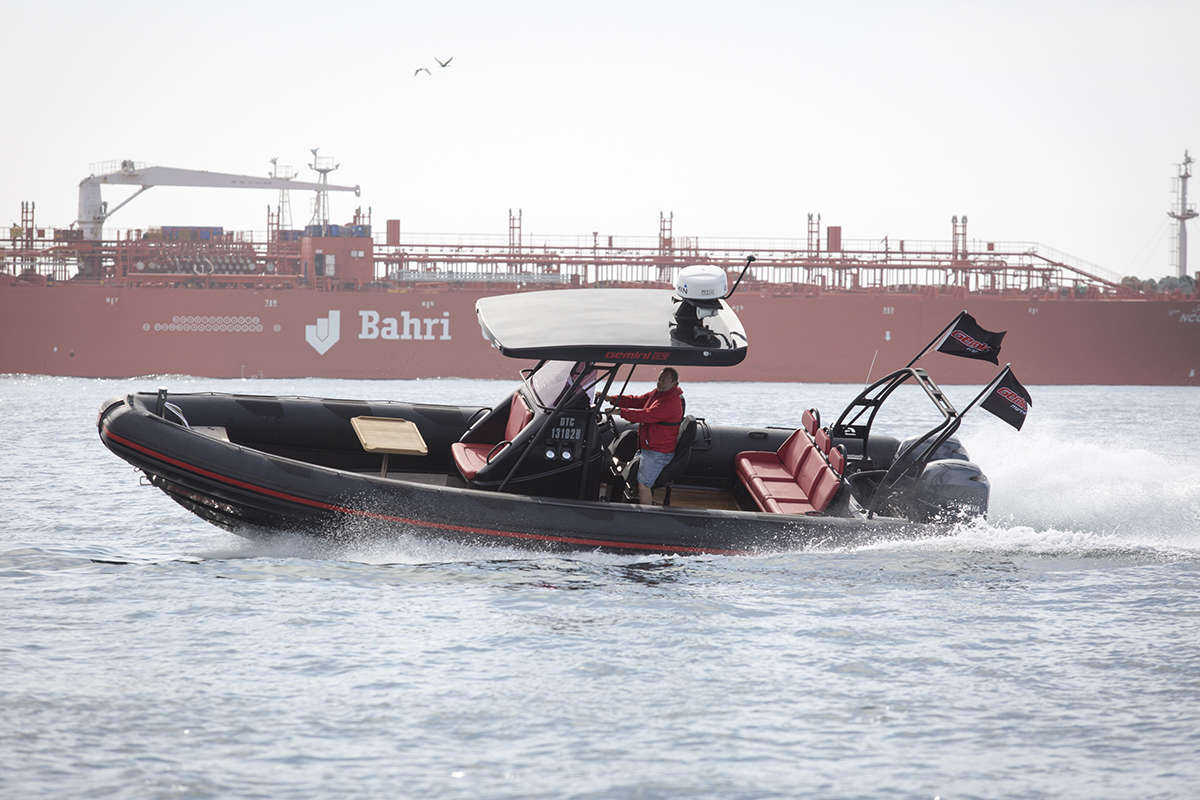 ---
Self-righting system, Boarding and Man Overboard system
Due to the nature of work Gemini have been designed to undertake, all the Gemini range from 5m upwards have the benefit from being designed to incorporate a self-righting system and boarding/Man overboard recovery system.

---