Tactical Personal Water Craft (TPWC)

Specially developed to meet the tactical requirements of Special Forces Teams and Law Enforcement Agencies
The Tactical Personal Watercraft (TPWC) has been specially developed to meet the tactical requirements of Special Forces Teams and Law Enforcement Agencies, to provide a fast and highly manoeuvrable platform in open water, surf and riverine environments, resulting in a rapidly deployable capability for surveillance, insertion, extraction, interdiction and search & rescue roles.
The craft are designed with reduced signatures for day and night operations and offer a greater payload, improved performance and superior seakeeping than commercially available PWCs. Increased engine power output provides high-speed capability at full payload, with or without towed sled.
The craft are designed to be either helicopter underslung or air delivered and are capable of being stowed on and launched from a wide variety of road, sea and air platforms.

Information
Certification: The base craft are designed and built to meet the requirements of the Recreational Craft Directive (RCD) and are
CE marked. All modifications and enhancements are RCD compliant.
Structure: The base craft are of composite construction and meet the requirements of ISO 13590:2003.
Floatation: The characteristics of the base craft meet the requirements of ISO 13590:2003.
Stability: PWC inflatable collar system offers enhanced performance, improved stability at all speeds and an increased payload carrying capability.
WBV: Reduced hull slamming and advanced shock mitigating systems* and vibration reducing deck system* ensures personnel remain fully capable throughout the mission.
Performance: The high output petrol engine & waterjet delivers a high-speed shallow water capability and exceptional manoeuvrability.
Interoperability: Flexible platform design which can be adapted for a wide range of naval, coastguard and Special Forces roles.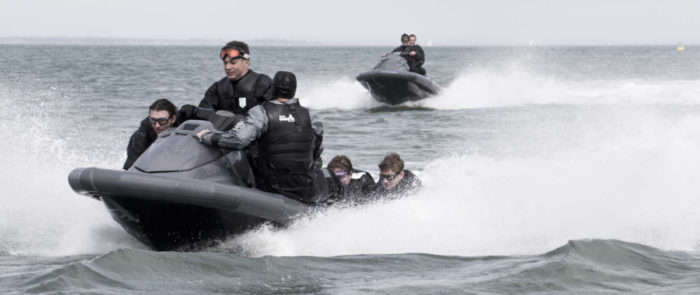 Technical Specifications
Optional equipment*
Subject to specification**
Principal Dimensions
Length: 3.56m
Beam:  1.65m
Speed:** 50kts +
Payload: 360Kg
Range:** 40nm +
Tank Capacity Fuel:** 70l + 2x 20l

Armament
ISTEC Weapon Mount*
ISTEC Weapon Mount* 5.56mm
LMG*7.62mm GPMG*

Tactical Awareness Systems 
Navigation inputs*
Machinery status inputs*
Communication inputs*

Navigation Systems
Echo sounder*
Magnetic compass*
GPS*
Chart Plotter*

Communication Systems
VHF radio*
Intercom (wireless)*
VHF secondary radio*
AIS*
VHF secure comms*

Medical
Rescue sled*
Casualty treatment area* (Sled)

Search and Rescue
Searchlight*
Rescue sled* (up to 6 man)
Towing capability

Signatures
Reduce visual and radar cross section signature**

Hull & Deck
Marine Grade Composite

Machinery
Engines:** Enhanced high output marine petrol engines
Drive & steering:** Water jets with reversing capability