Facilities and Management
Project Management & Administration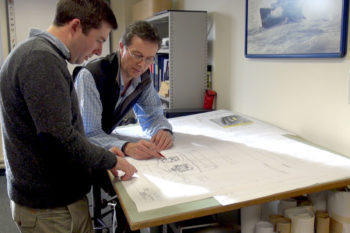 Berthon's project management offices overlook the main floor of M-Shed. This means our managers are linked to the refit projects at all times, and workers have direct access to managers for decision-making. Berthon maintains owner/operator office space that allows clients access to on-site office facilities, should they require a presence whilst projects are on-going. The accounts and administration offices are also located within the M-shed building.
---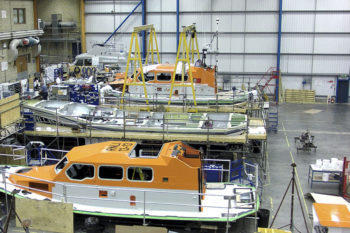 M-Shed (2,578 sq/m)
West Solent Shed (1,154 sq/m)
Both M-Shed and the West Solent Shed are fitted with mezzanine floors providing easy and safe access to boats. Berthon's separate workshops for shipwrights, engineers, electricians and riggers are adjacent to projects and production lines. All project managers and skilled employees have DECT phones for effective and timely communication.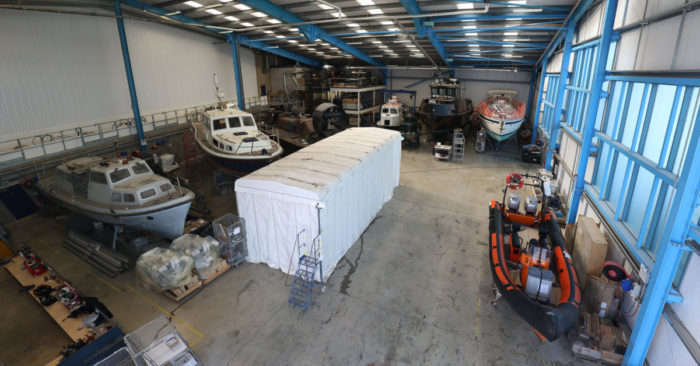 ---
Paint Shed (1,149 sq/m)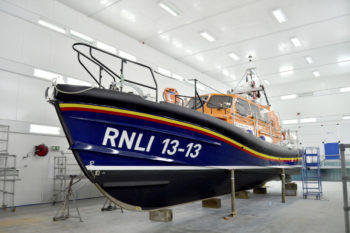 Berthon has a large, modern paint facility. The main glossing booth is flanked by two similar sized preparation booths, with a smaller component spray booth adjacent, allowing both hulls and minor items to be painted with air flow, temperatures and curing times adhering to the paint manufacturer's specific guidelines.
---
Shipwrights' Workshop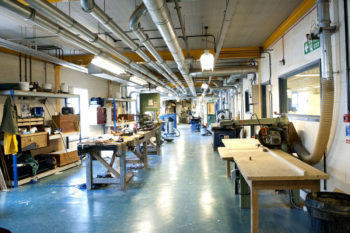 The shipwrights' workshop is located on the 1st floor adjacent to M-Shed. It provides the full range of facilities and machinery for boat maintenance, refit, and repair, including woodworking and GRP lamination. In addition, there is a range of air-powered and electric hand tools available.
Berthon employs shipwrights who carry out the full range of boat construction, general fit out, composite laminating and joinery work.
---
Marine Engineering Workshop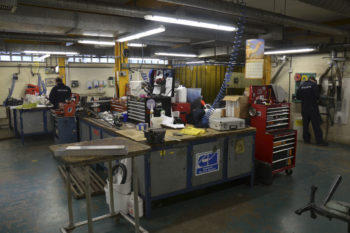 The engineering workshop is located on the ground floor adjacent to M-Shed. It contains a comprehensive range of machinery used for metalwork, machining, engine stripping and equipment repair. The machine shop equipment includes a lathe, milling machine, drilling machines, band saws, cross-cut saw, planer, grinders and polishers. Metalworking facilities include a plasma cutter, plate folder, plate roller, and hydraulic tube bender. Welding facilities include MIG and TIG for aluminium, stainless steel, and arc welding for steel. In addition, there is the full range of air-powered and electric hand tools available.
Berthon employs marine engineers to carry out mechanical fit-outs, pipe fitting and plumbing, engine servicing and repairs and fabrication and welding on boats in build or in refit or repair.
---
Electrical Workshop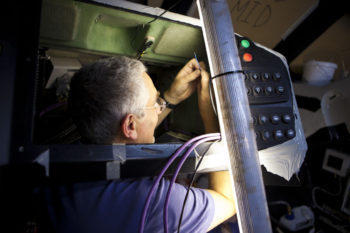 The electrical workshop is located on the ground floor adjacent to M-Shed. Electrician's equipment and tools include insulation resistance and continuity testers, multimeters, socket testers, battery testers, battery chargers, battery drop testers and soldering equipment. They also have access to an engraving machine and label printer. In addition, the workshop is equipped with a pillar drill, rivet gun, crimpers and other tools.
Berthon employs skilled and experienced marine electricians qualified in 12/24V DC and 240V AC electrical systems. Work ranges from complete installations, re-wires, modifications and repairs to boats electrical circuits, to the installation of electronic navigation and communication equipment.
---
"We decided to refit Providence rather than build a new vessel. Providence was favoured by her crew but let down by ageing machinery and reliability issues and the ship's systems were prone to regular failures. Berthon won the tender and proved to be pro-active and keen at all times. They were able to draw from a skilled workforce and complete all the work in-house at their excellent facilities in Lymington. They were able to manage and complete all work in the contract to a high standard and Providence is now good for a further 10-15 years. The new engines make a fuel saving of 20 litres per hour of operation and the reliability of the craft continues to give us peace of mind. Berthon's thorough approach to aftercare has been impressive too"
Dan Brown, Operational Maintenance Supervisor, Associated British Ports (ABP)