Yacht Paint Spraying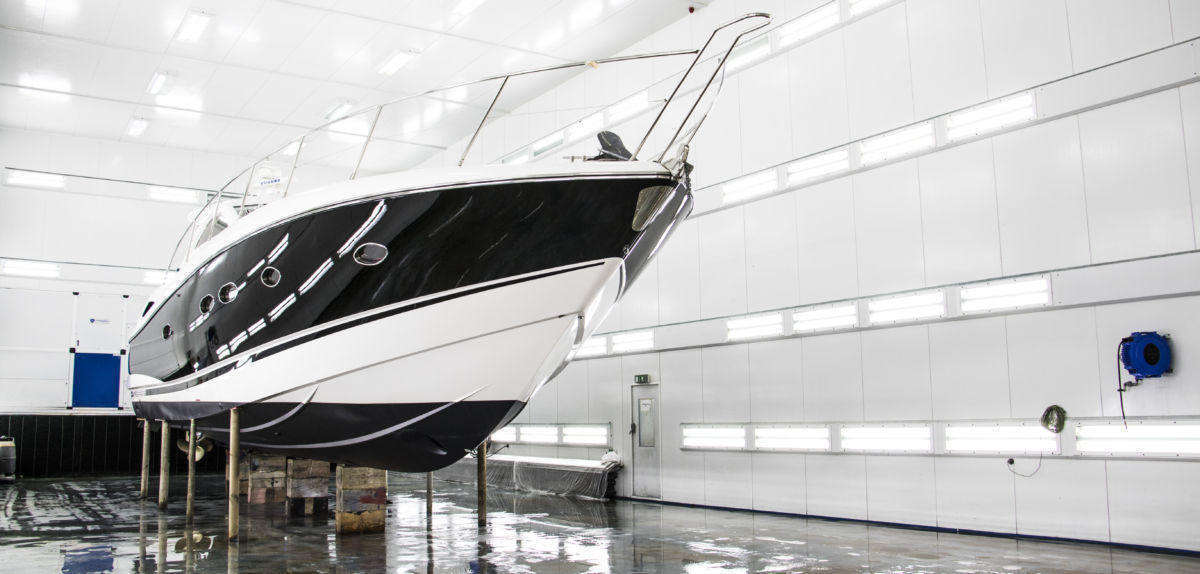 Berthon Yacht Paint Spraying Facilities
Berthon has one of the most modern yacht and boat paint spraying facilities in Europe. The 92ft x 36ft (28m x 11m) booth on Lymington River, Hampshire, is flanked by two similar size preparation booths to complement the UK's premier boatyard facility. It allows a dust-free spray paint finish every time.
Air temperatures are continuously controlled in the boat painting facility and, along with other parameters such as hull temperature and air humidity, – is monitored and recorded to ensure a superb paint finish.  Click on the tab below to view the yachts that have been painted in our spray booth since we opened it in 1999.
At Berthon, we spray using mainly Alexseal Paints.
Berthon Yacht Paint Spray Booth Records – 1999 to Present
Yacht Name
Class
LOA
Material
Type
Ethel

Lazer SB3

20

GRP

Sailing Yacht

Otters Way of Beaulieu

Linssen 47

47

Steel

Motor

Redoubtable

Sunseeker 57

57
GRP

Motor

Lark

Windy 39 Camira

39
GRP

Motor

Coco de Mer

Malo

46
GRP

Sailing Yacht

Pedryn

Delta

Aluminium Rib

Motor

Lavanter

Windy 39 Camira

39

GRP

Motor

Tusk

Grand Banks

59

GRP

Motor

Winsome IV

Nic 43

43

GRP

Sailing Yacht

Alibo

Contest 46

49

GRP

Sailing Yacht

Chiscos

Warrior 40

42

GRP

Sailing Yacht

Lucky Sarah

Fisher 46

53

Sailing Yacht/Motor

1202 Albert Brown (Harwich)

RNLI Lifeboat (Severn Class)

56

GRP

Motor

More Magic

Discovery 67

69

GRP

Sailing Yacht

ABI 120

Boat Mover
Boat Mover
Pentimento

Sagitta S&S

35

Sailing Yacht

Pamela

Discovery 55

59

GRP

Sailing Yacht

ASV1

Sea Worker 7

23

Aluminium

Motor

ASV2
Sea Worker 7

23

Aluminium

Motor

ASV3
Sea Worker 7

23

Aluminium

Motor

ASV4
Sea Worker 7

23

Aluminium

Motor

ASV5
Sea Worker 7

23

Aluminium

Motor

ASV6
Sea Worker 7

23

Aluminium

Motor

Giselle

Timpenny 670

22

GRP

Sailing Yacht

Dragoon

Corvette 320

32

GRP

Motor

Pentimento

Sagitta S&S

35

Sailing Yacht

C22

Hovercraft

46

Motor/Hovercraft
Namhara

Vicem 67 Flybridge Motor Yacht

74

GRP

Motor

About Time

Sealine S25

25

GRP

Motor

Giselle of Iken

Alden 64

39

Sailing Yacht

Hunton XRS3643

Hunton XRS 43

43

GRP

Motor

Bill and Me

Oyster

79

GRP

Sailing Yacht

C23

Hovercraft

46

Motor/Hovercraft

Kekoa

Sunseeker Camargue 50

53

GRP

Motor

Condor

Police Boat

60

Steel

Motor

Gallant Lady

Aquastar 38

38

GRP

Motor

Juvita

Saffier SC10

33

Sailing Yacht

Purple Haze

Gibsea 33

33

GRP

Sailing Yacht

Diver

Dive Training Vessel

40

Steel

Motor

Chadh-Fi II

Hanse

62

GRP

Sailing Yacht

Jorvik Rose

Contest 45

48

GRP

Sailing Yacht

Rosemary

Joubert

54

GRP

Sailing Yacht

Windy
39'
GRP
Motor
Pamela
Discovery
55'
GRP
Sail - Mast
Winsome IV
Sparkman & Stephens 2121
41'
Aluminium
Sail
Hush
J-80
26'
GRP
Sail
Pascoe 917
Pascoe 6m
20'
Carbon
Motor
Lazy Tiger
Oyster LD
45'
GRP
Motor
Hannchen
Folk Boat
26'
GRP
Sail
Aglaia
Ocean Phoenix 77
77'
GRP
Mast
Corona
Windy
29'
GRP
Motor
Sir Paul Travers
Range Safety Craft
49'
Steel
Motor
Jorvik Rose
Contest 46
46'
GRP
Sail
Rosemary
Joubert
54'
Aluminium
Sail
Nyabo
Contest 46/48
48'
GRP
Sail
Alisara
Humphreys 40
40'
GRP
Sail
The Hound
Mitchell 31
31'
GRP
Motor
Kiva
Hinckley 51
51'
GRP
Sail - Mast
ON 1317
Shannon
45'
Kevlar/Glass
RNLI Lifeboat - Paint Repairs
Kira
Swan 55
55'
GRP
Sail
Marmalade
RM890
29'
Composite
Sail
Windy 40 Maestro
40'
GRP
Motor
Wind Cheater
Aquastar 47
52'
GRP
Motor
Sorcerer of Cowes
Cranchi 50 Mediterranee
50'
GRP
Motor
Wight Spirit
Contest 55CS
55'
GRP
Sail
Alba Endeavour
Challenge
72'
Steel
Mast - Boom
Polar Bear
Challenge
72'
Steel
Mast - Boom
On A Whim
Discovery 57
57
GRP
Boom
ON 1320
Shannon
45'
Kevlar/Glass
RNLI Lifeboat
Alba Endeavour
Challenge
72'
Steel
Sail
Bare Necessities
Oyster
82'
GRP
Boom - Sole Boards
Polar Bear
Challenge
72'
Steel
Sail
ON 1318
Shannon
45'
Kevlar/Glass
RNLI Lifeboat
Fairline Targa 38
38'
GRP
Motor
Juvita
Saffier SC10
33'
GRP
Sail
ON 1317
Shannon
45
Kevlar/Glass
RNLI Lifeboat
Osiris
Chranchi
50
GRP
Motor
Musketeer
Maxi 1100
37
GRP
Sail
The John Faulding
Ex-Tyne Class Lifeboat
47
Steel
RNLI Lifeboat
Winsome IV
Sparkman & Stephens 2121
41
Aluminium
Sail - Deck
Loyalty
Talisman 47
47
GRP
Motor
ON 1316
Shannon
45
Kevlar/Glass
RNLI Lifeboat
Tenacity
Swan 56
56
GRP
Sail
Polar Star
XS RIB
21
GRP
Motor
Lucky
Windy 28 Ghibili
28
GRP
Motor
ON 1315
Shannon
45
Kevlar/Glass
RNLI Lifeboat
Windy 31.648
Windy 31 Zonda
31
GRP
Motor
Lydia
Bowman 48
48
GRP
Sail
Flora Mae
Nimbus 38
38
GRP
Motor
Fumble
Jeanneau Merry Fisher
28
GRP
Motor
Cohiba
Windy 39 Camira
39
GRP
Motor
Hebe
Windy 44 Chinook
44
GRP
Motor
Wings
12mR
70
Wood
Sail
Aura of Lymington
Camper Nicholson 476
49
GRP
Sail
Islay Mist
Hallberg-Rassy
36
GRP
Sail
ON 1314
Shannon
45
Kevlar/Glass

RNLI Lifeboat
Taransay
Botnia 31 Targa
31
GRP
Motor
Toucan
Truly Classic
61
Aluminium
Sail
ON 1313
Shannon
45
Kevlar/Glass
RNLI Lifeboat
Dasher
Sadler 34
34
GRP
Sail
Uncle Bob
Beneteau Oceanis
40
GRP
Sail
Winsome IV
Sparkman & Stephens 2121
41
Aluminium
Sail
Bounty
Camper Nicholson T/A
78
Wood
Motor
Jolt
Tofinou
31
GRP
Sail
P22 0232
Pacific
22
GRP
RIB
ON 1312
Shannon
45
Kevlar/Glass
RNLI Lifeboat
Hush
Royal Huisman Custom TSMY
65
Aluminium
Motor
Princess V42 622
Princess V42
42
GRP
Motor
P22 Mk II 0231
Pacific
22
GRP
RIB
Rupert the Bear
Grand Banks
48
Wood
Motor
Phryne of Burnham
Queen 38
40
GRP
Sail
ON 1311
Shannon
45
Kevlar/Glass
RNLI Lifeboat
JOLT II
Baltic 45
45
Carbon
Sail
ON 1310
Shannon
45
Kevlar/Glass
RNLI Lifeboat
Windy 25219
Windy
25
GRP
Motor
Dasher
Nicholson
55
Comp
Motor
Princess V39 083
Princess V39
42
GRP
Motor
Princess V52 623
Princess V52
52
GRP
Motor
ON 1309
Shannon
45
Kevlar/Glass
RNLI Lifeboat
Mariflex
Challenge
67
Steel
Sail
Caper
S&S
49
GRP
Sail
Q Nimbus
 
29
GRP
Motor
Meteor
Swordsman
40
GRP
Motor
Winsome IV
S&S
41
Aluminium
Sail
Bounty
C&N
78
Wood
Motor
Endeavour
Challenge
67
Steel
Sail
Lucky Sarah
Fisher
53
GRP
Masts & booms
Jamieson RIB
RIB
24
GRP
RIB
Marauder
Aqua-Star
48
GRP
Motor
Tiderace II
Swan 441
44
GRP
Sail
Windjamma
J122
40
Composite
Sail
Peace of Eden
Trintella 47
47
GRP
Sail
Crossbow
Aquastar 38
38
GRP
Motor
Emy
Princess P72
72
GRP
Motor
Sealine C48
48
GRP
Motor
Sealine SC42i
42
GRP
Motor
Sealine SC42i
42
GRP
Motor
Sealine SC42i
42
GRP
Motor
Georgie Girl
Beneteau Antares
39
GRP
Motor
Sealine F48
48
GRP
Motor
Sealine SC42
42
GRP
Motor
Gawaine
Contessa 38
38
GRP
Sail
Sarie Marais
HR 36
36'
GRP
Sail
Sealine C48
48'
GRP
Motor
Sealine T50
50'
GRP
Motor
Kukri
Nicholson 55
55'
GRP
Sail
Jubilation
Oyster 485
48
Aluminium
Mast & booms
Callista
Victoria 34
34'
GRP
Sail
Dosinia
Victoria 34
34'
GRP
Sail
Adventure
Challenge 67
67'
Steel
Sail
Kalandia
Discovery 55
58'
GRP
Sail
Never Look Back
Sweden 41
41'
GRP
Sail
Charisma
Nordia 55
55'
GRP
Sail
DSB
Variant
29'
GRP
Motor
PL
Talisman 49
49'
GRP
Motor
Amoria
Victoria 34
34'
GRP
Sail
Uhuru
Oyster 62
62'
GRP
Sail
Gioia
Princess V56
56'
GRP
Motor
Winsome
S&S 41
41'
Aluminium
Sail
Variant
Dive Boat
29'
GRP
Motor
Rowena
Grand Banks
42'
Wood
Motor
RNLI
FCB2
45'
Composite
RNLI Lifeboat
Flo
Hawk 20
20'
GRP
Sail
Princess P78
78'
GRP
Motor
Mitten
Berthon Gauntlet
33'
Wood
Sail
Loyalty
Halmatic 14m
46'
GRP
Motor
King of Hearts
Swan 44
45'
GRP
Sail
Princess V78
78'
GRP
Motor
Black Jack
Ohlsen 38
38'
GRP
Sail
Oyster Reach
Oyster 54
58'
GRP
Sail
Tepika Point
Windy 41
41'
GRP
Motor
Jessie
Tofinou 9.5
31`
Composite
Sail
Sword
Halmatic 14m
46'
GRP
Motor
Wind Charger
Cardinal 36
36'
Aluminium
Mast & booms
Bounty
C & N 78
78'
Wood
Motor
Diver
Dive boat
40'
GRP
Motor
Jolt
Toffinou 9.5
31'
Composite
Sail
Contessa Catherine
Contessa 32
32'
GRP
Sail
Truant of Sark
Nordia 55
59'
GRP
Sail
Dalvina
Berthon 80
80
Aluminium
Mast & booms
Sir Geofrey Rackham
Talisman 49
49'
GRP
Motor
Dipper
Dive boat
40'
GRP
Motor
Swansong
Linssen 339
34'
GRP
Motor
Adastra
Bowman 48
48'
GRP
Sail
Guilaume
Sunseeker Hawk 34
34'
GRP
Motor
Captain Rouse
Windy Grand Mistral
37'
GRP
Motor
Bloodhound
C&N 12m
63'
Wood
Sail
Estelle
XOD
21'
Wood
Sail
Reclaim
Dive boat
40'
GRP
Motor
Harriet Louise
Windy 34
34'
GRP
Motor
Black Swan
Talisman 45
45'
GRP
Motor
Sweya
Sweden Yachts 55
58'
GRP
Sail
Sabre
Nicholson 55
55'
GRP
Sail
Orc
Offshore Racer
30'
Composite
Motor
Endeavour
Talisman 49
49'
GRP
Motor
Zanzibar
Jeanneau Prestige
50'
GRP
Sail
Wuz
Moody
64'
GRP
Sail
Blest
Woodstock 60
60'
Aluminium
Sail
Aura
Sealine T60
60'
GRP
Motor
Challenger
Challenge 67
67'
Steel
Sail
Victoria 34
34
Alloy
Mast & booms
Challenge #36
Challenge 72
72
Alloy
Mast & booms
Challenge #36
Challenge 72
72'
Steel
Sail
Snow Wolf
Swan 48
48'
GRP
Sail
Palamedes
Holman & Pye 38
40'
GRP
Sail
Rose Salter
Tofinou 9.5
31'
Composite
Sail
Workboat
36'
GRP
Motor
Sir Humphrey Gale
Talisman 49
49'
GRP
Motor
Shogun
Catfish 38
39'
Aluminium
Sail
Sealine SC 38
38'
GRP
Motor
Twisted Pair
Aquastar 74
74'
GRP
Motor
Princess
V
56
GRP
M/Y
Hupane
Open
40
Composite
S/Y
FCB2
RNLI Lifeboat
45
Composite
M/Y
Princess V78031
P78 Y021
78
GRP
M/Y
Princess P78Y021
V78 031
78
GRP
M/Y
Wind Charger mast
Warwick Cardinal
46
Aluminum
S/Y
Modette
Windy
25
GRP
M/Y
Sea Mark
Trawler
52€™
Steel
M/Y
Seven Seas
Trintella
46
Aluminum
S/Y
Truant
Nordia
55
Aluminum
M/Y
Marvellous
Windy Mirage
25
GRP
M/Y
Salamander
Nauticat
55
GRP
S/Y
Fairline
Targa
47
GRP
M/Y
Sealine
T60
60
GRP
M/Y
Challenge 36
Challenge
72
Steel
S/Y
TeApiti
Discovery
55
GRP
S/Y
Longbow
Bowman
48
GRP
S/Y
Shogun
Catamaran 
46
Aluminum
S/Y
Twisted Pair
Aqua Star
74
GRP
M/Y
Blest
Whistock 
60
Aluminum
S/Y
Cassiopeia
Windy 52
52'
GRP
Motor
Windrush
Queen's Launch Riverboat
46'
Steel
Motor
TeApiti of Chriska
Discovery 55
55'
GRP
Sail
Tugela
Swan 77
77'
GRP
Sail
 
Sealine 35
35'
GRP
Motor
 
Jeanneau 42
42'
GRP
Sail
 
Sealine Sports Coupé
38'
GRP
Motor
 
Jeanneau Deck Saloon
54'
GRP
Sail
Braveheart
Hoek
75'
 
Sail
Challenge #47
Challenge
72'
Steel
Sail
 
Hunton
37'
 
Motor
 
Sealine Sports Coupé
38'
GRP
Motor
Trutz
Nicholson
35'
GRP
Sail
Beach Music
Tayana 52
52'
GRP
Sail
Rewa
S&S 63
63'
Aluminium
Sail
Otters Way
Linsen 47
48'
Steel
Motor
 
Sealine SC38
38'
GRP
Motor
Festina Lente
Discovery 55
55'
GRP
Sail
 
Sealine S35
35'
GRP
Motor
 
Sealine SC35
35'
GRP
Motor
E-002
E Class lifeboat
30'
Aluminium
Motor
Fenella
Jeanneau SO
45'
GRP
Sail
Taonui
Dubbel & Jesse
42'
Aluminium
Sail
 
Sports Coupe 38
38'
GRP
Motor
Braveheart of Sark
Truly Classic 75
75'
GRP
Sail
Artemis
Open 60
60'
Composite
Sail
XSR48 Prototype
XSR48
48'
Composite
Motor
Imagine of Plymouth
Jeanneau 54DS
55'
GRP
Sail
Spirit of Jethou
Swan 601
60'
Composite
Sail
Juliabet
Nicholson
32'
GRP
Sail
Better Days
Windy
37'
GRP
Motor
XSR48 Prototype
Prototype
48'
Composite
Motor
 
10m Rib with wheelhouse
29'
Aluminium
Motor
Endeavour
Challenge 67
67'
Steel
Sail
Paloma
Folkboat
26'
GRP
Sail
 
Sealine Sports Coupe
38'
GRP
Motor
XSR48 Prototype
XSR48
48'
Composite
Motor
Mutineer
Arthur Rob / Moody
50'
Wood
Sail
 
Sealine Sports Coupe
38'
GRP
Motor
Martello
Aquastar 74
74'
GRP
Motor
Challenge #39
Challenge 72
72'
Steel
Sail
Princess V70052
Princess V70
74'
GRP
Motor
Shogun
Catfish 38
38'
Aluminium
Motor
Winsome IV
S&S Design
41'
Aluminum
Sail
XSR48 Prototype
XSR 48
48'
Composite
Motor
Challenge #40
Challenge 72
72'
Steel
Sail
Dannatelley
Princess V48
48'
GRP
Motor
Chaser
Nicholson 55
55'
GRP
Sail
Challenge #40
Challenge 72
72'
Steel
Sail
 
Challenge 67
67'
Steel
Sail
Alice 2
Farr 45
45'
GRP
Sail
Super Sword
Supermarine Swordfish
36'
GRP
Motor
Cape Cross
Mast
-
Aluminium
Sail
Nihil Prius
Sealine T60
60'
GRP
Motor
Sayonara
Trader 58
58'
GRP
Motor
Just Joia
Mystic 60
67'
GRP
Sail
Road Taken (ex Eva)
Swan 65
65'
GRP
Sail
 
Princess V70
-
Carbon
Sunroof panel in situ
Rebound mast
-
-
Aluminium
Mast
Celtic Spirit
Dubois Ketch
71'
Aluminium
Sail
Musketeer
Princess V58
58'
GRP
Motor
Rebound
Trintella 49A
49'
Aluminium
Sail
Equinox
Westerley
34'
GRP
Sail
Phillipedes II
Swan
41'
GRP
Sail
Salamander
Marsh
50'
Steel
Motor
Birgitta
Palmer Johnson
118'
Aluminium
Motor
Selena (repairs)
Swan
80'
GRP
Sail
Spirit of Jethou (repairs)
Swan
60'
Carbon
Sail
 
Canoe
8'
Carbon
Canoe
ex News Corp / Pindar
Volvo
60'
Kevlar
Sail
ex Diligent II / Samphire
Topsail Ketch
50'
Wood
Sail
Patches
TP52
52'
Carbon
Sail
Volterra mast
-
-
Aluminium
Mast & boom
Volterra
Palmer Johnson
80'
Aluminium
Sail
Annabel J
Swan
68'
GRP
Sail
Red Hackle masts
-
-
Aluminium
Masts & booms
Red Hackle
Mystic
60'
GRP
Sail
Charm of Rhu
Fife
42'
Wood
Sail
Samphire
Sweden
39'
GRP
Sail
Harwich Lifeboat
Severn
56'
Kevlar/glass
RNLI lifeboat
Whitefly masts
-
-
Aluminium
Masts & booms
Whitefly
Huisman
60'
Aluminium
Sail
Jackdaw
J
39'
GRP
Sail
Paloma
Folkboat
26'
GRP
Sail
Challenge #37
Challenge
72'
Steel
Sail
ON 1279 Lifeboat
Severn
56'
Kevlar/glass
RNLI lifeboat
Tigre
Nordia
54'
Aluminium
Sail
Challenge #36
Challenge
72'
Steel
Sail
ON 1278 Lifeboat
Severn
56'
Kevlar/glass
RNLI lifeboat
Albatross
Challenge
67'
Steel
Sail
Challenge #33
Challenge
72'
Steel
Sail
Trutz
Nicholson
35'
GRP
Sail
Relief lifeboat
Severn
56'
Kevlar/glass
RNLI lifeboat
ON 1276 Lifeboat
Severn
56'
Kevlar/glass
RNLI lifeboat
ON 1277 Lifeboat
Severn
56'
Kevlar/glass
RNLI lifeboat
Challenge #35
Challenge
72'
Steel
Sail
Savage
Oyster
55'
GRP
Sail
Albatross
Challenge
67'
Steel
Sail
Cuilaun
McGruer
55'
Wood
Classic sail
Chamois
Nelson
38'
GRP
Motor
Challenge #46
Challenge
72'
Steel
Sail
Challenge #37
Challenge
72'
Steel
Sail
Challenge #45
Challenge
72'
Steel
Sail
Challenge #39
Challenge
72'
Steel
Sail
Challenge #38
Challenge
72'
Steel
Sail
Challenge #41
Challenge
72'
Steel
Sail
Challenge #40
Challenge
72'
Steel
Sail
Challenge #42
Challenge
72'
Steel
Sail
Challenge #43
Challenge
72'
Steel
Sail
Holyhead Lifeboat
Severn
56'
Kevlar/glass
RNLI lifeboat
Challenge #48
Challenge
72'
Steel
Sail
 
Nelson
38'
GRP
Motor
Challenge #44
Challenge
72'
Steel
Sail
Challenge #47
Challenge
72'
Steel
Sail
17-43 Lifeboat
Severn
56'
Kevlar/glass
RNLI lifeboat
Holyhead Lifeboat
Severn
56'
Kevlar/glass
RNLI lifeboat
Gigi
Swan
48'
GRP
Sail
Dolphin
Etchell
31'
GRP
Sail
Relief Lifeboat
Severn
56'
Kevlar/glass
RNLI lifeboat
ON 1203 Lifeboat

St Peter Port
Severn
56'
Kevlar/glass
RNLI lifeboat
Pentimento
Sagitta
35'
GRP
Sail
Bonny Lass
Windy
38'
GRP
Motor
Noonmark
Swan
57'
GRP
Sail
Save The Children
Challenge
72'
Steel
Sail
ex-CGNV
Challenge
72'
Steel
Sail
Whistling Oyster
Oyster
43'
GRP
Sail
Group 4
Challenge
67'
Steel
Sail
Shiver
Oyster
41'
GRP
Sail
BG
Challenge
67'
Steel
Sail
Shoo Shoo
Jongert
64'
Steel
Sail
Zingala
Windy
36'
GRP
Motor
Faye Samantha
TSDY
37'
Steel
Motor
Amazon Queen
TSDY
60'
Steel
Motor
Challenge #24
Challenge
67'
Steel
Sail
17-38 Lifeboat
Severn
56'
Kevlar/glass
RNLI lifeboat
Shirley June
Aquabell
33'
GRP
Motor
Challenge #23
Challenge
67'
Steel
Sail
17-41 Lifeboat
Severn
56'
Kevlar/glass
RNLI lifeboat
BG
Challenge
72'
Steel
Sail
Sulaco
Aquastar
43'
GRP
Motor
Logica
Challenge
72'
Steel
Sail
VW
Challenge
67'
Steel
Sail
17-36 Lifeboat
Severn
56'
Kevlar/glass
RNLI lifeboat
Canicher
Brinksma
53'
Steel
Motor
Grumpy Bear
Jeaneau
45'
GRP
Sail
Challenge #30
Challenge
67'
Steel
Sail
Challenge #31
Challenge
67'
Steel
Sail
Blue Max
Souter
65'
Wood
Motor
Shoo Shoo
Jongert
64'
Steel
Sail
No.24
Challenge
67'
Steel
Sail
Faster K-yote
IC45
45'
 
Sail
Taboo
Windy
40'
GRP
Motor
Red Shank
Narrow boat
56'
Steel
Motor
ex Compaq
Challenge
67'
Steel
Sail
17-33 Lifeboat
Severn
56'
Kevlar/glass
RNLI lifeboat
17-30 Lifeboat
Severn
56'
Kevlar/glass
RNLI lifeboat
La Mouette
Windy
38'
GRP
Motor
Key Biscayne
Bertram
28'
GRP
Motor
Salamander
Marsh
50'
Steel
Motor
Sely
Windy
31'
GRP
Motor
17-28 Lifeboat
Severn
56'
Kevlar/glass
RNLI lifeboat
Aera
Swan
46'
GRP
Sail
Matterhorn
Mystic
60'
GRP
Sail
Matterhorn mast
 
 
Aluminium
Mast and boom
McNicholas
Challenge
67'
Steel
Sail
EDS
Challenge
67'
Steel
Sail
Spirit of Hong Kong
Challenge
67'
Steel
Sail
EDS mast
 
 
Aluminium mast
Boom and poles
Rum Jungle
Nelson
75'
GRP
Motor (osmosis treatment)
17-26 Lifeboat
Severn
56'
Kevlar/glass
RNLI lifeboat
Black Gold
Jeanneau
45'
GRP
Sail
ON1179 Lifeboat
Severn
56'
Kevlar/glass
RNLI lifeboat
Olympic
Challenge
72'
Steel
Sail
Spirit of Hong Kong
Challenge
72'
Steel
Sail
BP
Challenge
72'
Steel
Sail
ON1108 Lifeboat
Arun
52'
GRP
RNLI lifeboat
Braveheart
Hoek
75'
 
Sail
17-24 Lifeboat
Severn
56'
Kevlar/glass
RNLI lifeboat
Quadstone
Challenge
72'
Steel
Sail
LG Flatron
Challenge
72'
Steel
Sail
Robert Boyle
Oyster
55'
GRP
Sail
Cape Cross
Castro
68'
Aluminium
Sail
Cape Cross mast
 
 
Aluminium
Mast and boom
 
Challenge
67'
Steel
Sail
Inspiring Performance
Challenge
67'
Steel
Sail
BT Family
Challenge
67'
Steel
Sail
Ward Evans
Challenge
67'
Steel
Sail
ON1073 Lifeboat
Arun
52'
GRP
RNLI lifeboat
Derision
XOD
20'
Wood
Sail
Josephina
Windy
32'
GRP
Motor
Wilful
Bertram
28'
GRP
Motor
Drumbeat
Ray Hunt
63'
Wood
Sail
Truly Classic
Hoek
64'
Wood
Sail
Tigre of St Peter Port
Nordia
54'
Aluminium
Sail
Philips
Challenge
67'
Steel
Sail
Viva Zapata
Rocket
31'
GRP
Sail