Beginning at Berthon
Beginning at Berthon – Berthon Apprentices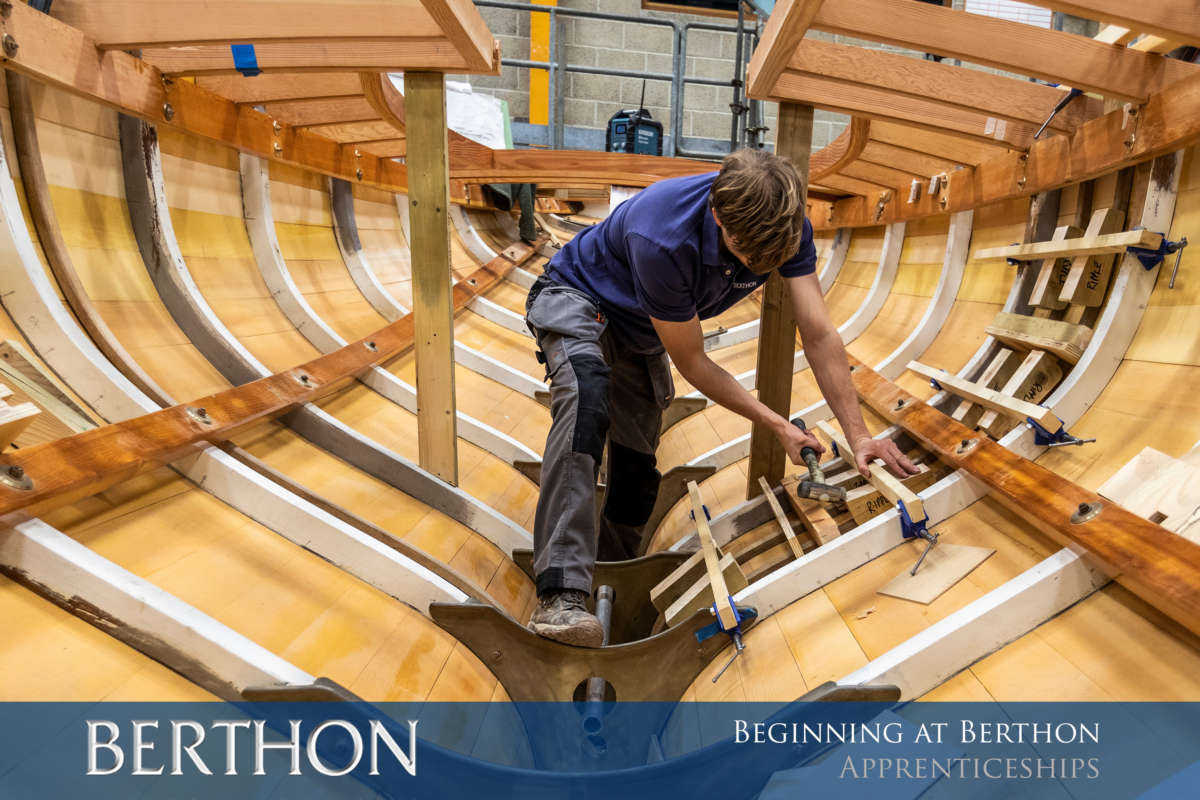 At the Berthon Boat Company we have more than 30 fully funded apprentices, who train in a variety of disciplines over four years of on-site teaching / work experience and attendance of Brockenhurst College.  Each year there is a new intake choosing to learn Marine Engineering, Marine Electrics & Electrical Installation, Shipwright (Boat Building) and Painting & Spraying.
Each apprentice works closely with various mentors to develop a well-rounded knowledge of their chosen specialism.  The overall aim of the apprenticeship programme is to provide every candidate with the skills they need to form and enjoy a long career in the maritime industry.
We spoke to an apprentice from each discipline for National Apprenticeship Week to find out how they're getting on and how their experiences at Berthon will shape their careers.
Jamie Ivey is a 4th year Shipwright apprentice.  When we spoke to Jamie, he was working on "Brynhilde," a 10 metre 1958 wooden Bermudian sloop having a major replacement of her teak deck.  Through his last four years as an apprentice, Jamie has developed an affinity for the restoration of traditional wooden yachts.  "The end product is more satisfying, it's extremely niche."
Jamie tells us how wooden boat-building & repair is a more traditional skill.  Berthon are heavily committed to ensuring these skills are not lost: traditional methods are taught and encouraged (but we often use more modern techniques where appropriate), to ensure that generations to come are able to pass the expertise on and keep the building and restoration of wooden yachts alive.
During his apprenticeship, Jamie explains how he has developed from shadowing and following his mentors during his first year, to taking on more responsibilities through his second and third years, to eventually working with newer apprentices through his final year.
"I'm now teaching the things I learned when I started here.  My advice to new apprentices is to stick with it.  The first year you will do lots of watching and learning, seeing various techniques being used and applied – and once you have practised what you've learnt, you are given real jobs to complete on your own, which is extremely satisfying."
Jamie hopes to stay at Berthon once he finishes his apprenticeship and continue to restore traditional vessels.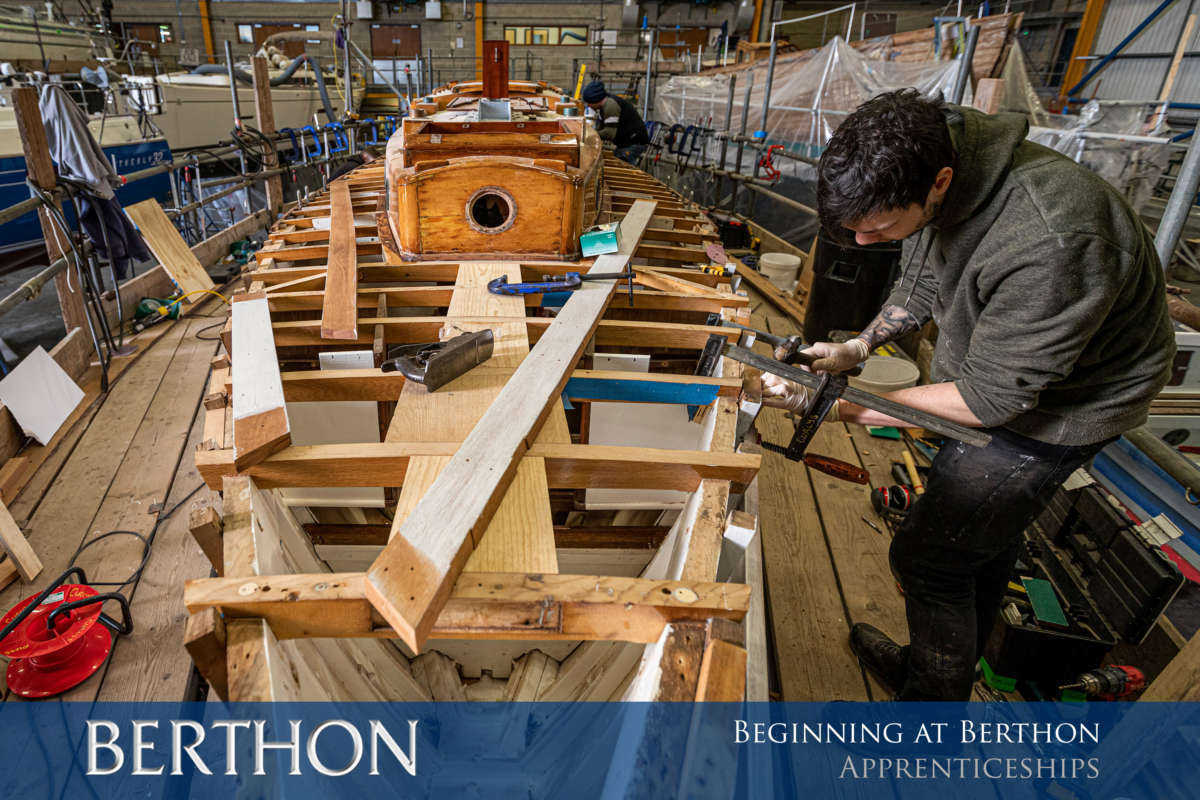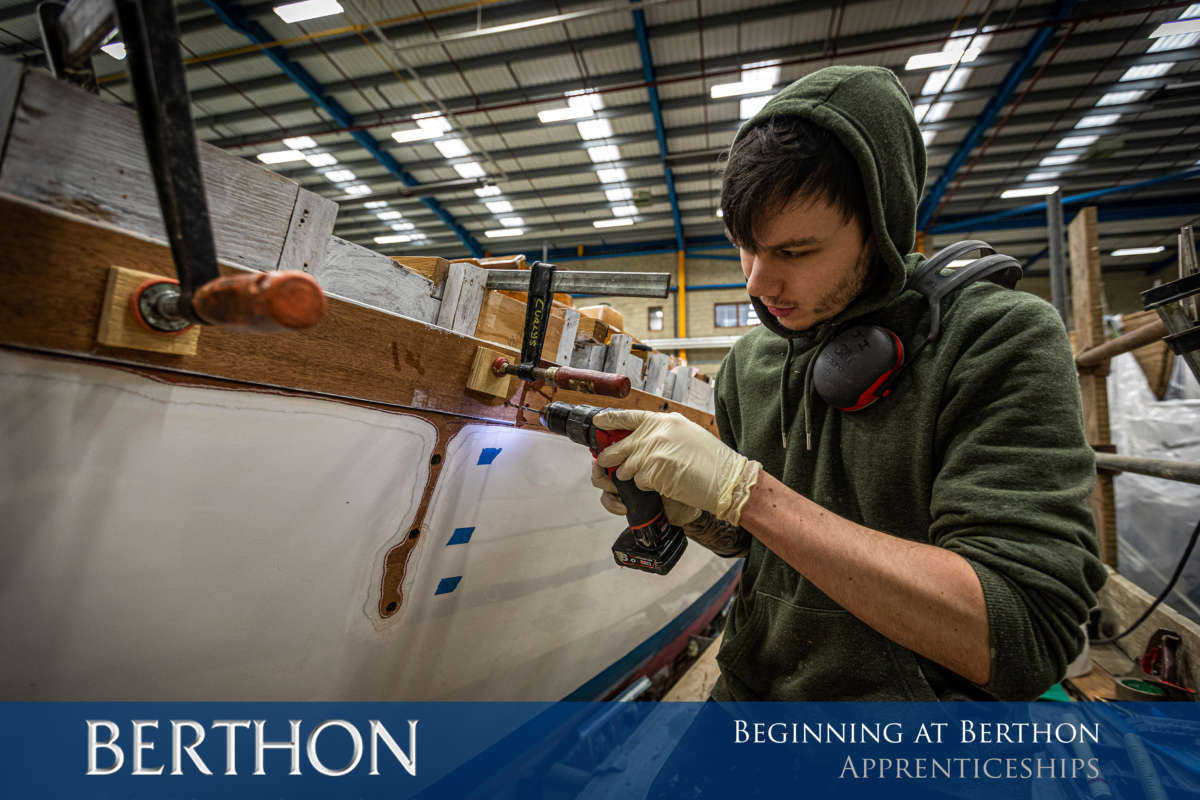 Steph Jung is a 3rd year Marine Engineering apprentice.  After leaving school, Steph undertook a fulltime course at Brock College, studying Performing Engineering Operations at Level 2, which included work experience at Berthon.  She began her marine engineering apprenticeship in September 2017 studying for her City & Guilds Level 3 along with hands-on training in the boatyard and on the water.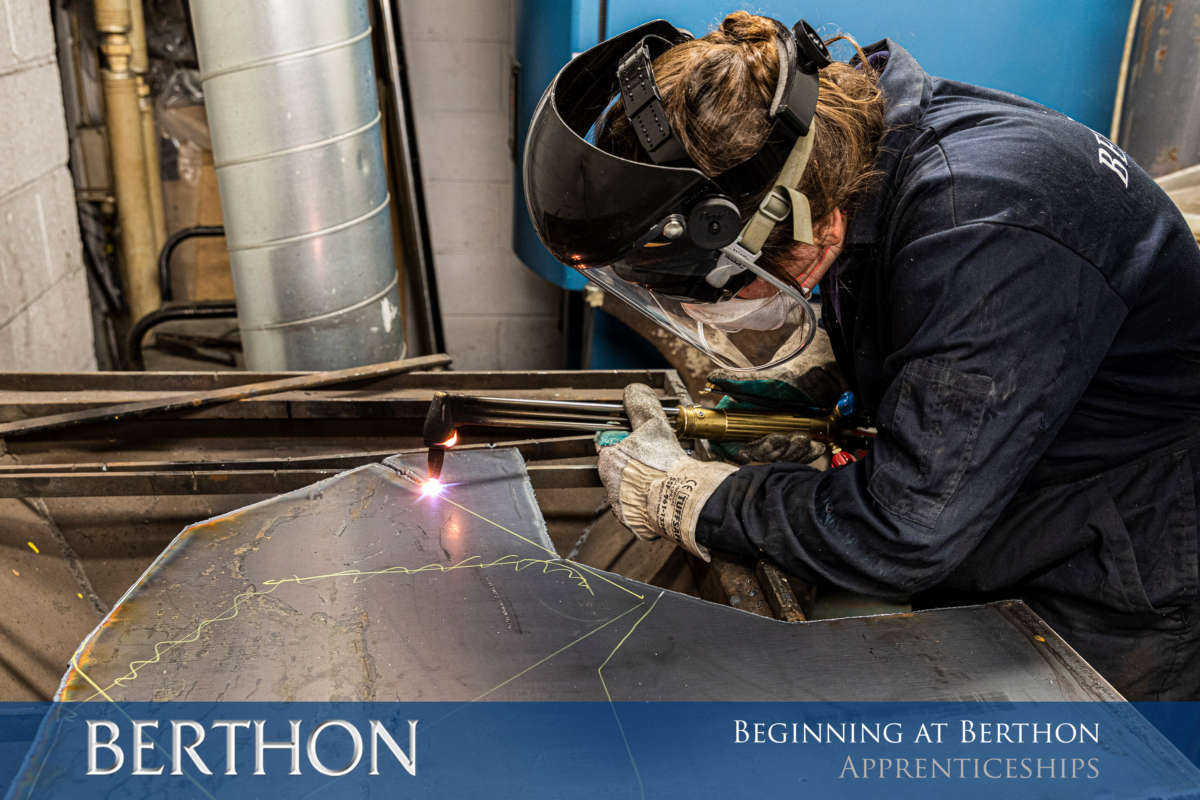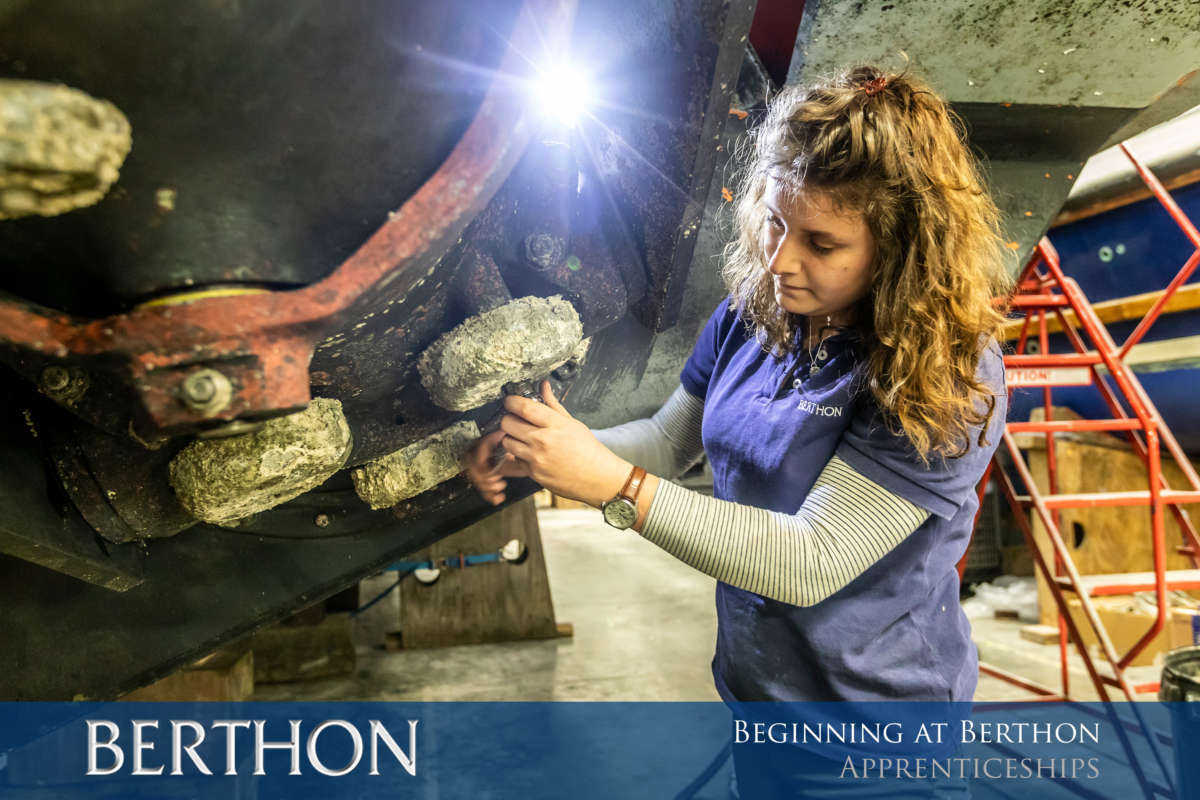 Steph also cites the need to stick with an apprenticeship and continue to work hard, explaining the work is challenging but extremely rewarding.  At Berthon, Steph has worked on a number of large vessel projects, assisting in the installation of large engines, the fabrication and fitting of new parts where required, using a variety of techniques to suit the project she is working on.
Through her apprenticeship at Berthon, Steph was invited to travel on board 'Grey Wolf,' an FPB 78 explorer yacht, from Puerto Montt to Puerto Williams through the Patagonian fjords.  Grey Wolf and her owners are well-known to Berthon, generously inviting a number of apprentices to travel on board each year.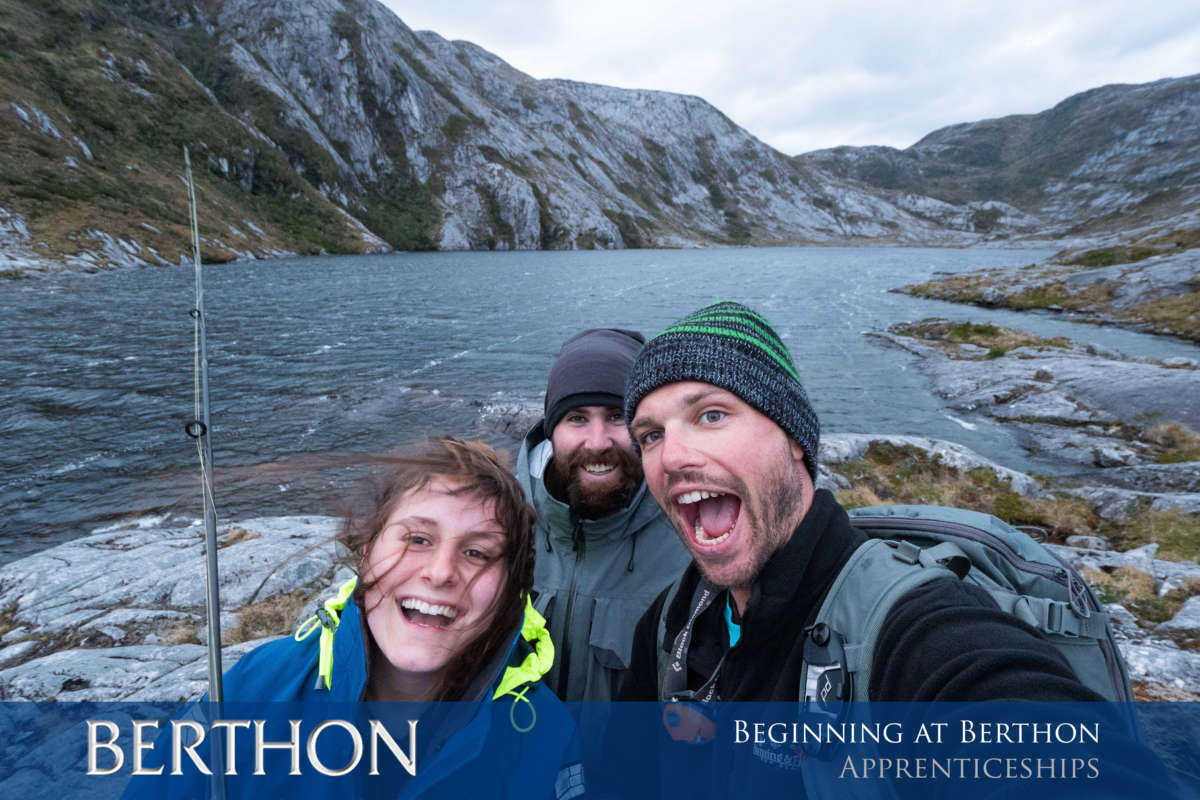 Kian Clark is a 2nd year electrical apprentice, a decision made to break away from his family's tradition of working in engineering and learn something new.
Through his apprenticeship, Kian has started to work on marine electrical installations, learning how to install and or upgrade navigation systems, VHF radios, batteries and battery chargers.  "It's good to work on something that the customer will use to enjoy their yacht," Kian says, speaking of the electrical package that can be fitted to yachts to update all the on board systems.  Whilst other apprenticeships will cover more visible elements of a restoration or refit, Kian enjoys being responsible for the part of the process that Berthon's clients will come into contact with and rely upon whilst out on the water.
Kian intends to stay working within a maritime environment using the skills he gains at Berthon.  He has decided to see which element of his remaining 2 years of training he enjoys the most before deciding what he would like to specialise in for the longer term.
Radek Puto is a 2nd year painting and spraying Berthon apprentice.  He speaks strongly of the trust that mentors place in their apprentices.  "After you've learnt enough and demonstrated the skills you've picked up from your mentors, you will work on live projects by yourself which is extremely rewarding."
Like Kian, Radek enjoys knowing that his work will be seen by the owner of the vessel.  The paintwork "shines in the eye" of the owner, he smiles, but is not as straightforward as it looks.  "Demonstration of good work, and also seeing examples of bad work" are what the apprentices learn the most from, he explains – and ultimately what motivates him to do a good job.
Similarly, to his peers, Radek intends to stay in the marine painting and spraying industry once he completes his apprenticeship.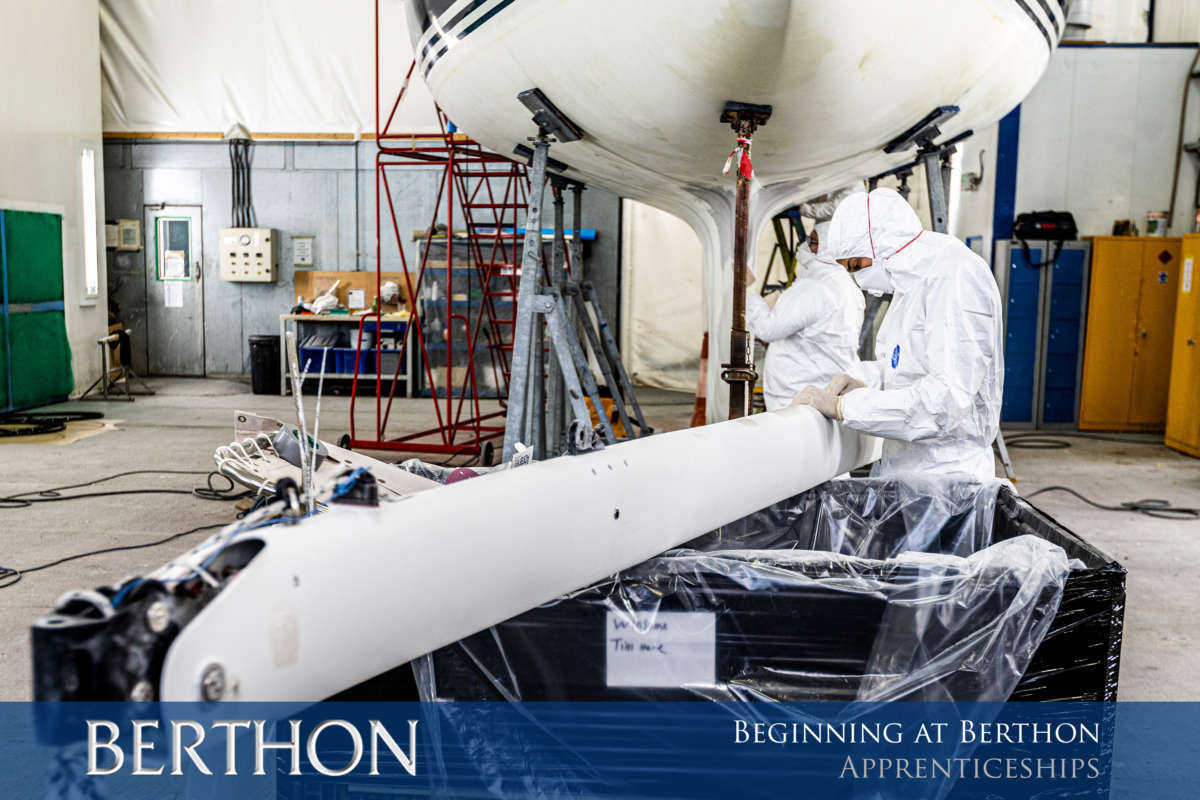 Apprenticeships can often be overlooked in favour of a university degree.  Berthon aims to encourage vocational learning, to promote on-site training as a viable higher-education alternative, resulting in a long and satisfying career within the maritime industry. It beats coming out of University with a large debt, because apprentices are paid to learn!
On February 10th we welcome 12 new Berthon apprentices, and hope to welcome many more apprentices over the coming years and proudly celebrate National Apprenticeship Week.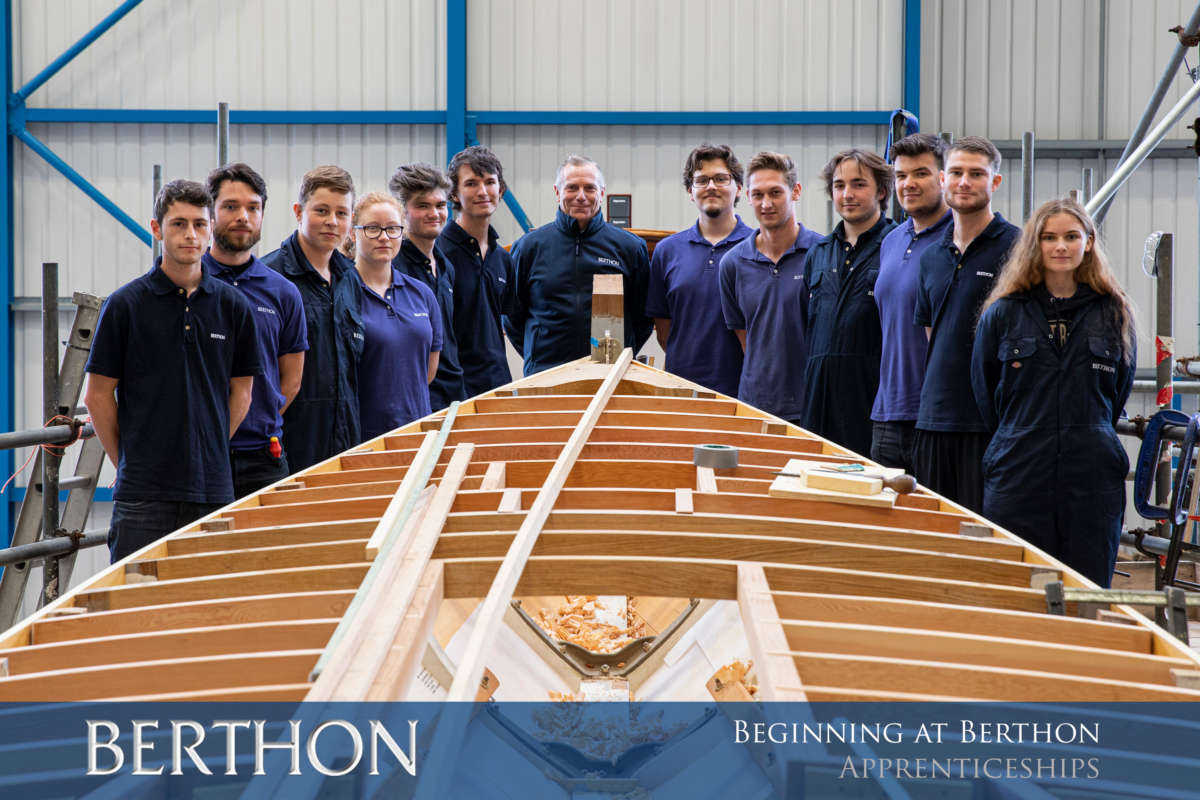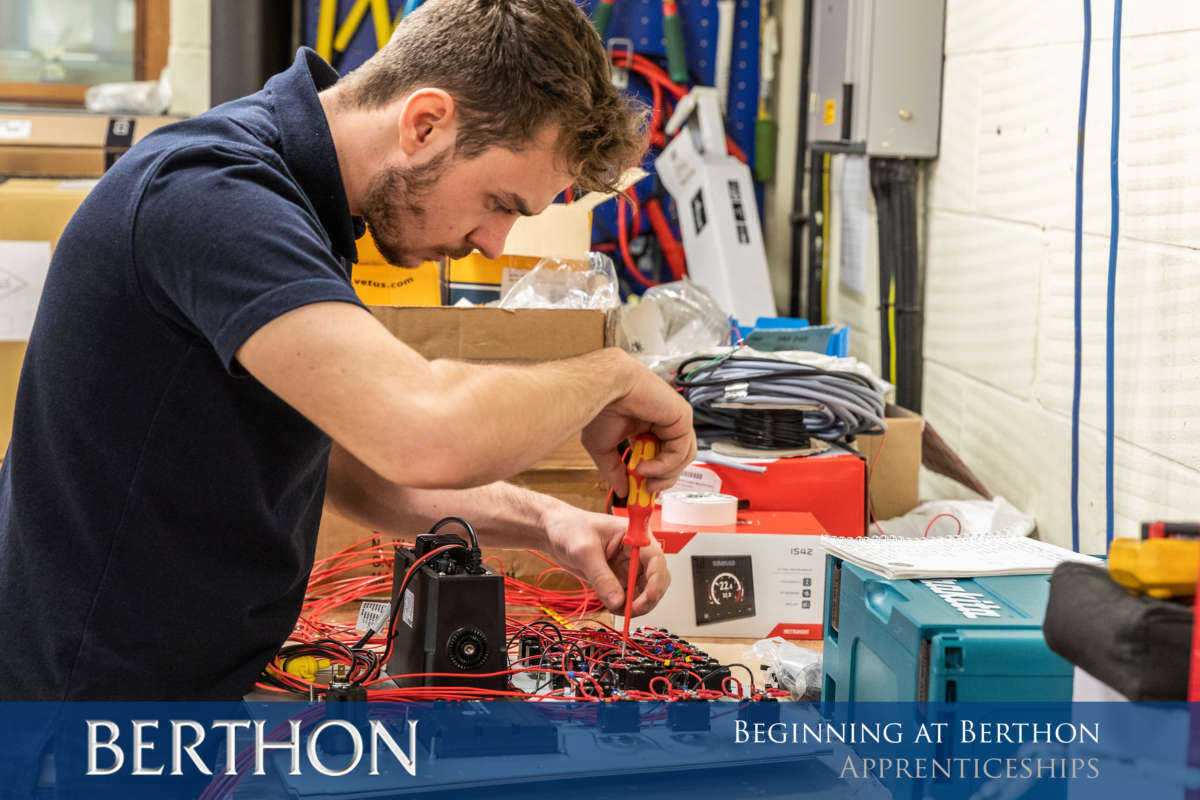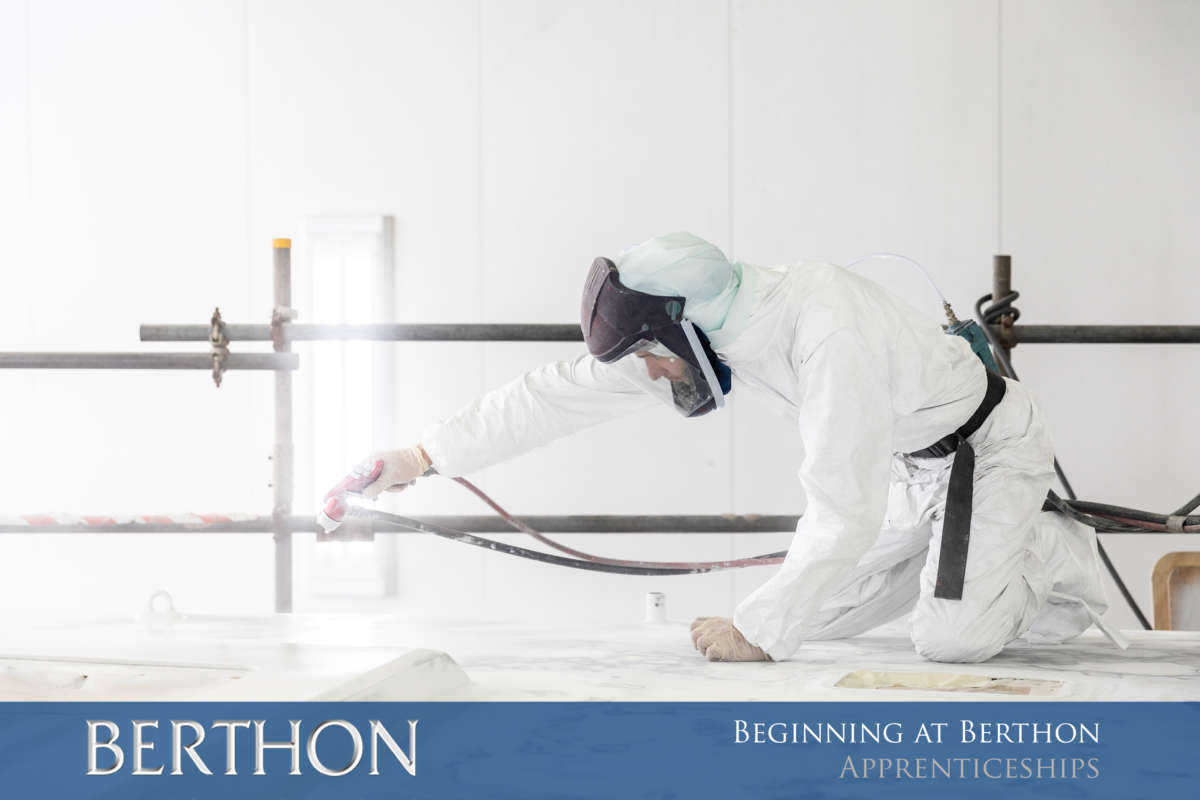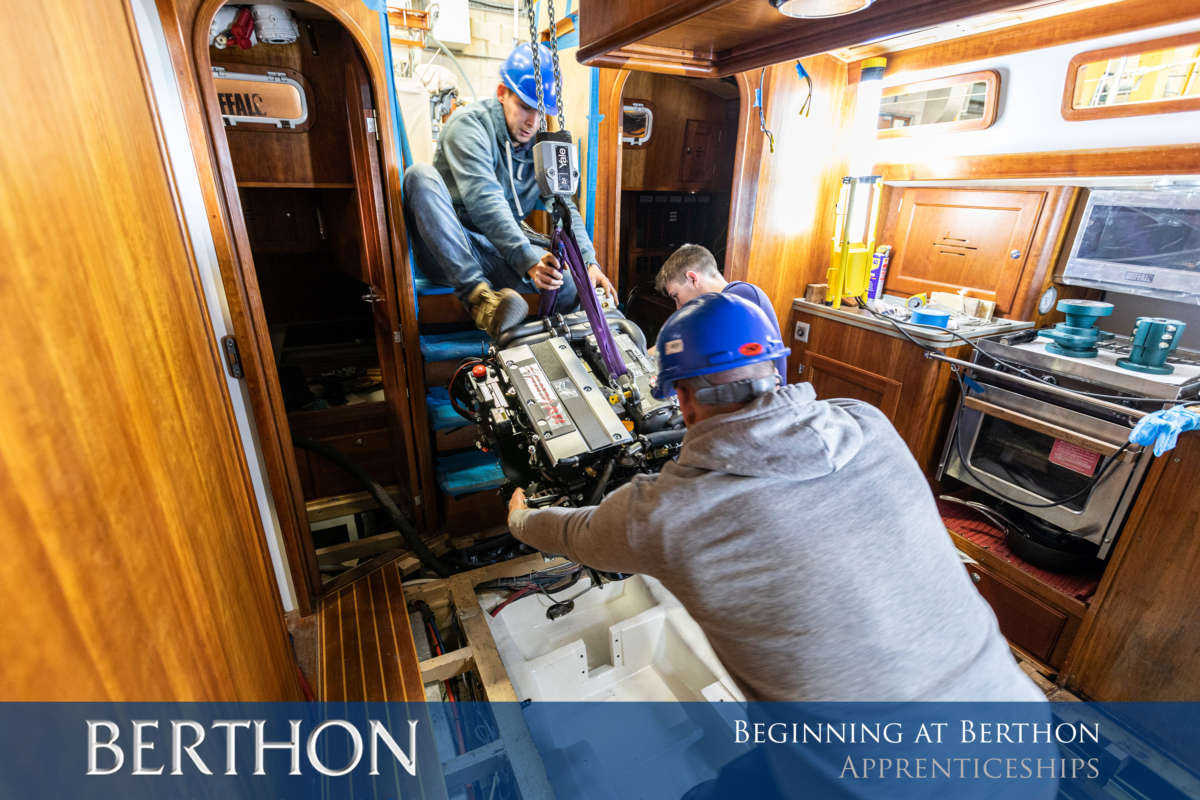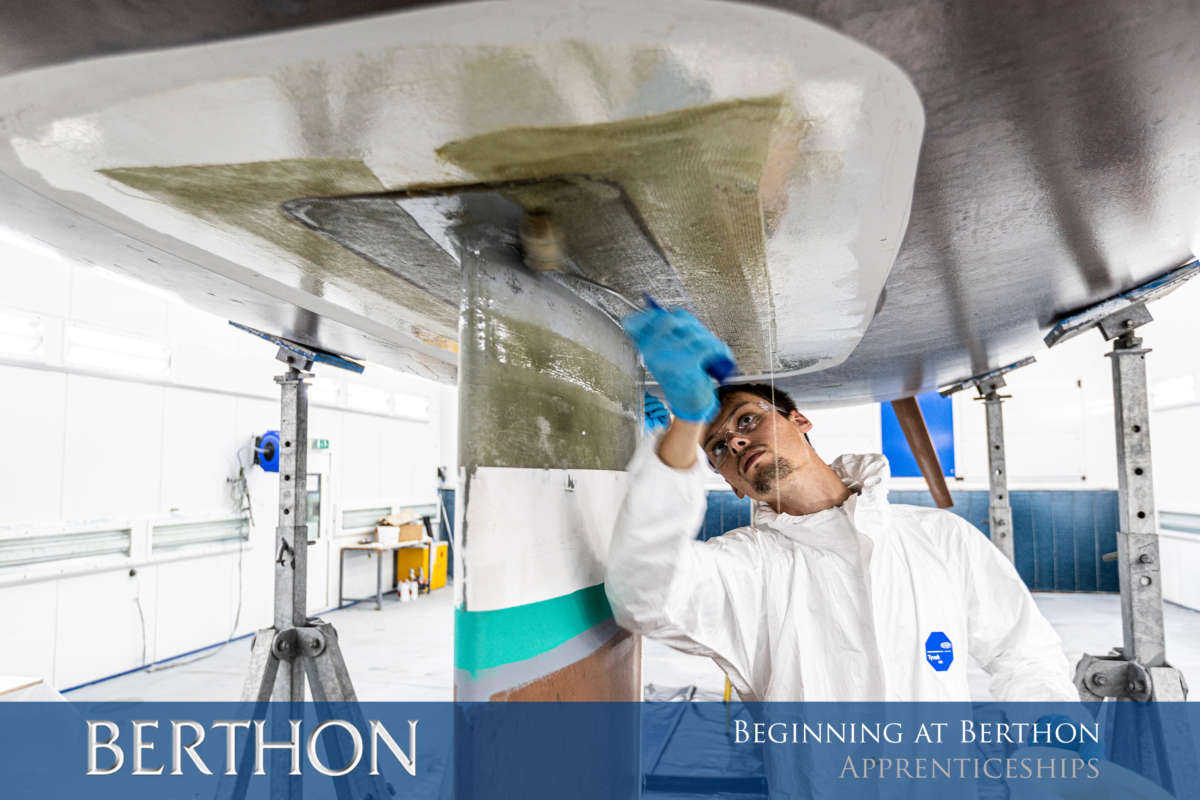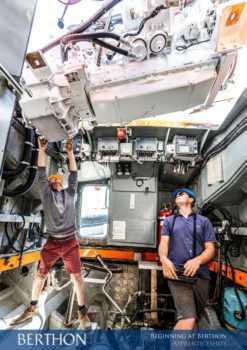 See regular updates on what our apprentices are up to by following our Facebook page.