Berthon Apprentices today are the Managers of Tomorrow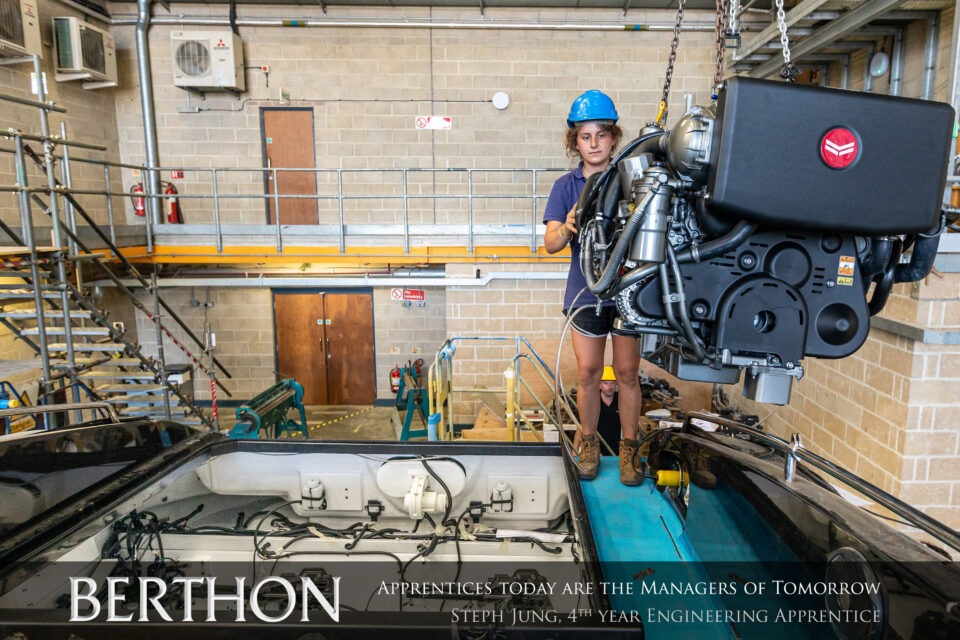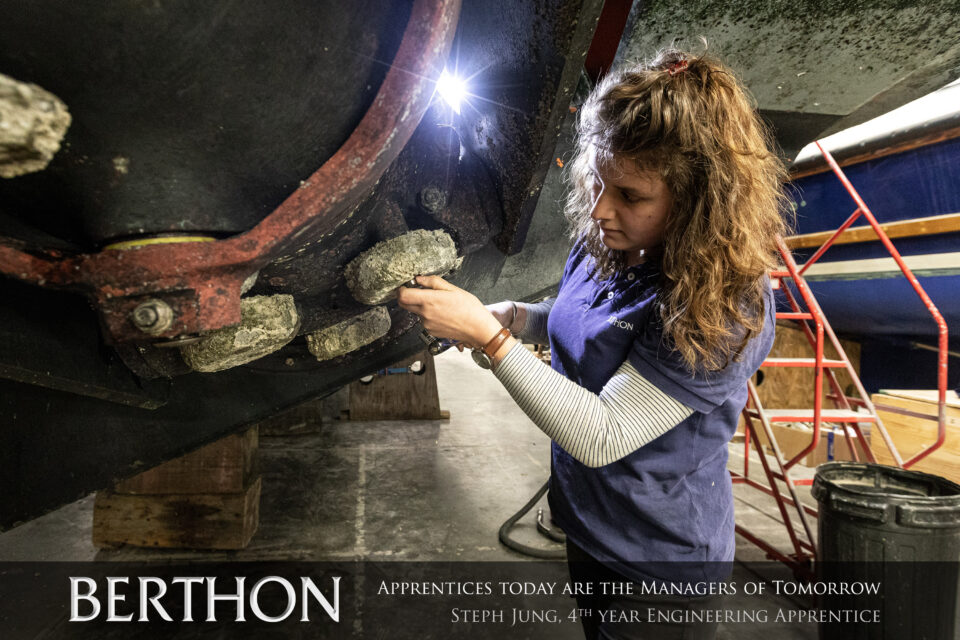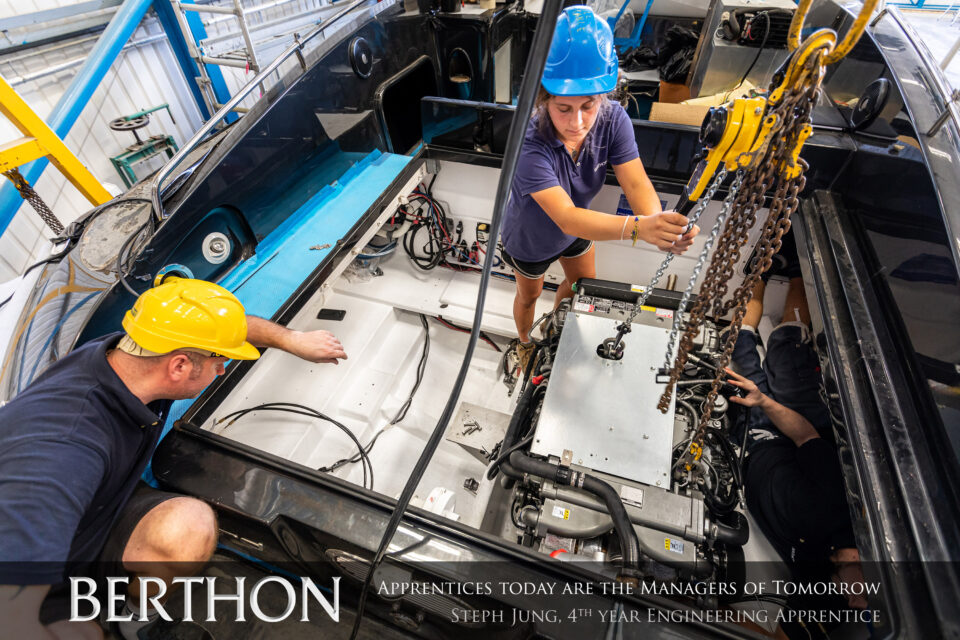 Berthon apprentices are the managers of tomorrow. Berthon's mature apprenticeship program has been established for more than 100 years, and today many of our employees have been with us for their entire careers, with others returning after a short exploration elsewhere. Each year there is a new intake choosing to build skills in Marine Engineering, Marine Electrics & Electrical Installation, Shipwright (Boat Building), and Painting & Spraying.
Each apprentice works closely with various mentors to develop a well-rounded knowledge of their chosen specialism.  The overall aim of the programme is to provide every candidate with the skills they need to form and enjoy a long career in the maritime industry. When merited or if ambition prevails, we develop our apprentices to be the managers of tomorrow, to become leaders for the future of Berthon, and the industry as a whole. Berthon has multiple pay grade levels to compensate fairly, not just because of hand skills but people skills as well.
The apprenticeship programme encourages applications from all that meet the baseline requirements in terms of technical interest and academic ability. However; it is clear that very few women are entering our industry, a trend we would like to see reversed.
On the yard, our apprentices have shown that with the right parameters for learning, the right support, and equal encouragement for all candidates, a woman is capable of exactly the same as her male counterpart. We are equally proud of our male AND female apprentices across all our apprenticeship or salaried training programmes and strongly encourage any young females considering a career in an auxiliary marine sector to chat to us about the fantastic opportunities available.
We caught up with Stephanie Jung, a fourth-year Marine Engineering apprentice, to chat about her view of women in the industry.  She tells us in no uncertain terms that she neither expects (nor receives) any different treatment to, or from her peers. With no desire to be known as 'a female engineer,' Steph states simply she'd like to be recognised as 'an excellent engineer.'  We agree wholeheartedly and, after 4 years of watching her progress, can attest that this will be the case.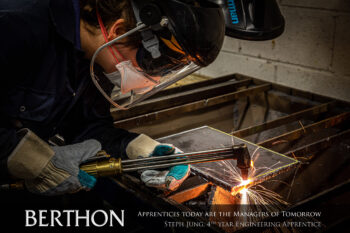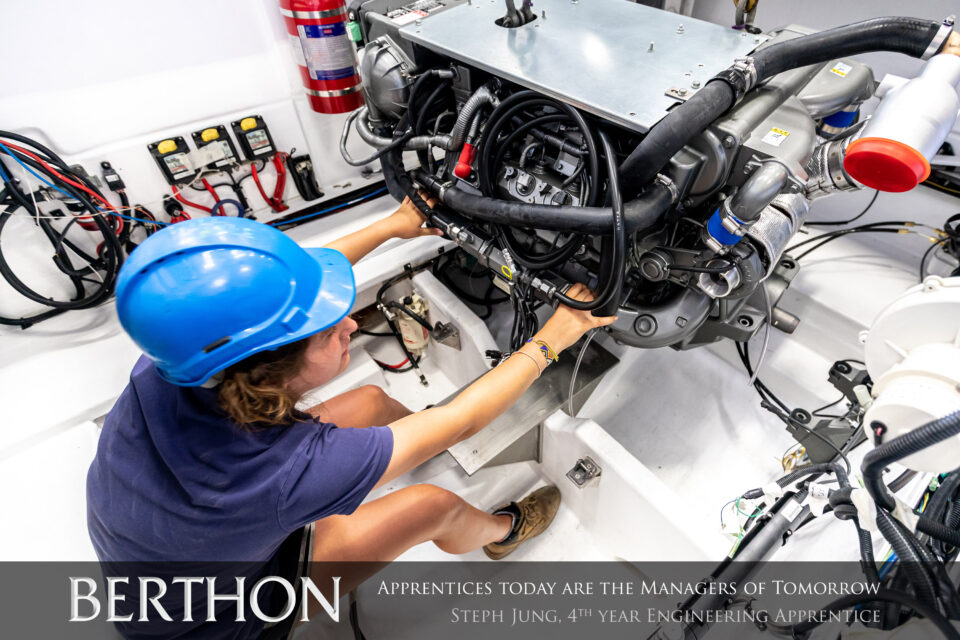 After leaving school, Steph undertook a full-time course at Brock College, studying Performing Engineering Operations at Level 2, which included work experience at Berthon. It was then that it dawned upon her that a classroom environment was just not as inspiring, so whilst her friends went off to various universities, Steph began her marine engineering apprenticeship, studying for her City & Guilds Level 3 along with hands-on training in the boatyard and on the water.
Steph has held an interest in the Marine Industry from a young age when she was part of the Sea Scouts. She also cites the need to stick with an apprenticeship, and continue to work hard, explaining the work is challenging, though extremely rewarding.
As a Berthon apprentice, Steph has worked on several large vessel projects, assisting in the installation of large engines (up to 1200HP), the fabrication, and fitting of new parts where required, using a variety of techniques to suit the project she is working on. Because Berthon are predominantly a service, refit & repair business, the variety of work is vast, and no two days are the same; a smile crept across her face as Steph chuckled to herself stating – 'this is one of my favourite things about the job, and also one of the more frustrating but demanding parts – diagnosis, solution, execution!'.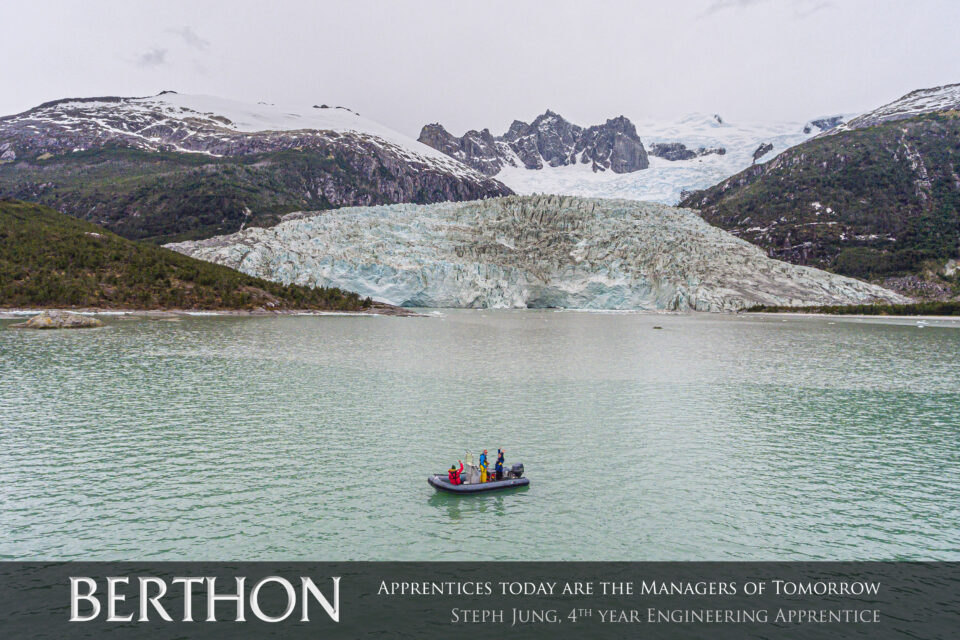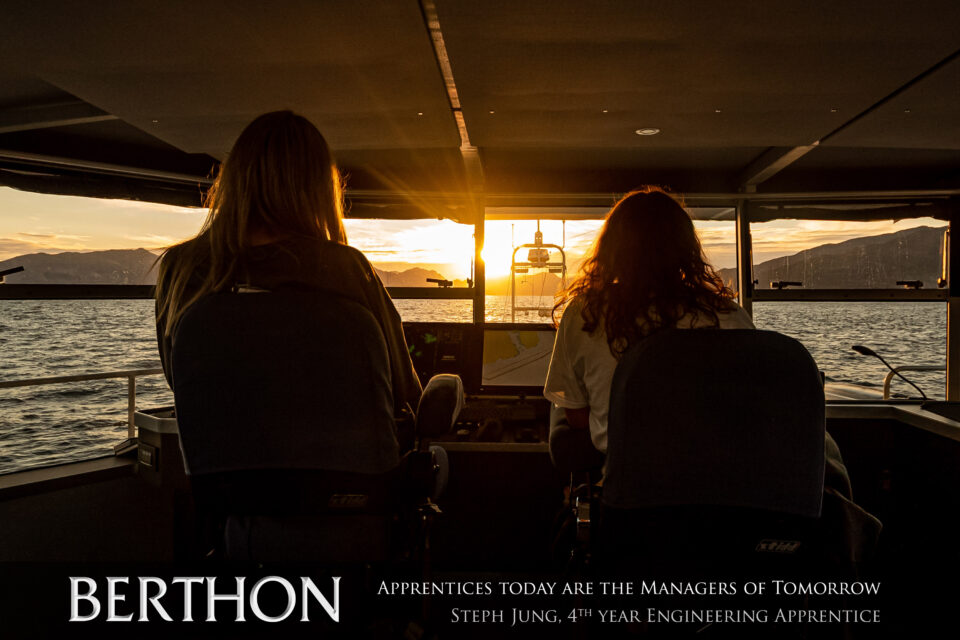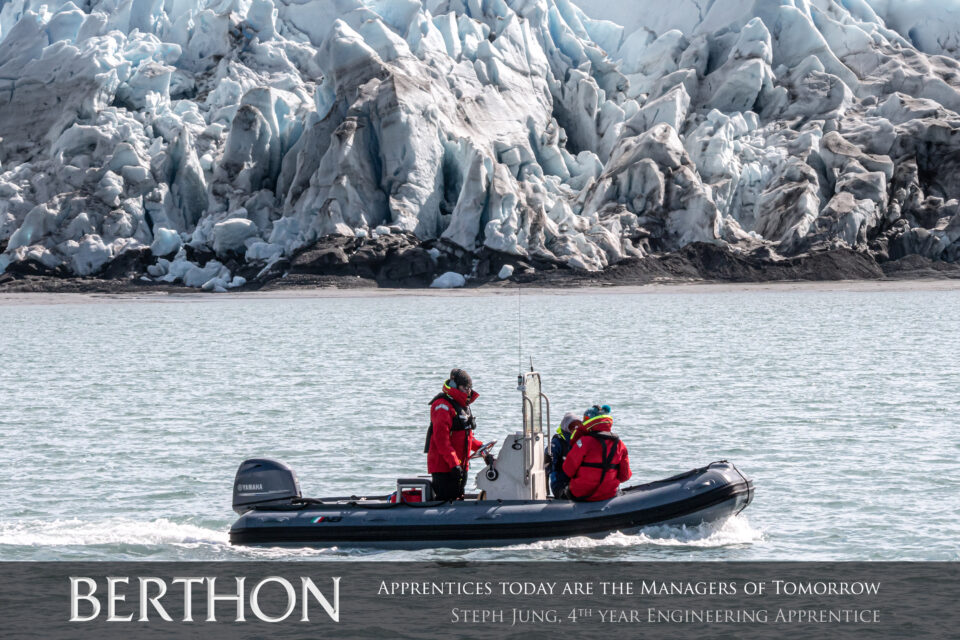 A highlight through her apprenticeship at Berthon, Steph was invited to travel on board 'Grey Wolf,' an FPB 78 explorer yacht, from Puerto Montt to Puerto Williams through the Patagonian fjords.  Grey Wolf and her owners are well-known to Berthon, generously inviting a number of apprentices to travel on-board each year.
Steph aims to graduate in September this year, continuing to gain experience here at Berthon. When we asked what advice she would give to her younger self when she started the apprentice programme, she simply said 'don't take constructive criticism to heart, just enjoy the process. Ask lots of questions and don't be afraid to ask for help!'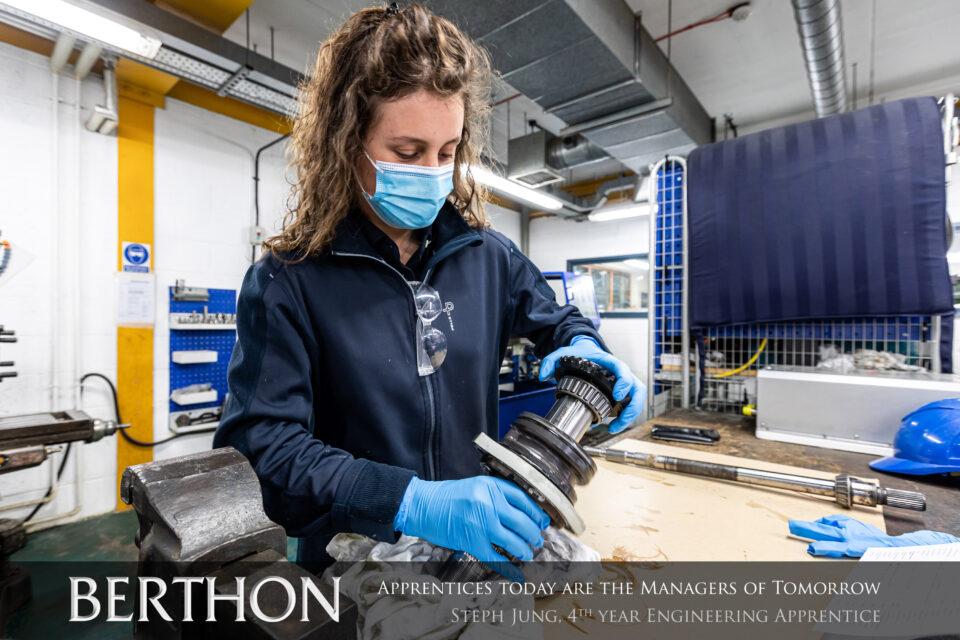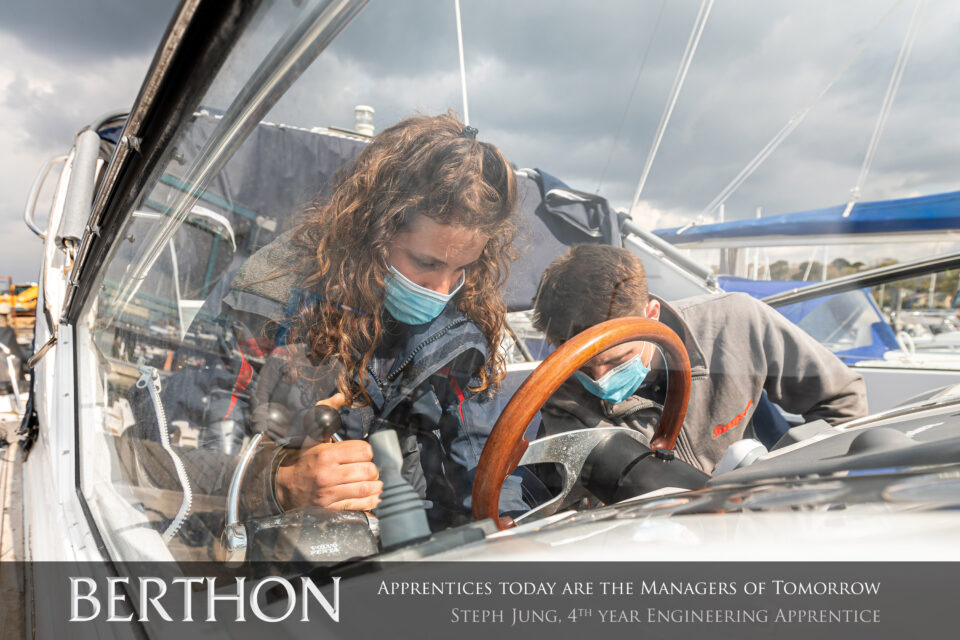 Every year we have multiple openings for motivated young persons to join Berthon's apprenticeship program. You receive on-the-job experience working on prestige, private, and commercial vessels, coupled with City & Guilds and NVQ qualifications, along with the aid and assistance of our training provider. If you feel you have the enthusiasm, ambition, and dedication to complete a 4-year apprenticeship, you will have the opportunity to 'Earn as you Learn' in a top-quality environment.
Do you have what it takes to become a Berthon apprentice?
Follow Berthon on Facebook, LinkedIn, and Instagram to see regular updates about our apprenticeship programme.