Berthon takes on 13 new apprentices for 2019/20

13 Apprentices begin their training at Berthon to become part of the highly trained workforce.
September saw five Berthon apprentices graduate from their training during Southampton Boat Show which was hosted by British Marine. They have all been offered full-time positions with Berthon and we are pleased that they have all remained with us for the next chapter of their careers.
Berthon have recently recruited thirteen new apprentices (our largest ever cohort!) into various disciplines within the shipyard as well as an apprentice for BHG Service. The fourteen have begun full-time training at Brockenhurst College in order to complete a Performing Engineering Operations (PEO) course, have also started their City & Guilds technical certificates and have been out on the water gaining boat handling skills in the form of an RYA Powerboat Level 2 course. On successful completion of the PEO in February they will join us here in Lymington four days per week and attend college on day release to continue their City & Guilds qualifications for a further three-and-a-half years.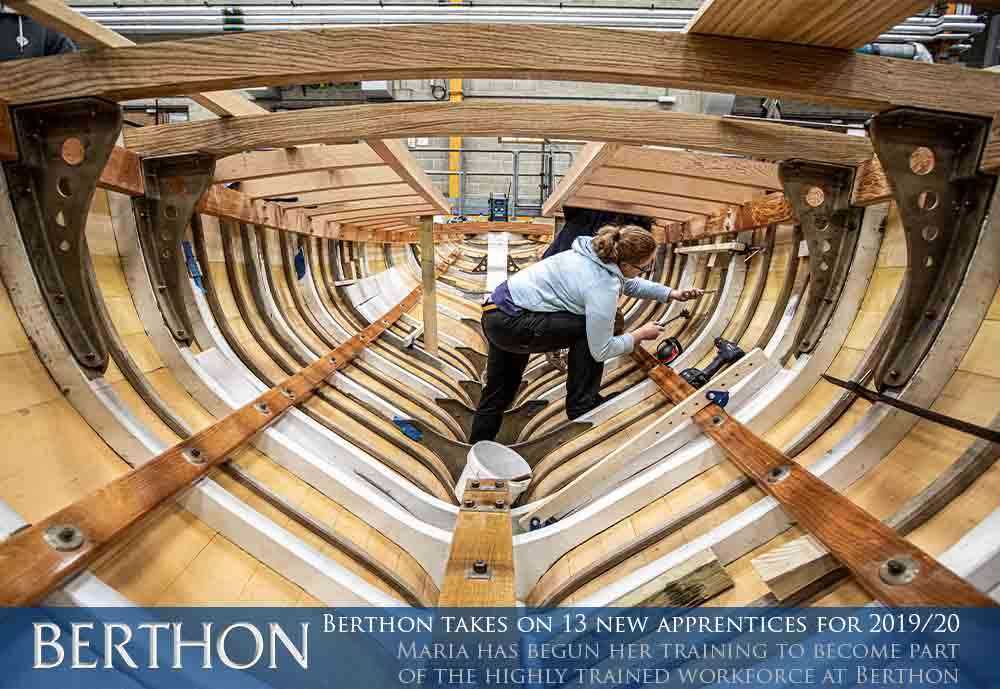 Maria has come to Berthon to learn the skills of a shipwright. Prior to this she attended an oar building course at the International Boatbuilding Training College (IBTC) in Portsmouth. "My project was to fabricate a pair of oars during which I learnt how to use lots of different types of planes and equipment as well as how to mark and measure the wood I needed. I loved learning about all the different types of boats there are and getting the opportunity to build a pair of 2.1-metre oars was really interesting."
Wanting to learn more about boats, Maria volunteered with the Jubilee Sailing Trust on the Lord Nelson as maintenance staff. "I loved the working atmosphere and the opportunity to get a closer look at some of the components needed for the boat to function." This experience gave Maria the motivation to get even more involved in the marine industry and so she began a level 2 Marine Engineering course at City College that gave her a deeper understanding of marine engines and propulsion systems and how to maintain them. "Once I completed the course, I knew there must be more to a boat than the mechanics so, I applied for the Shipwright apprenticeship at Berthon." Maria was successful in receiving a place on our course and we look forward to working together.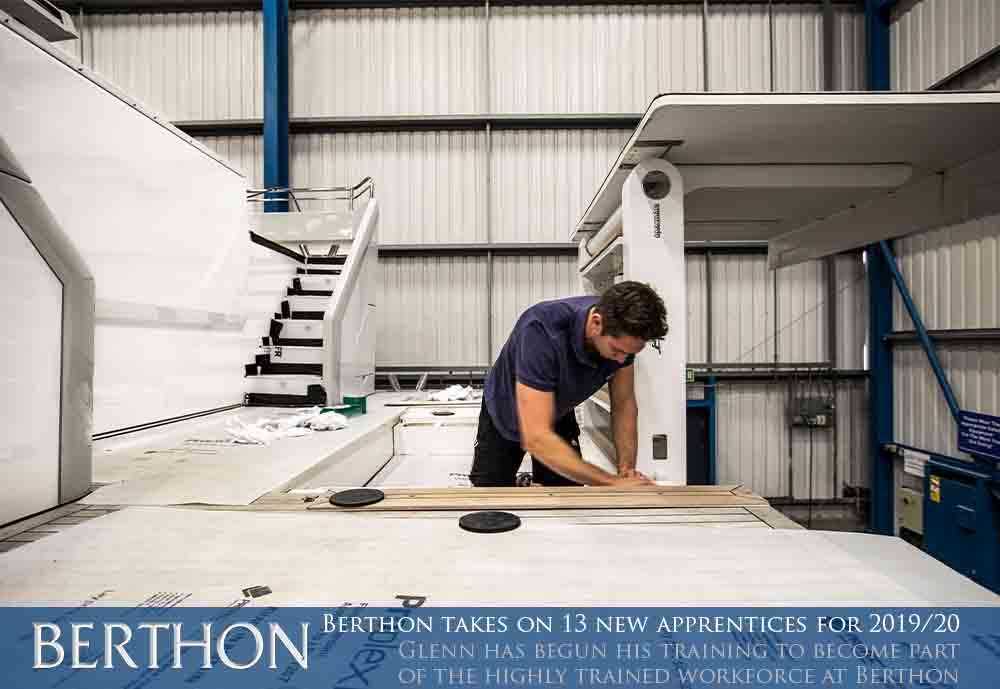 Glenn was already an employee at Berthon, having worked for the Boat Valeting department and in the Stores. "I'd heard good things about Berthon from family members and friends who worked there so decided to apply for the Valeting role." Spending time on boats grew his interest and he wanted to learn more about how they were built. "When an opportunity arose within the company to work in the stores, I decided that it would be a great chance to learn lots about the different products and aspects of boat building so, I applied and got relocated." Working in the stores meant that Glenn was interacting closely with the Shipwrights, Engineers, Electricians, Painters and Apprentices. He learned about the apprentice opportunities in more detail and received first-hand feedback on how fun and educational they found it. "I decided to apply for the Shipwright Apprenticeship with Berthon and I am looking forward to getting stuck into the job and working my way up in the company."
Berthon offers apprenticeships annually and we will be inviting applications for our next group of apprentices from January ready for our September 2020 intake.  They will learn from an experienced team of Shipwrights, Engineers, Painters, Riggers and Electricians who have a wealth of skills to pass on to the next generation to become part of our highly skilled workforce. For more information on our apprentice programme please visit https://www.berthon.co.uk/about-berthon/apprenticeships/