Congratulations to our latest graduating Apprentices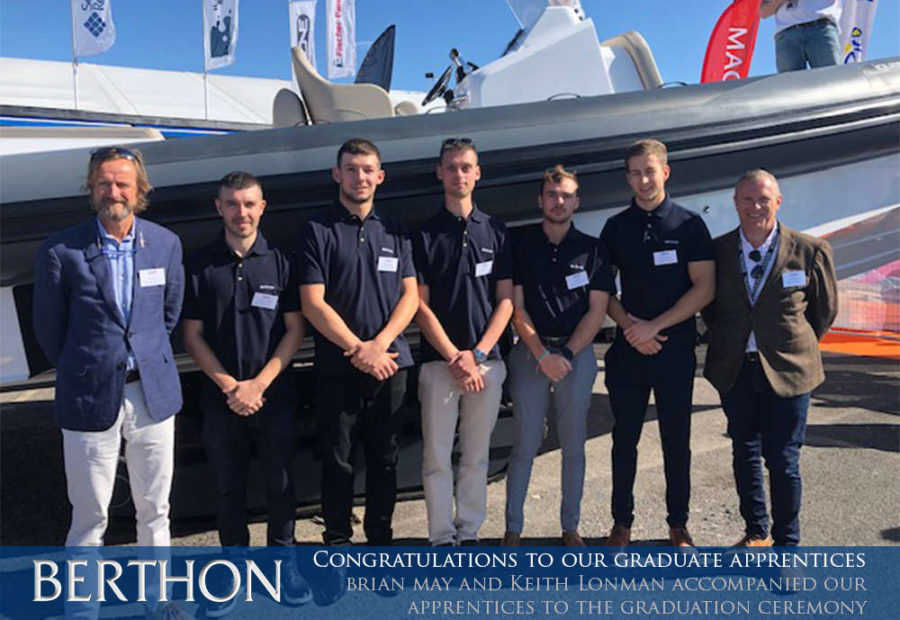 Congratulations to our latest graduating Apprentices
We are excited to announce that last month our fourth-year graduating apprentices, Dan, Brendon, Dan, Chris and Dewi, along with 55 others from other companies, attended their graduation ceremony. Accompanied by Brian May Berthon's MD and Keith Longman our Yard Manager, they travelled up to Southampton Boat Show where British Marine hosted the event at the Grand Harbour Hotel. The awards were presented by former apprentice Chris Gates who is now the Managing Director of Princess Yachts. After the awards they got the chance to have a look around the show and enjoy the sunshine as fully qualified Shipwrights, Engineers and Electricians.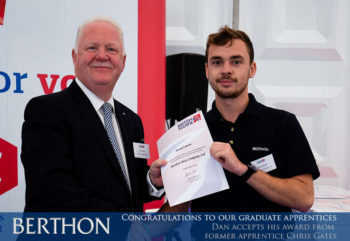 Dan Savin, one of our newly qualified Marine Electricians, has gained a vast variety of skills and knowledge. "I have learned so much from so many different people, not just in electrical but from various trades I have worked with." Dan has worked on a mixture of projects and boats from a 1951 Liverpool Class Lifeboat to high tech survey vessels. He has learnt how to 'fault find' and diagnose a range of issues as well as learnt how to repair highly complex systems and install brand new machinery.
Dan was lucky enough to be chosen to spend a month on Grey Wolf II; the 80ft expedition yacht, joining the boat in Tahiti and travelling to Puerto Mont in Chile, via Easter Island. "I learnt how to improvise and work in challenging conditions. It was great to see all the systems in their working environment and be pushed to the limit rather than just seeing them working in the marina. I went to some amazing places that I would never have normally gone to and met some fantastic people."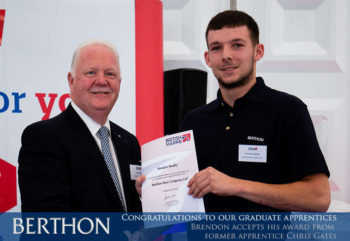 Brendon came to Berthon after finishing his GCSEs to complete a Marine Engineering Apprenticeship. "The Berthon representatives impressed me with their enthusiasm and drive to employ and invest in apprentices. I felt that I would be really valued as part of their workforce and given the proper training."
After spending his first year learning basic engineering skills at college and completing his Powerboat level 2 Brendon started working alongside qualified colleagues who taught him even more about engineering. "The work was varied and exciting, we would be commissioning a plumbing system in the morning and carrying out engine repairs in the afternoon. I found this really interesting as there was a such an assortment of boats and different jobs that I was involved with, giving me the opportunity of a wide breadth of knowledge and skills."
"I worked within the Ministry of Defence section where I was able to work on alongside skilled mechanics on Royal Marine hovercrafts and Police vessels. Later in my apprenticeship I would be given the responsibility of working independently as my abilities increased.  I was also given the responsibility of maintaining the barge and dredger during dredging seasons."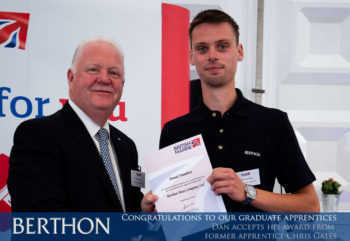 Another one of our apprentices graduating from his Shipwright training, spent his first two years learning from his skilled colleagues and helping with tasks. While at college, learning the basics of boat building, Dan H discovered his passion for woodwork. "We were taught about wooden boat building and were tasked to make a hull section completely out of wood making the hog and frames. We then clinker planked the section and steam bent a solid mahogany frame".
Dan was lucky enough to be working on the World War II gunboat, MGB 81, replacing the forward frames of the engine room bulkhead. This was a large job as all of the sole heaters and lattice work had to be cut out to gain access. "During this job I learned lots of techniques such as spiling, fitting new frames to fit the profile of the boat and making 'jigs' to replicate a shape over and over again."
Dan's knowledge expanded even further in his fourth and final year while working on boats in the Marina. "This was a huge learning experience in installing new teak decks and was the first time I was given a more serious job to do myself. The job involved a large hull repair, cutting the mast step out of a sailing yacht, performing laminate repairs on the hull and reinstalling a new mast step into the boat."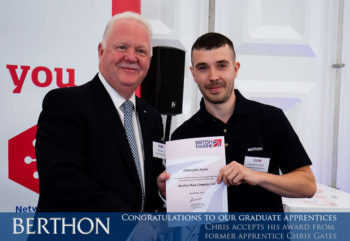 Chris moved down from the Midlands in order to pursue a career in Marine Engineering. "My apprenticeship at Berthon has been a huge adventure. I am following the career path I have dreamed of since I was a teenager." Starting his apprenticeship at 26 Chris was almost 10 years older than his peers. "I am very grateful that Berthon took me on and gave me such a broad range of training to gain skills that are needed in the marine industry to be competent and achieve great results." Berthon offers exciting opportunities and Chris is excited for the future they have helped him achieve.
Dewi has graduated from his Marine Engineer training and is looking forward to using the skills he has learnt as well as gaining more, while continuing to bring Berthon Boat Company forward. "The most enjoyable part of my apprenticeship was working on the Ministry of Defence vessels as the types of craft were more interesting and I was given the opportunity to go on sea trials to test the mechanics."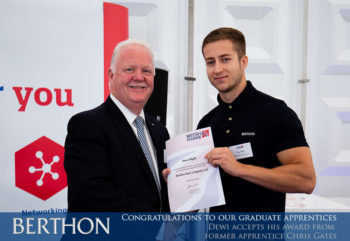 Berthon have been offering apprenticeships for over 100 years and many of our employees have stayed with us for their entire careers. Apprentices receive on the job training to gain City & Guilds qualifications with the support of our training provider. We have just taken on 13 new apprentices who we are excited to see learn the skills to get them to their graduation in another 4 years. All of our graduating apprentices have secured jobs.