Unmanned scientific research vessel, SD 1021, in Berthon's Lymington Marina; she was successfully picked up off the Needles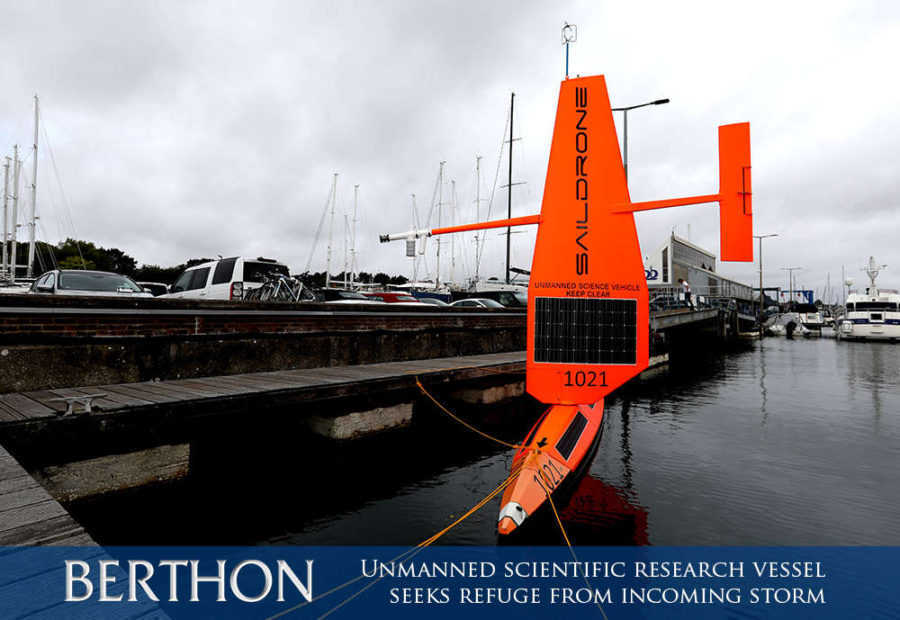 After only 75 days, SD 1021 became the fastest Atlantic crossing by unmanned vessel, having made its way from Bermuda to Berthon.
These unmanned sailing drones are designed for many missions over their long lifetime. They can be found surveying pollock in Alaska's Bering Sea, tracking the great white shark across the Pacific Ocean, or even setting other records having completed the first autonomous circumnavigation of Antarctica.
This particular saildrone had been running surveys all over the world since 2018; her first mission was based in the Arctic Ocean where for 3 months she measured carbon dioxide and Arctic cod numbers, in partnership with the National Oceanic and Atmospheric Administration (NOAA) Pacific Marine Environmental Laboratory (PMEL).
During her first deployment, she collected data to identify changes in the Arctic's ecosystem and study how those changes might affect the food chain along with large-scale weather systems.
Her third deployment was less salubrious but record-breaking nonetheless! After being shipped to Newport, Rhode Island to measure wintertime air-sea heat and carbon exchange in the Gulf Stream, she was hit by 40ft (12m) seas and 67 mph (58 knot) winds. She survived for a while until a breaking wave of over 12 metres high submerged the 5m tall saildrone breaking the wing in half. Backup systems kicked in and she was navigated to land for repair. One month later support crew met SD 1021 in Bermuda. She was quickly fitted with a new wing and on the 25th of May, she was re-launched to begin her latest mission; to sail toward the UK. This is when she broke the record for the fastest Atlantic Ocean crossing by an unmanned surface vehicle.
SD 1021 sailed 3,000 nautical miles (5,550 km) from Bermuda to Lymington Marina, UK in only 75 days dock to dock. She was greeted by our friendly Dockmasters who provided her with a berth to wait out the incoming storm and allow her support team to download her latest readings.
You can read all about SD 1021 and its recent adventures on the SAILDRONE website.