Refurbishment of a Fisheries Patrol Vessel
Berthon has refurbished a Fisheries Patrol Vessel from the world's remotest inhabited island, Tristan da Cunha, for the UK government's Blue Belt Programme.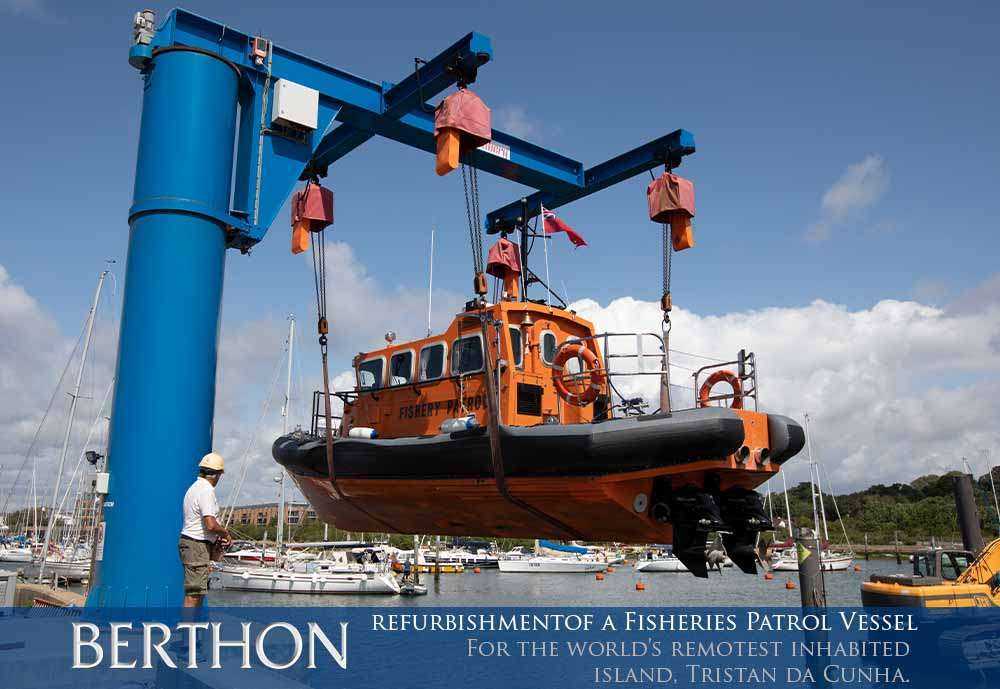 Tristan da Cunha
Tristan da Cunha is the most remote inhabited archipelago in the world, lying approximately 1,511 miles from South Africa and 2,166 miles from the Falkland Islands. Berthon has a history with the volcanic island of Tristan da Cunha in the South Atlantic that goes back to 1961 when the eruption of Queen Mary's Peak forced the evacuation of the entire population of 264 people. They were re-homed near Lymington at former Calshot RAF Station, and many worked at the Berthon shipyard during their time in England. The islanders returned home in 1963 and built a new harbour, which they called Calshot after their temporary Hampshire home. To this day, fishing remains the island's main trade along with the sale of postage stamps to collectors.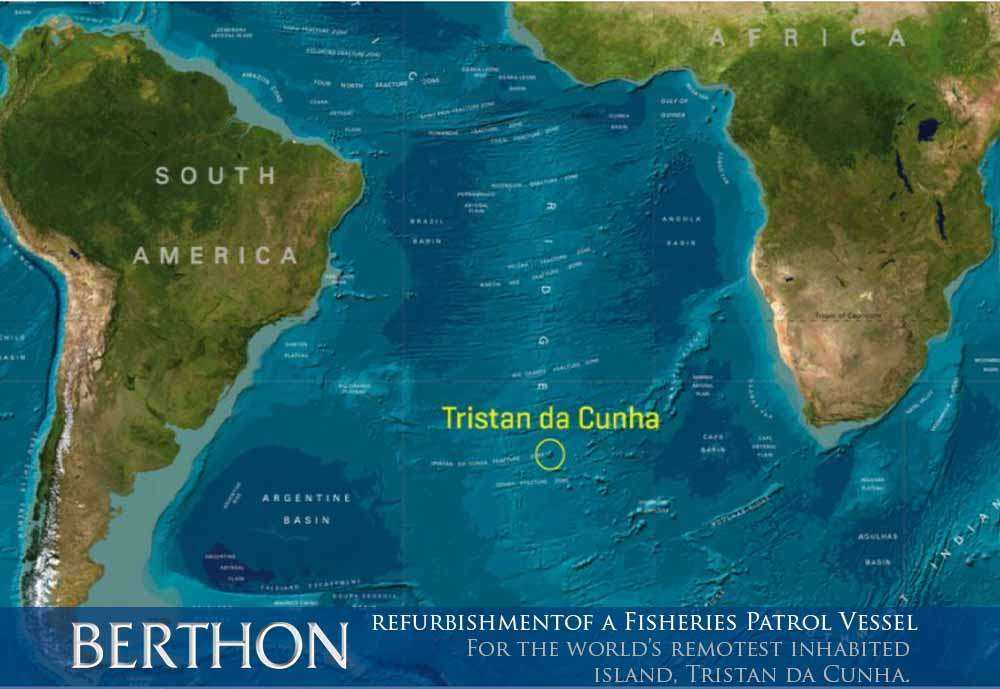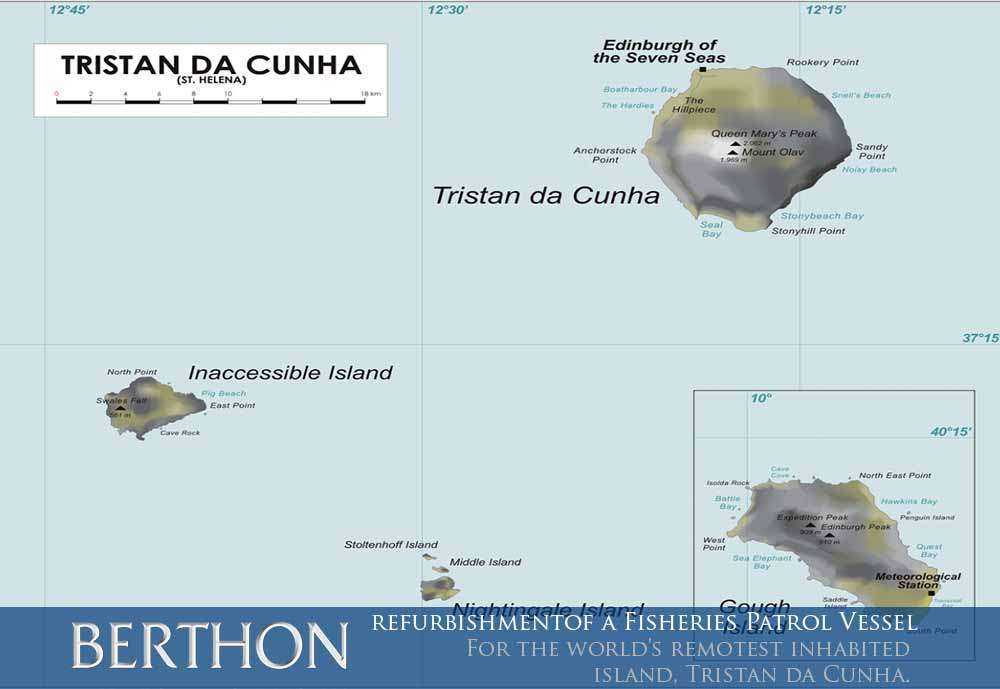 Blue Belt Programme
The Wave Dancer refurbishment project is funded by the UK government through the Blue Belt Programme. The key objective of the Blue Belt is to enhance marine protection for the UK Overseas Territories. The Centre for Environment, Fisheries and Aquaculture Science (CEFAS) is a Blue Belt Delivery Partner, along with the MMO. CEFAS is the government's marine and freshwater science experts. They keep our seas, oceans and rivers healthy and productive, and our seafood safe and sustainable by providing data and advice to the UK government and our overseas partners.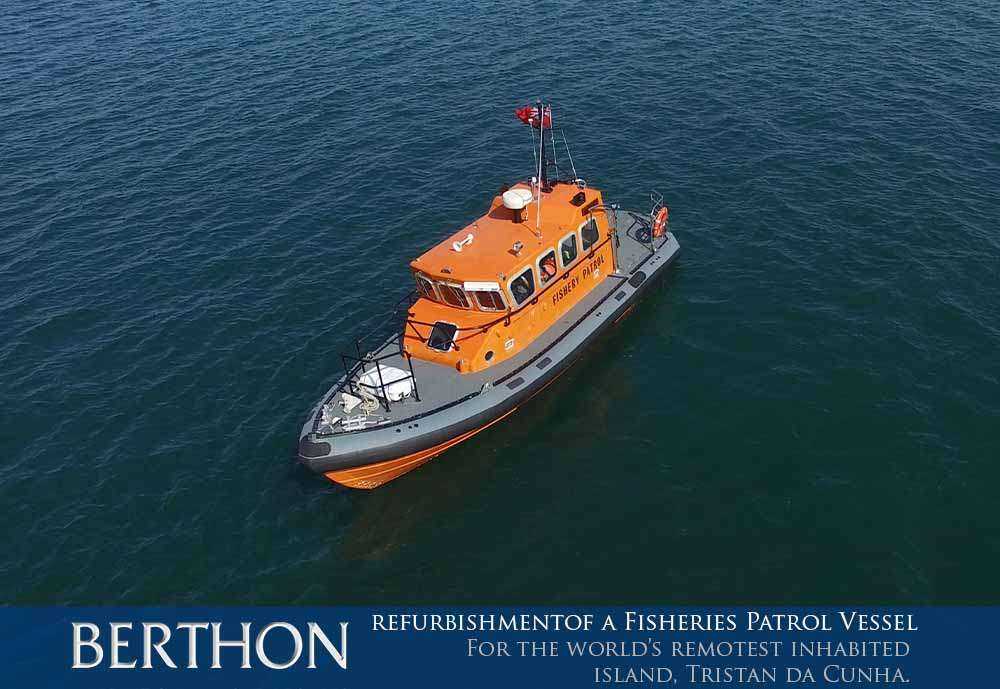 Wave Dancer – Pacific 38
Wave Dancer is a 1996 Pacific 38 cabin RIB and is owned and operated by the Tristan da Cunha government. With a range of 200 miles, she is used for safety support as a fisheries patrol vessel, ship to shore operations, including personnel transfers from visiting ships, fishing and customs inspections, inshore science surveys, and inter-island trips to conduct patrols and support scientific research. During poor weather conditions and for operations further offshore, she acts as the search and rescue craft, being the only capable vessel.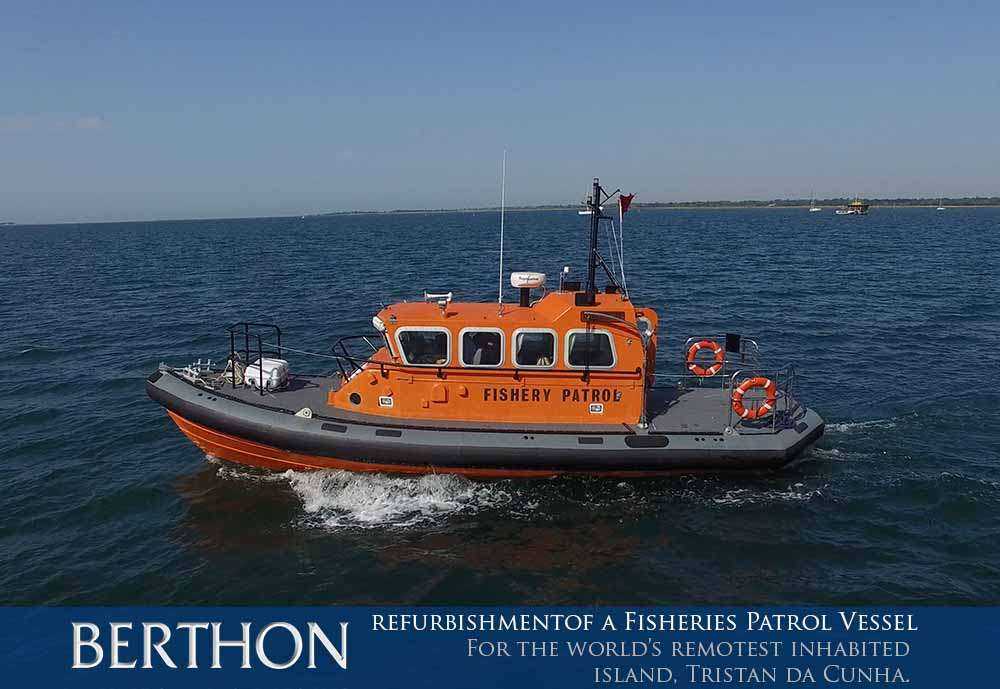 The Refit
Supply & fit twin Cummins QSB6.7 355hp at 2800rpm engines
Supply & fit twin Konrad Marine Stern Drives
Clean fuel tanks
Fit 30-minute fire-rated insulation in the engine room
Supply & fit 4 x Rolls AGM batteries
Make and fit new battery boxes
Make and fit new battery cables
Supply & fit watertight glands to comply with MCA regulations
Hull repairs
Polish Gelcoat
Supply & fit three new stainless steel LED floodlights
Supply & fit V-Tronics 2.4 metre fibreglass aerials
Supply & fit 2.6 metre HF antenna, modified to be lowered
Supply & fit VIC-M802 marine SSB HF radio
Supply & fit IC-M73 EURO VHF handheld radios and chargers
Supply & fit hand-held Iridium 9555 satellite phone
New varnish
Teamac non-slip deck paint
Supply & fit 50kg SWL single-armed davit
Supply & fit geared winch for manual operation with wire and a safety hook weighted to 50kg.
Supply & fit ten-man SOLAS B life-raft with hydrostatic release and custom cradle
Supply & fit 4m inflatable boat
Lifesaving equipment:
EPIRP with hydrostatic release
Two solar lifebuoy lights
SOLAS lifejackets
Buoyant lifeline
SOLAS approved parachute flares
SOLAS handheld flares.
SOLAS approved smoke floats
TPA (thermal protective aids)
Offshore first aid kit.
Firefighter equipment with 18m of hose
Water pumps
Fire extinguishers
Fire alarm protection and detection systems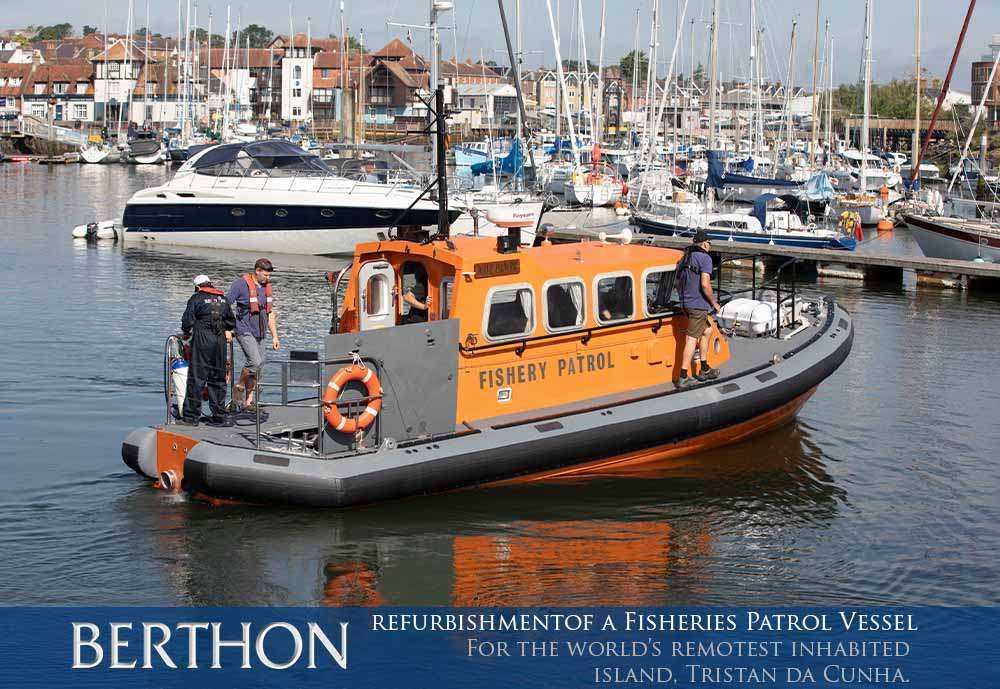 Spares, Training and Acceptance
Sea trials programme included inclining experiments which comply with MCA category 1 requirements.
Because Tristan da Cunha is so remote, Berthon has provided an extensive list of spares and repair kits.
Berthon also provided crew training for visiting staff from Tristan da Cunha. This includes technical training for Cummins engine maintenance, Konrad drive training, and training on all electronic equipment, Gelcoat & laminate repairs, and inflatable tube repairs.
Acceptance trials with CEFAS, then shipping back to Tristan da Cunha.