Busy Times for the Berthon Historical Boats Team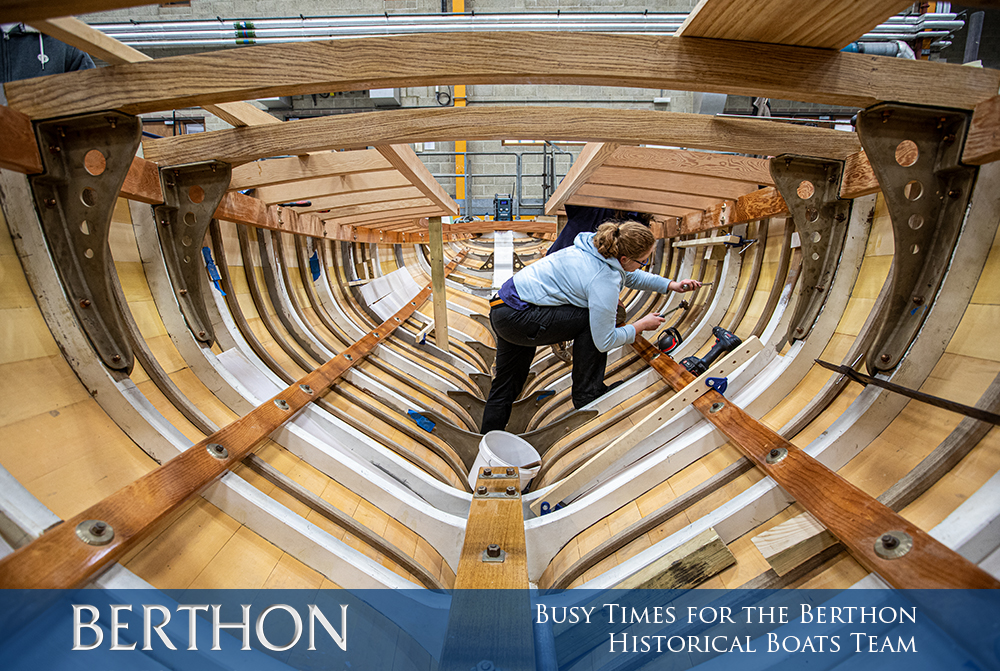 The New Year has brought some old blood to Berthon.  We are delighted to have five historical boats in attendance for a variety of repairs, maintenance and refits.  Ranging from traditional wooden sailing yachts, to high speed launches and air sea rescue boats, there are some seriously classy guests in attendance.
Joining the three beautiful historical sailing yachts "Ripple" (1925) and "Brynhilde" (1958) are "RAF High Speed Launch 102," (1936) "RAF Range Safety Launch 1668" (estimated 1957/1958) and the incredible Naval Vessel "MGB81" (1942.)
These fantastic boats are in Berthon for a spot of R&R (repair and refurbishment!) before re-joining their fleet at the Portsmouth Historical Dockyard, under the careful command of their Skipper – Diggory Rose – and his dedicated team of engineers and crew from the Portsmouth Naval Base Property Trust (PNBPT).
https://www.pnbpropertytrust.org/
MGB81 undertook a full refit at Berthon in 2018 and we are delighted to see her back.  She was scrubbed, antifouled and lowered back into the water to head back to Portsmouth.  HSL102 and RSL1668 will have some necessary repair work completed as well as a scrub, antifoul and anode replacement, before joining their sister-ship and the rest of the historic fleet.
HSL 102
Built by the British Powerboat Company of Hythe in 1936, HSL102 is an impressive sight, drawing attention and photographs aplenty.
The team behind HSL's design foresaw that the next Great War would be an airborne war, and predicted the need to rescue valuable pilots from aircraft downed at sea.  The HSL 100 class was created to persuade the defence department that such a boat was required.
HSL was inspired by racing boat designer Hubert Scott Paine (who also owned and ran Hythe Powerboat Company) with input from the legendary airman T E Shaw, better known as Lawrence of Arabia.  Shaw lobbied the RAF to develop high speed vessels, seeing the value of crafts travelling fast on top of the water, as opposed to traditional displacement launches.  The class was subsequently designed by Fred Cooper but regrettably Shaw was killed before the prototype was launched.  Demonstrated along the coast of the UK and the Mediterranean, the importance of the HSL class was quickly realised.
HSL102 was involved in numerous air sea rescues throughout WWII.  She worked for both the RAF and the Royal Navy in her commission, rescuing some 38 aircrew from the North Sea.  Once the war had ended, HSL102 received Royal recognition for her duties in 1941 while based in Blythe, when King George and Queen Elizabeth went on board.
Discovered derelict in 1992, she spent 3 years in restoration by careful private owners before her relaunch by Queen Elizabeth the Queen Mother in July 1996.  HSL102 was one of the first, and is now the sole remaining craft of her kind.  We are thrilled to welcome her to Berthon.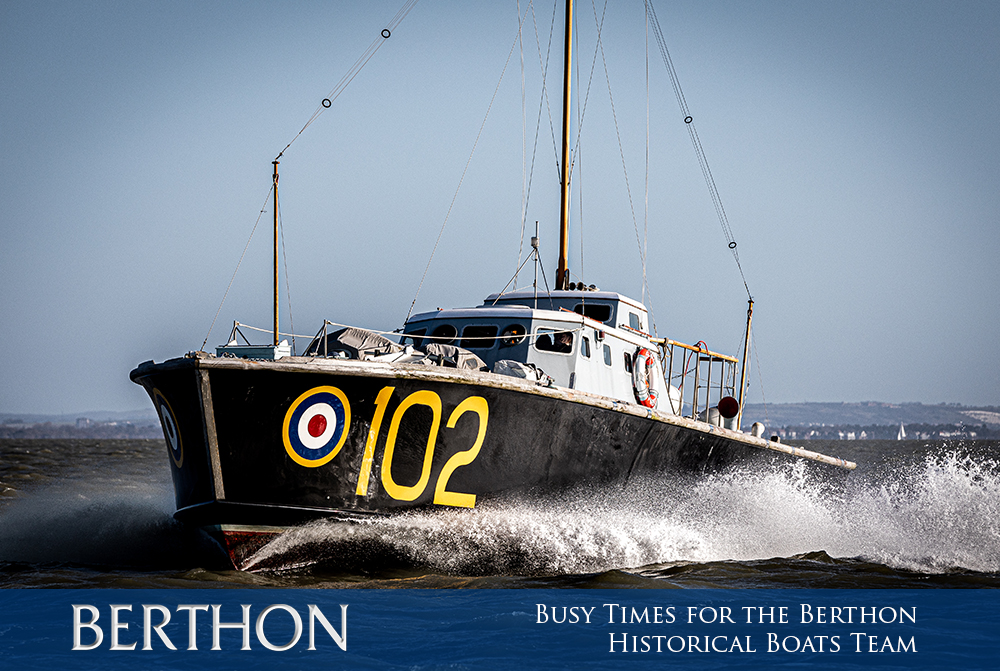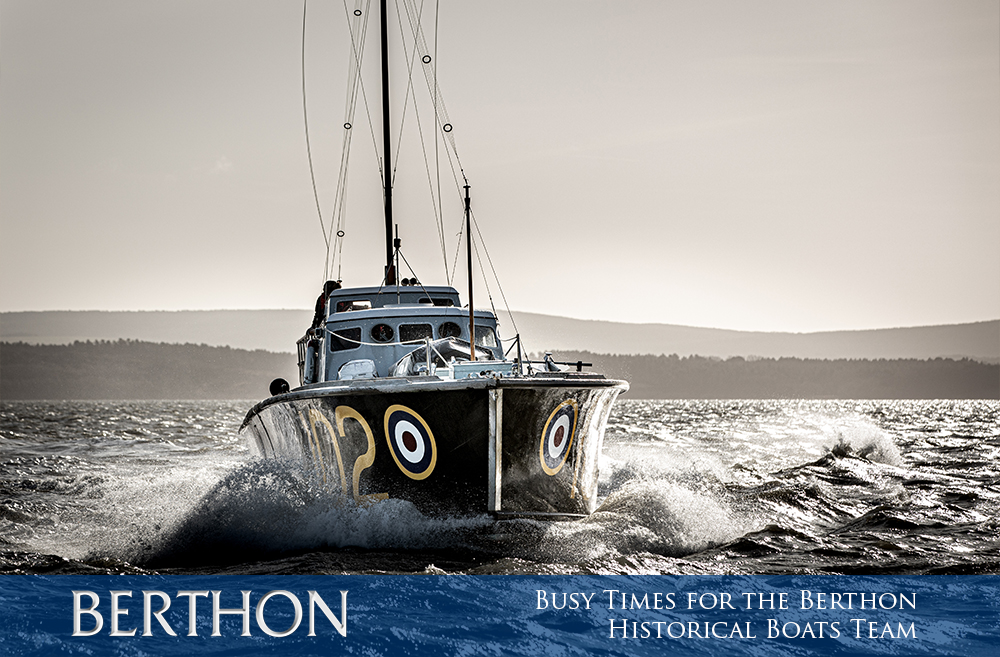 MGB81
Also in for work is MGB81.  Designed by George Selman, she is a commanding presence on the yard and water alike.  She is Diggory's favourite of the historic vessels, and with an unparalleled view from the bridge, three extremely powerful engines fitted by Berthon in 2018 and, of course, a series of guns across the fore and aft deck, it is not difficult to understand why.
MGB81 was also built by the British Power Boat Company of Hythe, launched in 1941.  She was immediately commissioned to patrol the South coast of the UK, regularly engaging with enemy crafts.
Her history is somewhat colourful. In 1958, she was arrested in Shoreham by customs officers on a drug smuggling operation and her original engines were removed.  After changing proprietorship several times, culminating in her being purchased by owners who invested significant time, finance and effort into a restoration to full operational capacity, she – and HSL102 – were bought by PNBPT in 2009 after securing National Lottery funding.
MGB81 is the only boat that took part in the D-Day landings to return in 2004.  With Cam Goff (one of her original skippers who was in charge when MGB81 supported the US landings on Omaha beach) joining her private owners on board, she replicated her trip across the channel in an important nod to history.
In 2017/2018 she had a major refit to replace her engines which now create a staggering 2,400 horsepower (astounding to think, however, of the 4050bhp created by her original petrol engines!)  She can carry a considerable 6 tonnes of diesel yet in true historic fashion, there are no fuel gauges on the tanks.  Fuel is measured by dipstick, in metres, with "half a metre remaining" being approximately the point where Captain Diggory determines she needs to take on more fuel.
For the 2019 D-day celebrations, MGB81 travelled to Normandy, the Channel Islands and back to Portsmouth before needing to refill – this is some 280 hundred nautical miles.  Her new engines have considerably widened her cruising grounds and will consequently allow more people to enjoy a 70ft slice of maritime history travelling at upwards of 35kts.  The trust can arrange private charters for special occasions and can be contacted via the website above.
Both these boats were restored using a combination of professionals and volunteers, and with reference to their original drawings.  Changes were made in choice of materials and incorporating modern techniques, to increase the strength and longevity of the boats and reduce their essential maintenance, however their restorations were completed to keep them as original as possible, preserving British maritime history.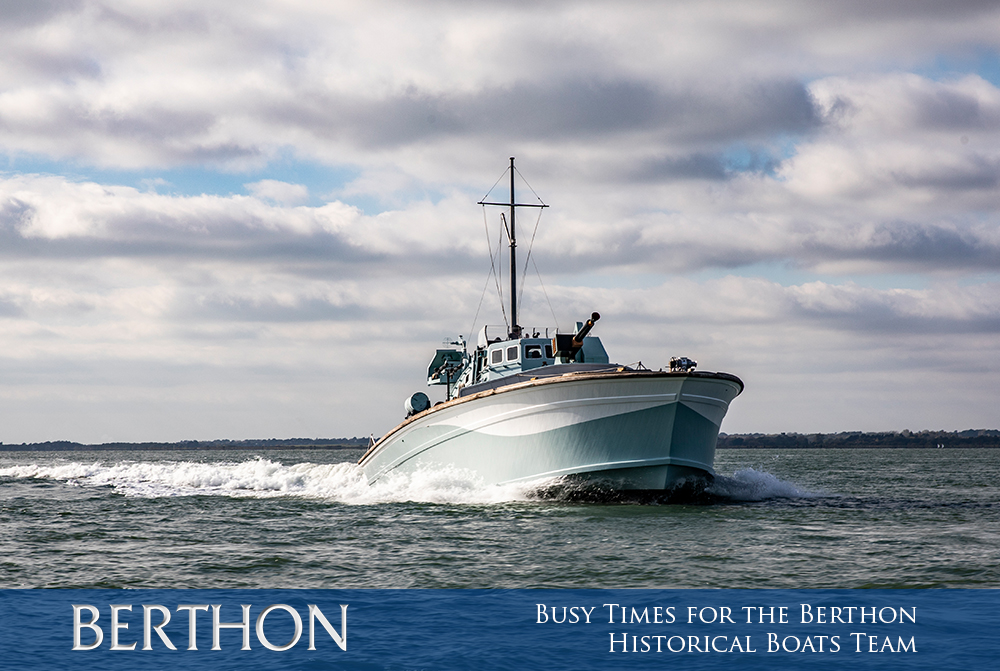 Berthon Historical Boats Team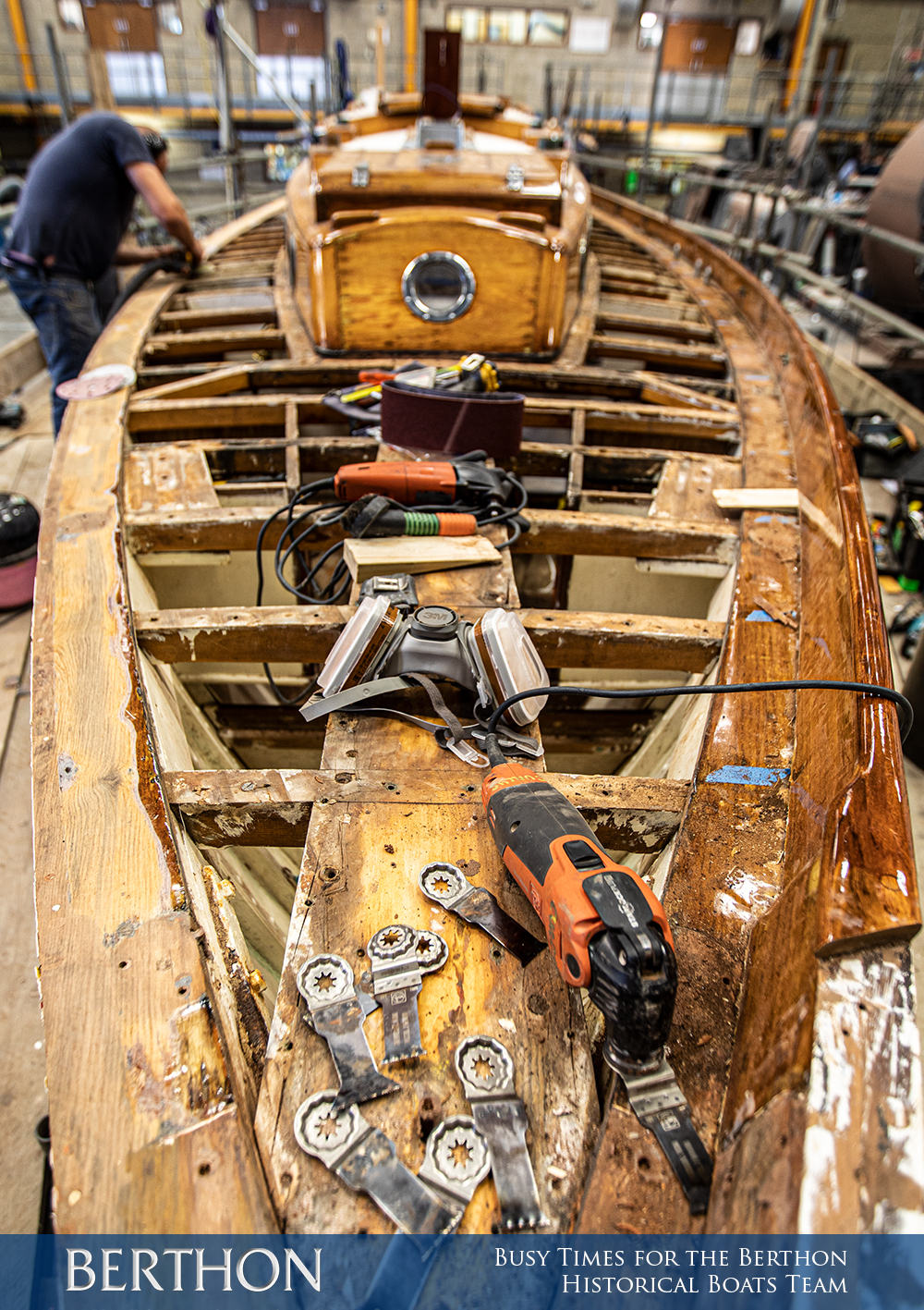 We are proud to accept these quite exceptional boats to the yard and help maintain them at their rightfully mint condition.  They are a vital fragment of our maritime culture and offer a rare occasion for us to see history in action.  The PNBPT boats are, of course, fully operational, regularly running from their base in Portsmouth Harbour to attend commemoration events or take guests out for private charters.
Many of our apprentices and qualified workforce – not to mention the enthusiasts dotted throughout Berthon – are glad to see the number of historic boats appearing here for work.  Their presence is an excellent opportunity for both our experienced boat builders and our apprentices to apply their traditional boat building and maintenance skills.  The techniques and methods used on a historic or traditional vessel are markedly different to those used for more modern yachts, and it is the refit of traditional and historic that keep these skills alive.
It is impossible to hear MGB81 fire up without your imagination running through her colourful past; or be captivated watching HSL102 speed down the Solent, timeless and elegant.
Equally, we challenge any sailor to look at Brynhilde or Ripple and not be enchanted by their truly classic lines, or appreciate the dedication and devotion being poured into their expert restorations.
These yachts and warships – and the work they have done – should not disappear from our memories, so we are extremely pleased to be able to assist the trust in keeping these historic boats on the water.
PNBPT is located at Portsmouth Historical Dockyard.  Open from 10am to 5pm each day to the public, there are numerous historic vessels and buildings available to explore with keen and knowledgeable staff to answer all questions.
Please follow this link – for information about chartering one of these boats, or click here to learn more.