International Women's Day
The theme of International Women's Day this year is 'Embrace Equity'. Imagine an inclusive world where gender is equal and there is no discrimination. Well that's exactly what we should all be aiming for. In celebration of the women at Berthon, we asked them to think about what inspires them to be the person they are, you will realise they are all strong, tenacious individuals who excel in their given field and bring empathy and compassion to a male-dominated industry.
---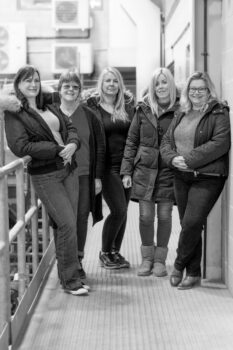 Karen, Group Company Secretary & Head of Finance at Berthon, is empowered by the strong, driven women she works with in her team. "Everyone has personal goals within their career, which can be achieved if you're willing to work hard and put your mind to it. What helps along the way is having a great team to work alongside. I have a group of amazing ladies who support not just Berthon but every member of our team. Our days can be full of laughter (even for an accounts department!) and lots of number crunching, but we all work together in a happy environment."
---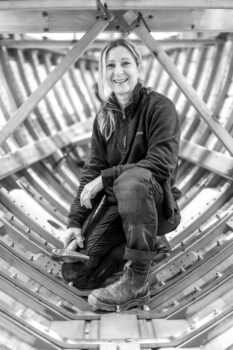 Berthon's only female Shipwright, Rachel, has only in the last few years dedicated her time and effort to learning the trade of wooden boat building, working with traditional tools that have been passed down to her through generations. "I was lucky enough to have my grandfather's and great uncle's hand tools passed down to me via my Dad (who is very pleased that they are being used!). They both would have been happy and proud that their tools were still in the family and being used nearly 100 years later by their granddaughter!

While I use these old tools, I think of what has been made with them before and what stories they could tell. I use these inspirational tools daily and think they will probably outlive me too!"
---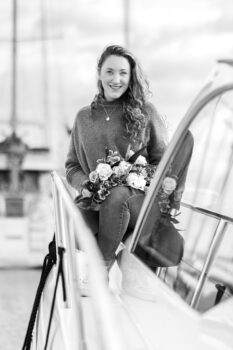 Marketing and Social Media Executive, Ellie, discusses how impactful it has been growing up with parents who run their own business is. "International Women's day has made me stop and think about what inspires and drives me as a young woman. I pride myself on being career-focused and passionate about working in marketing. This stems from watching my Dad own and run a successful business my whole life. Not only do I strive to be as fortunate as him, but more importantly, I want to do him proud.   
Behind every strong man is an even stronger woman, which couldn't be more the case with my family. My Mum has been tirelessly at my Dads side throughout every up and down the business has experienced. Seeing their devotion to each other and the company is admirable and worth working towards. The wholesale of flowers and plants has its challenges, but watching how a business overcomes them is fascinating and makes me eager to learn more.
As a woman, I hope that I have a long, prosperous career in the marine industry and that I can then be the one to inspire someone else to do the same."
---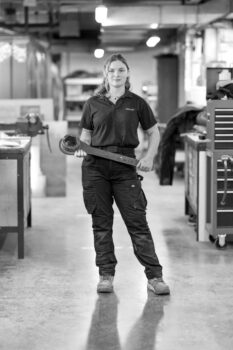 Marine Engineer, Emma, started her apprenticeship at Berthon when she was just 16. Four years later, she feels more confident in herself and her work than ever. "As a woman in an engineering role, I am given all the same opportunities as everyone else. I might be smaller, but I am just as capable and have built my physical strength since starting here. My confidence has grown drastically, and working in this male-dominated environment has made me the woman I am today."
---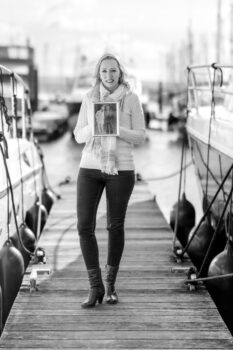 Adele, Berthon's Receptionist and Administrator, has always looked up to her parents as her greatest role models. "My greatest inspiration in life has always been my parents. I am incredibly fortunate to have such loving and devoted parents. They have taught me the importance of hard work to be independent and self-sufficient. I bought my first home at 21; I have travelled the world and have always worked hard to provide a good life and set a positive example for my children.
They have given me the confidence to know and like myself and have always supported me in expressing my talents. My parents have shown me how rewarding it can be to maintain a full and active life. When I am not working, I am extremely busy with my hobby of making hampers; I am very sporty and love to travel. 
As well as making healthy and wise choices, my parents have shown me the importance of enjoying life; they have encouraged me to embrace every opportunity that comes my way and to find the positives in every situation. Their cheerfulness and optimism radiate from them, and I like to believe this positive nature is something I also possess and a quality that serves me well in my position as a receptionist at Berthon. 
I hope to pass these attributes on to inspire and encourage my children in such a positive way."
---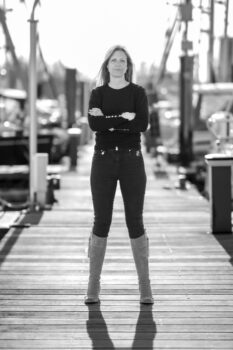 Helen, Berthon's Head of Marketing, has worked in the marine industry for over 15 years. "What inspires me to be the person I am – me, myself and I. When I joined the marine world, it didn't even cross my mind that I was entering a male-dominated industry. I strongly believe it is not about the label someone puts on you but about your inner strength and determination to succeed. Be the best that you can be, and that is all that matters. Over time I have grown stronger in my views and opinions. My advice in any male-dominated industry is, whether starting as an apprentice, working within a managerial role or anything in between is, the only barriers are the ones that you create for yourself. If you think you can be an engineer, an electrician, shipwright, builder or plumber – you can; you just need to believe; it's where it all starts, stand strong and don't bend even if it seems this is the easiest route to take. Your destiny is in your own hands – choose you."
---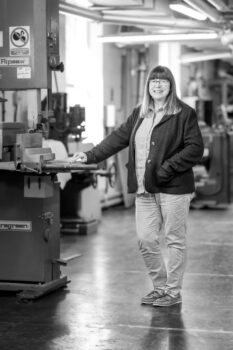 Procurement Manager, Lisa, is self-assured, independent and feels fulfilled by herself. She explains her ambition for the next generation of women. "However much I appreciate the powerful women around me and their impact on me, I know that I am happy, just the way I am. I aim to make more women feel this way, confident in themselves and empowered by themselves, without needing validation from others. Of course, there are women who have had a positive influence along the way, but only you can come to this realisation on your own. You are more than enough."