All you need is strength of character, and a Versadock of course
All you need is strength of character, and a Versadock of course – By Chris Davison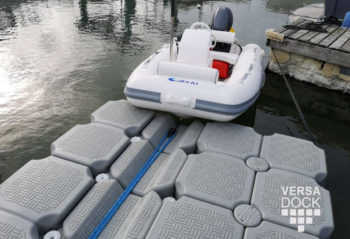 For some, a jaunt on the river gets us closer to nature; others revel in a feeling of freedom akin to that of a learner driver the day after successfully passing their test. All of us however share one thing in common, we are hooked. The idea of no longer being able to take to the water and immerse ourselves in our chosen hobby is a thought we push to the backs of our minds and try not to acknowledge its existence.
However, we cannot deny the inevitable. For some, our ageing is highlighted by a gentle realisation that you cannot rise or sink into a chair without making an involuntary noise. For others it comes rather more abruptly. Such was the case for one of our customers last year. Recovering from a stroke and learning to live with its aftermath left him re-evaluating his boating. Clearly new limits had to be put in place but with a fortitude I find admirable he refused to simply stop.
The journey began with a visit to our sister company BHG. The extensive range of small craft in their warehouse gave the perfect opportunity to review a range of vessels and find something suitable to his new needs. Like all these things though it's not just a case of what boats fits the bill but also how do you look after it and how do you get in and out of it. New physical constraints meant that the days of leaping with alacrity from the pontoon to the boat were a thing of the past. However, if the boat could be kept relatively still, he could still get in and out with minimal assistance.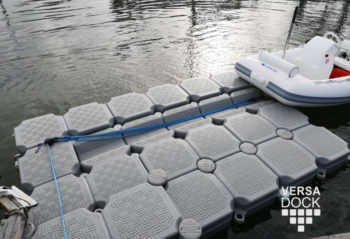 The solution came in the form of a Cabrio 270 combined with a Versadock.  The superior stability of the Cabrio boat when on the water, combined with a custom modular dock to make boarding simple and achievable meant that it wasn't time to hang up his oilskins just yet. The dock fits snugly into a space just big enough and swings out for launching utilising an otherwise unfeasible space in the marina. Launching is a case of reversing from the dock under engine while recovery is aided with a simple block and tackle system, should the boat not quite go all the way on first time.
Installed the following week and tested by the client who remarked, "Its everything we wanted and more. Works perfectly, thank you". Some jobs however are their own thanks. I hope when I reach this stage that I have his fortitude, and a Versadock….