Talisker Rowing, Whisky and Wilderness

Versadock taking on the challenge with Talisker Whisky
Talisker whiskey has been one of the front runners in this charge to find new markets and customers and since 2011 have been sponsoring the Atlantic Challenge as part of this drive.
The world over, whisky has been seeing a renaissance. Bourbons, craft distillations, rye whiskies are all riding a wave of popularity among millennial's. Scotch meanwhile, is lightening it's image, not just with non-age-statement whiskies (brought out because aged stocks in Scotland were dipping to mixed reactions) but with newer, engaging products and campaigns.
The Atlantic Challenge race starts in the Canary Isles and finishes some 2,550 arduous nautical miles later. The race begins in early December with up to 30 international teams competing.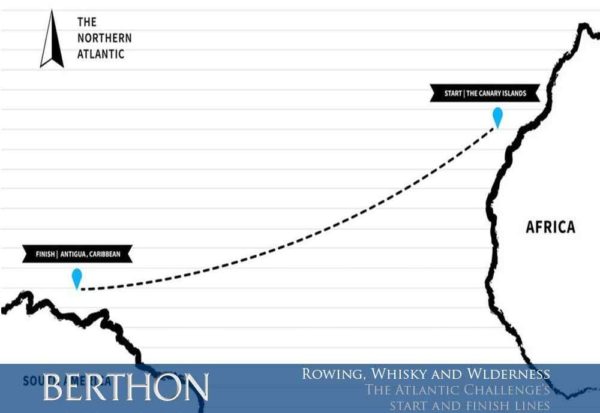 Some things you may not know about the race.
Each team will row in excess of 1.5 million oar strokes over a race.
More people have climbed Everest than rowed an ocean.
Over €6million has been raised for charities worldwide over the past 4 races.
The waves the rowers will experience can measure up to 20ft high.
There are two safety yachts supporting the teams as they cross the ocean. In the 2013 race, one yacht travelled a massive 9000nm!
The 2013 winning Team Locura arrived in Antigua with a blue marlin beak pierced through the hull of the boat.
In the 2016 race, solo rower Daryl Farmer arrived in Antigua after 96 days, rowing without a rudder to steer with for nearly 1200nm/40 days.
Each rower needs to aim to consume 10  litres of water per day.
Rowers burn in excess of 5,000 calories per day.
Each rower loses on average 12kg crossing the Atlantic!
This year, keen to raise the bar from previous events, Talisker commissioned a team of event solutions experts to deliver the impossible – a wilderness bar only accessible by sea. Faced with the enormity of the project and the complications of the sea access, they in turn called Versadock.
Our design and engineering department worked with them to explore the options. The original design was for a totally independent floating bar. This went down so well with the client that they decided they wanted to expand the concept to involve more people. Before long the concept had evolved into a shore-based bar with waterside access.
Now the easy bit was done, we have two weeks to get a Container of pontoon and building materials 2,228 miles to a remote beach only accessible by sea and get it built.
To find out if Versadock completed the challenge, look out for part 2 coming soon!