Berthon makes boats not only race-ready, but race-winners
Berthon makes boats race-ready, and we understand the preparation required to win races. We have had a number of race winning boats come through our big blue sheds over the years, so to say we were disappointed with the lack of racing due to covid would be an understatement. However, the return of racing season is around the corner, and we are thrilled to hear the news that a number of events are set to take place this year! In this article we will be looking back at the preparations of OUI FLING, an out-and-out modern race boat concealed behind classic lines and a wooden structure, MADELAINE, an FGBR 707 Nordic Folkboat, YES!,a prominent racing yacht and an aggressive contender on the Solent, and finally, 33' APHROS – winner of the IRC B division at the Nippon Cup, which was her first regatta. So, how did we make them not only race-ready but race winners.
OUI FLING (a 52' dreamboat built in the UK by Spirit Yachts) belongs to Lord Laidlaw, a serial racing yacht owner with a fleet of yachts called HIGHLAND FLING, and a veteran of the big boat and maxi events in the Mediterranean and Caribbean. Known for her beautifully sleek lines, flush decks, and elegant overhangs, OUI FLING has been designed as a modern classic racing yacht that looks as good as she sails. Lord Irvine Laidlaw expressed how he enjoyed the boatbuilding process, planning it, seeing it through – then how to make it go faster in an interview with Yachting World. This comes down to even the smallest of details.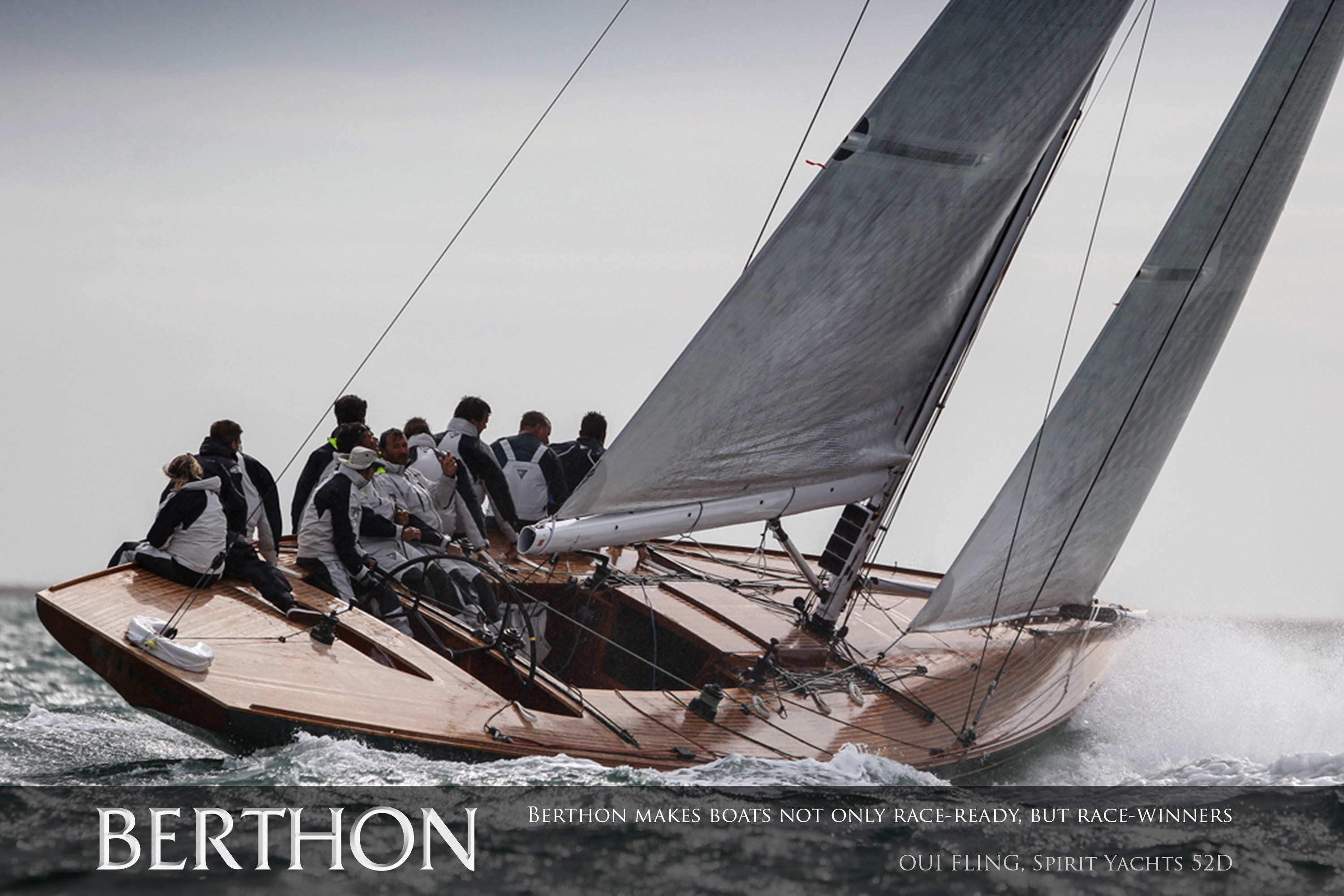 Image credits: Paul Wyeth
The work performed on OUI FLING this year was first to remove the old antifoul; the second task on the list was to repair the keel joint where it is fixed to the hull, allowing OUI FLING to cut through the water seamlessly – every second counts! Finally, the hull was sprayed with a new, smooth Durepox finish, aiming to make the boat even faster.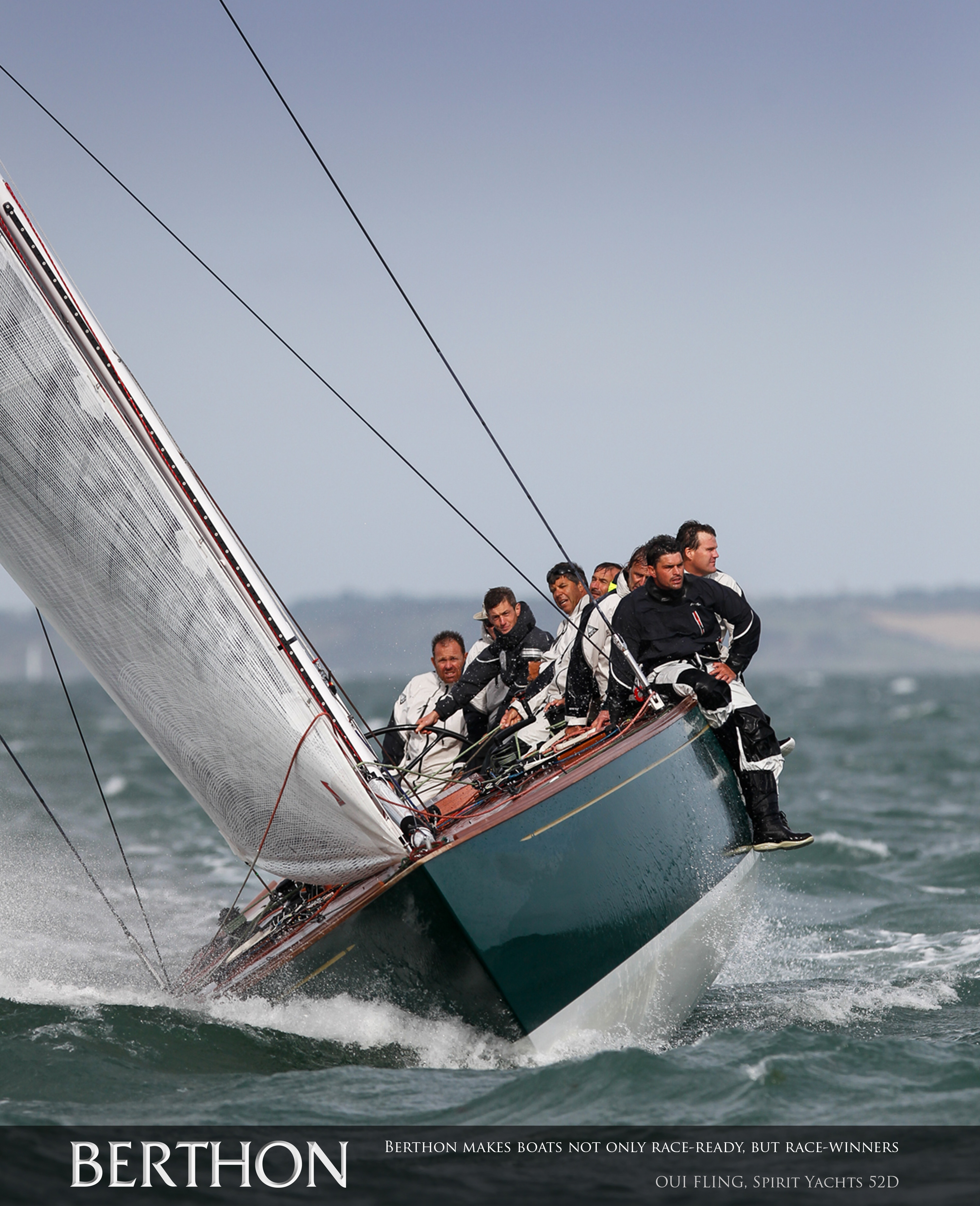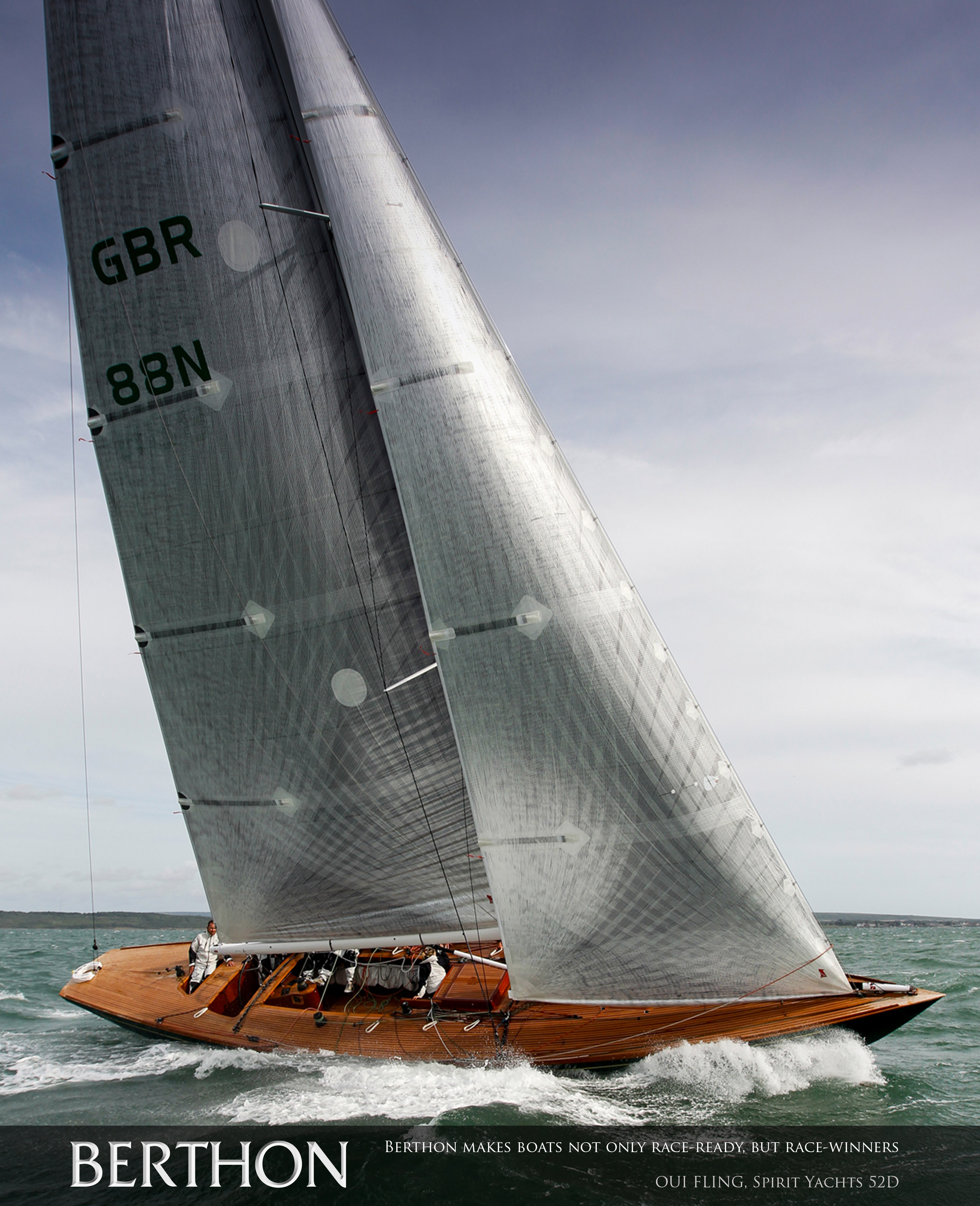 OUI FLING resides at Berthon, and with access to the Solent at all tides it is the perfect place to campaign IRC racing out of Lymington, particularly on Thursday nights during the summer months and at other Solent classic/spirit of tradition events. This stunning Spirit Yacht was designed to carry no excess weight, going that one step further to ensure lightness and speed upon the water, from a carbon keel blade and rudder, to carbon mast & rigging and fittings. The result has been a yacht which wins regularly.
SOUFRIER, Spirit 54-007, film star of James Bond's 'Casino Royale' also resided at Berthon for a time before heading off to her new home.
Edward Donald came to us on the 18th of June 2018 with MADELAINE, an FGBR 707 Nordic folkboat, requiring some work, one of those jobs being a new race quality, highly polished, paint of her underwater hull. With her due to be competing in the 2018 Round the Island Race on Saturday 7thJuly, this entailed a quick turnaround, whilst at the same time not compromising the quality of the finish.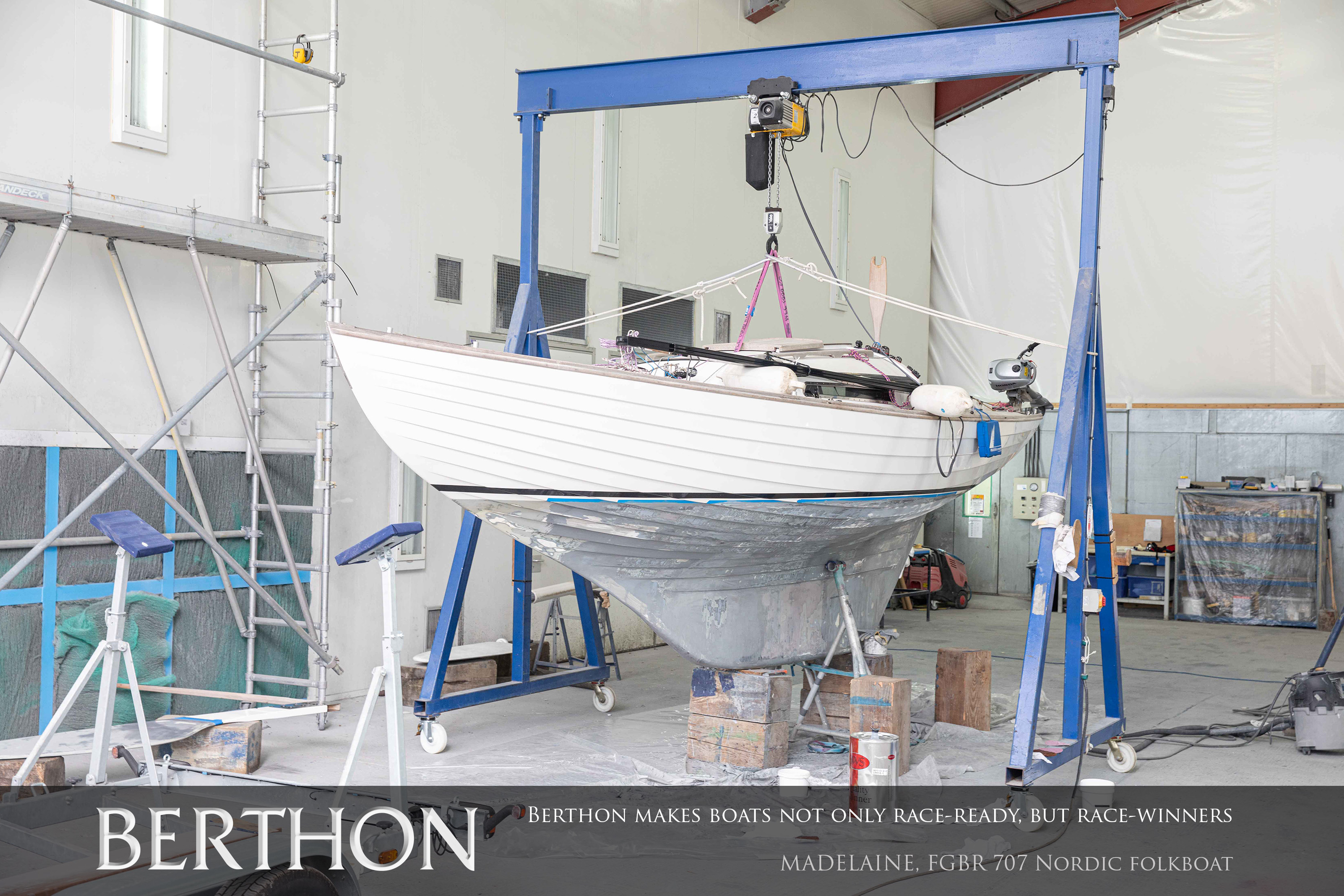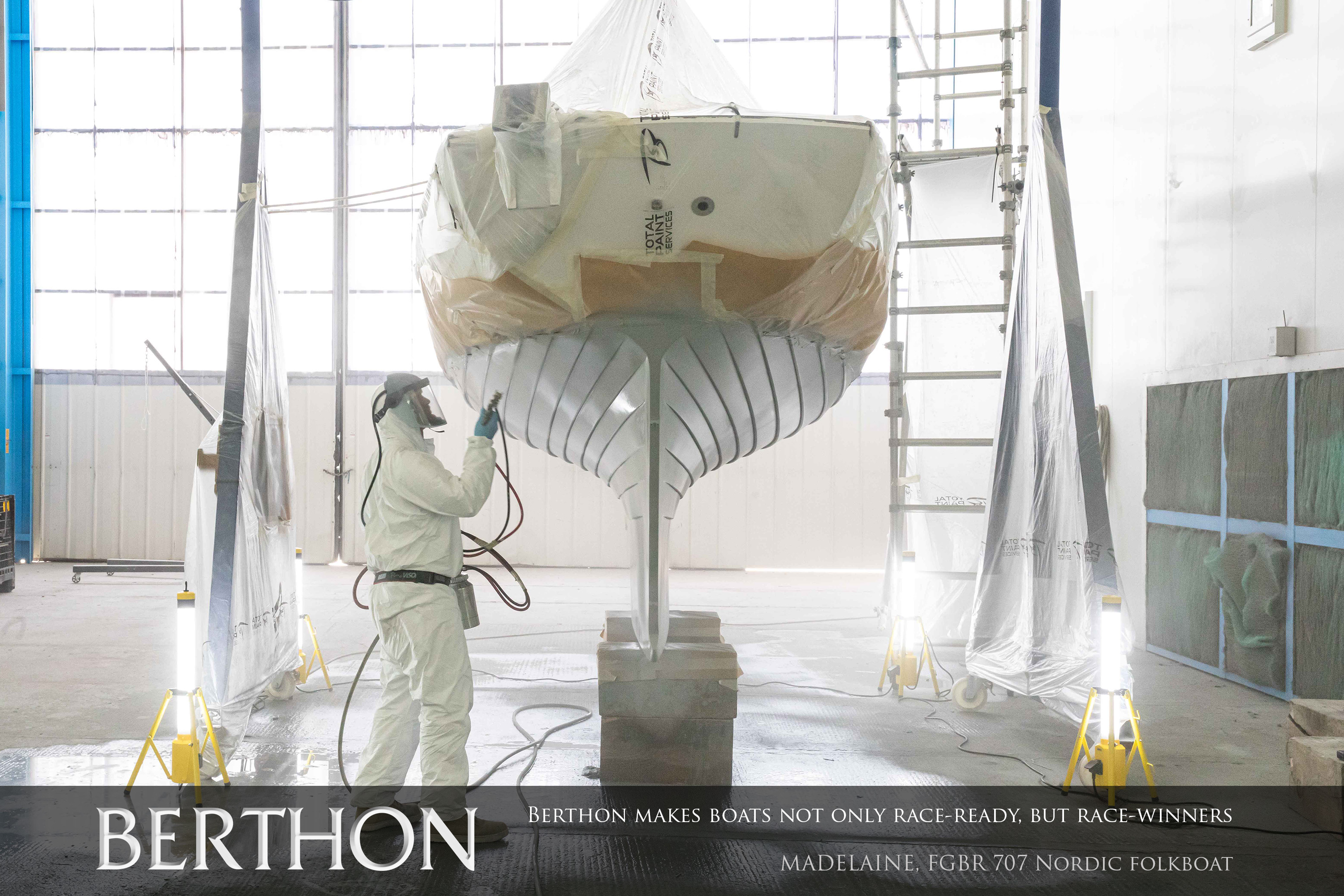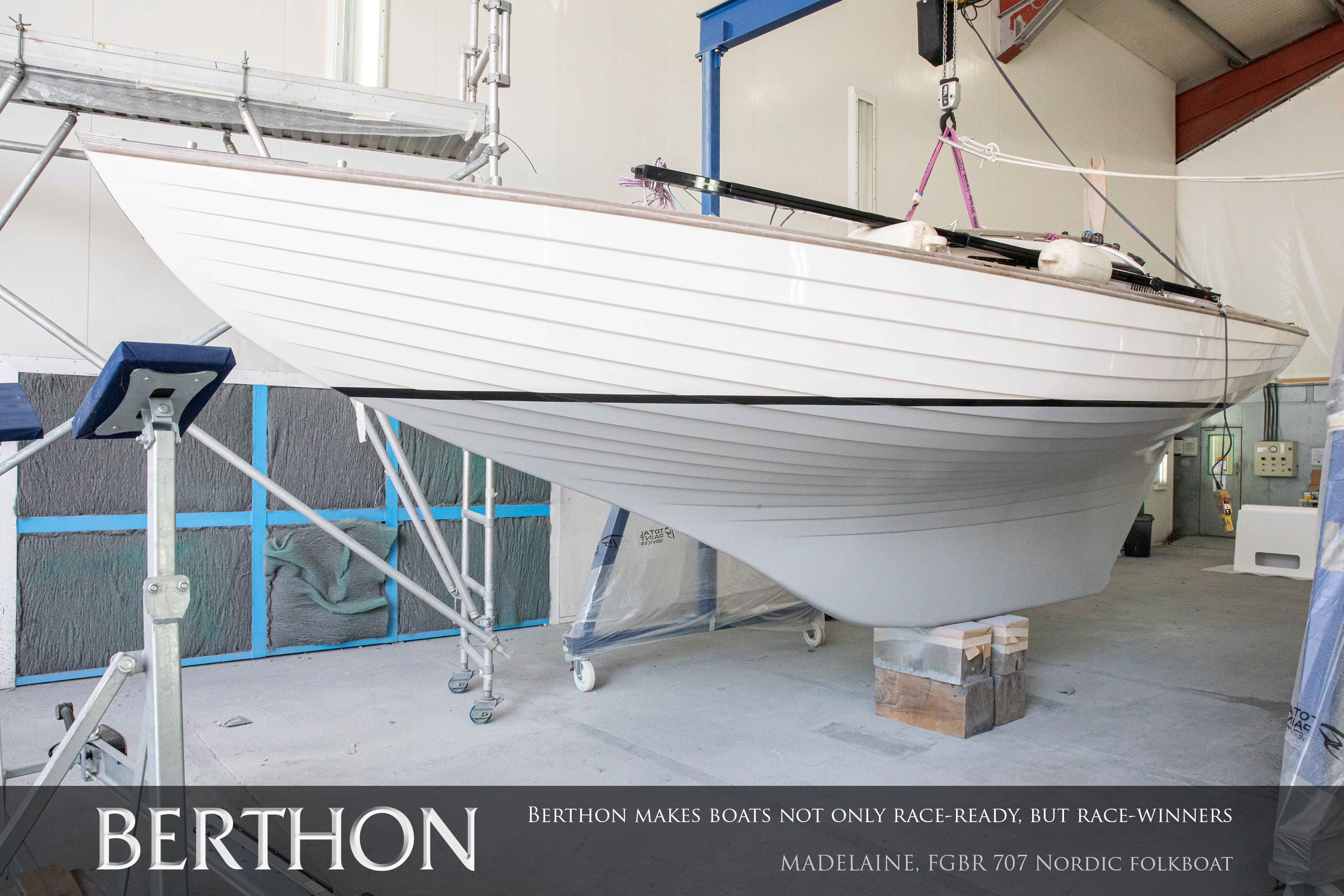 To make her race-ready a full list of works was carried out by the Berthon team. We fully stripped back her underwater hull to the original Gel Coat, but in true pro-fashion, the light grey Durepox finish was polished smooth with 2000 grit. We also serviced her mast, upgraded her rigging and halyards, and added a new whisker pole. Not only did MADELAINE place second in division but also 2nd overall out of over 300 finishers! She is due to race again this year and will be watching to see if another light wind race can help them take the number 1 spot this year!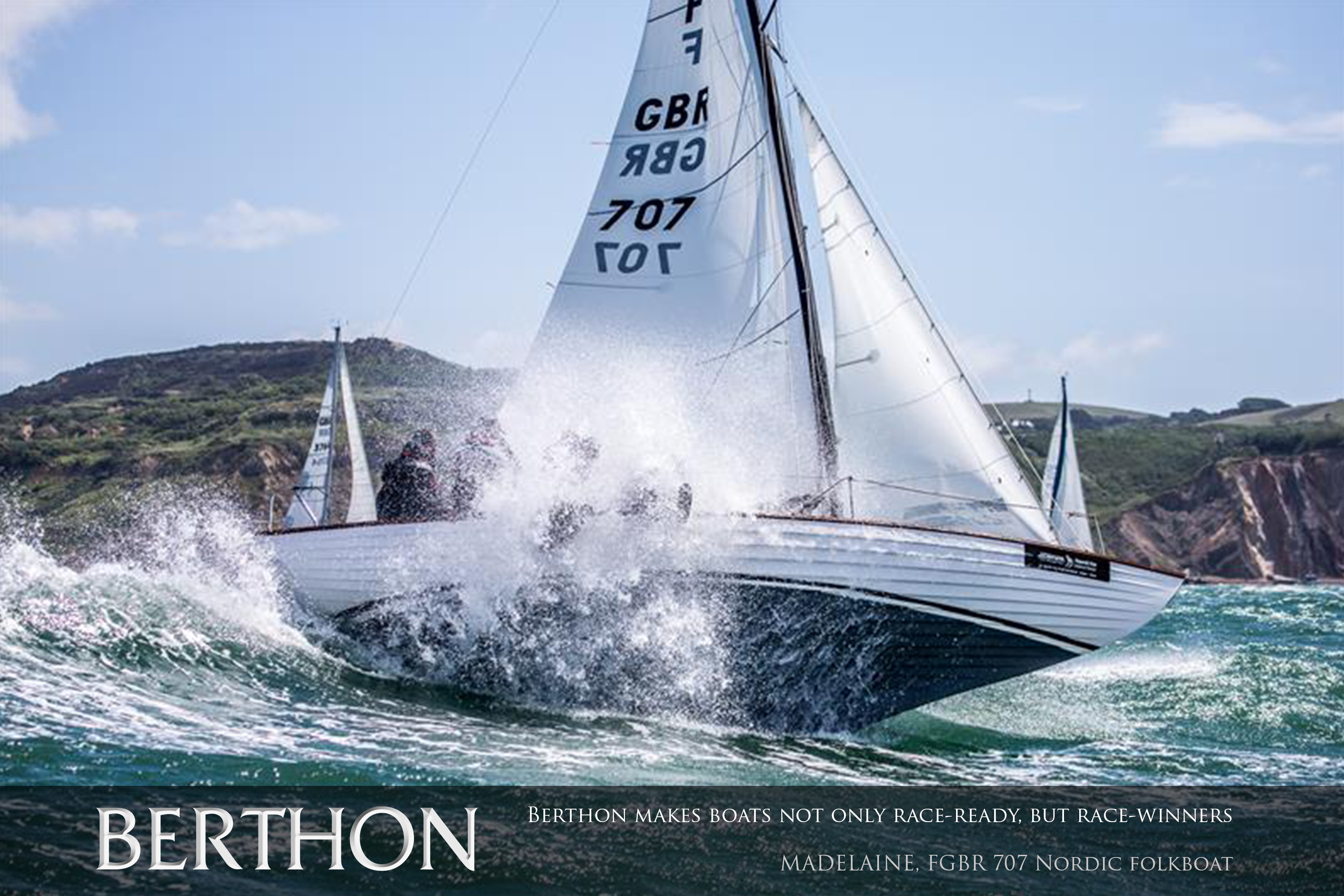 Image credits: Alex Irwin
Last summer we were pleased to welcome the prominent racing yacht JPK 1080 YES! to our world-class painting and spraying facilities. Adam Gosling – owner of YES! – originally purchased the recognisable yacht in 2016.  He made adjustments to the 1080 mould specifically for inshore racing – her mast was changed to a keel-stepped configuration with adjustable tension using shims; and winches were added to a new deck layout to control the mainsheet.  The combination of a slick crew and shrewd weight-saving were clearly in her favour – the result is a stunningly competitive boat.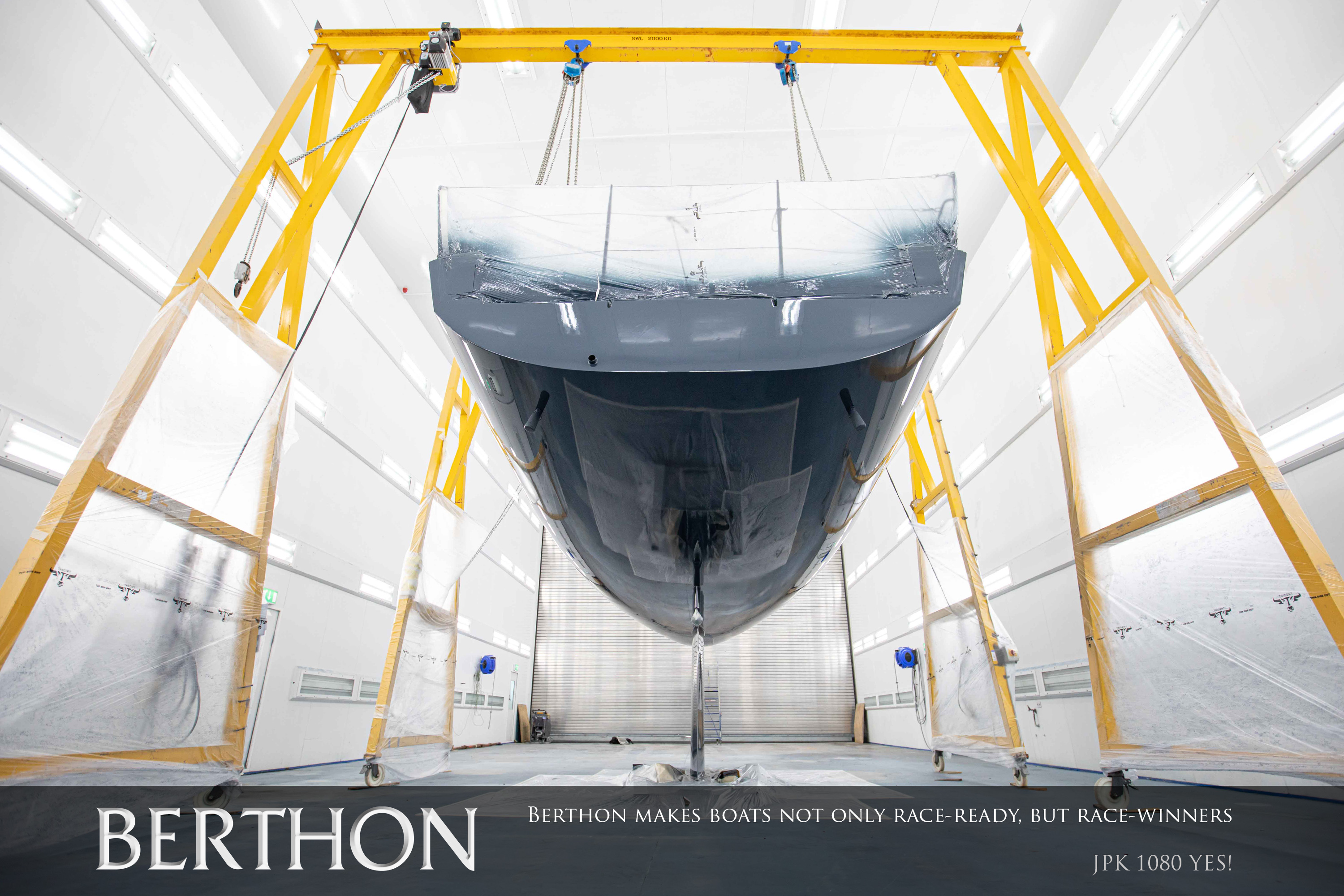 Our skilful team carefully removed her existing antifoul, before the hull was fully fared back by air-driven power board sanding.  This resulted in a phenomenally smooth finish.  Once this process was complete, YES! had her entire hull hot-coated; a process which involved a layer of primer being added to a spotless hull, including all of the underwater section, followed by an initial layer of AWL Grip gloss across the whole area.  This was then rubbed back and meticulously washed before another layer of gloss was sprayed and the process repeated until the desired overall thickness of the coating was achieved. NB, there is no waterline anywhere to be seen; paint application from the topsides to the keel was all done at the same time. It is of paramount importance that absolutely no dust is allowed to land on the hull through this process, as this would mar the perfectly smooth finish.  The result of hot-coating is an exceptionally hi-sheen hull finish, expected to last up to 10 years with careful maintenance.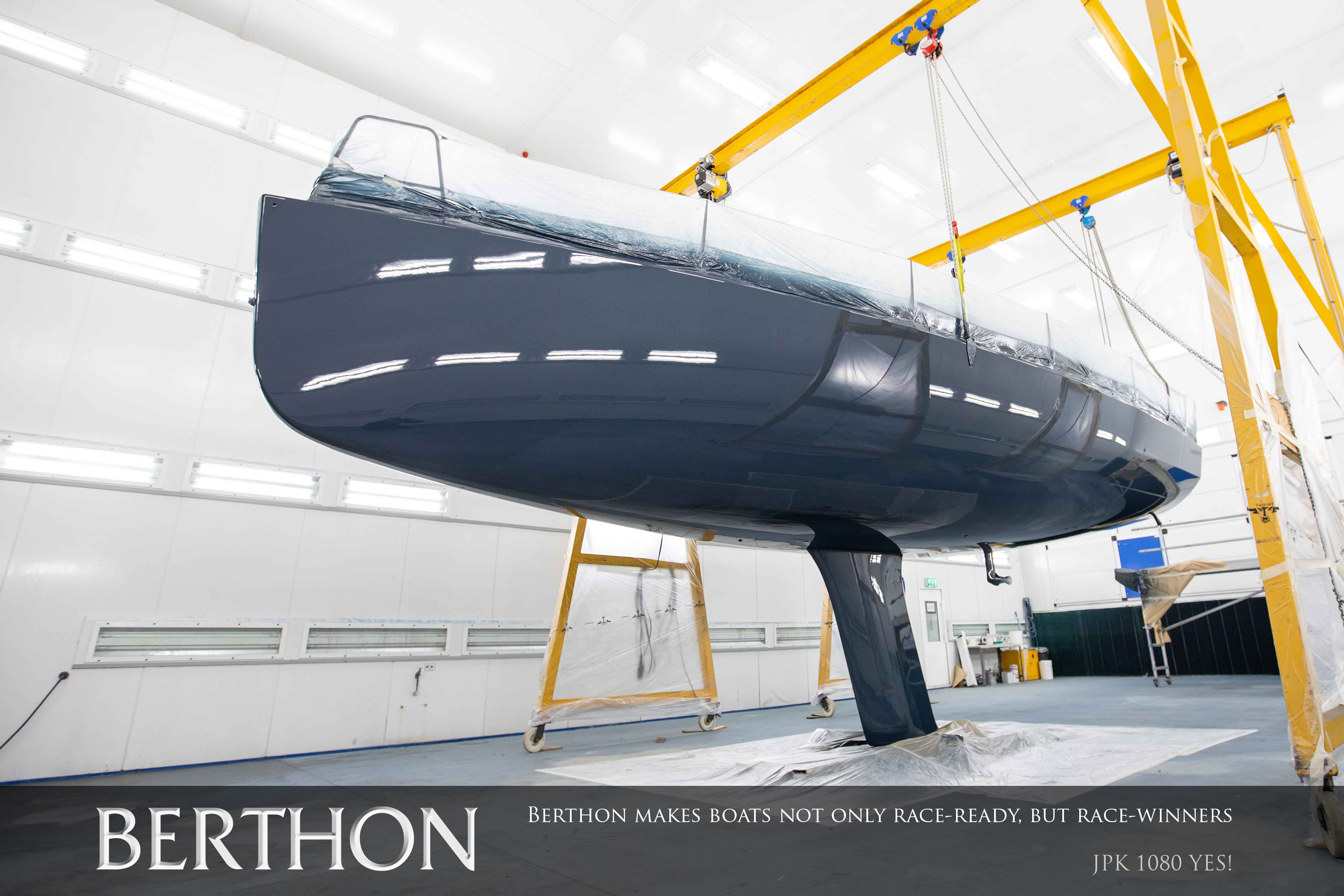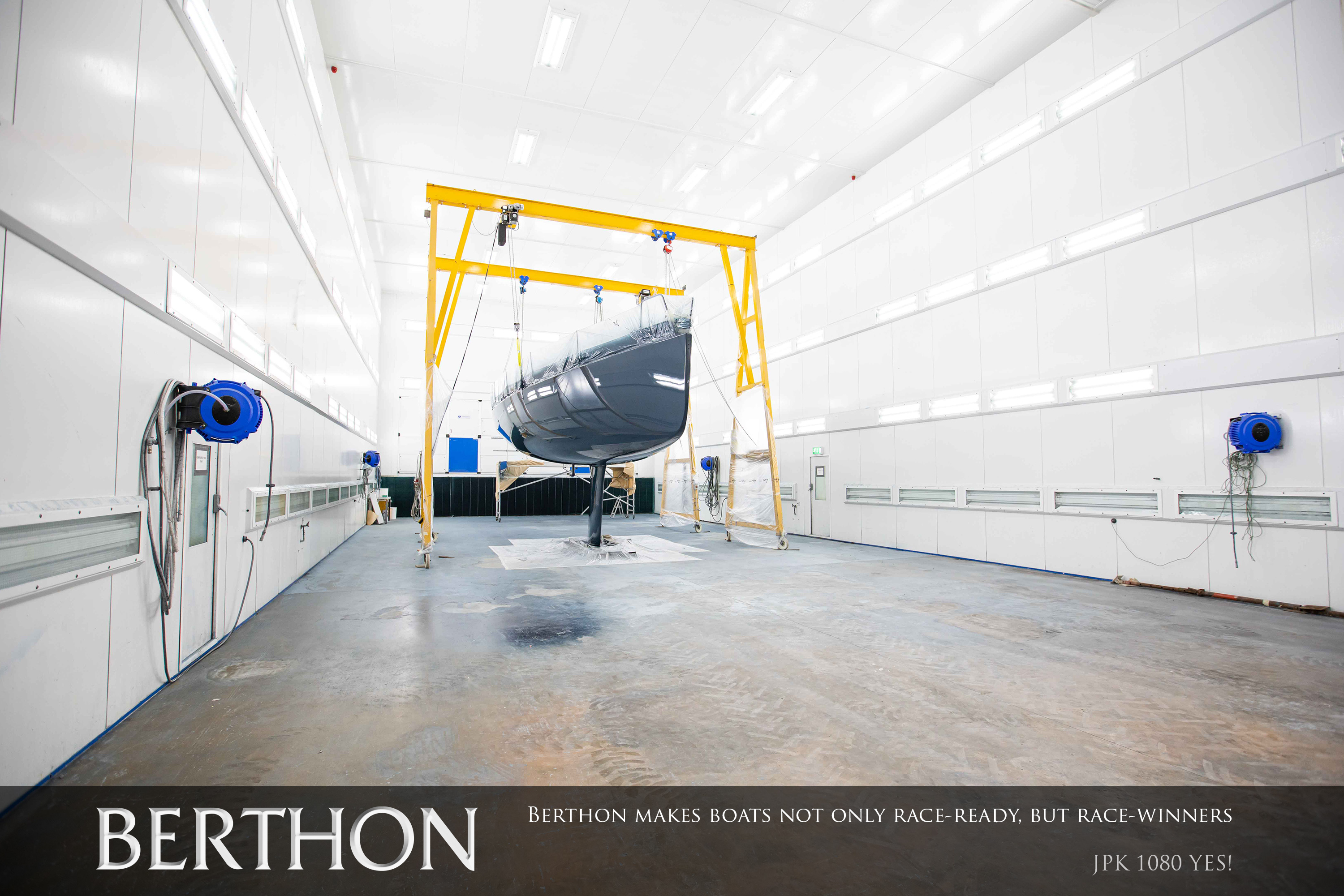 Berthon's international reach enables us to sell yachts and coordinate logistics from our Lymington, UK shipyard to complete high-quality work before shipping yachts anywhere in the world.  Berthon comprehensively demonstrated this with the extensive services provided to the new owner of the Ker 33 APHROS (ex ACHERON).  Sold while based in Cowes by Berthon International yacht brokers to a new Japanese owner, the client also made a visit to Berthon's big blue sheds at the shipyard while in England.  A tour of the facility encouraged him to immediately sign his purchase up for a multitude of works.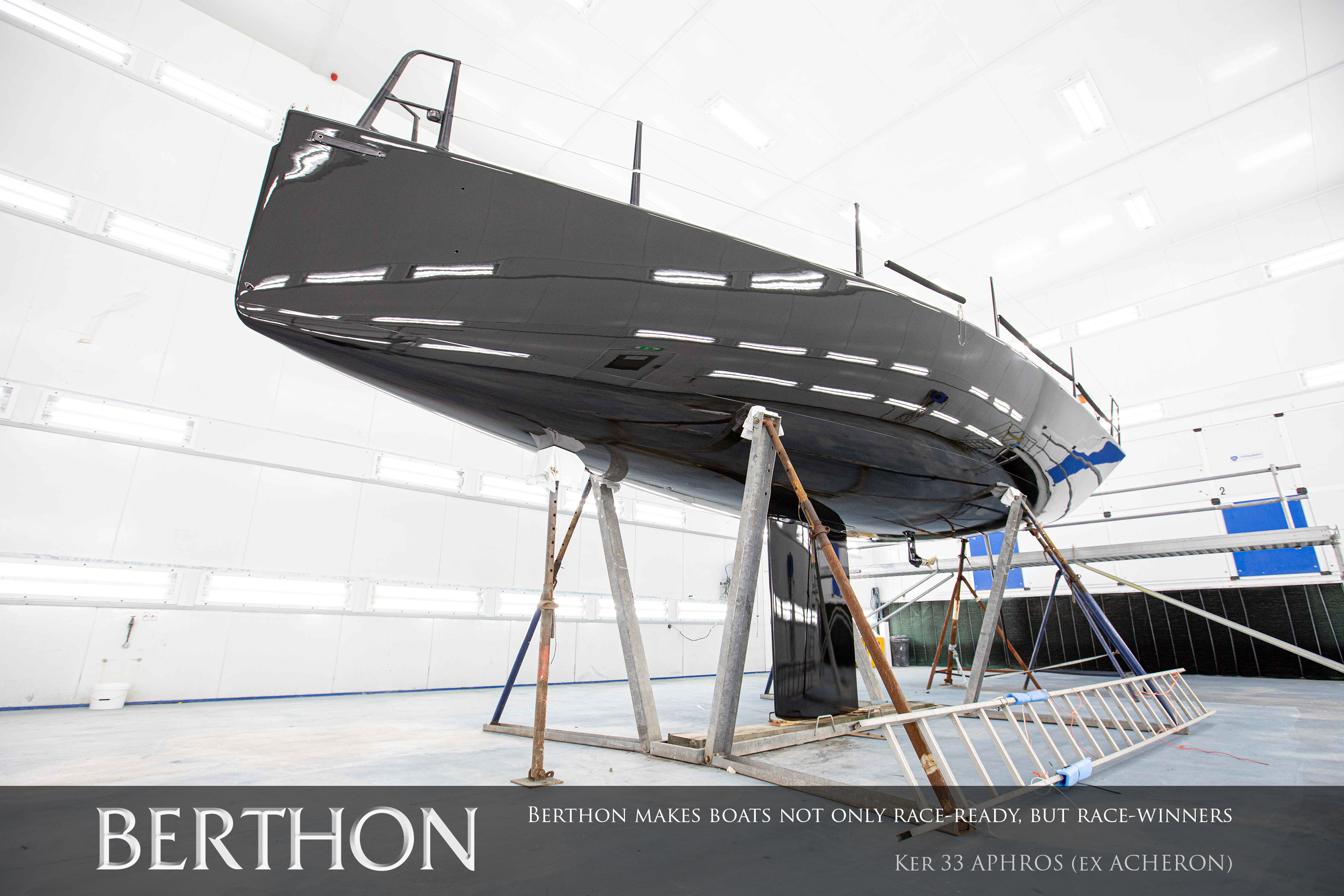 A number of interior and exterior jobs were completed to ensure the boat was in perfect condition, from wood chip infills and a repair to the galley splashback on the interior, and gel coat and stanchion repairs to the exterior.  Berthon then did a complete respray, changing the colour with a dramatic effect, from white to black: the owner who particularly liked the aesthetic of a dark hull, was delighted with the immaculate high-gloss finish, ready a future racing career in Japan.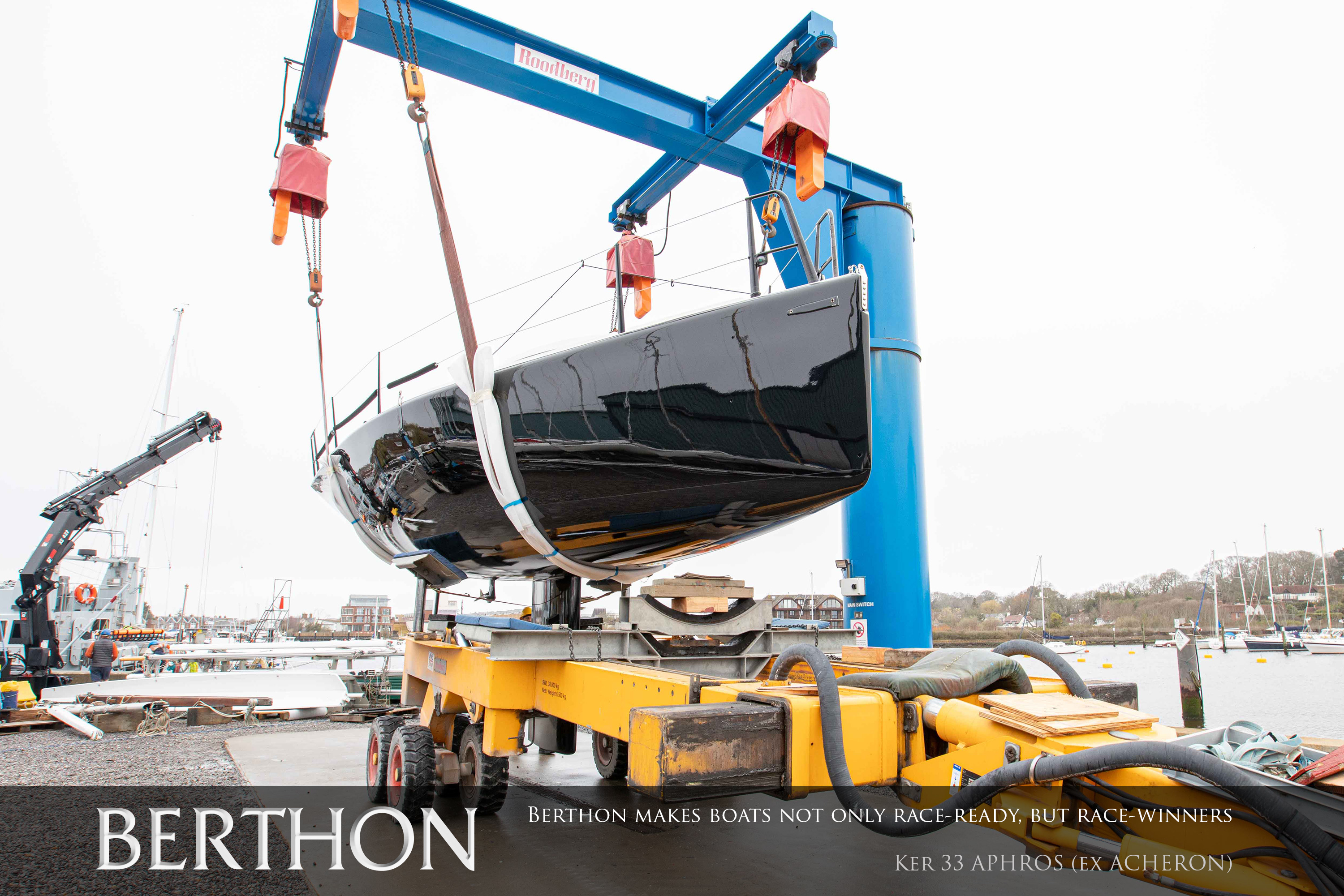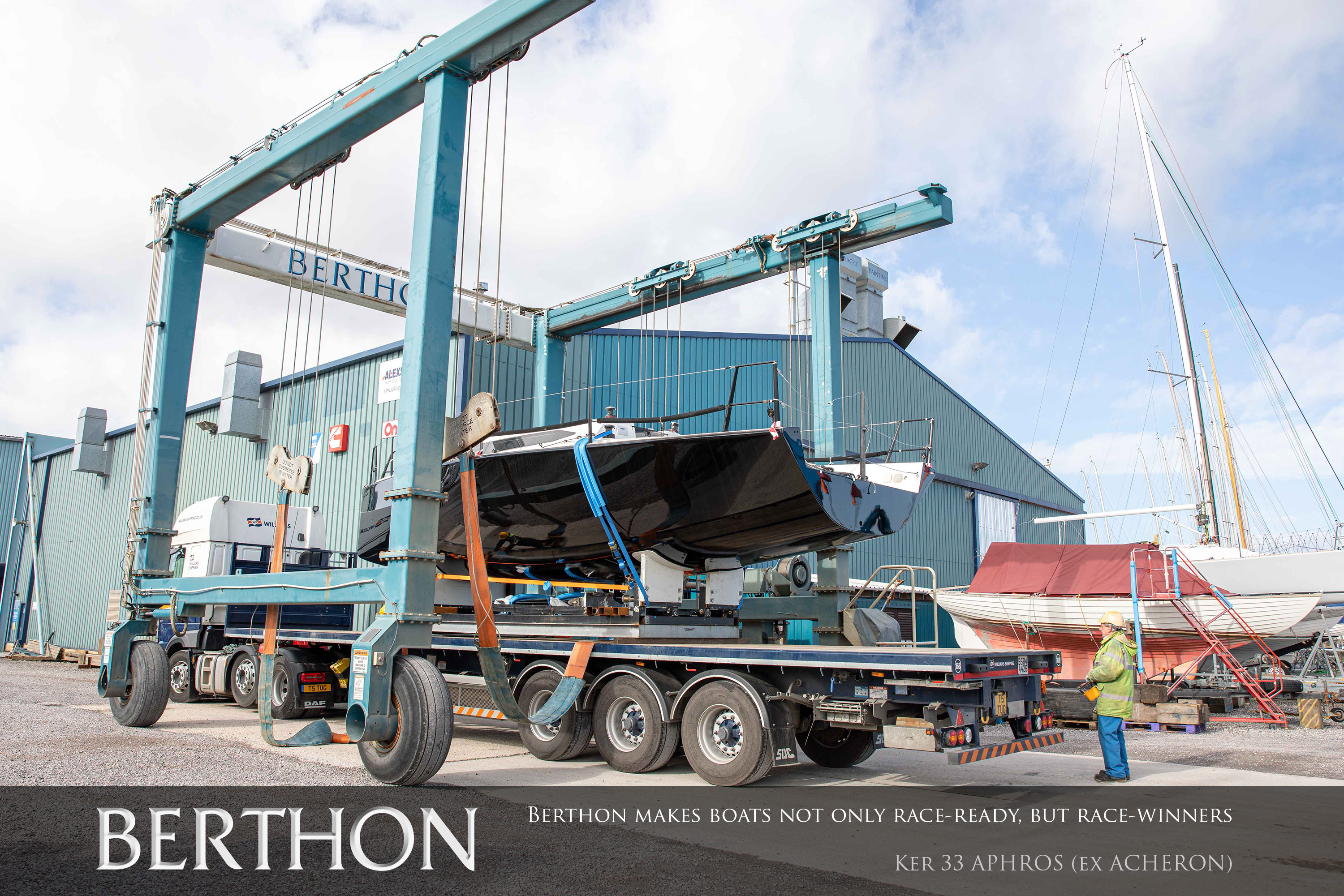 The mast was undressed and inspected, with new halyards spliced where necessary, and repairs made, prior to it being carefully protected and packed for shipping.  The main engine was serviced and fully winterised.  APHROS enjoyed a full interior clean by Berthon's valeting team prior to transport, to guarantee she would be picture-perfect when she arrived in her new home. The keel and rudder were removed from the hull so that APHROS could be transported by road and loaded onto a ship in Southampton, bound for Japan.  Berthon used SevenStar shipping to arrange the journey, experts in yacht relocations.  Finally, the cradle was modified to exact specifications before being prepared for international transit.  This entire project involved a number of challenges, which Berthon's team undertook with aplomb.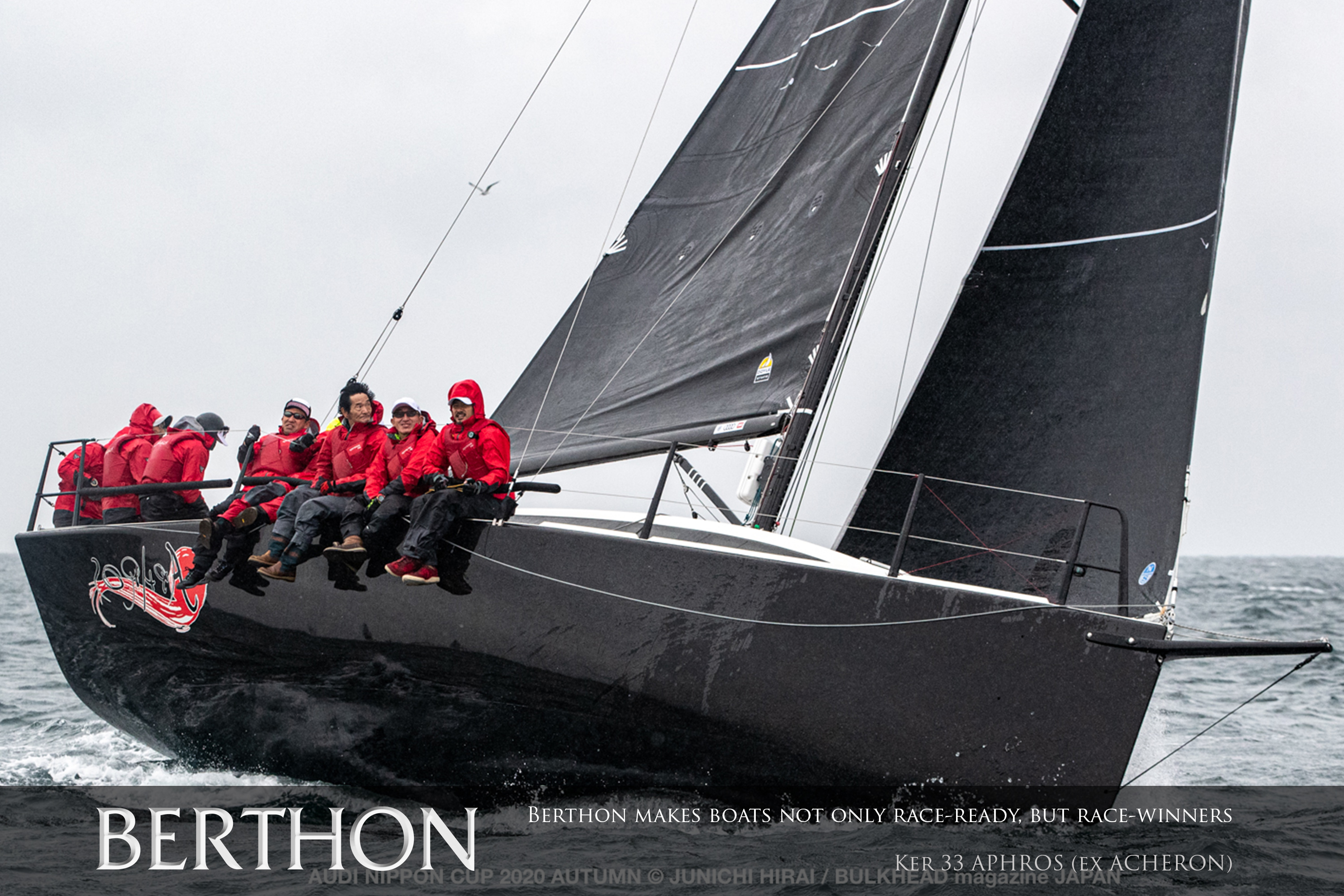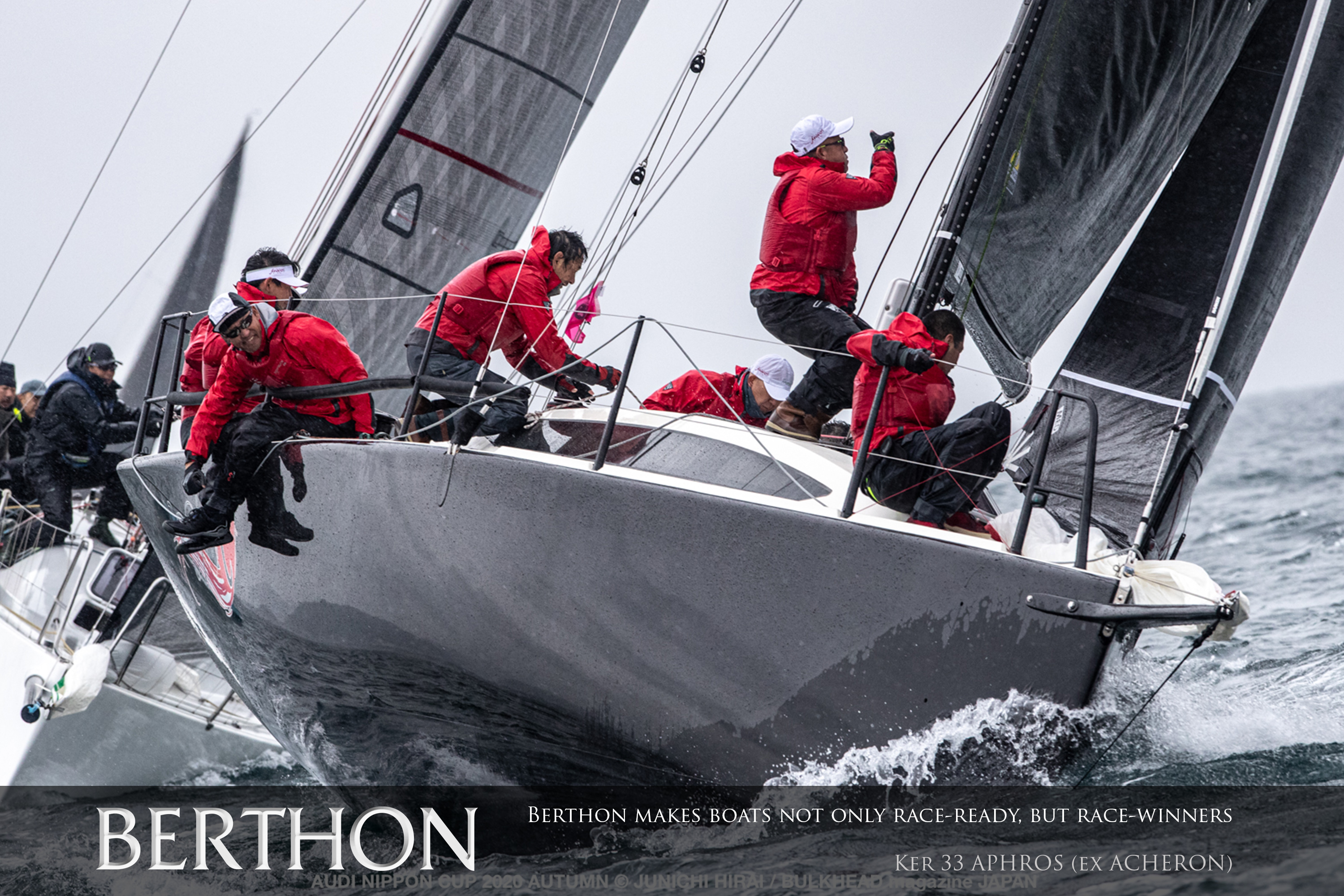 Berthon's paint facilities are among the most advanced in Europe.  Installed on our Lymington site in 1999 by Dutch experts Rowit, there are over 8000 cubic metres of exclusive paint preparation, spraying, and drying space for our talented team of painters and sprayers to utilise; regularly cleaned from head-to-toe the facilities are maintained immaculately.  Filtered air is used through spray systems to further remove impurities from the process.  A tacky substance coats the walls of the sheds, guaranteeing a dust-free finish, and together with floor-to-ceiling light (to ensure a completely flat light is used when spraying), clients can be assured the end result will be nothing short of perfect.  Continuous cost-reporting and regular communication with the client are just another feature of the professionalism you can expect from Berthon.
If you are preparing your boat for upcoming racing this summer or even thinking about it for 2022, whether that be a new paint job, ensuring your boat has the smoothest of hulls, a rig check and/or paint, or even a complete refit, please contact us.
We would love to make your boat a race winner, and then all you need to do is add crew!
Sources:
– https://www.yachtingworld.com/extraordinary-boats/spirit-yachts-52d-race-boat-oui-fling-baron-irvine-laidlaw-124812