Ker 33 APHROS (ex ACHERON)

Ker 33 APHROS Finished in an exceptionally high gloss for her racing career
Berthon's international reach enables us to sell yachts and coordinate logistics from our Lymington, UK shipyard to complete high-quality work before shipping the yacht worldwide.  Berthon comprehensively demonstrated this with the extensive services provided to the new owner of the Ker 33 APHROS (ex ACHERON).
Sold while based in Cowes by Berthon International yacht brokers to a new Japanese owner, the client also made a visit to the Berthon shipyard while in England.  A tour of the facility encouraged him to immediately sign his purchase up for a multitude of works.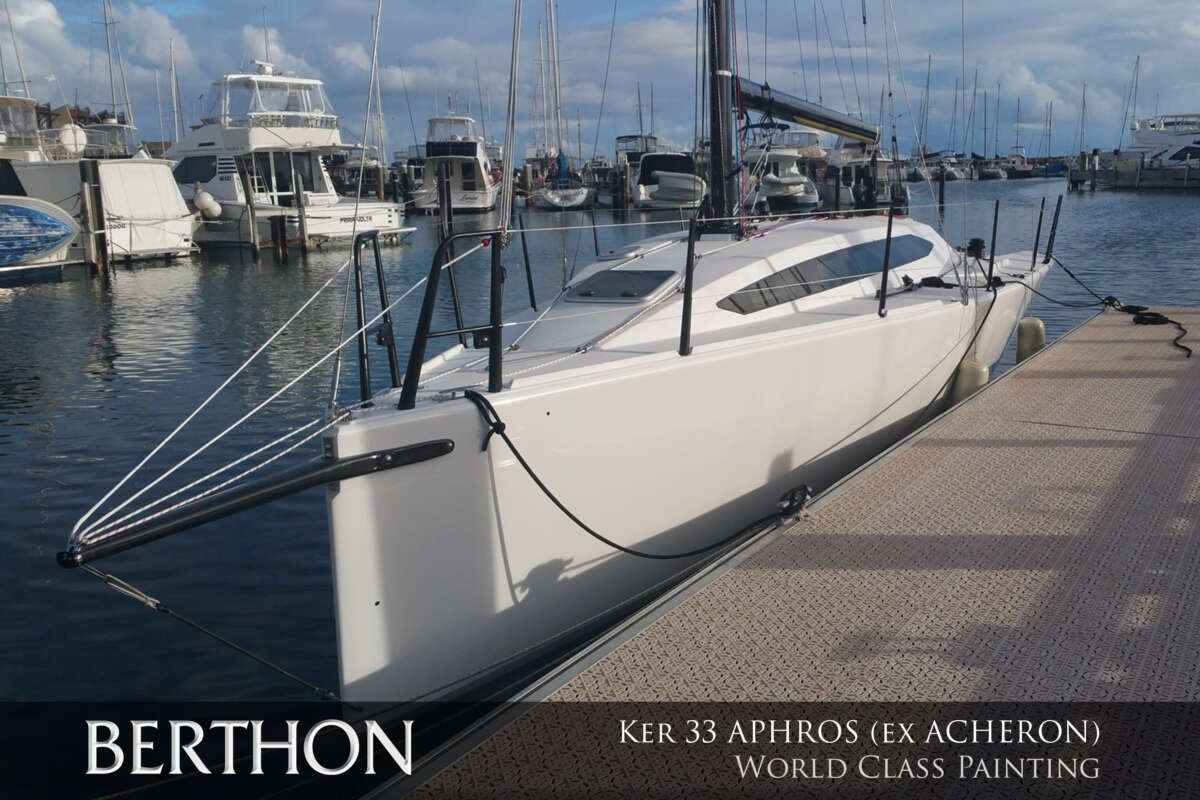 Berthon fetched the yacht from Cowes, and once in Lymington unstepped the mast and lifted her ashore into an undercover heated workshop, where her job list could be carried out in earnest.
A number of interior and exterior jobs were completed to ensure the boat was in perfect condition, from wood chip infills and a repair to the galley splashback on the interior, and gel coat and stanchion repairs to the exterior.  Berthon then did a complete respray, changing the colour white to black: the owner who particularly liked the aesthetic of a dark hull, and Berthon prodcued for him an immaculate high-gloss finish, ready a future racing career in Japan.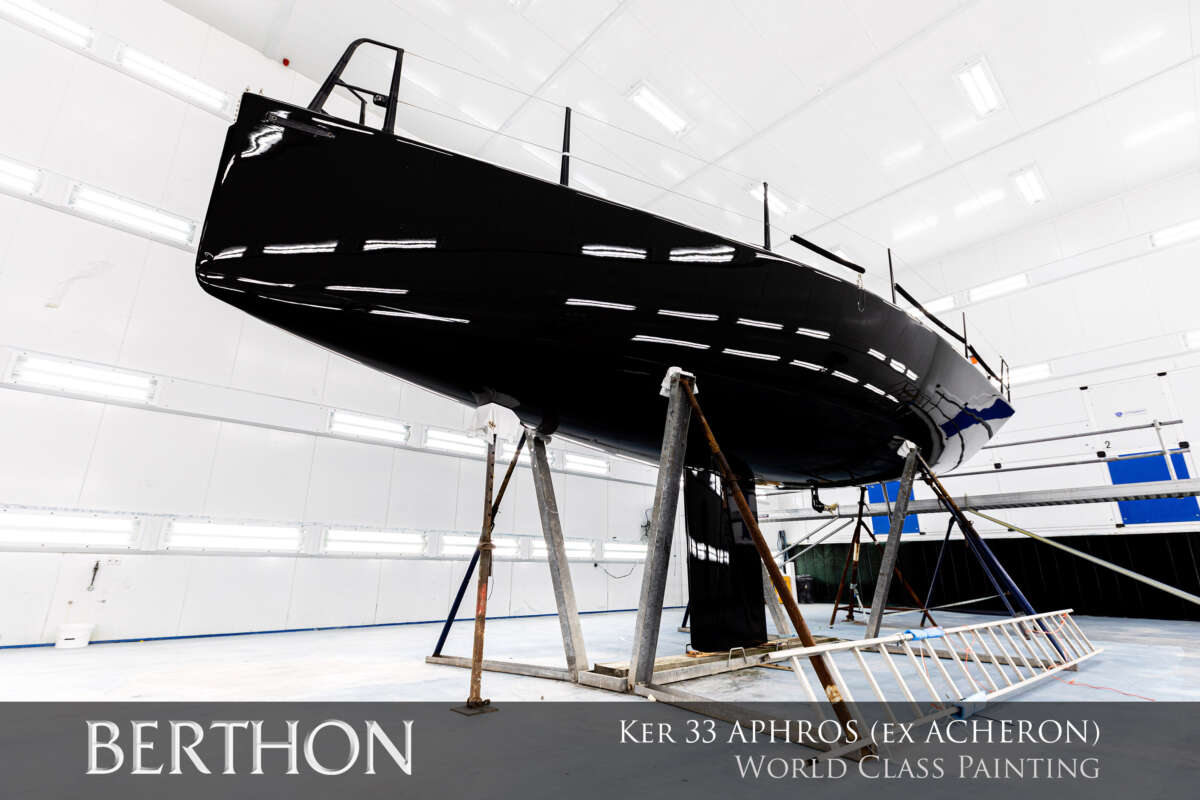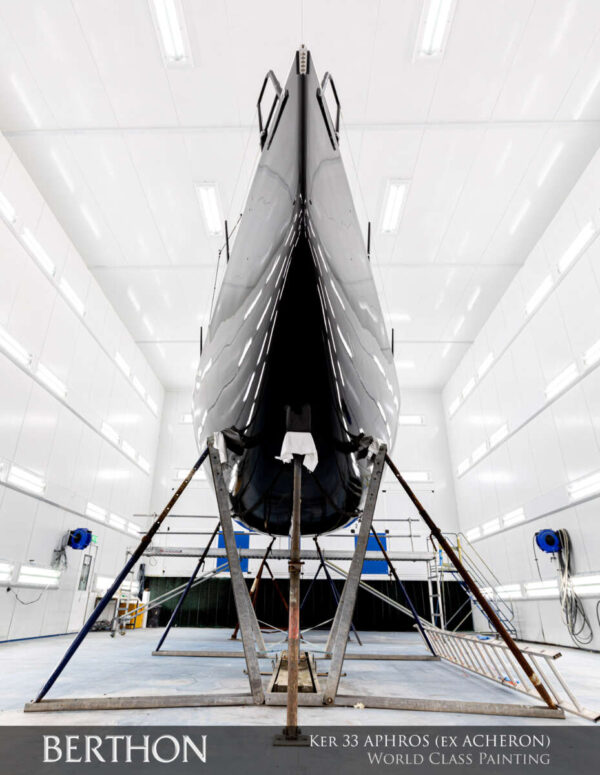 As the yacht is to live out of the water, only launching for each race, the entire hull from toe rail to the bottom of the keel was glossed, eschewing anti-foul.  An off the gun Alexseal finish in Berthon's world-class painting facility produced exceptional results.
Meanwhile, the mast was undressed and inspected, with halyards spliced where necessary, and repairs made, prior to it being carefully packed for shipping.
The cradle was modified to exact specifications required by the owner before being prepared for international transit.
The main engine was serviced and fully winterised.
APHROS enjoyed a full interior clean by Berthon's valeting team prior to transport, to guarantee she would be picture-perfect when she arrived in her new home.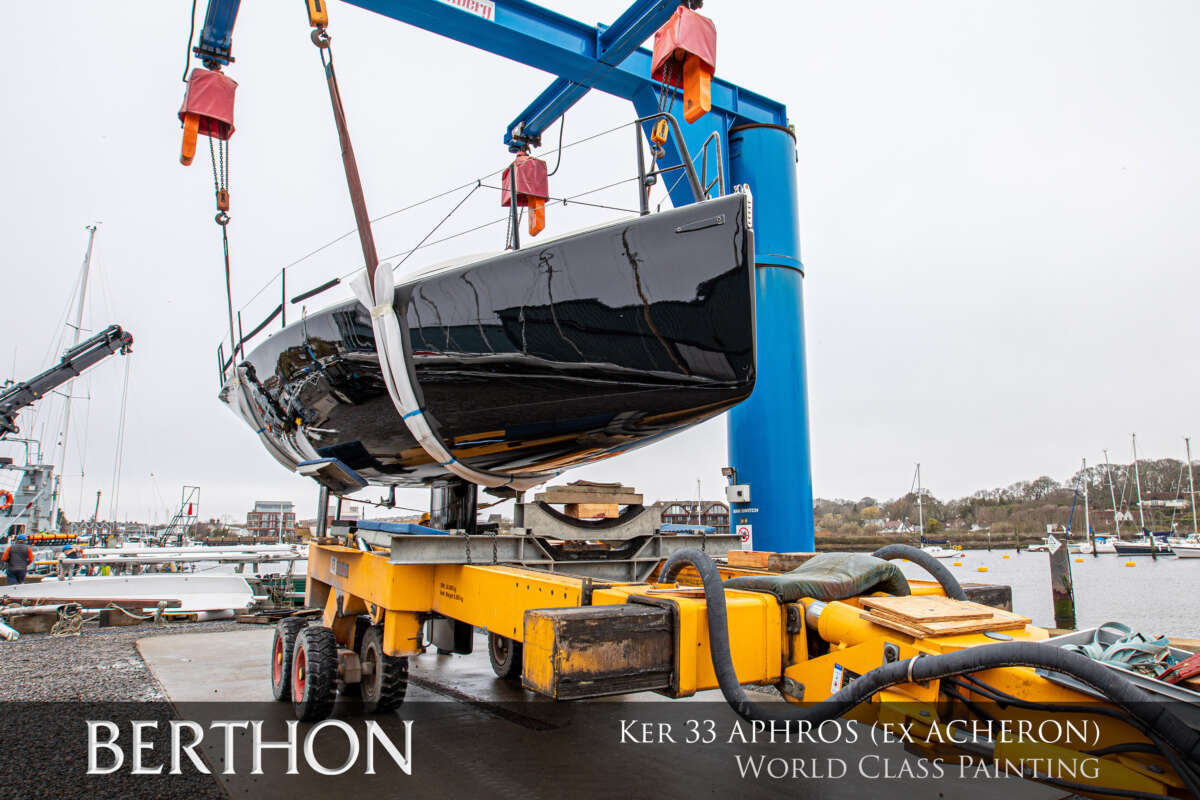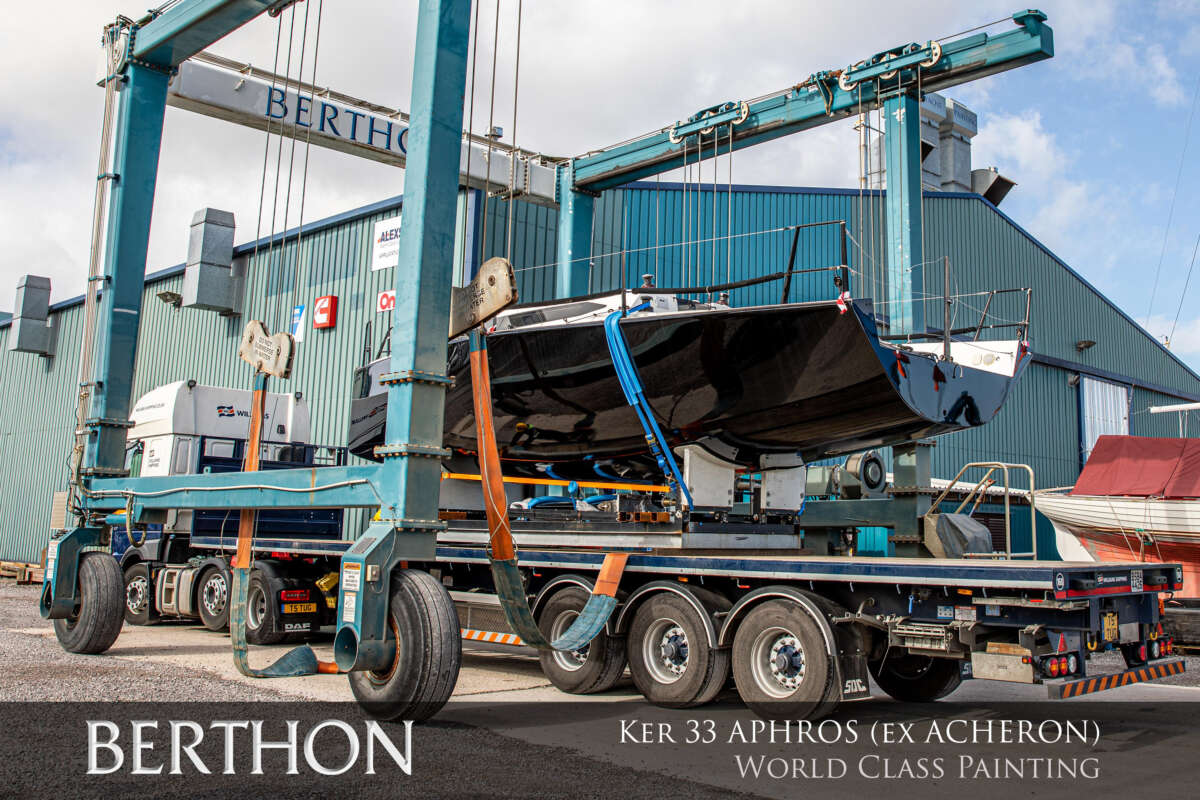 Finally, the keel and rudder were removed from the hull so that APHROS could be transported by road and loaded onto a ship in Southampton, bound for Japan.  Berthon used SevenStar shipping to arrange the journey, experts in yacht relocations.  This entire project involved a number of challenges, which Berthon's team undertook with aplomb.
This extensive offering of works and auxiliary services is not confined to racing yachts: Berthon is also able to provide this multi-disciplinary service to all our cruising yacht, motor boat and commercial customers.  Whatever your requirements, Berthon can help.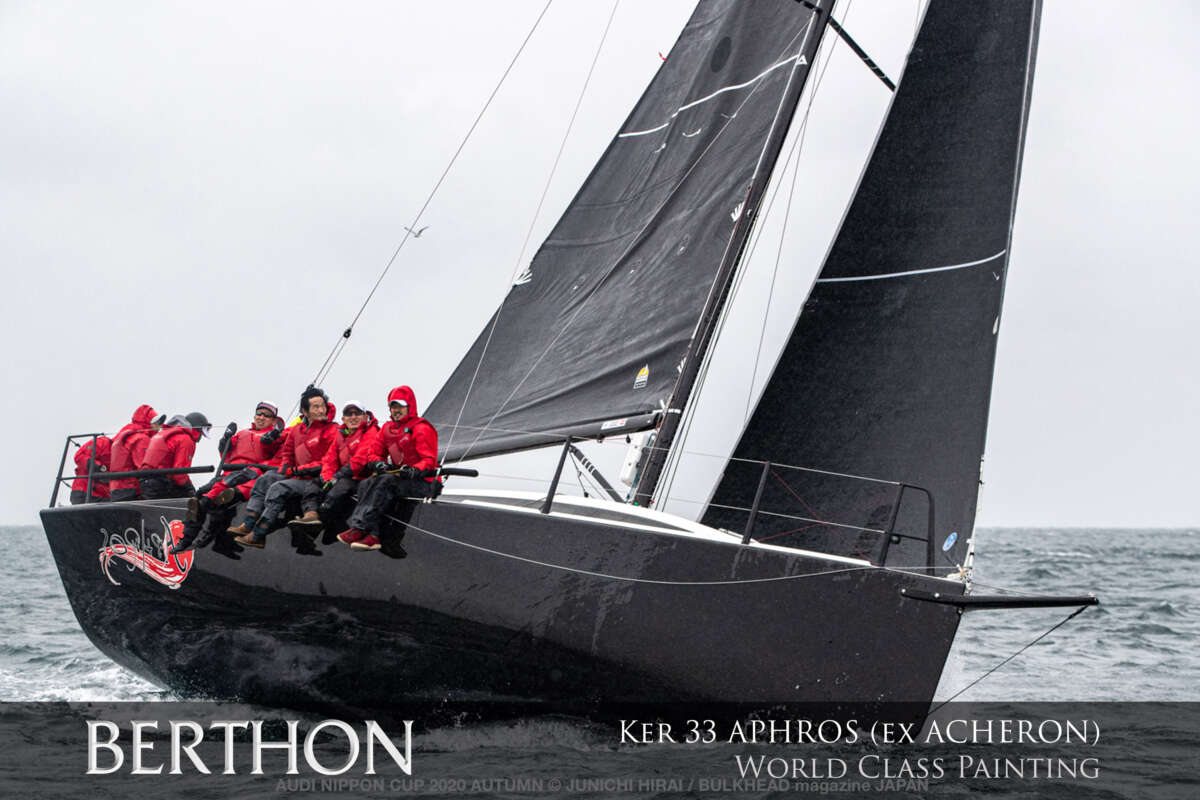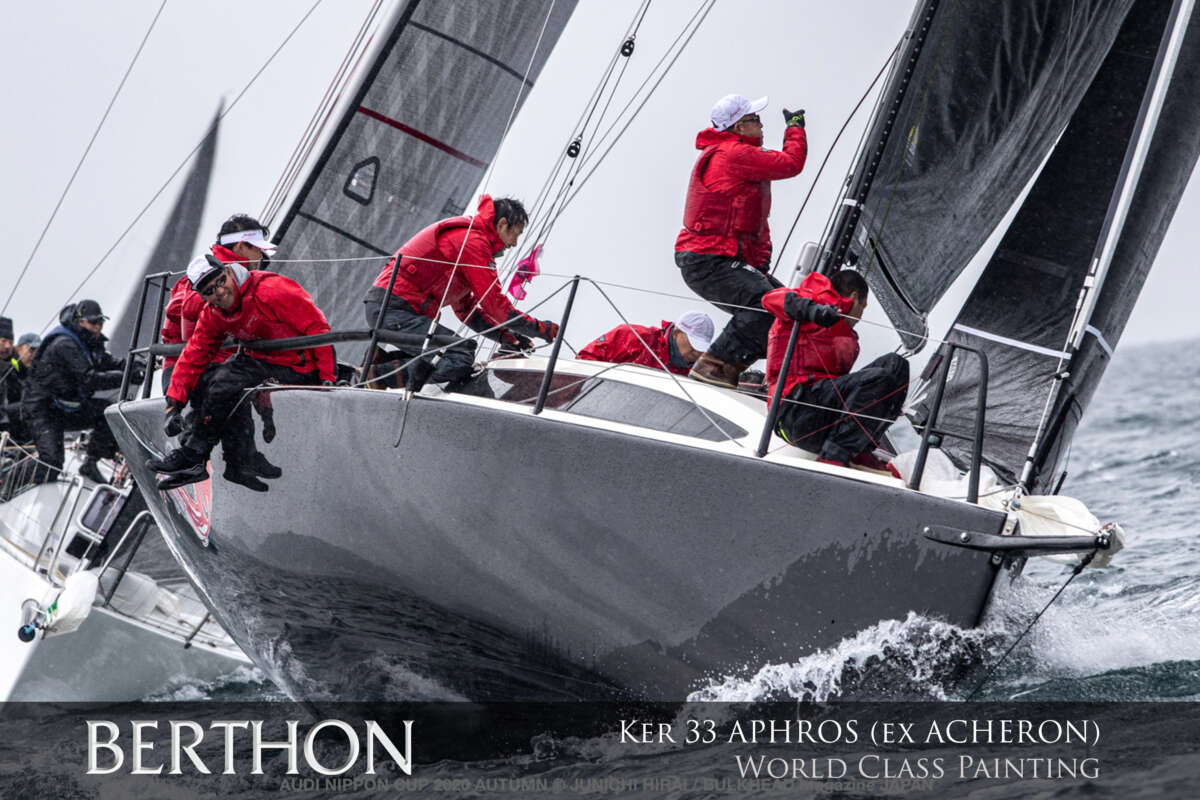 The delighted owner emailed recently to say that he had won IRC B division at the Nippon Cup, his first regatta. "It was her debut racing. Last weekend, Japan is strong wind and very cold rain. However, it was very fun for us. Because we won, and painted by you PERFECT BLACK is rumoured in Japan."
Berthon: winning service around the world.