Maiden Light, 24-ton aux cutter built by Berthon Boat Co. in 1936

After 83 years Maiden Light is back at Berthon
| | |
| --- | --- |
| Year built: 1936 | Keel: Ful |
| Build number: #490 | LOA: 52 ft |
| Builder: Berthon Boat Co. | Beam: 12 ft |
| Size: 24 tons | |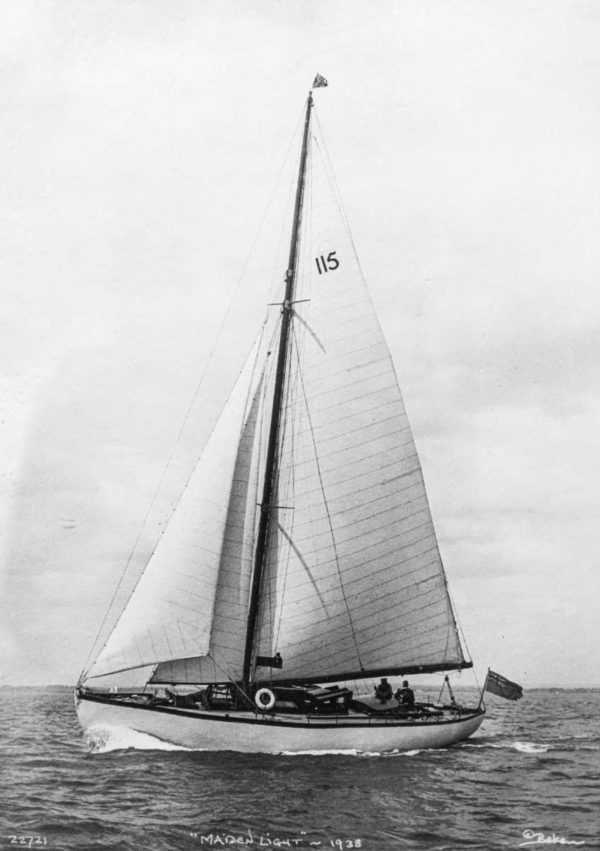 Maiden Light was one of the largest Gauntlets built by Berthon; she's a typical design with an elegant sheer and canoe stern. She was commissioned by D.D.Capper, the chairman of Coutts Bank, and was built in 1936 to Lloyds 100A1 and maintained in class until 1984.
Maiden Light is a solid, and if we may say so, a very well-built yacht. She is planked in teak, with recently painted topsides in cream. Copper braces are fastened to heavy sawn oak frames with a single intermediate steamed Rock Elm timber, along with wrought iron floors on each sawn frame. She's fitted with solid oak stern and stem posts with an Elm keel, along with an external lead ballast keel of 8 tons held with bronze keel bolts.
She has a teak deck, caulked and payed with Sikaflex. Her deck hatches, skylights and coamings are also in varnished teak, along with a high varnished teak toe rail and finished off all round with stainless stanchions and guard rails. She is a stunning vessel, and after 83 years she is still a very impressive and eye-catching yacht, full of character and pedigree with much of her original interior and fittings.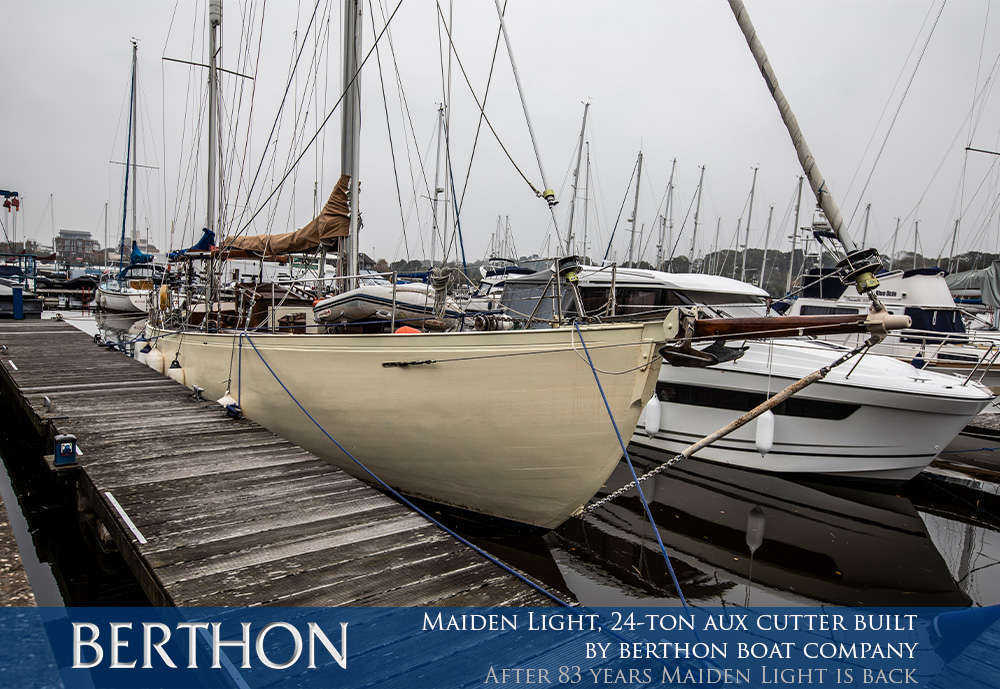 She stayed in the same family's ownership for the first 40 years of her life after which she was sold to a Swiss family who took her to the Caribbean for charter work. Eventually she was sold in 1991 to the previous owner who started a 16-year refit in Scotland where the boat was checked from top to bottom and stem to stern, interior refurbished and all new systems and electrics fitted. The rig was re-designed during the long refit and her old Bermudan cutter rig was replaced with a cutter headed yawl rig on alloy masts, along with a bow-sprit. This increased the overall sail area while decreasing the size of the individual sails making her generally a lot easier to handle.
Maiden Light was again sold in 2017. Since then she had another subtle touch-up and was cruised by the family to her recent berth in southern Spain.
She has proved herself as a very comfortable and safe live-aboard cruising boat for the last family. With a change in circumstances, she has found her present-day owner, sailed from Spain to Berthon (aided only by compass and paper maps) with an extensive list of jobs to be carried out.
At present it is difficult to say what the full extent of the work is going to be, and until we get the hull and antifoul paint stripped and a full inspection is carried out, we do not know exactly what we are dealing with in terms of hull repairs.
Additional key areas we will be working on initially consist of;
Removal of soleboards in cabin for interior hull and floor inspection
Disassembly and removal of bowsprit for a visible stem split
Removal of solar panels glued to deck
Hull repairs as required (possible re-caulking seams)
Deck repairs as required to stop leaks
Repaint/varnish topsides and brightwork.
This isn't a complete list of jobs, but we are currently focusing on any structural issues and preventing the water ingress.
As soon as she arrived at Berthon's Lymington Marina, boat movers brought her alongside our yard wall where engineers were quickly sent onboard to repair a leaking stern gland. This wasn't a job that could wait! Soon after she was moved into our marina, where she was de-stowed and a full inspection was carried out. A full rig inspection and report will be carried out, her mast having been unstepped, with Maiden Light now drying out undercover next to West Solent One Design (1924) which was also built by Berthon.