Swan 45 new deck and a full electronics upgrade

2002 Swan 45 LUNA of Lymington, receives a full electronics upgrade and new deck
We are currently fitting a new teak deck to this fantastic example of a 2002 Swan 45, LUNA. Not only is she having a new deck laid she is having a full electronics upgrade, which our electronics manager will report soon.
The current owner recently bought and brought LUNA from the Mediterranean to cruise and race in the Solent. For the past few years she has been racing in the Mediterranean, and so was looking tired and very much in need of a new deck.
We begin by removing all of the deck hardware, which is a good time to check its condition and everything is then labelled and stored if no need for servicing. Templates are also made to refit all deck gear in the exact locations that they were removed from.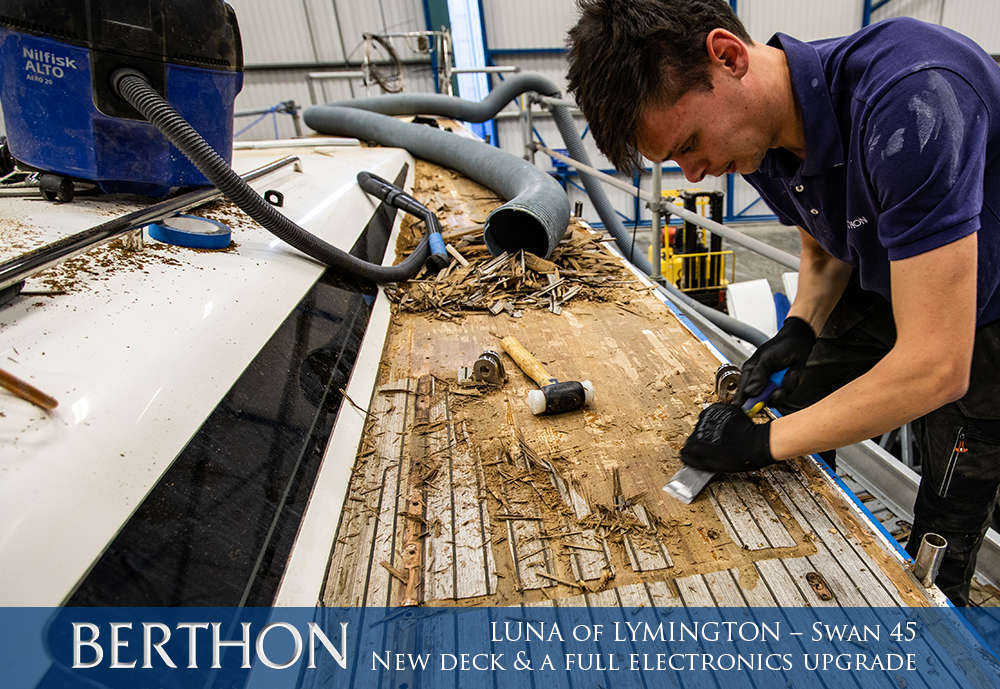 With the decks clear we can begin removing the old teak, using various methods depending on how the original deck was laid. Once the teak is removed the sub deck is cleaned of all glues and obstructions and is ready to take the new teak which is first dry fitted to accommodate any modifications; after another final clean to remove detritus and dust the newly fitted deck panels will be permanently fixed in place. To deliver the most exquisite, durable teak decks for customers, we use a Pro-set Resin along with hundreds of large weights, it is then left to cure. Seams and edges are later caulked to complete the job. The deck is then given a very light sand to remove any imperfections.
Toe rails are then fitted; on this Swan 45, they are only fitted forward saving weight aft and providing a more comfortable on-the-rail hiking for the crew!
We can now start to refit the deck hardware. All cleaned and polished or replaced deck fittings are married to the templates and bedded and bolted in place to stop water ingress.
Finally, we made a new set of teak foot blocks for the cockpit.
If you are thinking about a new teak deck or a yacht refit, speak to one of the Berthon Project Managers today