Brands We Supply
Berthon's team of fully qualified marine electricians offer installation, integration and full-service support for the leading names in marine electronics.
Read more about the brands we supply here
Navigation Equipment
Berthon are service dealers for all the main brands in marine electronics providing repairs, warranty service and new installations for brands such as Raymarine, Garmin, B&G and Simrad. These products are commonly used for cruising, racing and ocean exploration.
Read more about navigational equipment and what we can do for you here
Communications Equipment
The world of marine communications is complex and heavily covered by rules and regulations as well as a complexity of technologies. Berthon supply and fit VHF, HF and SSB Radios, Sat Comms and WIFI including 4G Satelite Communications and WIFI/4G Boosters.
Read more about communications equipment and what we can do for you here
Safety Equipment
Berthon supply and fit vessel plotting technology, live boat finders (AIS), Personal locator beacons (PLBs) and electronic position indicating radio beacons (EPIRB)
Find out everything you need to know about your safety equipment here
Yacht Entertainment Systems
Berthon can source, supply and fit the latest in on-board entertainment systems including flat screen HD televisions, stereos and satellite televisions. We can ensure devices are connected to smartphones and tablets, delivering seamless systems control as well as dinner party talking points!
Read more about what we can do to upgrade your boat's entertainment systems here
Vessel Management Systems
Integrated systems cover everything from the monitoring of batteries, fuel tanks, power, charging and inverting to security cameras, docking cameras and night vision (NV) cameras. Effective management of a yacht's systems can lead to the more efficient use of the yacht both when it's being used and when it's idle.
Find out more about our vessel management systems here
Green Power
Berthon are able to supply and fit wind generators, hydro generators, solar panels and fuel cells. The continual development of new technologies means that the creation of 'green' energy should be seen as an investment that will ultimately cut costs, as well as reduce your carbon footprint.
"Greener cruising is here today. It should be considered and implemented aboard all serious cruising yachts for the benefits that it brings, both to the planet and the cruising experience itself. Not to be underestimated is the immense pleasure that comes from leading this wonderful lifestyle with such a minimised carbon footprint."
Steve Dashew, FPB yacht designer
Case Studies
TIGER LILY Sweden Yachts 42
TIGER LILY is a Sweden 42 that is certainly in tip-top condition. Not only is she one of the last of these fantastic performance cruisers to be built she has had an extensive refit over the last year leaving her in fantastic condition with an extensive list of upgrades. Jim Catterall, Berthon's Electronics Manager, walks you through TIGER LILY giving you a detailed overview of the electronics package that we fitted.
Blogs
31 August, 2018
Berthon's electrical team has been busy fitting Raymarine's new Quantum 2 radar to an array of yachts including this X442. Retaining the core features of the original Quantum, the Quantum 2 features wireless networking and low power draw, making it especially friendly to vessels running…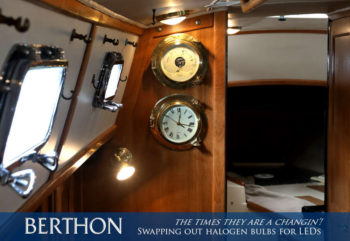 16 April, 2018
Swapping out halogen bulbs for LEDs Boats and LED lights had a chequered relationship for many years. The options were limited meaning expensive new light fittings often needed to be purchased. '24 volt' bulbs were often produced without considering that when the chargers or alternators are running the system voltage…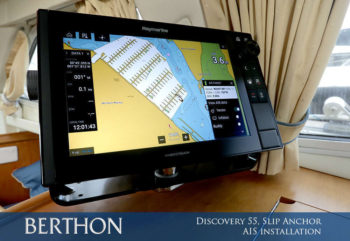 16 March, 2018
Installation of AIS transponders Jump back in time ten years; AIS receivers are commonplace on leisure boats but transponders are only found on commercial vessels and offshore racing yachts. Skip forward to the present day and, well, see for yourself; On average, Berthon installs an AIS transponder every month. Whilst…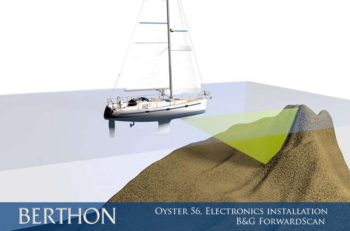 26 February, 2018
Fitting a B&G forward looking depth transducer system Berthon's electricians were seen this week finishing off an installation on board Oyster 56 'Duet II'. The owner has opted for a B&G forward-looking depth transducer system which offers chart plotter integration currently unrivaled by the other big brands. Using a redundant…
Subscribe to our mailing list
From time to time we would like to keep in touch and email you the following:
Our Monthly E-News.
Occasional details of our upcoming events, products and services.
An email version of our annual Lifestyle Publication.