Berthon welcomes Pendennis apprentices
Last week we had the pleasure of welcoming Pendennis Shipyard's third-year apprentices. Alongside Steve Hancock, their Training Manager and Charlie Ross, Director of Operations, to Berthon for a tour of our facilities.
Brian May, Berthon MD, welcomed the group with enthusiasm as they made their way off the coach. Due to travel restrictions and lockdowns over the past year, opportunities for companies within the marine industry to collaborate have been non-existent. Steve Hancock commented on how important it is 'to expose apprentices to other companies, and show them how vast the marine industry is'.
Berthon's mature apprenticeship programme has been established for over 100 years. A trailblazer within the marine industry, forging a path to ensure that we pass skills and expertise through the generations. Keith Longman, Berthon Apprenticeship Manager, spoke of how apprentices are integral parts of both businesses. Pendennis and Berthon have worked together over several years, along with other stakeholders producing the new apprenticeship standards for our industry.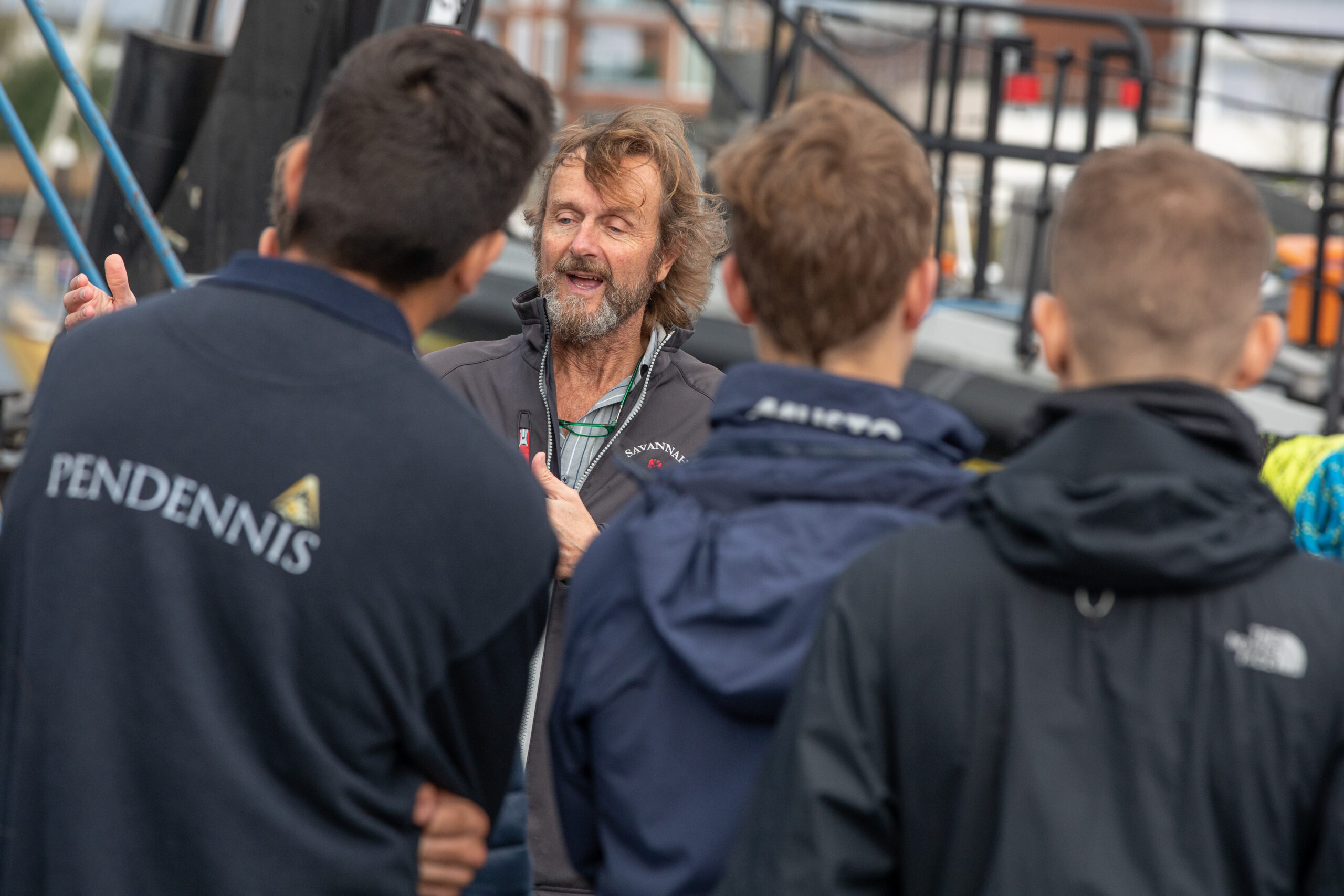 The tour began outside our Dockmaster office with a brief introduction about Berthon and all we encompass, from our tranquil Lymington Marina, to our boatyard services, and Berthon's other collection of companies in-between, BHG, VERSADOCK, Gemini RIBs and Berthon International yacht sales.
Brian conversed with the group, of the importance of healthy competition in the marine industry as well as having a large marine cluster to provide vital quality supply chains. Moreover, how Berthon, being a family business, is always looking ahead to the future; 'It has brought us to where we are today'. Berthon currently employs 140 persons within the UK, 26 of whom are part of Berthon's esteemed apprenticeship programme, which has been a core part of the workforce dating back centuries on the Lymington site.
Each year there is a new intake choosing to build skills in Marine Engineering, Marine Electronics & Electrical Installation, Shipwright, Rigging, and Painting & Spraying. As in the past, our apprentices work closely with various mentors to develop a well-rounded knowledge of their chosen specialism.
The group followed Brian's energetic strides across the boatyard, as he pointed out the vast variety of boats that currently have work underway. An FPB 78 turned a few heads as we passed the mosaic of carbon fibre racing yachts, sailing boats, motor yachts and high-spec custom-built RIBs.
Making our way along the yard wall, hoist and dry sailing area, we found ourselves entering Berthon's state-of-the-art painting and spraying facilities. These preparation areas and especially our central glossing booth impressed the Pendennis apprentices, which is unsurprising considering that they are one of the most modern in Europe, and something that we continually invest in to ensure it produces flawless results, time and time again.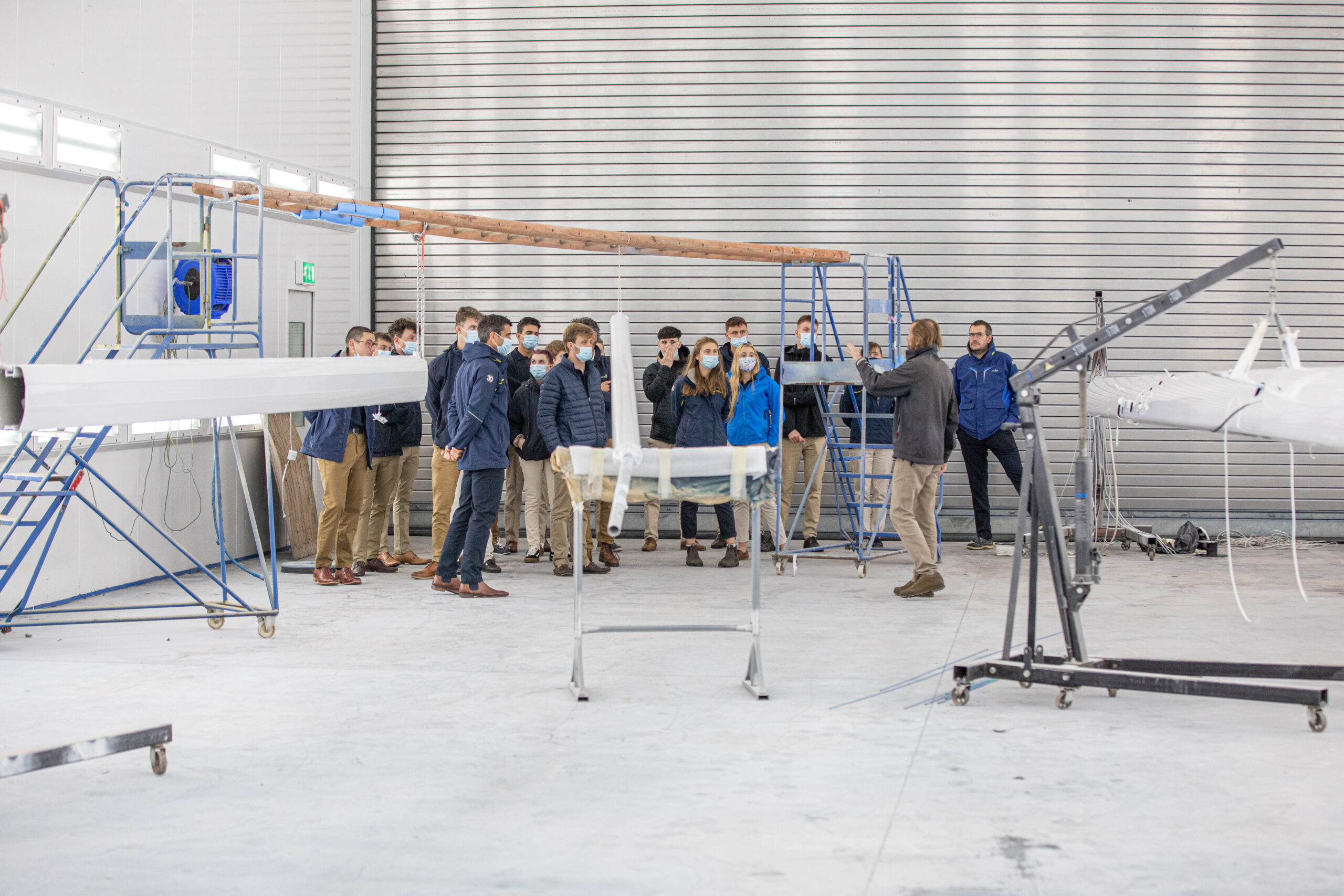 Moving over to the MOD area, Brian gestured to the RNLI Berthon built Dover Severn Class lifeboat that has recently been in for rapid turn-around maintenance and began talking about Berthon's history with the RNLI. Having built 46 Lifeboats up to 2015 when the RNLI moved to its new Poole facility, these lifeboats remain at the forefront of the fleet to this day – a testament to the quality of a Berthon-built boat. You can find out more about these lifeboats by clicking here.
Alongside the Lifeboat, rested an Archer Class P2000. These vessels, commonly referred to as 'Fast Training Boats', are in service with the United Kingdom's Royal Navy. Berthon also have strong ties with the UK's MOD and armed services. In fact, the Earl Mountbatten of Burma, ex-First Sea Lord and recently retired from being Chief of the Defence Staff, opened Berthon Lymington Marina back in 1968.
Brian commented 'it is our honour to do our bit for our forces, and support service men'. We often see JSTC service boats, which are used to help those travelling back from front line service, relax and adjust before returning to 'normal life'. Our team take pride in knowing the projects they are working on can create a big impact on people lives.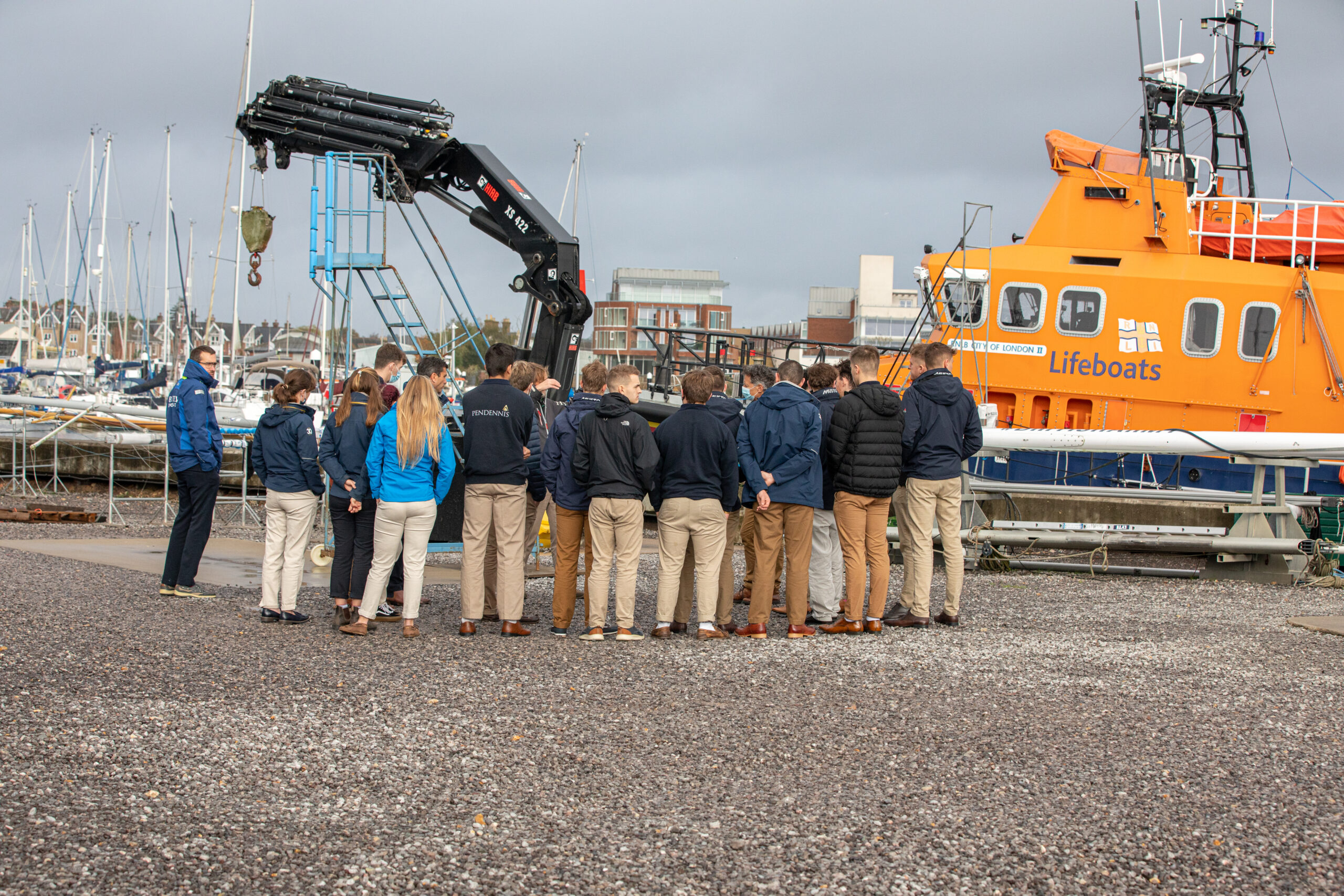 It was on this note that Brian began discussing how important it is to play an active role in looking after the well-being of our team, as this creates a positive impact, not only in the workplace but also in day-to-day life. 'We are consistently looking at new ways to do this, and have recently introduced flexible working hours, having welcomed dogs coming to work  and semi-retirement for many years, all of which shows we are willing to listen and forge new pathways.'
Making our way through the Big Blue Sheds, the Pendennis team took particular interest in the wooden boats. RIPPLE, a West Solent One Design, was originally built by Berthon in 1924. The design having been conceived by HG May, the great grandfather of Brian and his brother Dominic, and is now being lovingly restored back to its former glory with old and new plans. One apprentice commented 'It's impressive to see a wooden boat being rebuilt from the ground up, it is a rare thing to be able to work on these days'.
Resting across from RIPPLE lay SARDONYX, a 10m 1958 Bermudian Sloop Fred Parker design built by Moody, and currently being restored having already delivered her older and smaller sibling BRYNHILDE, rebuilt under the rules of Lloyds Register.  Curly, one of Berthon's acclaimed Shipwright Foremen, was on-hand to talk through the process and expand on woodwork projects underway at Berthon.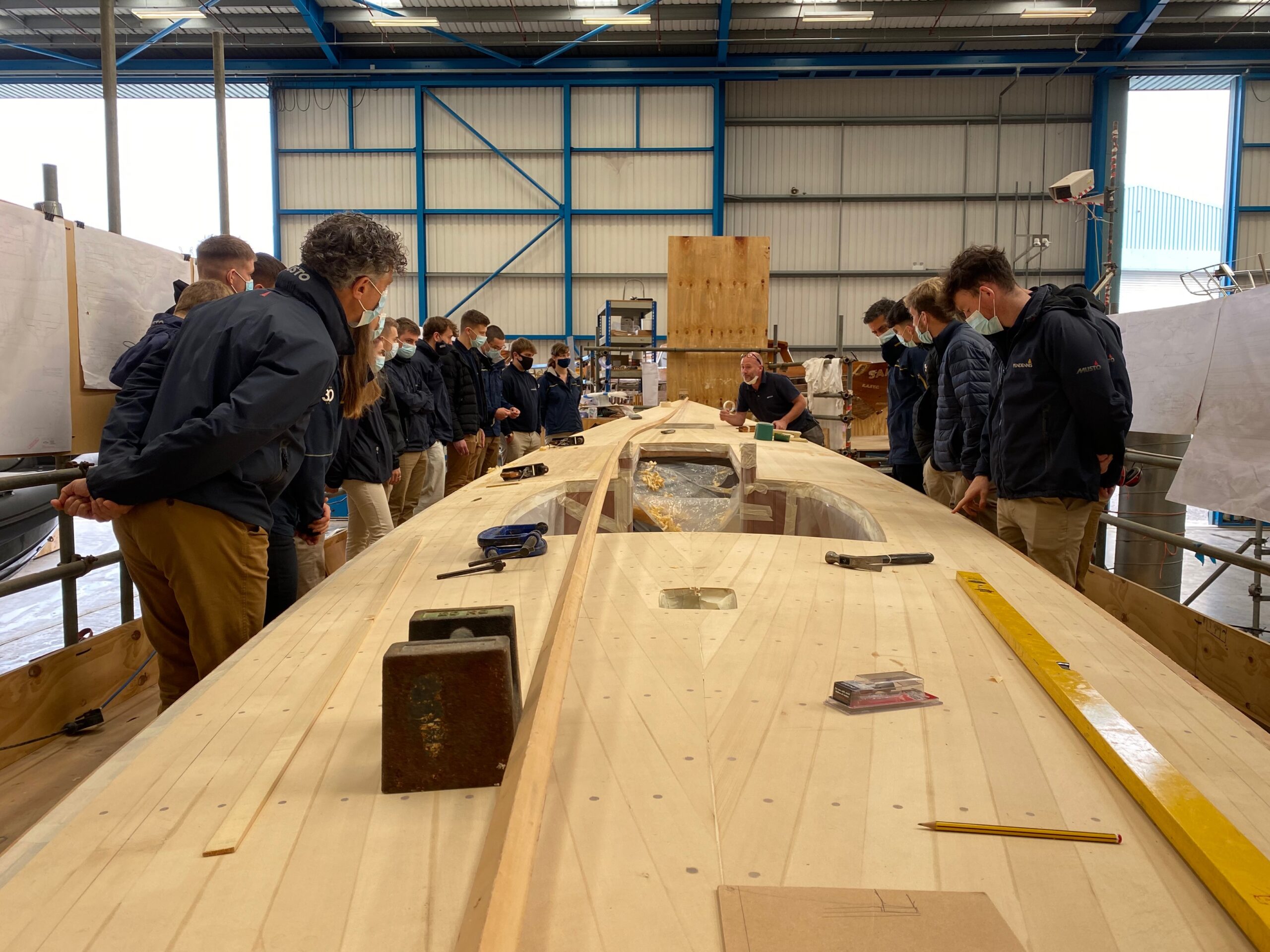 Berthon is an innovative and spirited company, committed to individual and team development. We are proud to be able to present a compelling range of projects to work on, as well as a selection of career directions for our staff. Variety is the spice of life, and something that is never lacking at Berthon. When talking to our team about life within the company, you will often hear the phrase 'no two days are the same'. Our broad array of opportunities is something that enables us to stand out from other boatyards.
The walls encompassing the stairs that lead up from the workshop floor are decorated with aerial images of Berthon grounds from various periods. Brian explained the evolution of the premises, where the old slipways once stood, to the blue sheds and the layout of the office department's proximity to particular facilities depending on their role. Time and Motion is just one of many detailed thoughts behind every decision that the company makes.
As the images took us back in time, appropriately, the group found themselves surrounding a Berthon Collapsible Boat. Invented in 1855, patented shortly thereafter and this particular one was built in the 1890's. The original Reverend Berthon invention created the company based in Romsey. Until the May family bought the Lymington Shipyard and added Berthon. Brian's eyes lit up as he carefully handled parts of the still original double-skinned frame. Revelling in the history, it is a passion of Brian's to track down and collect Berthon and Inman memorabilia.
The Reverend E.L Berthon was a truly innovative and forward-thinking individual. You can read about the Berthon Collapsible boats here.
Finally, to round up the tour, we led the group to one of our conference rooms. Here a spread of locally sourced pastries, biscuits, tea and coffee were waiting. Relaxed conversations began as the apprentices talked amongst themselves. With particular attention to the family history, the huge diversity of projects. Not to mention the array of different craft in the sheds, boatyard, and afloat.
Charlie Ross, Pendennis' Operations Director's parting words were; 'A big thank you to Brian, and the Berthon team. It is great to look inside another business that values so highly marine skills such as ourselves at Pendennis.' We look forward to continuing to build upon our relationship with Pendennis and other shipyards.