Berthon Appointed UK and Ireland Distributor for Gemini RIBs
For more information and to see our full range of Gemini Ribs visit our Gemini Marine pages here

Patrol & Protection
For many years Gemini Ribs have been the rib of choice and in operation with many prestigious organisations such as; United Nations, UK Police Force, Royal Australian Navy, Royal New Zealand Navy and much more.

Adventure & Leisure
Gemini Ribs have been taking adventurers to the remotest and most difficult to reach corners of the globe for years, and a custom Gemini RIB  is something you'll enjoy for years to come. Where is your next Adventure going to take you?

Commercial & Rescue
In the Commercial and Rescue Sectors, Gemini has an outstanding reputation as a proven rescue craft with the South African National Sea Rescue Institution (NSRI) operating along the rugged South African coastline since 1984.
---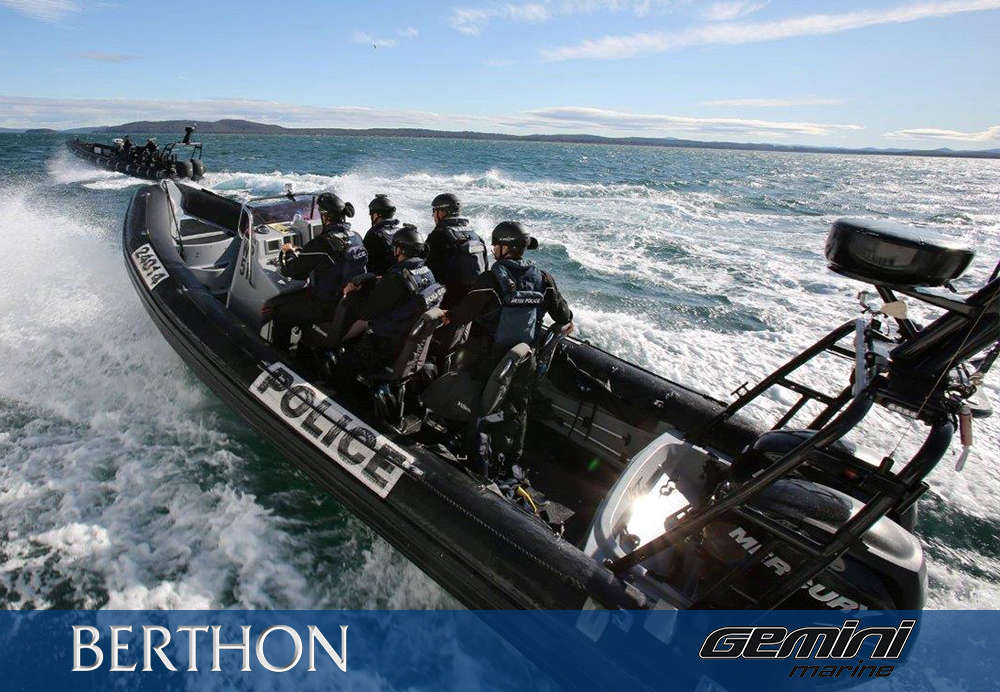 South African Rigid Inflatable Boat (RIB) builder Gemini Marine has announced Berthon as its sole UK & Ireland dealer for its range of military, rescue, commercial and leisure RIBs.
Established in 1979, Gemini Marine designs and manufactures the most comprehensive range of cabin and open RIBs for many of the world's military, rescue and commercial operators, as well as supplying RIBs into the leisure, expedition and adventure sectors.  These customers all recognize the resilience, reliability and durability of Gemini RIBs in even the most extreme and dangerous operations.
The rounded deep V shape of the Gemini hull offers great performance, comfort and excellent handling at top speeds, especially in heavy seas. The boats are constructed using the latest technology and modern build techniques, ensuring both quality and reliability. Gemini RIBs are arduously tested on some of the most treacherous coastlines and sea conditions in the world.
The Gemini Technical, Development and Quality Team work in partnership with clients on a wide variety of rescue, military and law enforcement projects. As a result, Gemini RIBs are in operation with the New South Wales Water Police, Royal New Zealand Navy, United Nations, Australian Defence Force, Olympic Security Services, African Union, Australian Federal Police, Australian Special Emergency Services, South African Sea Rescue Institute, UK Police and Singapore Special Forces, to name but a few.
Additionally, many leisure Geminis have been delivered to happy customers including day boats, superyacht tenders and yacht racing chase boats.
The standard hulls include sizes at 5.5m, 6m, 6.5m, 7.3m, 7.8m, 8.8m and 10.6m. The 7.8m and 8.8m hulls carry a wider beam than competing products, giving more deck space for seating and payload. There is also a standard cabin moulding that can be fitted onto the 7.8m, 8.8m and 10.6m hulls to provide a comfortable enclosed boat while maintaining the sea keeping benefits of a rigid inflatable.
As one of the UK's most established and best-recognised marine sales and service brands, Berthon will give Gemini customers the highest quality product and the most reliable after-sales care and in-service support. From its Lymington base, Berthon will be promoting sales of Gemini RIBS throughout the UK and Ireland into all market sectors.
Berthon will be holding a stock of new RIBs and spare parts at its 10 acres (46,000m2) modern boatyard. As an experienced military, RNLI and commercial sector contractor, plus a prime mover in the leisure boating, Berthon offers its clients the ability to have their Gemini RIBs upgraded and equipped to meet individual technical and operational requirements, as well as being able to provide outstanding and proven servicing and technical support packages.
"We are thrilled to be appointed to represent the Gemini RIB range in UK and Ireland. Berthon has long been involved in both the leisure and commercial boat market, and we are now offering the Gemini product to all our customers. With customisations which we will carry out in our Lymington shipyard, we can take a standard product and make it suit every customer's unique requirements. Gemini's comprehensive range of RIBs and inflatables neatly fills the gap in our product portfolio," said Dominic May, Director of Berthon.
"There can be no better way to celebrate Gemini's 40th birthday in 2019 than by partnering with Berthon. Gemini is undertaking a worldwide expansion programme to serve the rapid increase in the need for quality RIBS. Berthon is the perfect choice for the UK & Ireland Gemini dealership. We believe that our companies share the same values: together we can achieve remarkable things. Both companies have long and successful histories in a number of different sectors of the industry. These range from leisure and commercial to military and rescue. Very notable is both companies' service to their respective countries' life saving organisations: Gemini building boats for National Sea Rescue Institute of South Africa, and Berthon building boats for the RNLI. The considerable synergies between Gemini and Berthon make us look forward with anticipation to bringing innovative new Gemini products to the UK and Ireland via Berthon," said Gerhard Neethling, Gemini Marine Global Sales & Marketing Manager.
Further details of the Gemini RIB range can be found here