Berthon RIB Solutions and Gemini RIBs at Poole Boat Show 2019

Berthon RIB Solutions are demonstrating the latest Gemini Waverider 780 & 880 X Series RIBs at the 2019 Poole Boat Show
Berthon RIB Solutions the UK & Ireland exclusive distributor of Gemini RIBs will be at Poole Boat Show on the  7-9th June on stands B5 & B7 showcasing the new Gemini Waverider 780 & 880 X Series vacuum-infused RIBs. These commercially-designed RIBs, with a rounded deep V hull, offer great performance, comfort and excellent handling at top speeds, ideal for the uncompromising boat owners and serious adventurers.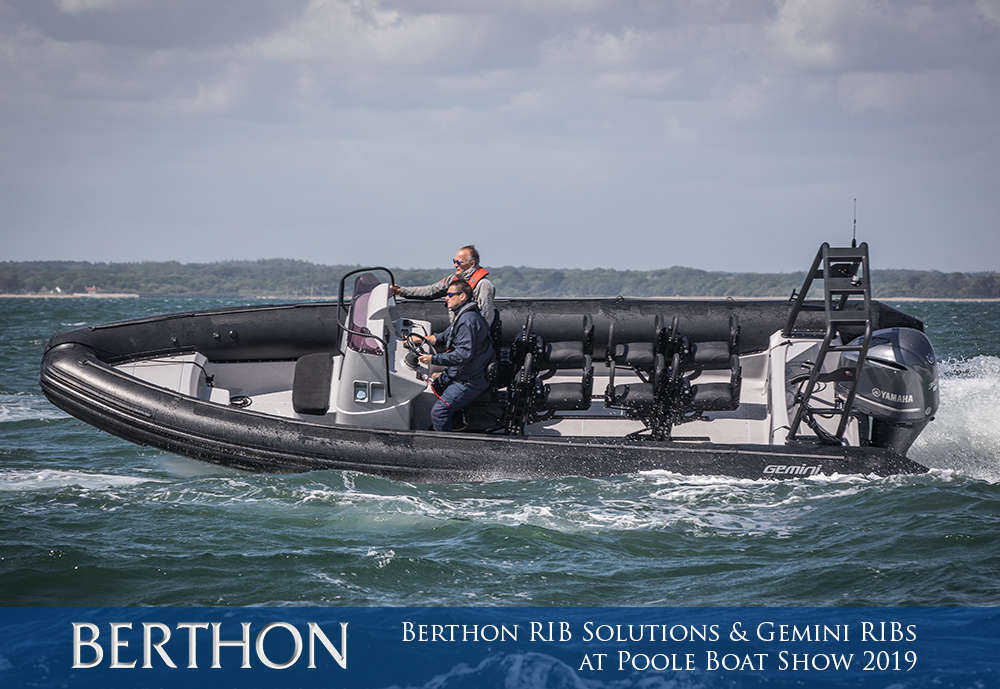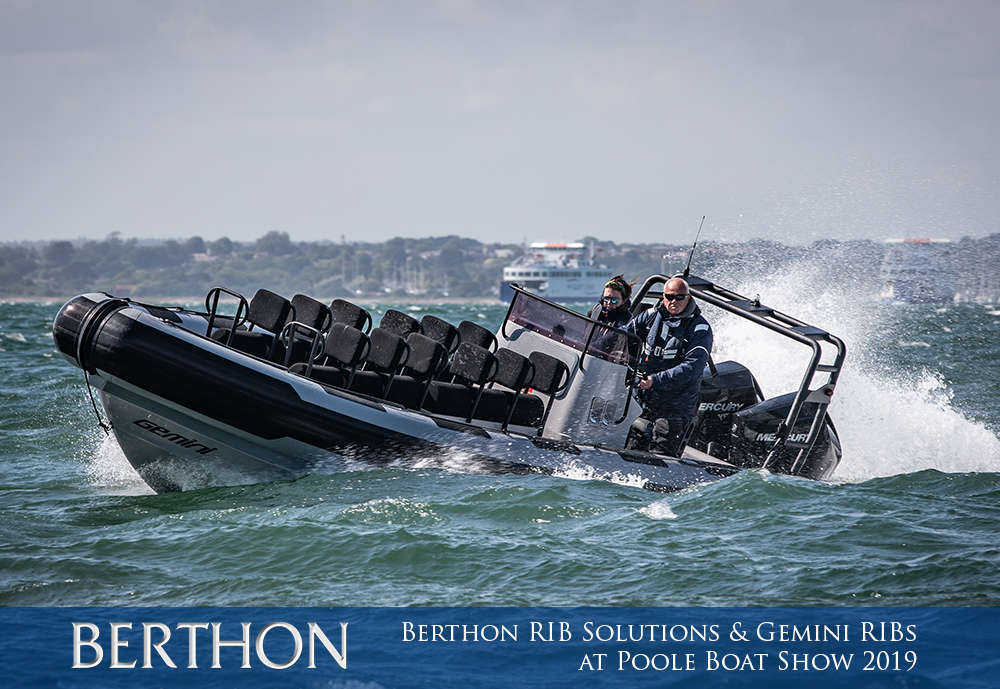 Gemini has been building RIBs for over 40 years, constructed to internationally recognised standards giving assured quality and total customer confidence across their range of boats. Excellent after sales service and fully supported product warranty is provided by Berthon to ensure Gemini's position as a market leader in the specialised field of tough leisure RIBs.
Gemini manufactures a full range of open and cabin version models: 505, 550, 650, 780, 880 and 1060. The brand has a proven performance record in some of planet earth's toughest conditions, providing Gemini owners assurance of safety and reliability when setting out on their adventurers.
Berthon Rib Solutions has a number of Gemini models in stock plus accessories, ensuring short lead times on delivery. By working closely with owners, each boat can be configured to suit individual requirements.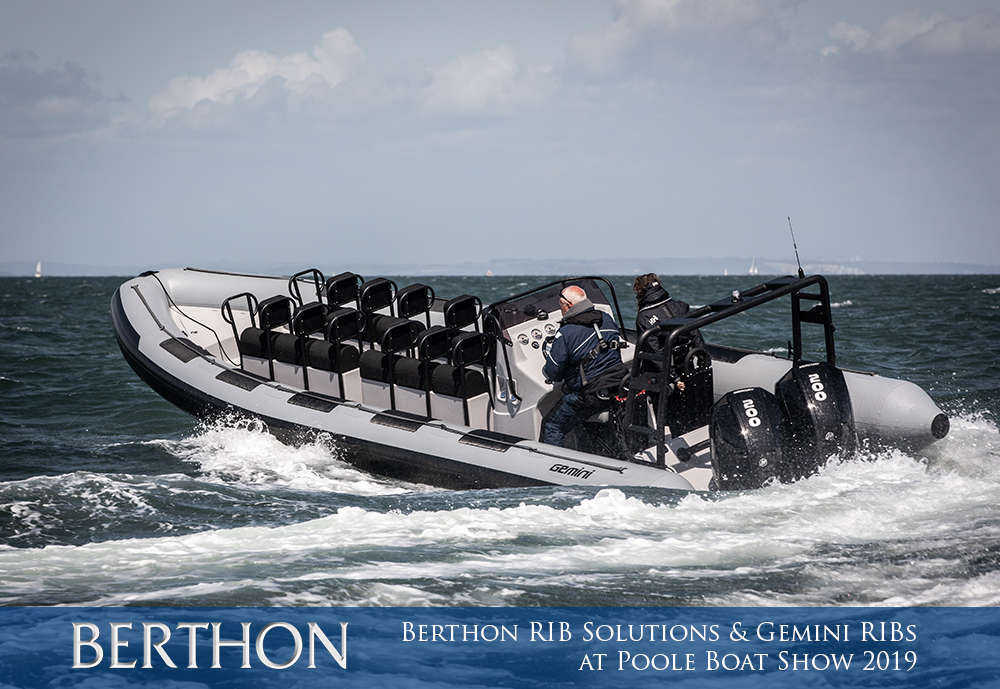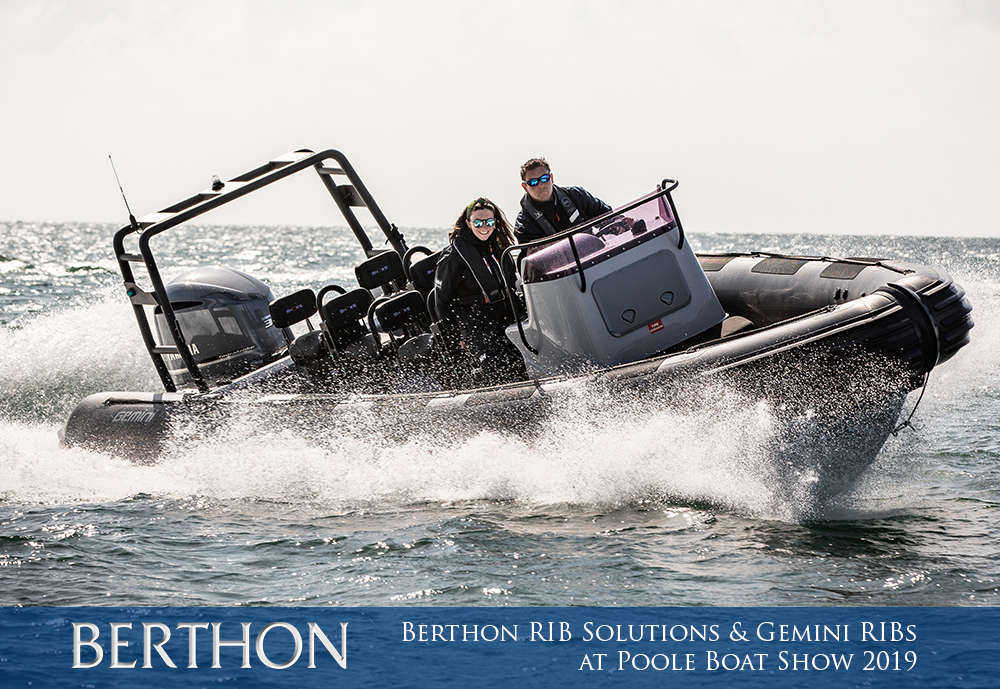 All Geminis come with a wide choice of engines and consoles, seating and on-board equipment, A frames and T tops. The 880 and 1060 models have the option of the standard Gemini cabin to provide protection from the weather for crew and passengers. The large deck space gives infinite layout options for fit out or payload capacity.
All Geminis can be delivered with MCA coding for commercial use, or MGN 280 certification for leisure charters, or RCD conformity. The Gemini factory is accredited to ISO 9001-2015 quality assurance, ensuring the highest of international production standards.
Start planning your next adventure now and view the Gemini 780 and 880 at the Berthon Rib Solutions pontoon berths B5 & B7 at Poole Boat Show 7th – 9th June.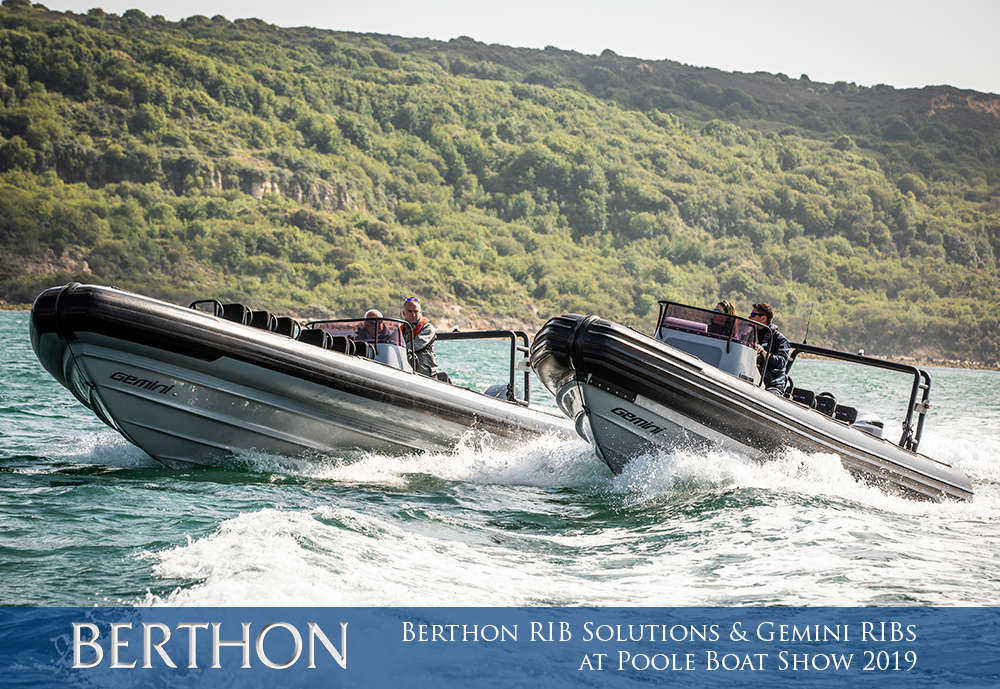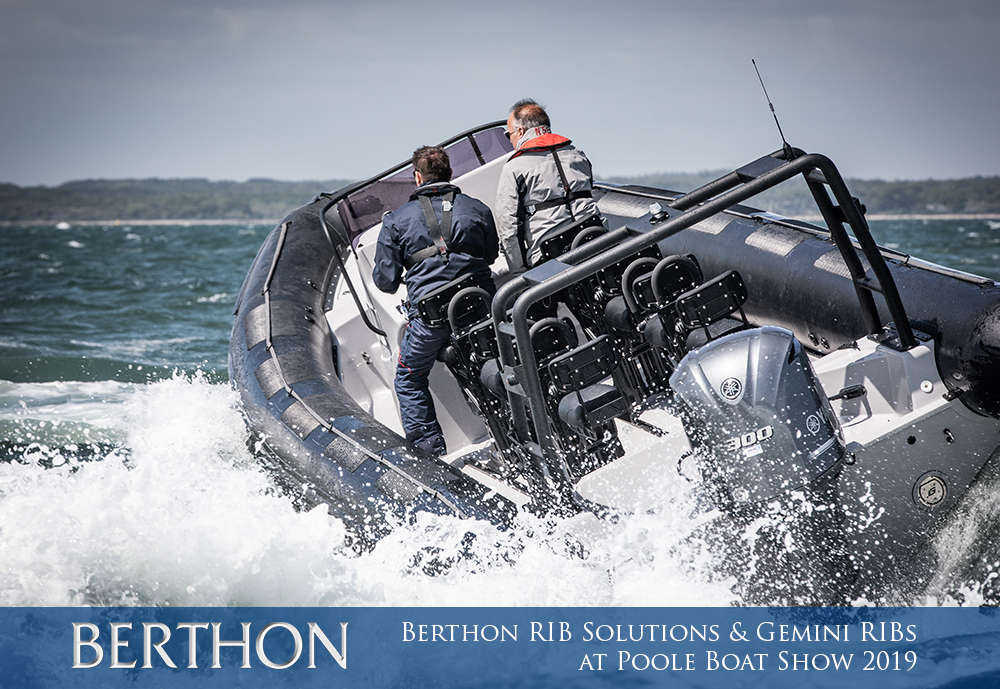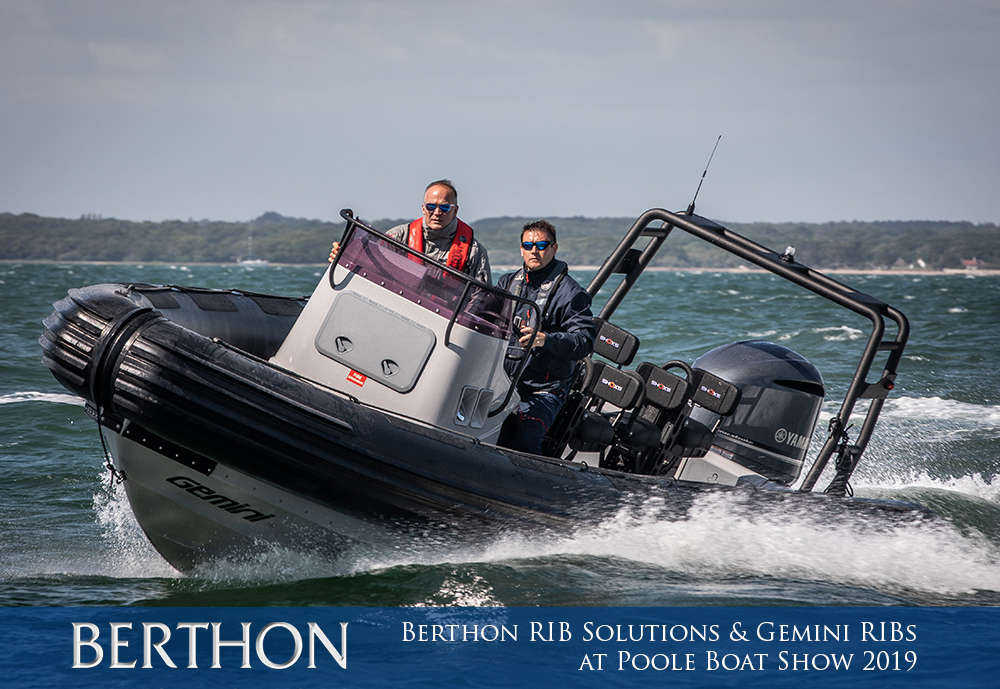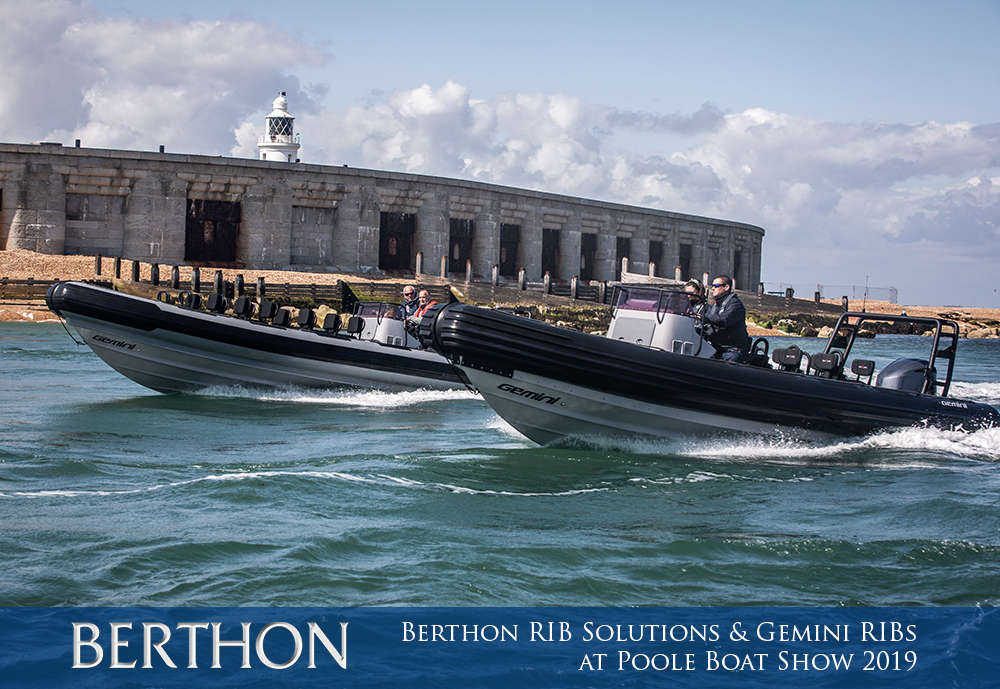 ---
For more information and to see our full range of Gemini Ribs visit our Gemini Marine pages here

For many years Gemini Ribs have been the rib of choice and in operation with many prestigious organisations such as; United Nations, UK Police Force, Royal Australian Navy, Royal New Zealand Navy and much more.

Gemini Ribs have been taking adventurers to the remotest and most difficult to reach corners of the globe for years, and a custom Gemini RIB  is something you'll enjoy for years to come. Where is your next Adventure going to take you?

In the Commercial and Rescue Sectors, Gemini has an outstanding reputation as a proven rescue craft with the South African National Sea Rescue Institution (NSRI) operating along the rugged South African coastline since 1984.
---