Berthon RIB Solutions supports the Royal Lymington Yacht Club Junior Regatta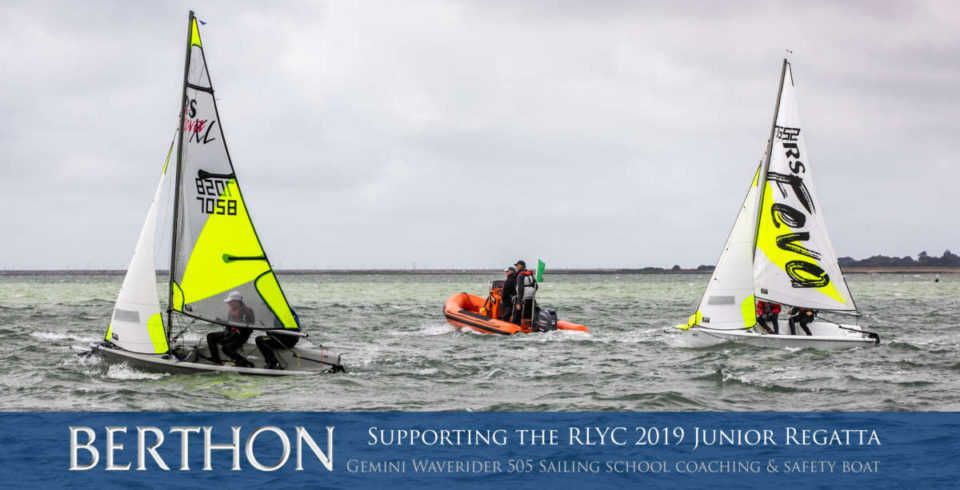 Berthon RIB Solutions loan a new Gemini Waverider 505 Sailing School Coaching & Safety Boat to the RLYMYC
The newly launched Gemini Waverider 505 Sailing School Coaching & Safety Boat from Berthon RIB Solutions was recently loaned to Royal Lymington Yacht Club to support the 82 entries in the Junior Regatta, a five day sailing event from Monday 5th August to Friday 9th August 2019 for young sailors aged 8 – 15 years.  Over 120 children aged between 8 & 15 took part in 82 boats of 5 classes including Optimist, Tera, Feva, 420 & Scows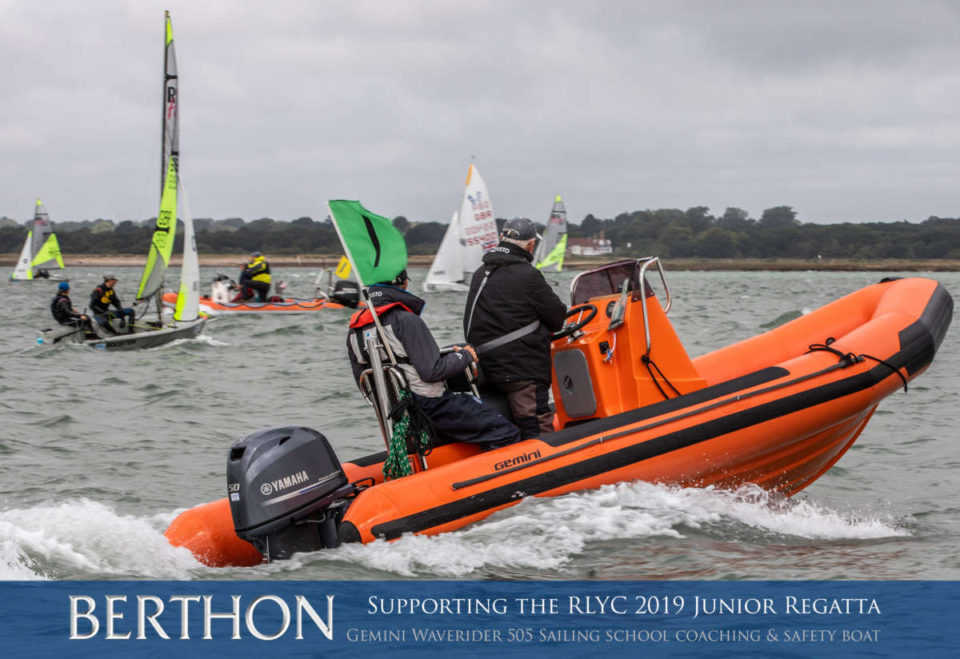 The Gemini Waverider 505 Coach Boat layout and fit out was designed and constructed at Berthon after receiving input and feedback from experienced sailing coaches on what should be included in a Sailing Coach Boat.
Using the globally proven Gemini Waverider 505 hull and tube the Coaching boat has been fitted with a Yamaha F50 outboard engine providing economical fuel consumption and great performance. The spacious deck space allows the buyer a choice of consoles and seats to suit their needs and a wide range of optional extras.
Engine options- 40hp -100Hp – All Brands
Propeller guard
Console style- Combined jockey seat and console, stand up console, Centre steering console
Seats: single or double jockey seat
Aft towing post
Tube upgrade to 1670 DTEX – commercial grade Hypalon
Additional rubbing strakes for additional protection
Bow protection
Keel protection
Choice of hull and tube colours
Road trailer
On its inaugural outing supporting the Junior Regatta the Gemini WR 505 Coach Boat performed well across the full range of expected tasks for a Coach Boat including mark laying, rescue, towing, coaching platform and safety boat.
Full regatta results can be seen at the Royal Lymington Yacht Club website here
The Gemini Waverider Coach Boat is also available in a WR550 and a WR650 model with full range of options and full supported warranty and lifetime support aftersales, through Berthon RIB Solutions.
Email: RIBS@Berthon.co.uk