Berthon Rib Solutions with Gemini Marine at Seawork 2019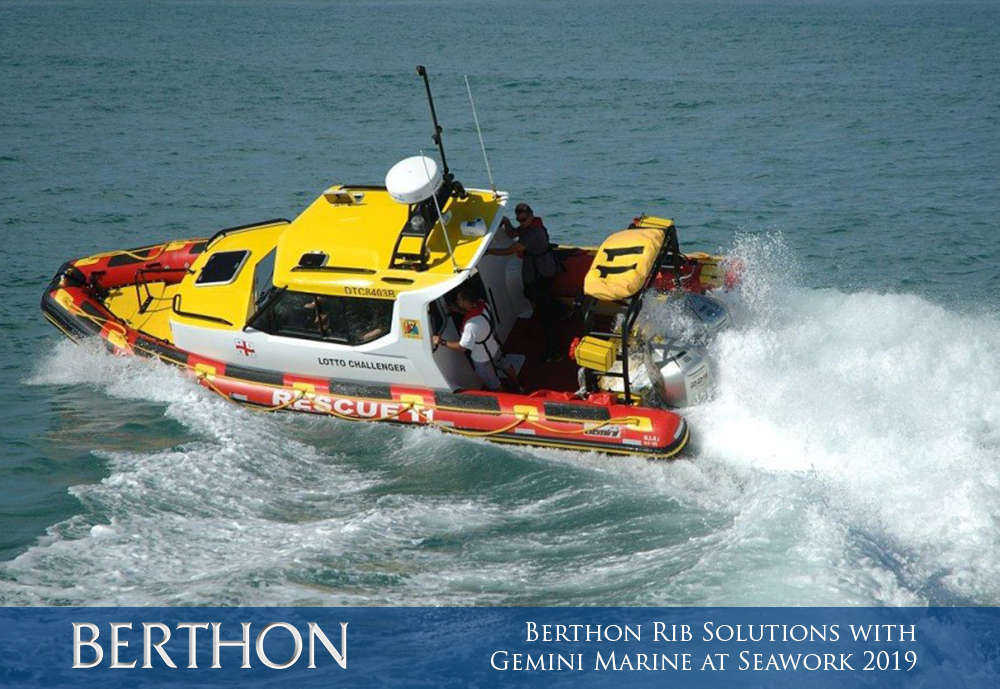 Berthon RIB Solutions are the newly appointed sole distributors of Gemini RIB's throughout the UK and Ireland into the Military, Rescue, Commercial, Leisure and Adventure sectors. Gemini manufacture open and cabined RIB's from 5m to 10.65 meter, each RIB configured at Berthon Shipyard, powered and equipped to meet the customer's individual requirements. The first stock boats arrive in early May; by maintaining stock of various Gemini models, Berthon Rib Solutions can drastically shorten delivery lead times.
Come and meet Andy Andrews the Gemini Sales Manager, at forthcoming Seawork event in Southampton, Tue 11 Jun – Thu 13 Jun, stand VA32 where sea trials on the Gemini Waverider 7.8mtr and Gemini Waverider 8.8mtr commercial RIBs will be run throughout the 3 day event.
To view Berthon's full range of Gemini RIBs please visit Berthon & Gemini-Ribs here.
Commercial & Rescue RIBs
In the Commercial and Rescue Sectors, Gemini has an outstanding reputation as a proven rescue craft with the South Africa's National Sea Rescue Institution (NSRI), backed up by the fact the Gemini Marine has been the sole provider to the NSRI for rescue craft operating along the rugged South African coastline since 1984. Gemini RIBs are employed in support of a wide range of commercial operations around the world as independent units or aboard mother vessels as support boats.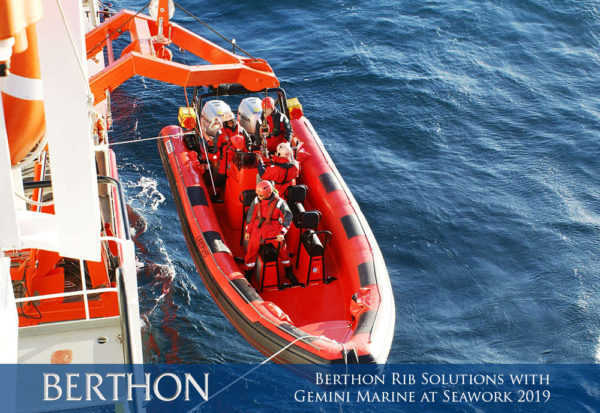 Patrol and Protection RIBs
For many years Gemini Ribs have been the rib of choice and in operation with many prestigious organisations such as; United Nations, UK Police Force, Royal Australian Navy, Royal New Zealand Navy and much more. Their Geminis have all been equipped, adapted and modified to undertake a wide variety of roles including Dive Support, Bomb Disposal, Anti-Piracy and Policing and Law Enforcement.

Adventure and Leisure RIBs
Where is your next Adventure going to take you?
Gemini Ribs have been taking adventurers to the remotest and most difficult to reach corners of the globe for years. To do this you need a RIB, proven in some of the most testing waters in the world, by an unforgiving clientele. Gemini also supply customised high capacity RIBs to many charter & adventure tour companies.