Launch of New Professional Gemini WR1060 Cabin RIB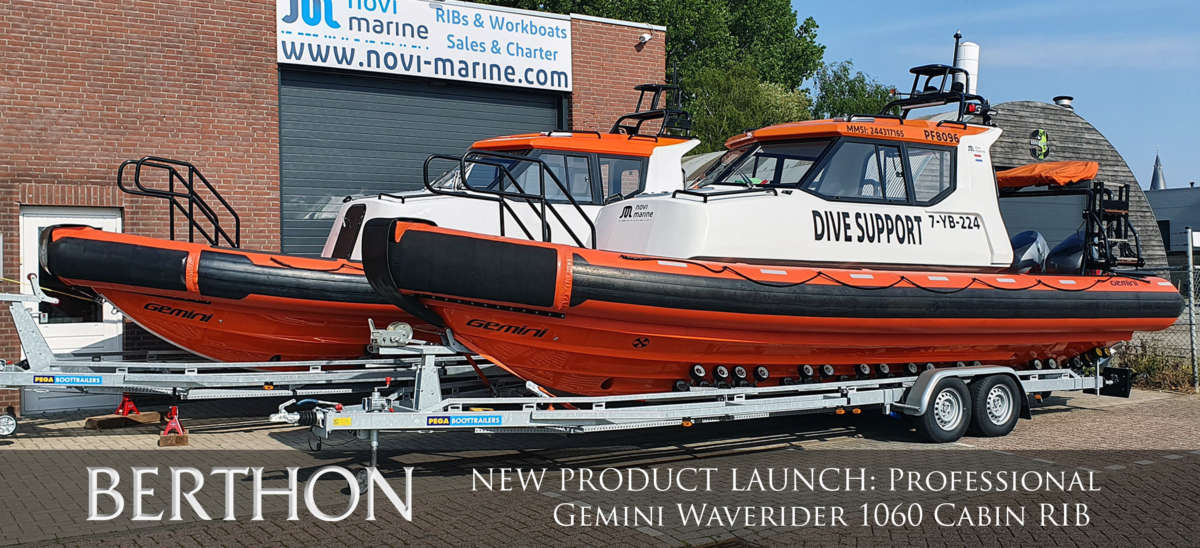 Gemini are proud to launch their impressive new Waverider 1060 Cabin RIB edition.
Built in Great Britain by Berthon RIB Solutions for Gemini UK & Ireland, this formidable combination of a proven Gemini 10.6m hull and a state-of-the-art, all-weather protective cabin means the Waverider 1060 Cabin RIB is the boat to take a crew into the harshest of conditions in unparalleled comfort and security.
The Waverider 1060 Cabin Top comes with a CE Category B Certificate if required and is fully compliant with MCA Workboat Code 2.  This boat can be certified for Category 2, up to 60nm from land in day and night.
The streamlined cabin maintains convenient space for equipment and crew, whilst providing incomparable shelter from the elements. The compartment is formed by vacuum-infusion technique for a lightweight finish.
The spacious Waverider 1060 is customisable with a variety of diesel and petrol engines; A-frames; colours and finishes; optional forward access hatch and much more.  Now presented with this all-weather defence, the WR1060 is built for purpose.  The choice of large fuel tank sizes allow longer patrol cycles and with the unparalleled Berthon support and aftersales service, satisfaction is guaranteed.
Andy Andrews comments"This is an exquisite offering; we are excited to add it to our already broad range of boats.  40 years of Gemini knowledge and the world-class construction facilities at Berthon let us create the ideal solution for every client. This Waverider 1060 is able to face whatever the sea can throw at it, and still get the job done."
The WR1060 Cabin RIB is capable of carrying extensive equipment to ensure the boat is fit for purpose, with no impact on its outstanding sea-keeping.  MED Wheelmark approved equipment is used throughout to ensure the boat meets meticulous international standards.
QHSE standards can also be met to ensure this boat is compliant for commercial use.  The A-frames used are designed to incorporate a powerful self-righting system and of course, the dimensions of the WR1060 mean it is easily towable and fits into a standard ISO container.
Designed and constructed in Britain to impeccably high standards and with a history of building the most durable RIBs on the market, Gemini is the name to look for when you need your boat to protect you and your crew – whatever the weather.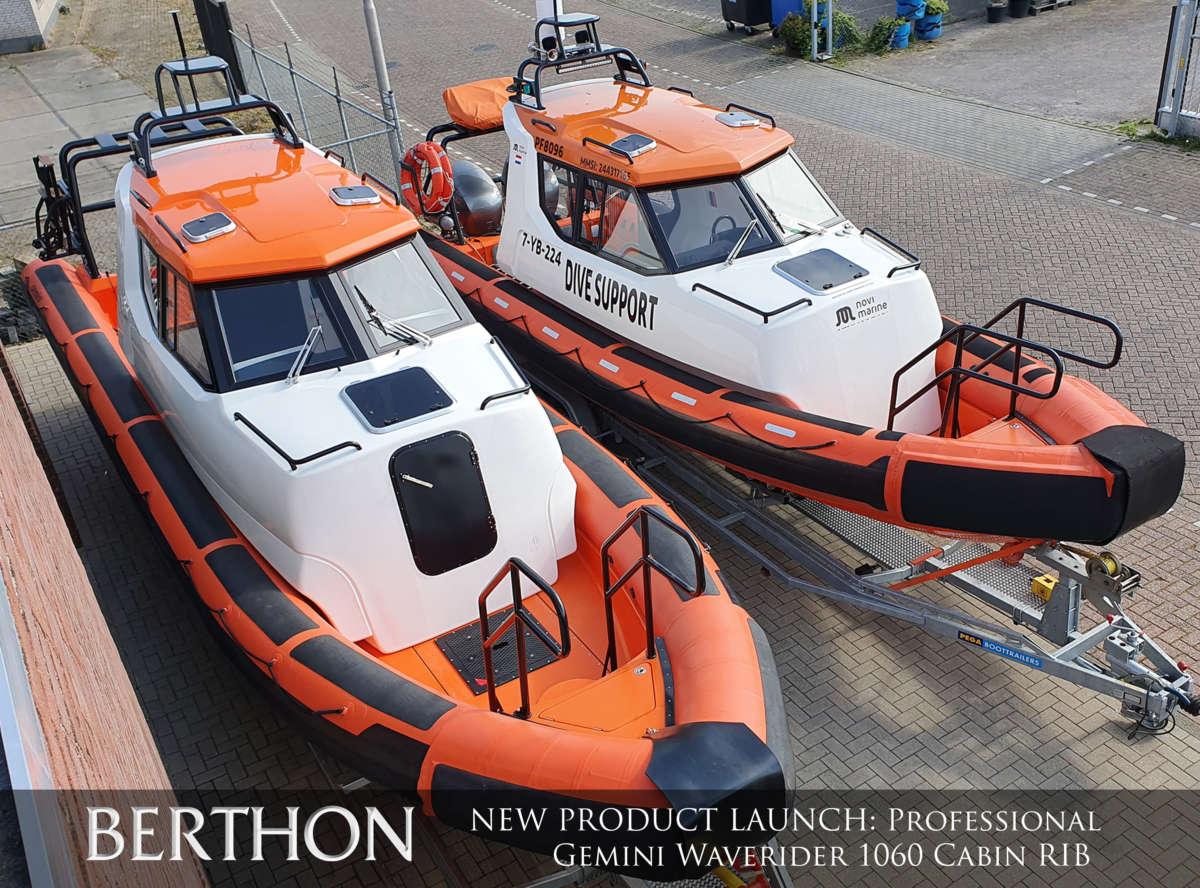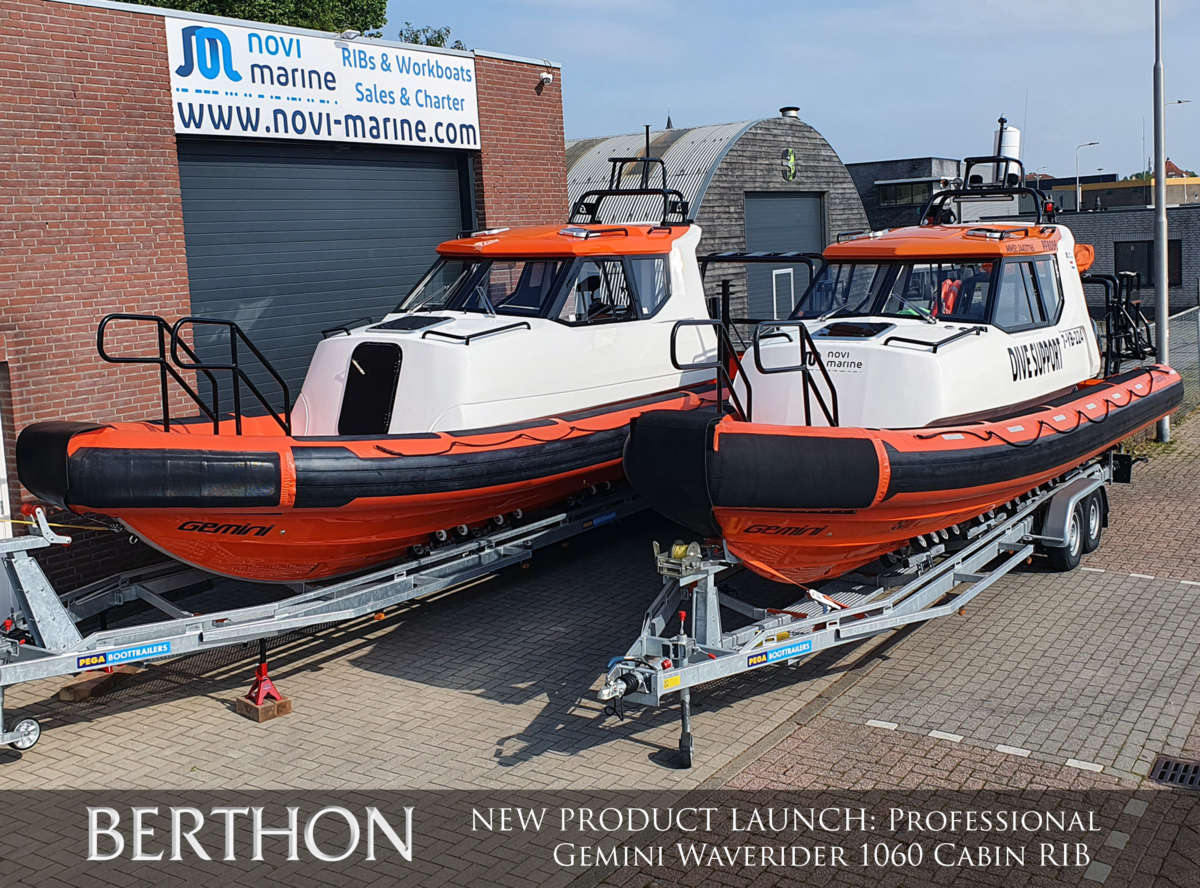 Vessel specifications
Length o.a.
10.60 mtr.
Length internal
7.40 mtr.
Beam o.a.
3.30 mtr.
Beam internal
1.95 mtr.
Draught
0.75 mtr.
Dry Weight
3.050 kgs. (w/o engines)
Hull material
GRP
Tube material
Orca 866 1670 d/tex 'Hypalon'
Fuel capacity
2×328 ltrs.
Fresh water
1x 65 ltrs.
1×15 ltrs.