UK border Force Vessel Repairs & Maintenance

20m Border Force coastal patrol vessels NIMROD & EAGLE in for repairs and maintenance
The UK Border Force operate a fleet of Coastal Patrol Vessels (CPV). CPVs NIMROD and EAGLE recently used Berthon for their annual maintenance and MCA coding.
Their unique capabilities, speed and size allow the Border Force to provide an enhanced level of responsiveness in UK waters including cross-channel, Channel Islands and estuarine areas; releasing the larger Border Force Cutters to complete longer-range operations around the coast. Their shallow draft makes them ideal for patrolling close to shore, accessing marinas and beaches where waters are shallow. Along with the other CPVs which are in operation around the UK, the vessels complement the offshore work of the longer range Border Force Cutter fleet.
The CPV has a 280 mile range at 20 knots and can travel at speeds of up to 32 knots powered by Hamilton Waterjets and Caterpillar engines, while carrying a crew of up to six people. They are equipped with a wide range of sensors and communications equipment, a lot of which Berthon inspected and serviced.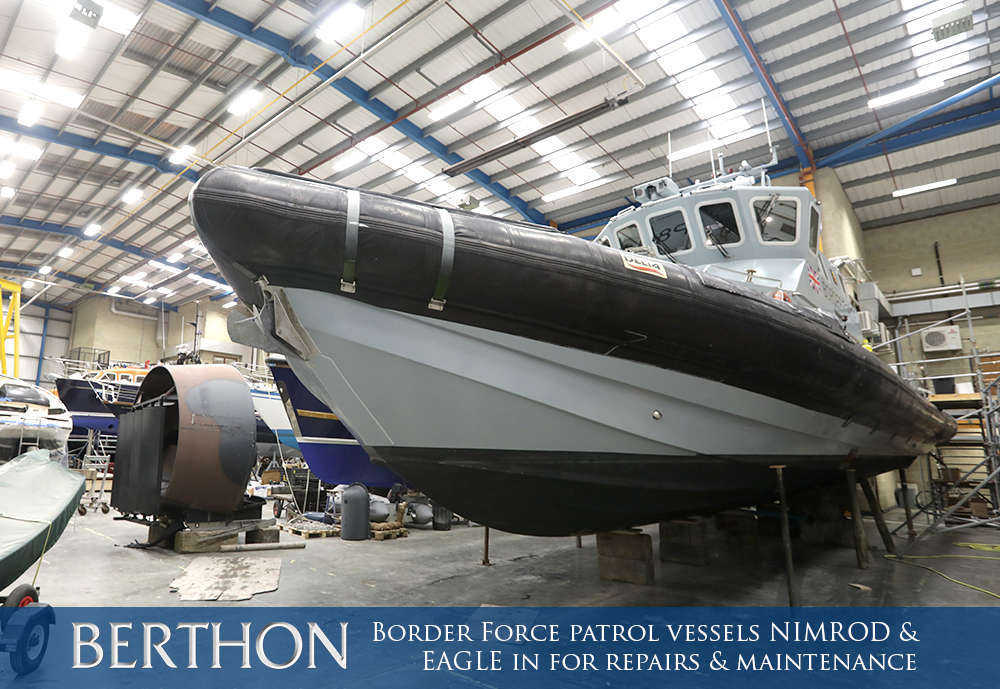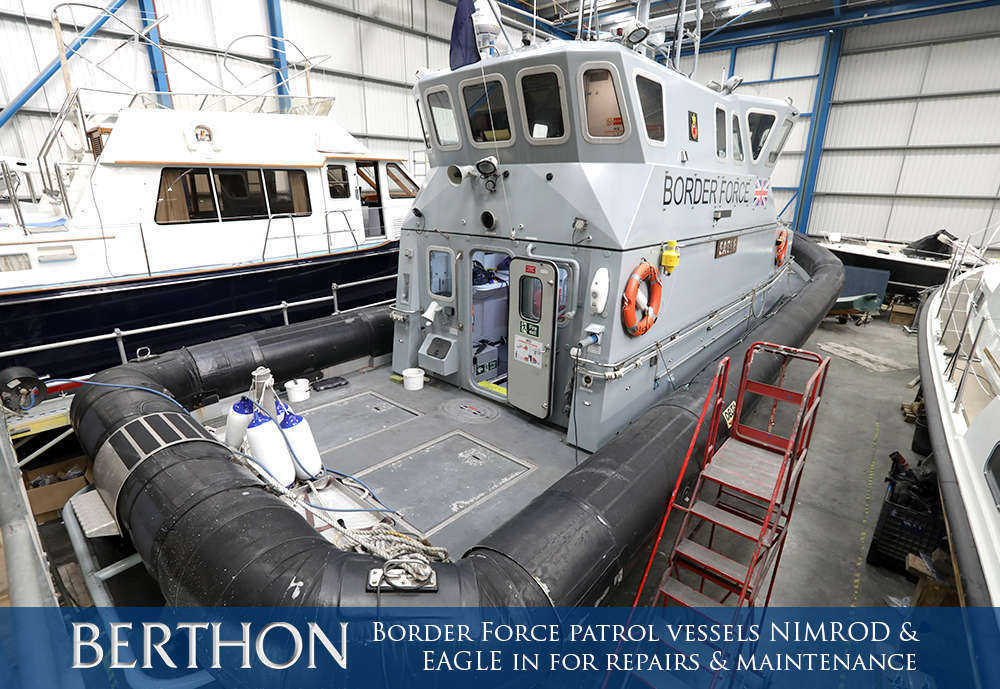 When Each CPV arrived at Berthon, they were lifted out, pressure washed off and blocked off under cover, in Berthon's heated and purpose built secure sheds. Work began making the vessel safe for working ashore, and a preliminary survey and inspection was undertaken.
The survey and inspection incorporated a long list from the UKBF engineers, but was not limited to this as Berthon always carry its own checks and tests. These checks included:
Hull inspection
Sponson examination
Superstructure inspection
Liferaft assessment
Fire safety systems inspection
Fire hose
Immersion suits
Lifejackets
Epirb
Hadrian Safety rail
Cardan shaft (drive shaft) and cooper bearing
Eberspacher service
Anchor windlass structure security
Anchor windlass load test
Sampson post load test
240 volt AC distribution
24 volt DC distribution
Bilge pumps
Engine room calorifier pressure test
Engine room calorifier pressure safety valve
Compass check
Fixed fire system
Manual fire pump
Black water system, tank and discharge pump
Following the inspection it was found that there was damage to the superstructure, the hull and sections of the sponson, especially around the starboard rescue section due to general wear and tear. GRP repair work was carried out on her underwater hull. Her sponsons were deflated, in the damaged sections, patched and repaired.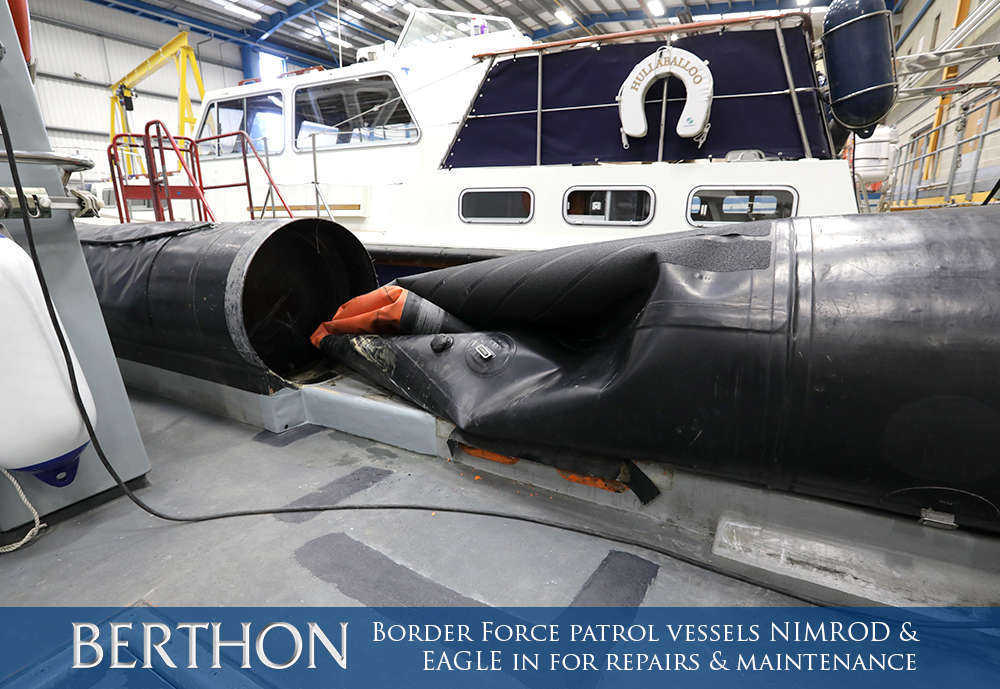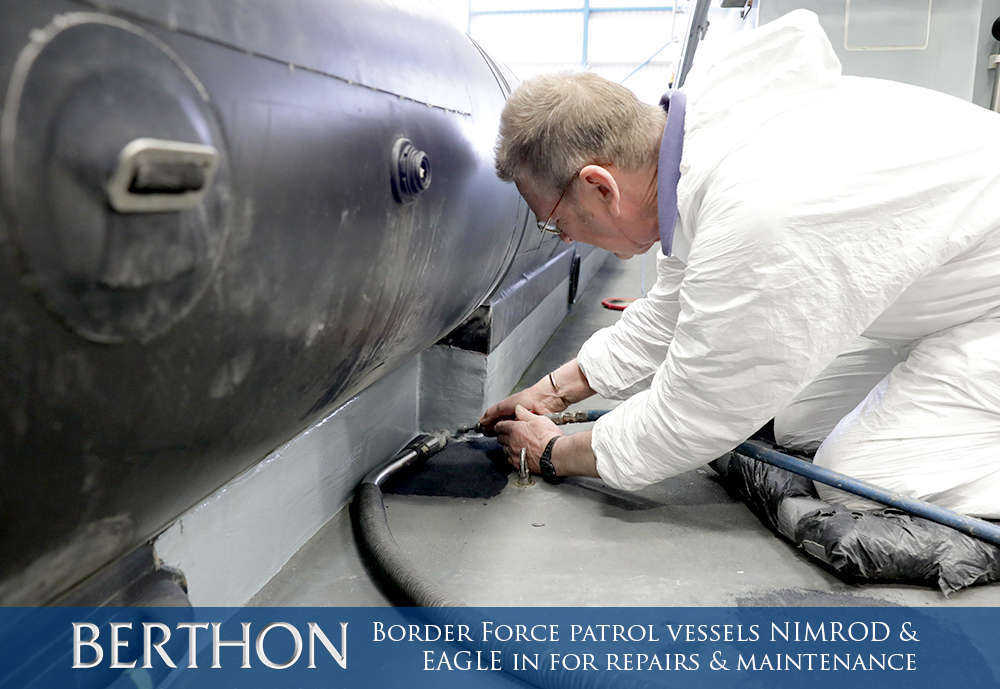 The tank space bilge pump and fresh water pumps were found to be leaking, which were soon repaired, along with the forward manual bilge pump, which has been replaced along with the black water discharge valves.
Due to a damaged impellor causing cavitation, repairs had to be carried out to the port jet.  If you operate a water jet vessel, cavitation can cause serious damage if untreated. Simply defined, cavitation is when bubbles or spaces start appearing in liquid, generally forming when there is low pressure around an impeller. The break down or collapsing of these bubbles trigger powerful shock-waves within the pump, causing damage to the impeller and the pump housing. Cavitation in the water flow can cause a number of issues, including additional noise, and excess energy usage, not to mention serious damage to the pump itself.
Pump cavitation can cause:
Failure of pump housing
Destruction of impeller
Excessive vibration – leading to premature seal and bearing failure
Higher than necessary power consumption
Decreased flow and/or pressure
Do any of your pumps for your jets make popping sounds, or sound like they are pumping stones, like a rattle or a can of loose bolts in the back of the boat? If so, you may have a cavitation issue. Please contact us for more information, we are happy to inspect and repair any issues.
Emergency steering solenoids on the jets were replaced with new units supplied by the Border Force.
For coding reasons the glass bowls on top of the primary fuel filter bowls were replaced with metal covers and an exhaust sprayhead was found to have corroded out. The main engine water inlet valves were also replaced.
Starboard engine exhaust fans were replaced along with the starboard engine primary fuel filters. Stripped bolt threads were replaced along with new heli-coils.
We removed the Eberspacher heater to undertake a full service before being refitted.
Fire safety system work was also carried out including connecting up the automatic engine fire suppression system, replacing one fire extinguisher, plus supplying and fitting a new Novec indicator.
All the batteries were replaced for new and rewired. A fault was found within the battery charger which we identified and repaired.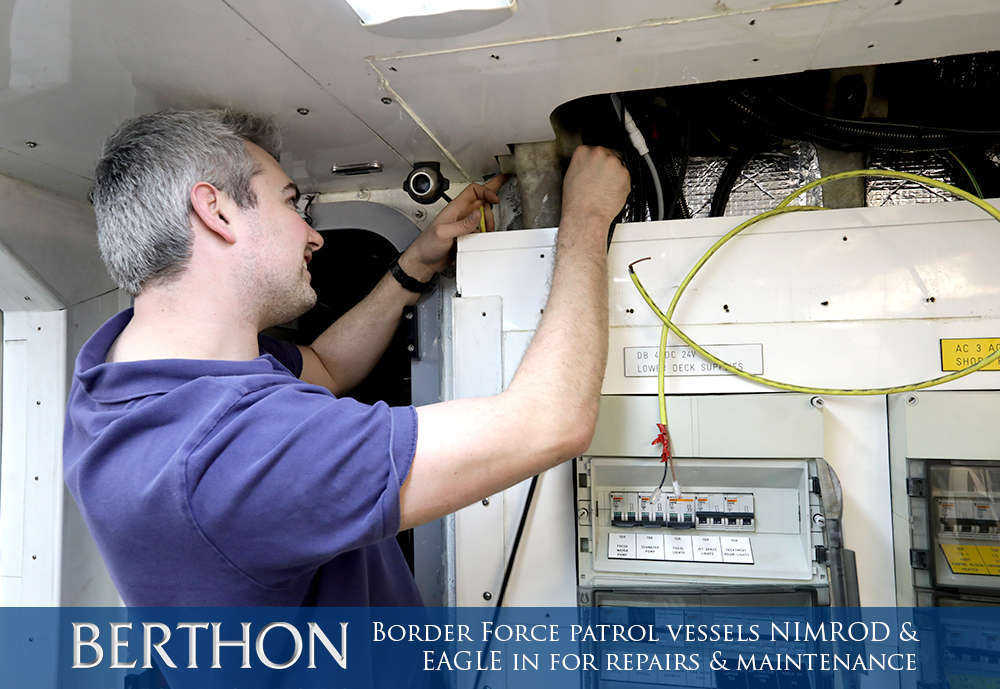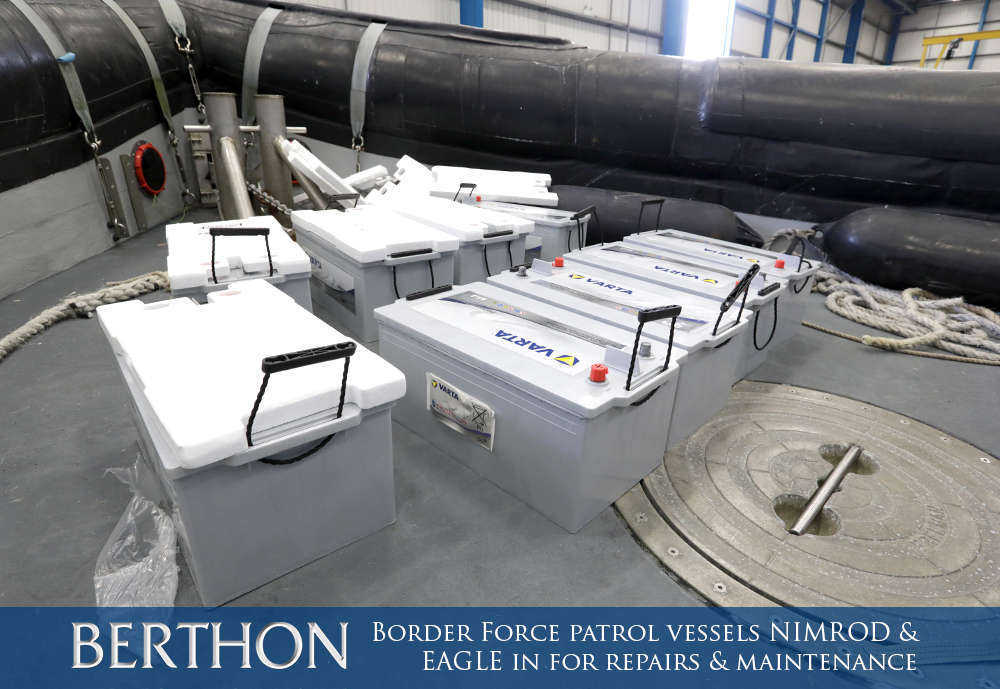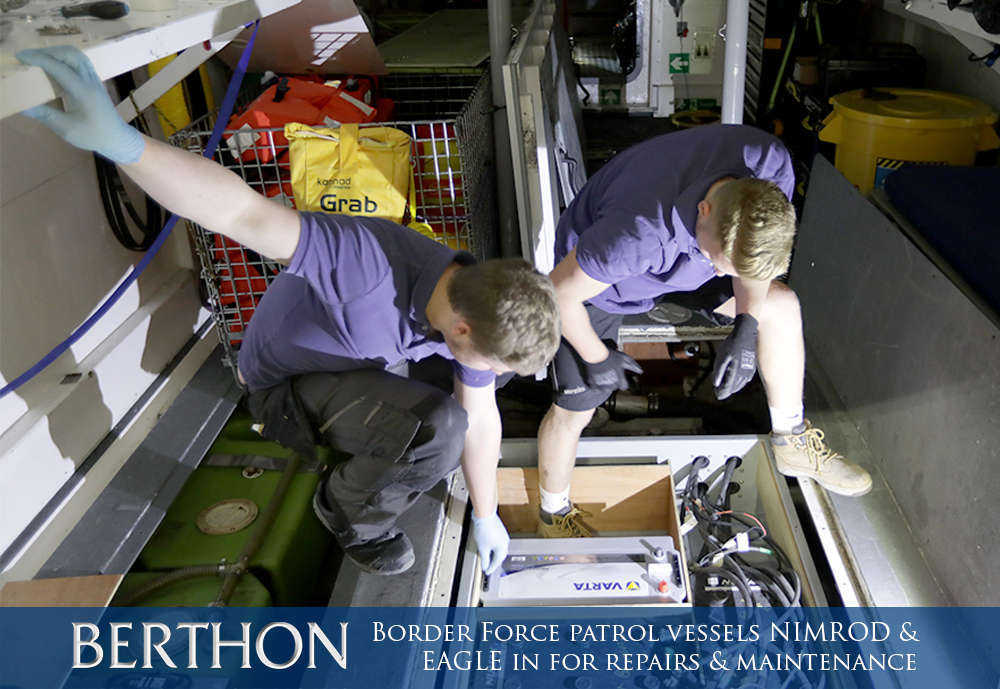 All lifejackets were serviced. During the inspection of the liferafts, it was decided that they would also be replaced.
She was then given a fresh coat of antifoul across her underwater hull and jets and the majority of her anodes were replaced, before being launched, tested and trialled and returned to border patrol duty.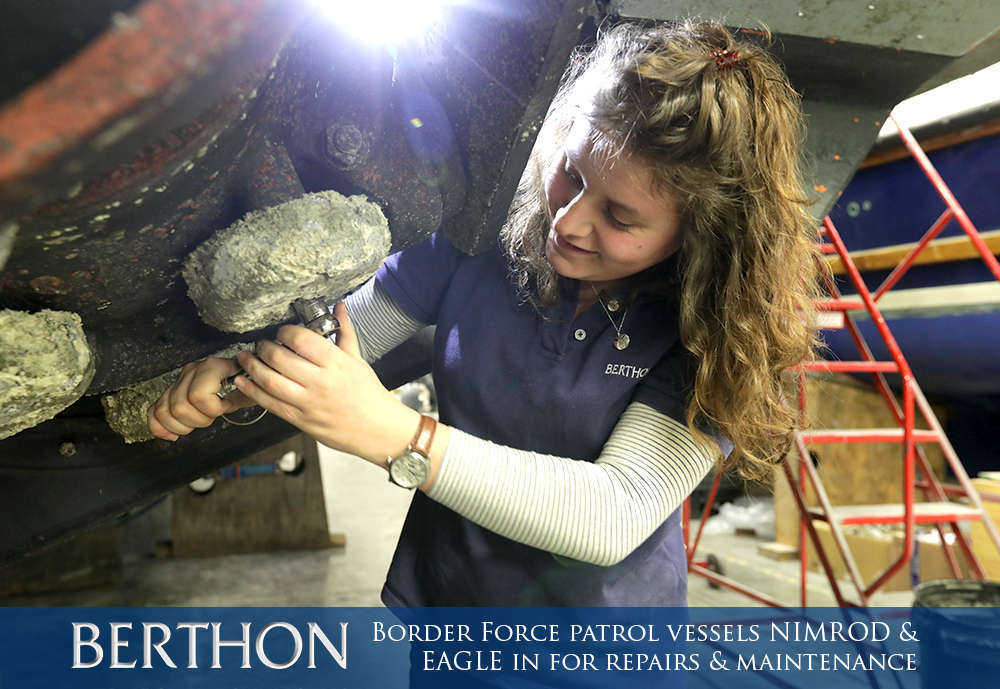 Berthon Boat Company has delivered marine services for decades, working successfully with Government and commercial associates providing refits, boatbuilding, maintenance and in-service support for customers such as the RNLI, Ministry of Defence (MoD), UK Border Force, Port Authorities and commercial boat operators. For more information on Berthon Marine Services, previous projects, case studies and how we can help you with any upcoming project please visit our website here or contact Ben Bradley-Watson, New Business Manager (Commercial & Defence)