Yes! in Berthon's world-class painting and spraying facilities

Berthon were pleased to welcome the prominent racing yacht JPK 1080 'Yes!' to our world-class painting and spraying facilities this month.
Adam Gosling – owner of Yes! – purchased the recognisable yacht in 2016.  He made adjustments to the 1080 mould specifically for inshore racing – her mast was changed to a keel-stepped figuration with adjustable tension using shims; and winches were added to a new deck layout to control the mainsheet.  The combination of a slick crew and shrewd weight-saving were clearly in her favour – the result is a stunningly competitive boat.
Yes! is an aggressive contender on the Solent and South coast, with her team racking up successes within weeks of build; notably in the Class 5 Black Group overall, taking 1stoverall at Cowes Week, 1stoverall in the IRC Nationals and triumphing in the Round The Island race winning the Gold Roman Bowl – a feat particularly of note given that mid-sized boats rarely win this trophy!  Perhaps unsurprising given Mr. Gosling's history as an Etchells World Champion and reputation as a serial winner…
After a brief change in ownership, Yes! is once again reunited with Mr. Gosling and undergoing thorough preparations to ready her for a return to the Solent racing circuit. Catching sight of our recent Facebook post showcasing the work done on Kerr 33 Acheron, Mr. Gosling got in touch with Berthon to have similar work carried out.
Yes! is run as an extremely tight ship; with equal thought put into the crew, interior organisation and – of course – underwater work.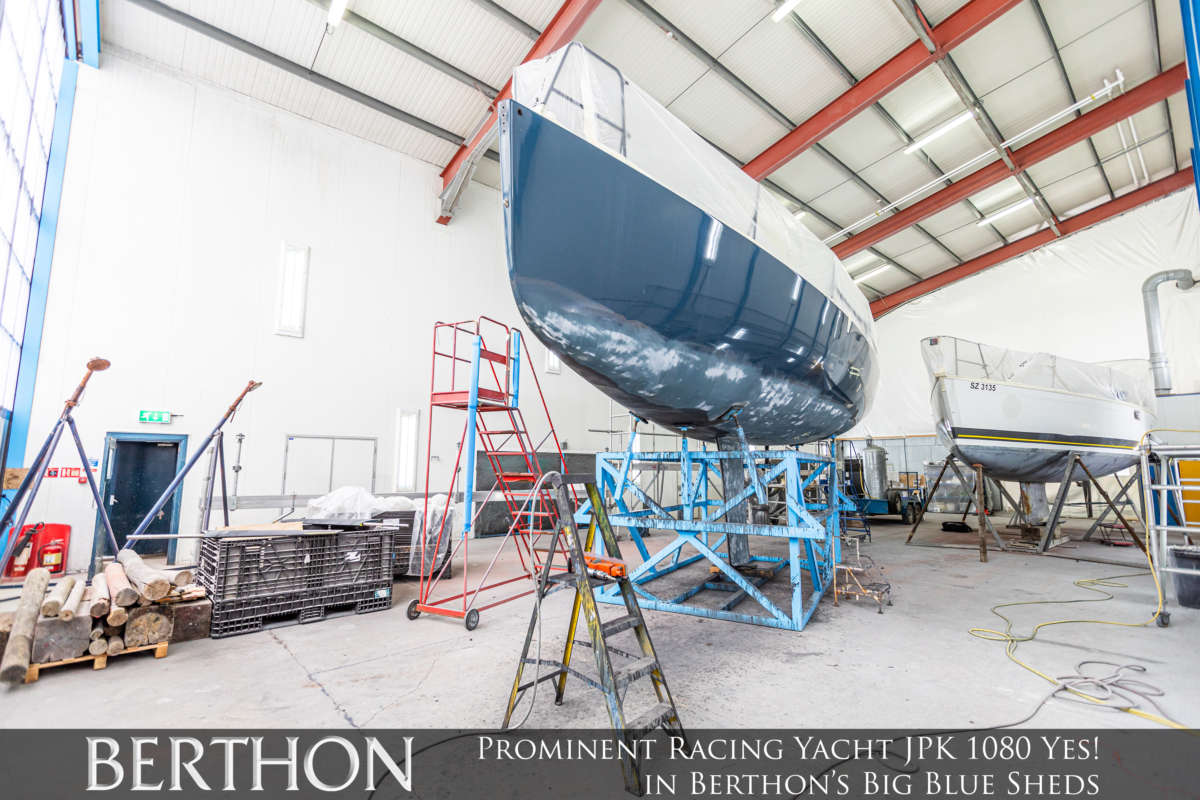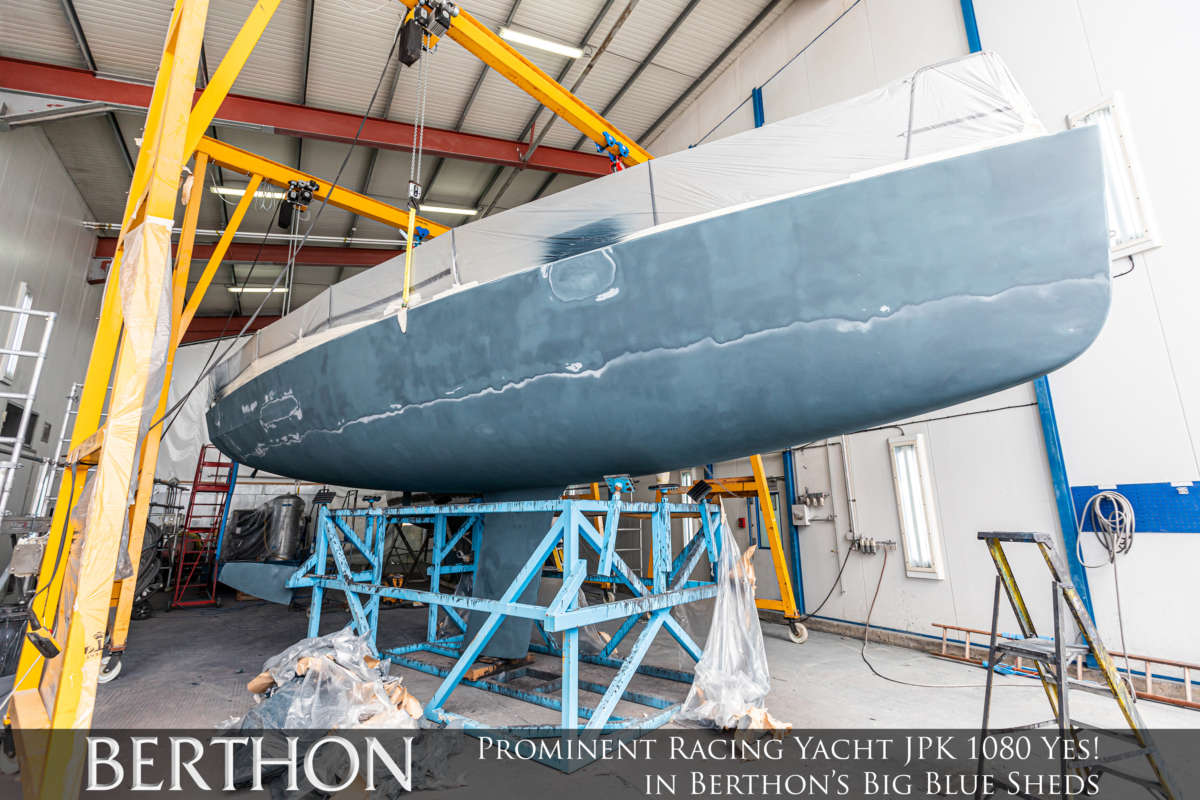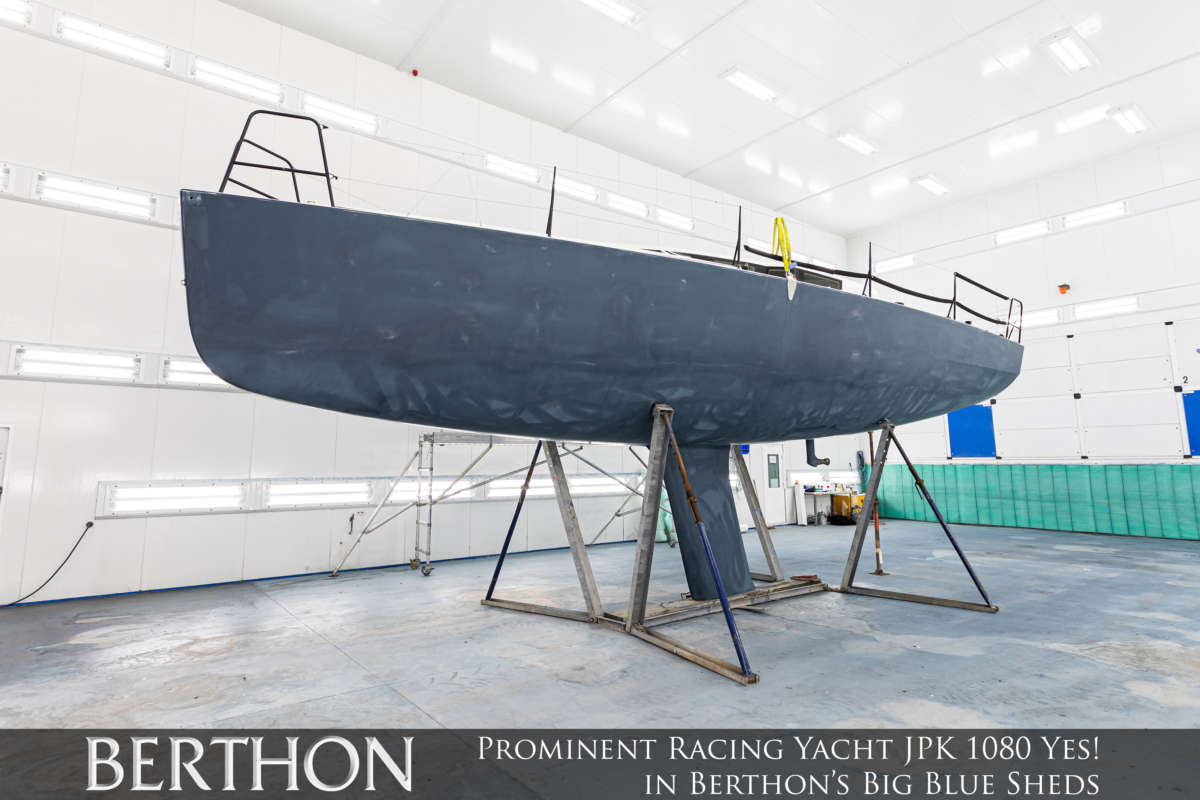 The yacht has had her existing antifoul carefully removed before the hull was fully fared back by air-driven powerboard sanding.  This resulted in a phenomenally smooth finish.  Once this process was complete, Yes! had her entire hull hot-coated; a process which involved a layer of primer being added to a spotless hull, followed by an initial layer of AWLGrip gloss.  This was then rubbed back and meticulously washed before another layer of gloss was sprayed and the process repeated until the desired thickness of coating was achieved.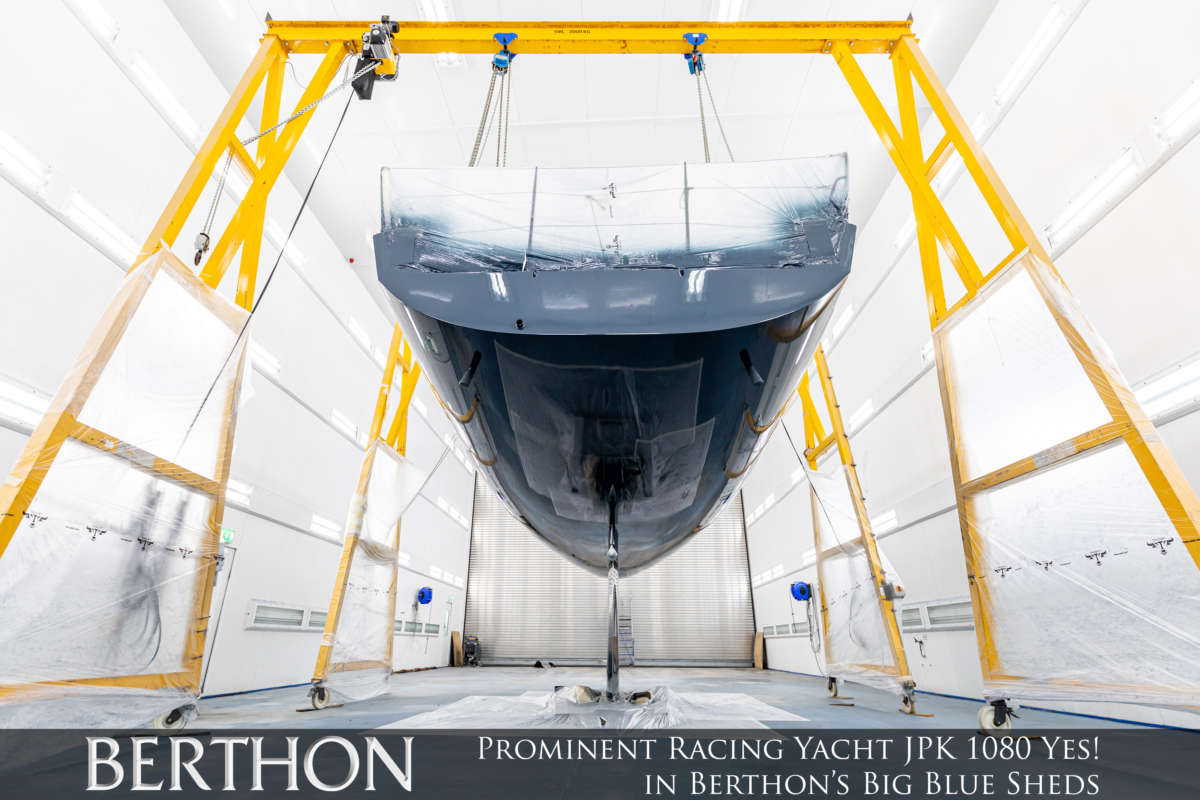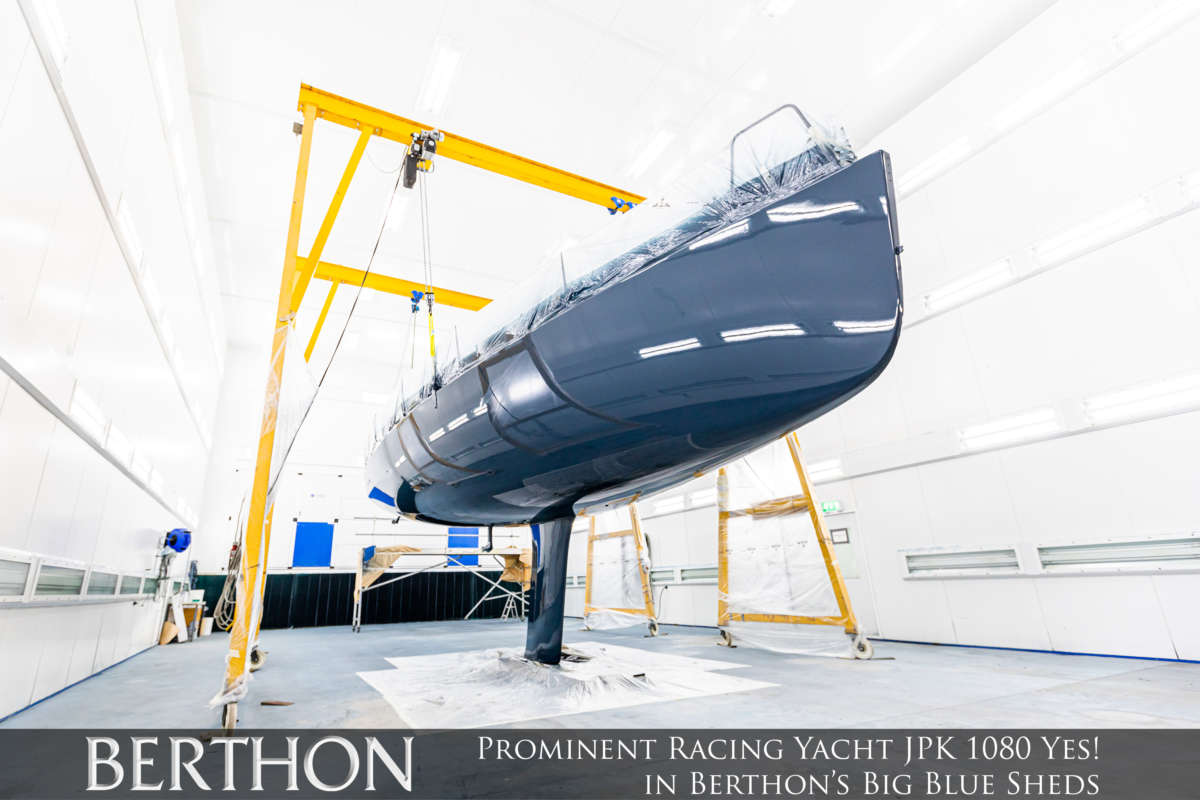 It is of paramount importance that absolutely no dust is allowed to land on the hull through this process, as this would mar the perfectly smooth finish.  The end result of hot-coating is an exceptionally hi-sheen hull finish, expected to last up to 10 years with careful maintenance.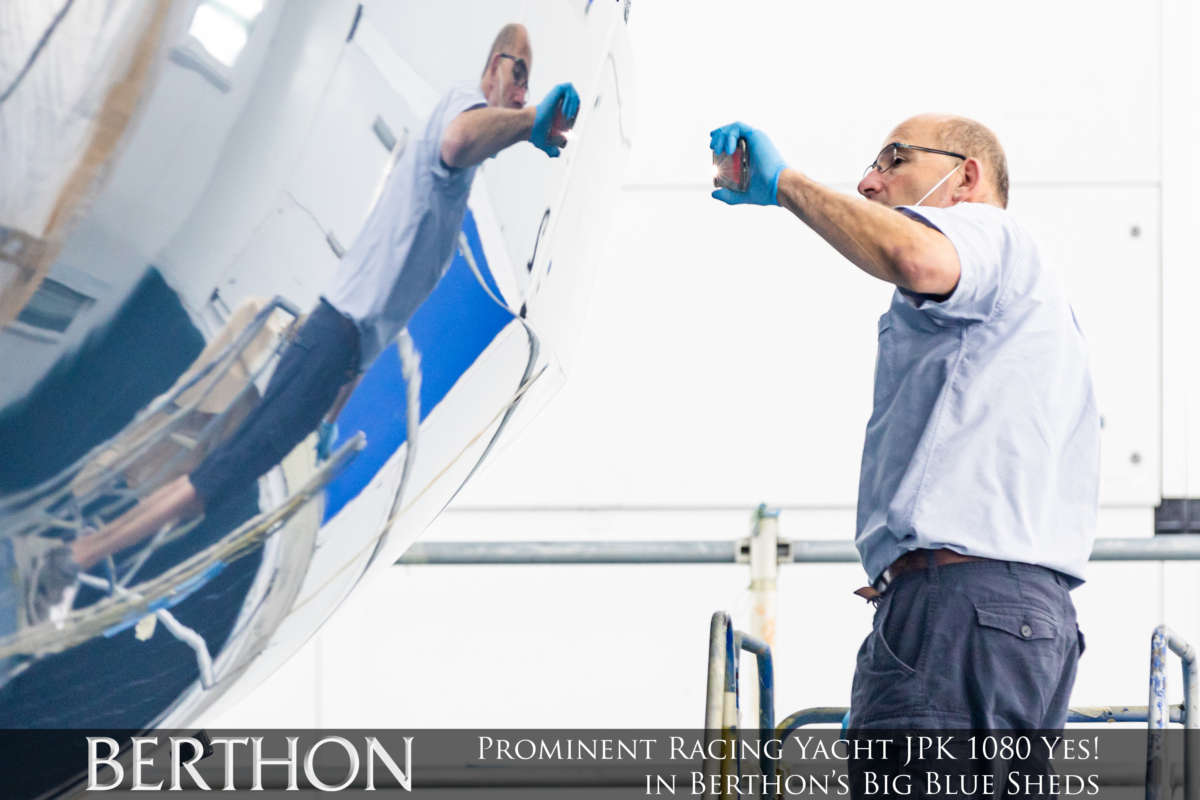 Berthon's unparalleled paint facilities were fully serviced before Yes! was sprayed.  Every 6 months the entire glossing booth is washed down, all equipment and ventilators serviced; and the tacky substance coating the walls replenished to further guarantee a flawless result for boat owners and clients.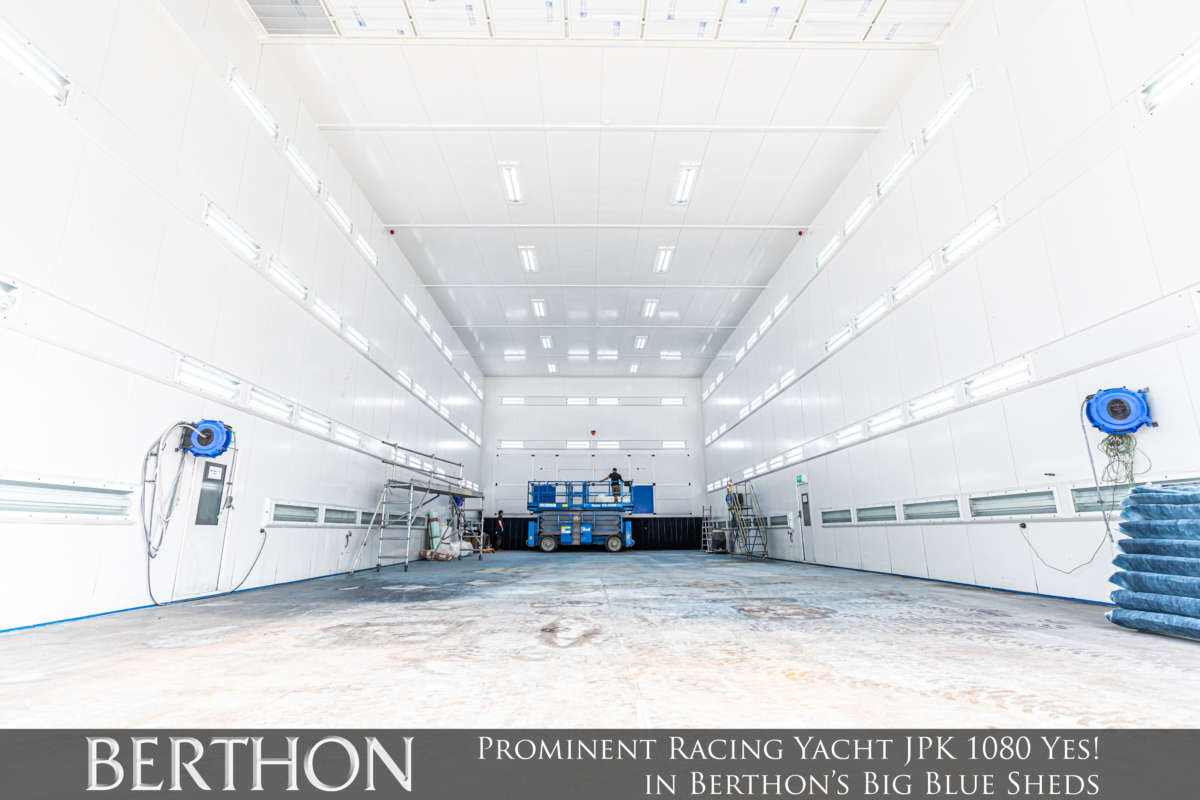 Berthon's painting and spraying facilities are among the most advanced in Europe.  Installed on our Lymington site in 1999 by Dutch experts Rowit, there are over 8000 cubic metres of preparation, spraying and drying space for our talented team of painters and sprayers to utilise.
To further remove impurities from the process, filtered air is used through spray systems.  A tacky substance coats the walls of the sheds, guaranteeing a dust-free finish and together with floor-to-ceiling light (to ensure a completely flat light is used when spraying) clients can be assured the end result will be nothing short of perfect.
Continuous cost-reporting and regular communication with the client are just another feature of the professionalism you can expect from Berthon.